Camera360Pro Review, a deceptively feature rich Windows Phone camera app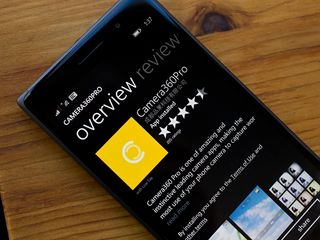 Camera360 is one of the more popular Windows Phone camera apps on Store shelves and the developers have launched a sequel of sorts that they hope will have similar success - Camera360Pro.
Camera360Pro is billed as a more advanced, premium version of the original but at first glance, many will scratch their heads at such a notion. Most of Camera360Pro features remain hidden, giving the app a clean appearance. Swiping up, down or tap/hold on the screen will reveal a host of features that give Camera360Pro its premium tag. There is a slight learning curve with Camera360Pro but overall, it is a nice addition to the Windows Phone photography app library. It definitely makes choosing a photography app a little more difficult.
Don't let appearances fool you
At first glance, the viewfinder for Camera360Pro appears to be a very plain looking camera app. You will find flash controls, a self-timer and image gallery access at the top of the viewfinder. A toggle button for the front/rear camera, shutter button and an effects button line the bottom of the viewfinder.
Camera360Pro has eight live lenses that will apply effects filters to your photos and let you preview them live in the camera's viewfinder. The eight filters include three Black & White filters as well as a Light, Vista, Pure, Time and Movie filters.
The more advanced features are hidden from view, allowing for an uncluttered viewfinder. The hidden features and how to access them are as follows.
Swipe upwards on the viewfinder to reveal three image ratios that include 16:9, 4:3 and 1:1. Once the list is displayed, just slide left or right to choose your ratio.
Slide downwards on the viewfinder to reveal four settings that include turning on/off a viewfinder grid, flip the image view, turn on/off HDR and set your White Balance (auto, cloudy, sunny, fluorescent and incandescent lighting). It does appear the HDR feature is not active.
Tap and hold the screen to review manual focus and exposure controls. A square box will appear with a slider bar to set your focus and at the bottom of the viewfinder, you will find a slider bar to set exposure.
Tapping on the viewfinder will focus on that point and the app has support for pinch to zoom. Autofocus has a minimum focus distance of about six inches but if you pull up the manual focus controls, you can trim about two inches off that distance.
It does take a little time to get used to the gestures and the aspect ratio settings did seem to be a little on the sensitive side. Just remember you need to swipe towards the center of the viewfinder to navigate around the menus. Once you get used to the gestures, Camera360Pro has a nice flow to things. However, the control orientation only supports vertical orientation. When you are shooting in horizontal orientation, you will need to adjust accordingly.
As far as manually focusing Camera360Pro, I would have liked to have seen the focusing square a little larger. It takes a little patience to manually focus the camera and I often found my focus slightly off. I did find an old pro tip coming in handy with shooting macro with Camera360Pro. Set your focus bar to the closest focus distance and then move your Windows Phone to achieve proper focus. At times, it is easier to adjust the camera's distance to your subject than trying to make fine adjustments to the focus bar.
Photo Editor
Along with having a very capable camera app, Camera360Pro also has a respectable photo editor. Just tap on the thumbnail circle in the top right corner of the viewfinder to access your complete Pictures Hub photo gallery.
From the image view, you will have four control buttons to toggle between single image view and thumbnail view, a share button, an edit button and a delete button. Up under the three-dot menu you will find options to view the images synopsis (EXIF File) and two inactive options to set the image as a wallpaper or lockscreen (which seems redundant).
Edit tools include:
Cropping the image
Decorate the image with lens blur
Four effects filters
Exposure adjustments (contrast, highlights, shadow, saturation, etc.)
You also have tools labeled portrait and cascade under the Decorate options but they are inactive.
Update: Through the help of Windows Central reader henocksandy if you tap the up arrow (or swipe up) that is above the filter choices in the editor, an additional 36 filter choices are revealed. Just tap on the row of filters to pull them up for use.
Image resolution
For those curious, from the Lumia 830, Camera360Pro captures images at the following resolutions.
16:9 Ratio is captured at 3840 x 2160 pixels
4:3 Ratio is captured at 3520 x 2640 pixels
1:1 Ratio is captured at 2640 x 2640 pixels
As far as image quality is concerned, I cannot complain much. Images were sharp but the saturation and contrast could use just a wee boost. By no means does it cause the app to fall flat on its face and if things need adjusting you have the editor a few taps away to fine-tune things.
Overall Impression
The more I used Camera360Pro, the more the Windows Phone camera app grew on me. The gestures do take a little time to get used to but once you do, the navigation is very fluid. I am still partial to the Creative Compass tool of Camera360 but the Pro versions interface works nicely as well. I also like the live view for any effects filters you have in place. It gives you a nice feel for things before you press the shutter button.
While Camera360Pro is an impressive Windows Phone camera app, there is some room for improvement. For starters, I hope that support for horizontal orientation comes around with the next update. It's not a deal breaker but does make things more comfortable when the controls match how you hold the camera.
Other items on my nit list include:
The need for the slide down menu to have a little more shading so it doesn't blend in so much with the subject in your viewfinder.
The HDR feature to become available.
A Help Section that expands on what is noted in the Store description
I also would not mind a few more effects filters added to the editor.
While there is room for improvement, all in all, Camera360Pro is an impressive Windows Phone camera app. Is it better than ProShot, Nokia Camera or the native Windows Phone camera app? That is a tough nut to crack and really boils down to individual tastes. I do think Camera360Pro is capable of joining Camera360 as one of the best Windows Phone camera apps though.
Please note that the free pricing is for a limited time. I also had difficulty finding it in the Store through keyword search. The link and QR code below may be your best options to find Camera360Pro.
Get the Windows Central Newsletter
All the latest news, reviews, and guides for Windows and Xbox diehards.
George is the Reviews Editor at Windows Central, concentrating on Windows 10 PC and Mobile apps. He's been a supporter of the platform since the days of Windows CE and uses his current Windows 10 Mobile phone daily to keep up with life and enjoy a game during down time.
This app is FAST on my 1520 which is a huge relief since Nokia Camera is so damn slow. I still get better quality pics from Nokia Camera but for quick shots for instagram this is my go to app. It's a shame I can't turn off the camera sound or set it as my default camera when I press the camera button.

Fast on my 820 ! Makes difference !

Though Nokia camera is slow, you can quick launch it by the camera button.

still the app is slow while launching thsrs y i use Microsoft camera all the time. Microsoft should integrate cam features in windows 10 soon.

I hope we can change the default camera to something else. not only MS or Nokia cameras

Microsoft won't let change default app due to various security purposes

I agree - I want this to be the app that launches when i press the camera button. Make it happpen on my 1020 and it would make my day!! and All my pics on Instagram so much better

image quality is worse than nokia camera though

HDR does not work for me. anyone??

I literally tweeted the dev earlier today even before this article came out, asking why HDR is disabled and they replied saying the app is in Beta and HDR won't be available till its official released. Tweet is here: https://twitter.com/Camera360/status/532102078068297728

Thanks I was wondering the same thing!

Idk... But sometimes app clicks black pics... Even phone get heated up... Fix needed

Hope they fix all the bugs fast.

One of the best camera app for WP! Fast and excellent filters. Interface is easy to use and not overly complicated.

Filters like iOS and that is the best cam app. ^^

Perfect app for instant shots, for moments when you just want to take a good snap with no fuss.

Though camera 360 is great but still want pixlr

I love It..the timer is better than Nokia camera..even though it slow sometime on my 1320..

I thought the interface was a copy of the iPhones camera app. But its really fast I must say.

Still admire to nokia camera, hopefully MS will update and improve, as well as typing keyboard in English and Chinese prediction, thanks.

For some reason, the synopsis/photo info in the app shows all my photos to be of the exact same size of 5.3MB on my Lumia 1520.

In effects, i found an arrow mark which when clicked showed me 40 filters effects.. 1st i thought they where only 4 but later i got the rest 36 filters

A lot of hidden features. Thanks for finding it and will update the post.

If you're talking about filters in editing mode, you can swipe up too.. And tapping on the filter will give a slider to increase/decrease effect intensity..

Thank you for putting that up

Amazing app.. The photoviewer is amazing.. (swipe corners to rotate image temporarily without having to disable rotation lock, Zoom out to get into the photo-grid view, Swipe up to view other type of filters when in edit mode) Microsoft should learn a thing or two from them for Lumia Camera... Just can't use Potrait or cascade in decorations on NL520... What does that do?

Very good informative review!

Hdr option is unavailable.. Anyone facing the same problem?

I prefer ProShot. But it is indeed a good app

Can't believe how fast it snaps pics. I could definitely use this alongside ProShot for quick photos. Good job devs!

Fastest app to take pics imo

HTC Camera is insanely fast, I'll have to compare with this.

I love this app! For me, this and proshot work the best. This app works blazing fast on my 920

Swipe upwards/downwards to rotate an image <3

Very quick startup time. And I like that the app will try to focus the moment the viewfinder activates. I also like the UI, filters, and editor very much.

I got this app when it was free through myappfree and thought it wasn't made by the Camera360 guys because it looked SO different. I tried it, not knowing about how it worked, and was unimpressed. Now that I've read this post I'm definitely going to go back and give it another try.

It's a dead app already for lumia 920 and 925. Because the old gives crisp bright photos but this captures blurry and yellow tinted photos like the Nokia Camera and default one. Proshot still the best.

how good is proshot compared to lumia camera? does it consume more battery?

You can adjust the color balance and sharpness before taking the photo in proshot. No more annoying yellowish and blurry photos. This problem don't occur in new Series like 830 and 930. There is a huge quality difference between this kind of new models and l920-l925. But despite all of the users warnings and review neither Nokia not Windows cares because we already purchased, so they catched the fish and don't care anymore. Only proshot gives the options to fix it. Believe me I write everyone who responsible from Nokia and Windows. They broke the imaging at amber and did not fix until now. Portico was the best. If your phone is newer you wont face this problems but we are cursed.

sad .. but if you set iso manually images look great

I typically stick to Nokia camera or camera beta, proshot has some nice added features, it can be battery intensive if you use certain leveling features etc...But it keeps getting better.
The main limitation of all non Lumia camera apps is they can't be set as default.

It's decent but oversampling algorithm is lackluster comparing to both MS camera and Nokia Camera (at least for L1020)

which means, if i own a lumia 1020 (like i do) . i should stick to lumia camera?

Wooo this much? aND i simply igored it coz of plain look

thank God, i'm not the only one for unavailable HDR

Photos not clarity but too fast than default camera

Sorry but I need living images. I thought it was a gimmick but it's grown on me.

I didn't like this app.. As nothing new in it from same version Camera360..

HDR seems unavailable on my Icon. Cannot activate it.

I like the hue feature, its awesome.

Camera 360 has some more effects than camera 360pro

Ya still not getting the hype? Proshot, 1shot and Nokia camera beta, blow it away. Not sure why anyone would want it's limited features. Even the original camera360 is better and has more features like double exposure. Thecozz

Dont update this app, it will limit the max resolution to 2mp in the new update