Camspeed, benchmarking your Windows Phone 8 camera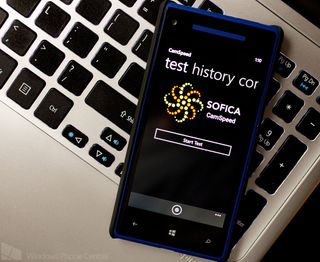 Ever wonder how fast your Windows Phone 8 camera is? CamSpeed is a Windows Phone app that will put your Windows Phone 8 camera through a battery of tests and tell you just that. CamSpeed also taps into the Sofica (opens in new tab) benchmarking database not only to publish your results but also to pull numbers from other devices for comparison. CamSpeed doesn't test your camera's image quality but rather the speed it launches, focuses, and captures images.
CamSpeed will maintain a history of your tests and let you share your results on Twitter. CamSpeed isn't going to appeal to everyone but if you're looking for a simple way to test your camera's speed, CamSpeed should fit the bill.
The user interface for CamSpeed is fairly simple. You have a Test Page to start the camera test, a History Page to view your testing history, and a Compare Page to show how your camera measures up.
To test your Windows Phone 8 camera just hold it steady, focusing on one point and tap the test button. CamSpeed will test the speed of opening the camera, focusing, capture speed with and without the flash, and closing the camera. The test takes just a few seconds and when all is said and done you'll get a test summary report that shows your ranking, score with/without a flash, test conditions, and camera information.
The test will be added to your History Page and reflected on the Compare Page based on the lighting conditions. There is a "Compare On" button that will pull up all the benchmark tests that can be switched from low, normal and bright light test results. Again, CamSpeed does not grade the cameras on image quality.
We had interesting results in testing CamSpeed with the Nokia Lumia 920 and HTC 8X. Speed wise, the 8X performed better than the 920. Low light testing had the 8X scoring a 346 while the Lumia 920 scored a 255. Normal lighting the Lumia 920 scored a 320 while the 8X scored a 485. Unfortunately it was a rainy, overcast day so the bright light test was not possible.
How does that compare to other devices? Normal light tests show the Sony C6603 tops with a score of 1090. The LG Nexus 4 takes the top spot in low light tests with a score of 852.
Again, CamSpeed isn't going to appeal to everyone but if you're curious how your camera performs speed wise it's worth checking out. CamSpeed is a free app for your Windows 8 device and you can find it here (opens in new tab) in the Windows Phone Store.
Get the Windows Central Newsletter
All the latest news, reviews, and guides for Windows and Xbox diehards.
George is the Reviews Editor at Windows Central, concentrating on Windows 10 PC and Mobile apps. He's been a supporter of the platform since the days of Windows CE and uses his current Windows 10 Mobile phone daily to keep up with life and enjoy a game during down time.
Probably has something along the lines of the Lumia taking more time overall to actually complete the shot. Amusing in the end but most people would probably prefer a better camera over a faster one.

The 8x has a dedicated image chip, may be that's why its getting a better score

Actually more likely that it's because the 920 leaves the shutter open for longer (because it can with OIS) than the 8X. That means a lower score in terms of speed, but higher image quality and lower ISO.

what Tiffany answered I am dazzled that any one able to earn $9263 in 1 month on the internet. did you see this website =======> Rich6.comAwesome

We need a flag comment feature on WPC.

I agree. This commenting system is archaic. We need Disqus.

It is archaic but I love it

. So the LG Nexus is basically the fastest at taking a bad shot. lol

I would completely be more interested in better pics vs faster ones. That's why I use smart shoot for capturing things where speed is needed

Unfortunately, when small children are your frequent subject, you NEED the speed... quality is important, but secondary.

but with Smart Shoot can we save all the captured picture?? I'm really confused about that.

Lumia 920 takes its time to magically take a beautiful picture which is fine by me becasue I would rather have a better picture than a fast capture of what then seems to be a blurry, out of focus image

Lol news never sleeps but here at wpcentral you can count on it tht it does loool :P

Tested out my proto 822. #51 in low light, but #29 in bright light. Isn't the Lumia line supposed to have better low light cameras?

The benchmark only tells you how fast, not the quality. The phone takes longer to take a better shot.

I use Microsoft Blink to get good shots, since it takes pictures before I press the button. Its great because it makes up for my poor reaction time.

Nokia smart shoot works good too. And for macro shots, try refocus you can adjust your focal point then you'll always get a clear picture.

I want both. I want a quick shutter at maximum quality and focus, but I have the feeling I can have only two of three...i feel like my iPhone snaps high quality, quickly, with generally good focus in all but lowest light when compared to my 920..

And that's why a test like this is useless. What do I care about a benchmarking result if in real life I know the pictures from the L920 are way better?

Actually, these kinds of benchmarks are very helpful- if used appropriately. Some folks may be primarily concerned with how quickly they can get a picture, and if a test can demonstrate that one phone is significantly faster than another then the consumer has an important data point for comparison. The risk, as always, is that these numbers become a meaningless pissing contest.

Online scores available at www.sofica.fi/CamSpeed2

In real life, faster shutter and capture is needed when you're taking multiple photos and living objects such my friends. Too bad mine is a 5MP 620, good but not the best, I'll keep it in my pocket if any of my friends have a better and faster one.

Speed is not important to me considering the whole process happens in seconds and the difference between one and the other is just milliseconds. It's more important to get better picture quality even if the phone takes a fraction of a second longer than the other phone to get there.

Nokia 920, 928 - Things to remember...

These devices use a 'technically' higher resolution sensor than the pixel count of the saved images. Nokia uses the additional information to process/create the 8.7mp image that is stored to the device. This inherent processing (not sure what % happens in hardware) will create a 'slower' result from a test like this for several reasons.

1) Shutter is open longer, ie the higher ISO modes
2) Even in lower ISO modes shutter is open longer for more data
3) It is also pulling in more pixels than a traditional 8mp camera which DOES require additional processing.

To test 'camera' speed it would be better to test things like 'burst modes' and video/streaming performance of the camera, not just how long it holds the shutter open for a normal shot.

We have been doing some interesting testing with the new Nokia 928, and the image performance in our curve of lighting conditions is rather impressive. Even pulling in images and data from a night sky image that the human eye cannot discern. In daylight and bright or shifiting brightness images, the normal digital tearing and noise is on par with several of our 8mp and 12mp DSLR cameras, and considering the actual imaging sensor size difference, we were rather surprised, even expecint a good performance from the 928.

Nokia has done a good job with a sensor pulling in more pixel, the OIS allowing for longer exposure times, and the final imaging processing that happens automatically for the user is a brilliant mix for any imaging device, let alone a phone. The 'stored' data for the image also doesn't have the compromises that you get with the iPhone or other devices like the S3/S4 where their 'autofix' that happens during the shot destroys the raw data.

To get an image from other cameras like the S4, you can use some of the Nokia techniques, but it requires post processing the 13mp image down to 2-4mp for the final image. The same is true of an iPhone 5, but again you are going to end up with a saved image of 2-3mp just to offset the internal processing the Nokia sensor is doing automatically.