Car Dash for Windows Phone updated - adds FM tuner and more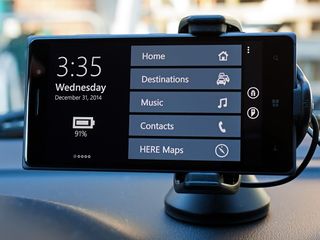 Car Dash is an automotive dashboard Windows Phone app that puts a vast selection of features at your fingertips while on the road. The large touch interface makes it easy to access HERE maps, MixRadio, access contacts and more.
The Windows Phone app has been updated a few times since we last visiting things with the most recent update (version 3.7) being pushed out the other day. The last series of updates most notably adds an FM tuner and speedometer to Car Dash and helps add to the app's appeal.
The version 3.7 update pushed out on December 29, 2014 and added an FM radio tuner feature to the mix. This feature is ad supported with the option to remove the ads ($.99) through an in-app purchase.
Previous updates added additional button options to Car Dash that included:
Speedometer and Compass (upgrade)
Skype, Voice2Mail and Camera Lenses to App Shortcuts
Haptic Feedback
All of the updates since we last visited with Car Dash included the standard bug fixes and performance enhancements.
Keep in mind that the core version of Car Dash provides basic functionality. The app has plenty of premium or upgrade features that can be purchased through the in-app upgrade store. Your core features include buttons to access key contacts, to access frequently used apps, and access your music files.
Upgrade features include weather information, NFC support and the speedometer feature. These upgrades can be purchased individually ($.99 each) or as a group by upgrading to the pro version of Car Dash ($2.49). Please note that if you upgrade to the pro version any future premium features will be available at no extra cost.
We were impressed with Car Dash when it was first released and each update seems to improve things nicely. With over 800 reviews, Car Dash pulls down a 4.5 Star rating in the Windows Phone Store, which we see as being spot on.
Windows Central Newsletter
Get the best of Windows Central in in your inbox, every day!
George is the Reviews Editor at Windows Central, concentrating on Windows 10 PC and Mobile apps. He's been a supporter of the platform since the days of Windows CE and uses his current Windows 10 Mobile phone daily to keep up with life and enjoy a game during down time.
Did this app able to play music through Bluetooth??

Once u connect with Bluetooth every sound should come out of the car speakers.

Will this connect to my blue&me technology in my fiat punto??

I don't see why not. My Windows phone works great with any Bluetooth device. You can even set it to read incoming text messages and reply via voice so you don't have to pick it up while driving and become more distracted... One of my favorite features since I drive so much for my job and I don't have free hands since I drive a manual... Posted via the Windows Central App for Android

Can't wait to play the FM tuner through my car radio...

Why your car doesn't have its own FM?

I think that the ellipsis at the end of the post indicates that the poster was using sarcasm. I agree. Not sure why this is is necessary since most cars have an FM stereo.

it's ordinary fm ..i thought it was something like "FM transmitter" ..anyway nice app

Developer here. I added the FM Radio tuner after numerous users requested it https://carstarter.uservoice.com/forums/226858-car-dash/suggestions/5661828-radio. I think in some countries having a built-in Radio tuner must not be as common as it is in the US.

Does the tuner allow switching between US and European FM bands?.

Hmm, it does not. I will add that capability.

Some people may not have a car stereo and use a Bluetooth headset. I see people un lexuses wearing headphones.

No Swedish = Uninstalled.

I saw a lot of people commented like this. I'm not gonna offend, but as I can see, you can understand English. Why being so "racist" with app that doesn't support your native language? curious.....

Personally: It's my natural language and I don't want to be forced to use something that don't feel just that
Naturally: Its also a hint to the dev. that they will have little/no impact in Sweden since a lot of people are really bad at English.

What's the solution you are offering to developers for this situation? Are you expecting developers to pay to have their apps localized? Just curious.

Developer here. I'm actually pretty pleased that I've been able to translate Car Dash into several languages via bilingual users volunteering to translate the app for me. The Windows Phone community is fantastic.

Would you be willing to get another free service to translate to another language (a local Nigerian language)? Cos I may be willing to be of help.

To "Bdlou". If a developer searche/used the WC forum and just searched, in this example, "Swedish translations for free" he will see me doing my part.

Is this an alternative-universe Sweden you speak of? I'm half Swedish and have been visiting family since the late 70's. Even then a lot of people spoke English. All kids study it very early in school, and often Swedes have better grammar than people from the US (very embarassing!). When I was at University of Uppsala in '96/'97 almost everybody spoke fantastic English - even bus drivers, cashiers at stores, etc. I suspect some of the "newer" Swedish immigrants from the Middle East may not be particularly fluent in English, but to say Swedes in general are bad at English is way off. On balance they are much better than France/Germany/Spain/Italy/etc. Unless a dev is from Sweden I think Swedish language should be further down the list, but that's just my $.02 worth.

Its rather strange, but people seem to actually loose there English. People amongst my friends and family don't even understand it.
How ever, I stated the obvious. Its not in Swedish and I will simply not use the app therefore, I cant see the problem in my contemplation.

Oh, as a note. Some people have no problem speaking several languages. How ever, most don't. You can learn a second language and it will always be just that, second. It will not be a natural language.

You're right. The custodians of English as a language are usually bad in its use. You need to see how some Brits murder written or spoken English. It's usually funny and a strange occurrence.

There is nothing "racist" about what the OP stated. That term is used a thousand fold too much.

Developer here. I'll definitely look into adding Swedish translations for Car Dash. Thanks for the feedback.

Personally English is the dev's natural language so he doesn't want to be forced to make an app in some other language..!!
Naturally it's an hint to whiners to STFU cause they can't adapt and learn English..!!

I would find this app much more appealing if it could be used in conjunction with MirrorLink. Is WP gonna commit to that or are we going to be left out of the automotive/smartphone integration revolution that is starting to gain momentum?

I think MirrorLink is buried with Symbian. Symbian was the strongest advocate for MirrorLink. Android and iOS weren't so serious about it as at then and even at present. Your comment is the first advocating on MirrorLink that I've read in a veeeery long time. And if at this level of WP Development (WP8.1), MSFT has seen no reason to include HDMI and TV-out in its package (something which Symbian Belle does perfectly), then you can be sure that MirrorLink on WP OS is like asking an alien technology on earth, except maybe Cortana brings it back from the future.

Will this connect to play music via Bluetooth in my fiat punto which has blue&me technology powered by Microsoft ???

If your phone can connect to your car's bluetooth stereo then all music played from Car Dash will use the bluetooth connection.

About the last button ( Here Maps ), would be nice if that one also could be edited.
I use Here Drive instead of Here Maps.
Also would be nice if destination could be sync with the favorites of the Here aplications.

Distracted driving is dangerous, therefore I won't use this type of app which encourages you to fiddle with your phone while driving.

You don't have to fiddle around once you set it up properly.

Does the app respond to voice control? If yes, what is controls le via voice commands?

I love this app, but I can't seem to find a good car mount to use it with...I'll have to do some digging.

I wish one day Car Dash could be operated with Cortana. No more touching buttons while driving. But at the moment it is one of my favorite apps.

I use this app quite a bit. I would definitely like to see Cortana integration.

This app is developing quite nicely. Looks great too.

When I drive in need for speed my cars automatically tune music, so no need for this :P

Like this. Spouse uses his phone in car for his loaded music, and blue tooth for calls, but this is much better set up.

That's really excellent. I have an in car app that I'm working on as well. Localization is so far from my mind right now, so I was interested to see what the thoughts were around this. Keep up the great work!

Great app, but my biggest issue so far is the lock screen appearing. The Lumia car dash app doesn't lock the screen - is it not possible for 3rd party apps to prevent this either?

....because of the recommendation, I bought the "car dash pro" but I can't find no where any way for downloading. All I can find in the store is the "free" version...
Windows Central Newsletter
Thank you for signing up to Windows Central. You will receive a verification email shortly.
There was a problem. Please refresh the page and try again.