Cars: Fast as Lightning now available for free on Windows Phone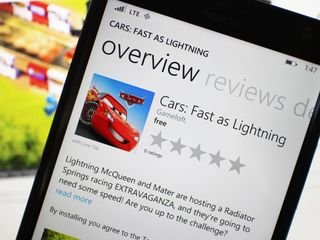 Cars: Fast as Lightning is now available for Windows Phone. The latest game from mobile developer Gameloft dropped last Friday on Windows 8.1. Now those on Windows Phone can enjoy the game based on the popular Pixar series. And it's free.
Here's what you get with Cars: Fast as Lightning according to the description:
THE OFFICIAL DISNEY PIXAR CARS GAME!
Dive into a true Cars experience, capturing the personality of the characters that kids and fans have come to love!
High-quality voice acting and animation cutscenes, including Owen Wilson as the voice of Lightning McQueen!
From the legendary Lightning McQueen to the exuberant Francesco Bernoulli, race as 20 Cars characters that you can upgrade and customize with quirky paint jobs! Race as the Radiator Springs Cars, Tuner Cars, Spy Cars, or International Racers!
HIGH-OCTANE, CUSTOMIZABLE RACING!
Are you up to speed? Feel the asphalt under your wheels in an acceleration-charged racing experience with easy-to-learn controls, nitro boosts and other speedy surprises!
Completely customizable racing experience! From Rocky Loops to Roller Coasters, add track pieces to perform amazing stunts!
Hit the accelerator! Compete with your friends, see their races, and beat their track times in weekly tournaments!
BUILD YOUR OWN RADIATOR SPRINGS!
A fun Radiator Springs building experience, featuring over 30 interactive buildings, including Luigi's Casa Della Tires and Fillmore's Taste-In!
Characters, buildings and landmarks iconic to the Cars movies created in beautiful 3D graphics, all with cute and funny animations!
The game is available for free and works on 512 MB devices! There are in-app purchases, but you probably already knew that. Enjoying this game on your Surface? Then download the Windows Phone version and let us know what you think of it!
Thanks for the tip everyone!
Windows Central Newsletter
Get the best of Windows Central in in your inbox, every day!
You're probably the only one I've seen using a "light" background on a WP so regularly. :P
No offence meant but I've hardly seen anyone using a light theme so often :)

No, he is not the only one.

I'm alternating between light and dark backgrounds on my 1520. The use of light backgrounds depends solely if you have an LCD or OLED display. Posted via Windows Phone Central App

The game is really bad and sound cracks while playing and lags too it needs a fix...

Been using light theme since beginning of the year. Love it more than dark theme....and since my 920 ain't AMOLED, it helps a little with my battery.

Using a white background won't help your battery if your phone has an LCD display.

with lcd it will, not much, but white uses less power than black

It's the other way around, but you just don't use the energy needed to excite the "liquid crystal". 1mA would be overestimating it

Actually Melle is right. Anecdotally, LCD displays consume a fraction MORE energy to keep the liquid cristals cutting down the background light path. Thus, a black screen would keep all the crystals excited to shut that light. Whereas a white screen would simply consume the (always on) background light but not a single crystal would have been kept excited. :) But I agree, it's a thing almost unmeasurable..

In contrary LCD's use energy to maintain black.

Sometimes i want to use light background but there is too much inconsistency. Music, video, store, photos, and yes bing app don't change with the color scheme. I hope microsoft will figure this out soon.

I do. It looks prettier IMHO and on LCD's it uses slightly less energy.

I use light background if i'm going to be reading the WPC app (I would love to just be able to set the app to always have light background without having to change the phone theme, but it doesn't sound like that's something they would consider). Other than that, I tend to stay with black, but change occasionally just for something different.

I use the black theme... The white make it always look over brighten and hurts my eyes after long periods many Microsoft should think of adding additional theme background colors.

Veryyyyy lagy on lumia 525 :(( why gameloft don't optimized games for wp???

Its because low memory device owners are more likely not to spend money on iap's

The 525 has 1GB of RAM...

1st time I read it I thought it was one of the lower spec phones in its series

Total file size after installation

Lags alot on my 1020......

Runs perfect only 920, 1.5 ghz Rocks)

DI must be really hurting if they contract out work to gameloft

Laaaaaags Lumia 1020 i can not believe it

Is it just me or is Gameloft trying to emulate some games and slap a Brand New name on it just like how Cars compared to Overvolt and Angry Birds Transformers to Major Mayhem.
I mean the core concept of the gameplay is the same o.O

It is showing item isn't available in the store

Gameloft is the WORST. always a broken, poorly ported crappy experience with all of their games.

Yep. It was tolerable back when their games were Xbox Live-enabled, but now it's just not worth it. #SaveXboxWP

Runs like SHIT on my L925. Don't even bother. Uninstalled.

Why they botherd with Gameloft and not Disney instead. Gameloft is the destroyer of good games.

Ain't that the truth. DI's been going downhill for awhile now even infinitely cant save it

Did you noticed the updated WP Store? Even 35MB needs a Wi-Fi. What the hell.

Limiter starts from 20 MB onwards

Getting it going on one of my Surface RTs was horrible, but now that we finally have it working, my 3 year old son has been having a blast with it.

Must be still beta. Defenitely needs an update.

Run very smoothly on my 820, installed on sd card. Good job gameloft!

Running well on my 630, but the battery gets HOT.

Is anybody from India has download this app. It says "this item is not available in the store".

It shows item not available in store

Bhai it was available. I downloaded and uninstalled... Lagging even in Lumia 1520

Is anyone else having trouble getting past the initial Parents Disclaimer when the app first opens? Tapping 'continue' doesn't seem to register. Typical Gameloft release....buggy.

Worked the first time. Crashed on opening the second. Deleted. Having more fun with Overvolt.

Its not available in the store

Gameloft you are the best :)

waiting for optimization typical Gameloft never mind it happens on all platforms

Its saying item is not available in store...... Region us

Its also not available in us

Its like I m gonna download blek gane and its saying Microsoft service is down right now

Total size after installation

Not available in the store???
What was that suppose to mean ?
Wp8 sucks...

It doesn't work on my 735. The in game buttons work, then it crashes after the intro vid. After that it crashes at the gameloft splash screen... Uninstalled

Laggy, laggy on my 930... Nice looking tough!

Why does it say not available?

Touch is not working once launched the game. Useless

I am using Lumia 720 with latest version windows 8.1 .
I cannot find the app as i search in the store ??

The game is really bad and sound cracks while playing and lags too it needs a fix

Why is this Not available in india is there any way to get it help me out
Windows Central Newsletter
Thank you for signing up to Windows Central. You will receive a verification email shortly.
There was a problem. Please refresh the page and try again.