Catch the latest games with NBA Game Time on Xbox One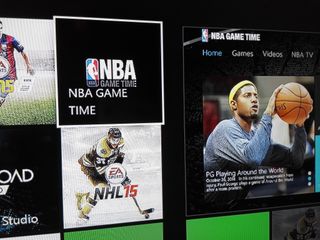 The NBA Game Time app is now available on the Xbox One. NBA Game times lets you watch highlights, view a schedule, look at league standings, and watch games live.
NBA League Pass subscribers will be able to catch games live right from the app, in HD. You can also watch games on-demand if you can watch live. Non-subscribers can still watch highlights, view a game calendar, see the next three games right on the app's home screen, and view standings by conference or by division. You can also get an overview of the league leaders.
You can download NBA Game Time on the Xbox One Store, or from you SmartGlass application. Give it a try, and tell us what you think in the comments.
Windows Central Newsletter
Get the best of Windows Central in your inbox, every day!
Sadly, still not working for Windows Phone

Don't even wait on it.. Or any app really.

Mother fu**%%%&. Thought for sure this toast notification was for windows phone. What a dam tease. Well at least I can FINALLY watch league pass games in HD. Yes FUU Time Warner. Dam stoneage crap cable network they are running.

Is the NBA Game Time app not there anymore? I just changed my phone region to Canada and downloaded the app then went back to USA

I sent them 3 emails and they didn't respond, someone know what's going on with their WP app? This is a must have app for me...

I sent them an email also. I copy/pasted from their faq section that the game time app was available for wp and asked what's going on. Just yesterday, after 2 weeks, I sent a 'reminder email' and they replied within hours saying that only pc, android, ios, ps3, kindle fire and xbox 360 are supported with no other platforms coming up at this time. Then this

Cool. My brother was just asking me yesterday if this app was available for XB1.

This is good news. Was reading last week somewhere that they had no plans for this, so a nice suprise

Need a a universal NBA game time app. I need to watch it on my WP. Come on MS make it happen

We need a Fantasy Basketball app.

Weird thing is that it works on my 928, but not on my Icon.

I wish there was a free game of the day like MLB.

They need to bring back the WP Game time app. Was great when it worked...although every other update they released would usually break the app

I wish there was a way to download Xbox one apps from windows central!