CCleaner now supports Microsoft Edge web browser
If you're a fan of CCleaner, the popular tool to keep your PC clean of temporary files and useless Windows registry entries, you'll dig this latest release that adds support for Microsoft Edge on Windows 10.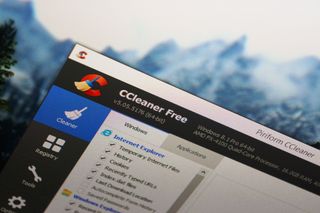 The implemented support for Microsoft's new and upcoming web browser is the main highlight of version 5.06, but the team at Piriform have also added a bunch of improvements too:
Improved Firefox session cleaning
Improved Google Chrome Download History cleaning
Improved system restore detection routine
Improved keyboard navigation
Updated exception handling and reporting architecture
Improved localization and language support
Minor GUI Improvements
Minor bug fixes
The app can prove to be an essential tool for those who find themselves running low of disk space, due to temporary files being stored by web browsers and other programs. With the added support for Edge, CCleaner users can now also take care of Microsoft's new browser with a single click of a button.
CCleaner is available for free, though there is a premium version available should you wish to take advantage of more features. You can grab the app from the link below:
Source: Piriform (opens in new tab); Thanks, Arghya K., for the tip!
Windows Central Newsletter
Get the best of Windows Central in in your inbox, every day!
Rich Edmonds was formerly a Senior Editor of PC hardware at Windows Central, covering everything related to PC components and NAS. He's been involved in technology for more than a decade and knows a thing or two about the magic inside a PC chassis. You can follow him on Twitter at @RichEdmonds.
Does it clean only browser apps? And please could someone send the link to download it thanks

If you're looking to uninstall apps/programs. Revo uninstaller is awesome. Free version is actually better than paid version.

Free Revo is better than paid ? How ?

I have to agree 100%. Revo is a tool that once you use you can never live without. It removes leftover files that uninstallers leave behind. I recommend the Pro version though

i don't see how free version is better than paid version since revo free can't detect and uninstall 64 bit programs.

Bing it. CCleaner its essential if you are working with websites or frequent internet users as well as it clears registry pretty neat. Maybe the best reg cleaner which you can trust.

This. The only registry cleaner I will use. Been a user for years... Maybe I will buy the paid version just to support them more.

Agree. I've been using it for years now and it has not failed me yet. Between it and Malwarebytes(and whatever antivirus is installed) there are few computers I can't clean and get back to a proper running condition. Though I don't really need it, I bought their pro version just because I've been using their free product for so long and have no complaints.

Or you could just not touch the registry...

A link? bing.com enter "ccleaner" in search box

Use avg tuneup utilities.

Yeah avg cleaned up my vista hp laptop pretty good for hp's incorrectly installed crapware

Its a very good solid 100% reliable tool to have, I've had it for year's. I would recommend it to anyone.

It sweeps registry as well. Also, you can install from here. I love this as well as their defrag program.

CCleaner is top revolutionary tool on your PC ;) and their full pack of programs is even awesomer.

CCleaner is the best program!!

Does it supports windows 7 laptops??

Pardon me, I don't mean to be condensing, but house on earth you didn't hear of ccleaner. Am honest question.

Is it safe to use CCleaner tho in Windows 10?

Is this tool really needed or is the windows disk cleanup enough?

Depends from desktop to desktop.

Revo uninstaller is free for limit time.

You will get everything for free....Just Torrent it..!! :P

Yeah no don't do that. It's kinda stealing isn't it.

1)-Buying softwares for $25, which are not worth more than $5 is also sort stealing by the vendor.
2)-The mode of payment is not available in all countries.
3)-Folks uploading the softwares are the ones violating the law actually.
Am against it totally, but when I do, I call it borrowing.

Justification. :) getting (non-open source or paid) software for free without paying is still stealing. But to be fair, the DMCA has no restrictions on downloading stuff, so meh.....what do you do?

How do you know the software's worth? Were you the manager?

To know a product's worth one doesn't have to be a manager. Your question is complete bs, think about it again.

Oh ok. Please teach me how to deduce a software's worth by just looking at it? SOunds like a very useful skill to have. /s

I would rather teach you to know a software's worth by 'using' it, and also by comparing prices of the same types of apps.

Right, because all software is made the same way, and takes the same amount of time and resources to develop

Sagar Limaye, cost to develop has nothing to do with how much it's worth. The developer/seller sets a price recognizing that a lower price will get more customers, but at a lower price, and a higher price will get fewer customer but make more money per customer. So the seller tries to select the price that maximizes their overall revenue. The "fair price" is whatever price the seller and buyer agree is fair and it won't be the same for every developer or every customer. That's basic economics and is also good for everyone -- if the seller isn't making a profit, there's no incentive to devote resources to doing the work (maybe some people will as a hobby, but if users are getting value out of it, even then the developer should get compensation for the help or enjoyment he/she is bringing to others). And, when the developer/seller makes money, he or she then has money to spend on other stuff. That's what makes the world wealthier. Everyone in a free market system benefits from this added wealth and economic liquidity, even people who don't use the software. When you pirate software, you are stealing, discouraging further innovation and development and ultimately taking food from starving children.

Do you mean an unlocked Pro version with a full license or just the standard 30 day trial the website offers 24/7 365 days a year? The way you worded it is misleading. It sounded like how some apps are free (iOS, Android, WP) for a limited time and if you install them during that window, you never have to pay for them and get full functionality/updates for life.

Hmmm, I'm going to use it again!

We need it for other folder :P

Does anyone really need this kind of tool?

Not that helpful IMO, only ever use it once to try it.

How can you say that..? Your experience is worthless if you have just used it once.

It's essential to keeping your computer clean and helping it to run smoothly. It should be included in everyone's regular computer maintenance.

On my PC which I only use for gaming it's not really essential but I have it on there anyways. However on my laptop (SP3), which I use as my main web browsing tool, I use it once a week to keep the thing running fast and smoothly. If you have never used it before, try it. You maybe surprised at just how much it can improve your systems current performance.

The secure file deletion yes. Registry fixer not so much(unless you know what your removing from it)

Yeahhhh... I have to use it daily sometimes... Actively monitors crap on my pc..

Every time I install ccleaner on my device hell gates open.

THIS. I really do not trust this kind of program.

Spoken like a true ignorant fuck. Bravo. -_-

Sorry for your dissapointment, already tested it. Do you have a deep connection or love affair to CCleaner?

I think it is not that good for a windows 8.1 laptop. It tends to mess up registries, I don't no possibly. I does seem to affect office 365, I think, as I had to reinstall it completely once as it was having some issues which stopped after I stopped using CC.

Messed up my registry before using Windows 10, had to re install Windows 10 again.

Ain't there a backup option..?

Just stay away from the registry portion of the app & you will be good

Ccleaner is fine, so long as you understand what registry inserts are being removed. If you don't understand it then don't use the registry scan part. You also have the option to restore those inserts if something goes tits up.

One of the best....being using it for some years now, and works smoothly. Recommended to my fellow friends.

Ccleaner is a good tool which I use frequently. However as an IT person or never really quite cleans everything in the browser. The best method is to use the tool provided by the browser.

Has anyone heard about "Glary Utilities" ?

Haven't used that in a long time

It is also for phones, theres an app for it in the google play store just not the windows store...yet

No only x86-64 version of windows. As this isnt a metro app

I hate giant title bar of Ccleaner.

Is there any way get Edge for W7/8? I don't have extra PC to test W10 preview. Edge seems to be something that might could replace Google Chrome.

No... Edge is only supported on win10.

Damn... Well i have to wait for summer :) not long anymore :3

Hold on. Edge is a universal app, sandboxed, with its own isolated storage. What could CCCleaner possibly do that Edge's clear-all function couldn't?

I was wondering about that myself. Then again I had always figured CCcleaner was some sort of ad ware do that shows you what I know... Lol

The ability to select what temp/temp internet files/cookies to delete

I love to see this as an app on windows phone. :)

Need ccleaner for phones too.

Nice!. Will they make an app?

Really satisfied with ccleaner. Worth my money.

4Real?! I thought this CC thingy was spam. My systems always come out worst after installing these kinds of things. A lot of spyware and chips. slowing everything down. Am I wrong?!

This is a must have. I use it for many years and is a nice optimization tool!

You're wrong about CCleaner. Its a very useful tool.

I've also had system issues after using CCleaner. I refuse to use any version of it again.

Beginners should stay away from registry scanning that & its drive erase tool unless was specifically told to use on say a mvp monitored forum

Lol, I'm not a beginner. I've used other cleaners with much better reults and few to no system issues. I've stopped using them in general because I rarely found a benefit to using one.

So what advantage does Cleaning your registry give advanced users? I'd love to know how removing a few hundred kilobytes somehow makes you system go faster.

And that is my thought exactly about these kind of tooling. Ones bad memories, always bad. That's why I never used them after that. Probably I'll try it on my W7 system to see if I'm convinced.

Wow. CCleaner sure updates fast. I love It :)

Really wish they would release an RT app!

Unfortunately RT is a dead platform that Microsoft isn't developing further. I don't see a lot of services coming to that platform in the future. I upgraded from a Surface 2 to Surface 3 to make sure I get the Windows 10 update, and I'm a lot happier (not that I had any real complaints with the S2).

Not developing further but still supporting for a while I hope. I considered trading in my Surface 2 for a Surface 3, but even after a $150 trade in, I find it very hard to justify spending an additional $400 for almost the same size screen and just to have Windows 10 which remains to be seen how awesome it will be on tablets. Universal apps is not a good enough reason to shell out $600 for a 10" tablet!

Yes, they will support RT for a while, and some Windows 10 features will come over. They haven't specified which ones though. For me, the ability to install anything on the Surface 3 helped push me to upgrade. RT can only install apps from the store, but Surface 3 runs full Windows just like the Pro 3. The S3 isn't limited to just what is in the app store. You can get a better resale price for a S2 on ebay. $150 trade-in value is a joke.

Very useful tool especially if you do any banking or shopping online.

I've had severe issues with PCs, in the past, after running CCleaner. I have no desire to ever use it again.

Great! Have been using CCCleaner since my Windows 7 days. I use it now in my W8.1 64bit machine. I have a partition in my PC with W10 - I'll download CCCleaner in it pronto!

If you are afraid of messing with the registry then don't, that's not ccleaner's primary function anyhow.

I installed CCleaner on my brand new Dell Inspiron 15 5548 and it works very fast, but I also think that some spyware can't be removed by Ccleaner, and for that the only cleaner I used that works is YAC (Yet another cleaner), however, i keep this YAC on OneDrive and just install it once, clean and then uninstall since it really slows down boot times, but it is a one time operation that will remove spyware difficult to beat with Ccleaner.

Look, our adware can now break edge browser along with everything else. Everytime I see this in the enterprise, I know someone's kid was asked to "fix" something on the computer. It should never be run on a PC you plan on keeping. Also, was this sponsered content? Because this is pretty shady advice for a reputable site. That software has broken more PC's than I can count.

No registry cleaner can do good. System is like a beehive once you break it you can't fix it. All you need to do is stay away from malicious looking apps!

The best cleaners outta there are WiseCleaner and Glary Utilities. I've been using Ccleaner in a longtime, but after using those two softwares, I stopped using it.

It will be nice if there is a mobile version of cccleaner windows phone... Which cleans the data eaten by the apps... For me whatsapp data is over 200mb than its install data of 28mb...

If you use CCleaner or any other registry cleaner to clean your registry just stop. Your registry doesn't need cleaning. It does not make your computer faster. It's just a great way to break your PC.

It says that Microsoft Edge files are cleaned but they are skipped EVERY TIME when I run CCCleaner. Regardless of settings.
Windows Central Newsletter
Thank you for signing up to Windows Central. You will receive a verification email shortly.
There was a problem. Please refresh the page and try again.