CDMA Touch Pro 2 Unlocked. Let the Custom ROMs Begin!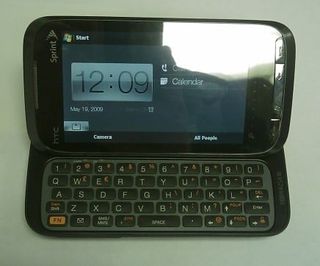 Well, many frayed nerves and hours hunched over one of the most popular Windows phones has finally paid off: The "unlocker" which we mentioned a few days ago has been completed, meaning users can now install custom ROMs to their beloved Touch Pro 2s, specifically Verizon, Sprint, U.S. Cellular and all other CDMA versions.
At least for Sprint, it sure beats waiting till "early 2010", eh?
Having this tool now, all the custom ROMs which are literally waiting in the wings (e.g. Energy, Mighty, CFay, Juicy, etc.) can be installed -- this includes WM6.5 and WM6.5.1 builds with all that custom goodness from your favorite 'Chefs'.
A big congrats to everyone for this achievement (donations are in order) and now if you pardon us, we're off for some ROM flashing ourselves! ...
Go HERE to grab the HardSPL! Here for the SIM Unlock and here for support.
Windows Central Newsletter
Get the best of Windows Central in in your inbox, every day!
Daniel Rubino is the Editor-in-chief of Windows Central, head reviewer, podcast co-host, and analyst. He has been covering Microsoft since 2007 when this site was called WMExperts (and later Windows Phone Central). His interests include Windows, laptops, next-gen computing, and for some reason, watches. Before all this tech stuff, he worked on a Ph.D. in linguistics, watched people sleep (for medical purposes!), and ran the projectors at movie theaters because it was fun.
hey phil I see you know your stuff with these things lol I was wondering if there is a way to get your sprint HTC touch pro 2 back to factory settings after unlocking? or is it a permanant thing. The reason I asked is becuase I have a touch pro 2 now but i plan on having it exchanged for a new one within the week.

yes,wonderful article,i like

wow u sure don't waste any time!

lol, I'm a little excited

What's the point of a SIM unlocker and why are they charging for that and not the HardSPL?

The SIM unlocker lets you use the the Sprint/Verizon TP2 on AT&T's network. The regular "unlocker" (aka hardSPL) allows custom ROMs and different radio firmware. More on the money end of things in the PPCGeeks threads. It's a big bag of hurt, but a sound argument.

I cannot tell you how helpful that comment was! People on forums are such "geeks" they forget that newbies like myself don't understand the basics. Thanks - I was about to pay for the unlocker for nothing. :)

Glad to hear it! Hope you listed to us talk about it all on the latest podcast, too.

Guess we know what I will be doing tomorrow. Hold my calls!

That's awesomeee!! I wish I had one :(

Mal and Phil, Will this work for the Imagio as well, or is it specific to just the TP2 line of phones? I know that screen rotation for the home screen etc. does not work on the Imagio like it does for the TP2's. Is that an issue or could this unlocker/custom ROM's actually be useful for the Imagio/Pure crowd? I wouldn't mind have the today screen being in landscape mode just for something different. While we're on the subject, I am a tinkerer. However, I am completely new to Windows Mobile (Windows Phone) and all of this "hard SPL, custom ROM" stuff, its completely foreign to me. I do NOT want to brick my phone. Is there a one stop shop for learning how to do this stuff? Seriously, like a "for dummies" spot on the net. I've seen a couple of posts at XDA about this, but none seem to start from absolute ground zero. I'm a pretty quick learner and its like riding a bike. The forums here seem to be pretty bare not so active IMO. I know that XDA is more for the GSM crowd and PPC Geeks is geared more towards the CDMA crowd. It can all be kinda confusing. Thanks,
-Brad

Hey Brad, I was in your boat a few months ago. I have a Diamond2 (Topaz) and I wanted to flash my ROM with a cooked ROM from XDA. I went over to XDA, did a search on "How To Flash ROM" or something like that and I found a a sticky which explains the process. Just read and follow every step! Basically you'll need to HARDSPL your phone. This allows (I think) the ability to install "cooked" ROMs on your phone. So once you Hardspl your phone. Go to your phone section and look for ROMS. Typically in the ROM's section, there are steps on how to install the ROM. I've flashed my phone 4 times so far and haven't experienced a problem. Good luck. Schwack

This Hard SPL is ONLY for RHOD400 & RHOD500 devices. Check the following link where cmonex says she is going to get started on Whitestone/Imagio next: http://forum.ppcgeeks.com/showthread.php?t=91525

@tek818 Yep! @everyone else: Aight. It's been a slow week. Listen for some major custom ROM talk in the next podcast.

Well after a little bit of a struggle I am now all set up and running my first custom ROM on my TP2.

Herve Leger womens fashions at ShopStyle. Shop popular stores to find Herve Leger womens fashions on sale - all in one place. Create and share looks based
Herve Leger
Cheap Herve Leger
Jewelry,Necklaces,Jewelry Necklaces,Links of London Necklaces,online sales a variety of world famous such as Links of London etc,with competitive price.
Links of London , the leading British contemporary jeweller was founded in 1990 by jewellery designer Annoushka Ducas and her husband John Ayton.cheap Links of London jewelry at online linksgif UK store, including Links of London Necklaces, Links of London Charms, Links of London Earrings. Links of London Silver Sweetie Bracelet Medium
Links of London Charm
Links of London

Thanks for such a great post and the review, I am totally impressed! Keep stuff like this coming.

A guy was driving when a policeman pulled him over. He rolled down his window and said to the officer, "Is there a problem, Officer?" "No problem at all. I just observed your safe driving and am pleased to award you a $5,000 Safe Driver Award. Congratulations. What do you think you're going to do with the money?" He thought for a minute and said, "Well, I guess I'll go get that drivers' license." The lady sitting in the passenger seat said to the policeman, "Oh, don't pay attention to him - he's a smartass when he's drunk and stoned." The guy from the back seat said, "I TOLD you guys we wouldn't get far in a stolen car!" At that moment, there was a knock from the trunk and a muffled voice said, "Are we over the border yet?"

That was a great post! Thanks for providing the informative article indeed
Thanks for such a great post and the review, I am totally impressed! Keep stuff like this coming.

That was a great post! Thanks for providing the informative article indeed
Thanks for such a great post and the review, I am totally impressed! Keep stuff like this coming.

Oh,my god,let me see,I really think so.

wire mesh
wire cloth
stainless steel mesh
concrete wire mesh
Stainless Steel Wire Mesh
stainless steel wire cloth
Black Wire Cloth
Galvanized Square Wire mesh
crimped wire mesh
Brass Wire Cloth
Filter Wire Mesh
Expanded Wire Mesh
Perforated Metal Wire Mesh
Knitted Wire Mesh
Demister
Barbecue grill wire netting
Roofing nails
Concrete nails
Common nails
Wire
Welded Wire Mesh

That was a great post! Thanks for providing the informative article indeed
Thanks for such a great post and the review, I am totally impressed! Keep stuff like this coming.

Automotive Tools & Equipment
Automotive Equipment Plus, Inc. continuously develops its online catalog of automotive tools, equipment and supplies, adding more and more products each week!
http://www.sinosells.com/?u=1221

ghd australia sale all kinds of ghd straighteners,strong>ghd hair straightener

Thank all of you for your sharing.I like here.
ECU tools
diagnostic tools
BWM tools

Now, you want to design a logo for your website, do you still need to ask some professional website design company? No, you just need to choose a right logo maker, how about the site menu, do not worry, tree menu and drop down menu will help you. For the banner, we also can provide flash banner to you. Even you want to design a whole flash, it is still not a problem. flash maker and swf decompiler will deal with it easily.So, with our help, all you creativity will be true.

from where we can download the ROM ?
Windows Central Newsletter
Thank you for signing up to Windows Central. You will receive a verification email shortly.
There was a problem. Please refresh the page and try again.