Celebrate Windows 95's 20th birthday with a free download of 'Start Me Up'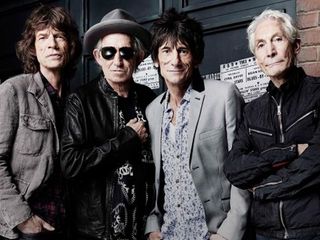 We've already noted that today is the 20th anniversary of the launch of Windows 95, and Microsoft is celebrating the milestone with a freebie for today only. People can download "Start Me Up" by the Rolling Stones in the Windows Store for free from now until 11:59 p.m. Pacific time today.
"Start Me Up", from the Tattoo You album, was used by Microsoft to be the soundtrack for the official Windows 95 TV commercial on August 24, 1995. The idea was to show how people could quickly access programs and features on the OS with the new Start button and menu. Nearly 20 years later, Microsoft is still offering a version of both in Windows 10.
Get "Start Me Up" for free from the Windows Store (opens in new tab)
Source: Microsoft (opens in new tab)
Windows Central Newsletter
Get the best of Windows Central in in your inbox, every day!
U.S only!! WTF its 2015 FFS

Too right ! Just tried in UK and got nowhere ! T

And yet another person who enjoys when there is a special deal, sale, give away, contest, etc. available only in their country. But then when there is something available only to another country, usually for licensing reasons by a 3rd party, then they whine, cry, and demand that they be given the same deal/giveaway/etc because they feel entitled to it.

WTF are you on about? It is always US only, fuck the rest of the world.

Not at all. What annoys me is (sorry john) that tech sites have a world wide audience yet the writing is/can be generic. Yes it's annoying that the song is only free in the U.S (the way record companies work is mind boggling) but it's more annoying when tech journalists write as if other parts of the world do not exist.

Blame record companies for the way they sell the rights to music.

@ade333:
Well, these "bad" record companies you talk about tend to be pretty openminded, if you offer them (enough) money.
Evidence A: Apple overjoyed the WHOLE world with the free delivery of a a U2 album.

At least Microsoft didn't provide a Windows Update that automatically downloaded the song and then made the song play when you first logged into your computer. ;)

@aerosmilie:
And once again this is Microsoft's way to say a big F* U* to "the rest of the world"...

It's not Microsoft, it's the record companies.

https://www.youtube.com/watch?v=DOwQKWiRJAA

Happy birthday to windows 20's years.congratulation

Now the Start Button is like that 20 year old who won't move out and find a job.

Im guessing the fact its ony avaiable in US means that must be only place they released Windows 95. Im sure i had it in Uk.

Well, Microsoft thinks there's only one market: US. The rest of the world can go to hell! See the launch of MS Band and you know what I mean ;-)

Since MS doesn't own the rights to the song they just release where ever they damn well please. People just cry with know knowledge of what they are crying about.

Since MS doesn't own the rights to the song they just release where ever they damn well please. People just cry with no knowledge of what they are crying about.

@JamesDax3:
Your stupid comment doesn't get any better if you re-post it several times...

I'm getting "Sorry, we can't find that page. Check the URL, or try refreshing in a little while." My Internet access is from NewYork, although I'm located outside US, could this be the issue?

thanks for the tip just added it.

In Canada, Start Me Up and Cortana have something in common, "Not Available in Your Region".

Nice! Thanks for the free song. Look up the album "Tattoo You" on the store and that's where you find the free track. Just in case some were having trouble finding it.

Kazik - Coście skurwysyny... To jest kawałek chu...a tam się znacie.

Took me a while to figure out that I couldn't get the free version on my Windows Phone. Gotta use the Windows 10 Store.

"free version of both". Both what? Besides the song?

"Ya make a grown man cryyyyyyy" Hearing this after a long time :D

(1) - At first couldn't find actual song DL link through Mobile App post. (2) - Tried going through 'Music' app and search; only displays songs I already had. (3) - Go back to WC post, find link; song doesn't DL.. 'There is a prob, try later'. (4) - Try 4 more times (bits of time in between).. 4th time DL page no longer says 'FREE' .. Now says 'PLAY'. (5) - Press play on page, takes me to my app list under 'M' for music. Clicks 'Music'.. takes me to download page for 'Music' app (I already have). (6) - No DL option for 'Music' app, only view (cause I have it already). Click view.. Shows songs I already have; no starting it up. (7) - Go back to DL page for Start Me Up.. Says 'Free'.. Click.. 'Try again in a little bit'. (8) - Ugghhh!!

€ 1,99 does not sound FREE ?!? - NL Store

Install the English (US) language pack then restart the Store: this gets you the free track. Be prepared to wait tho...

MS may evolve into the future the OS but its Executives' brains still stay in the Middle Age. They still think of Windows and PC market as US centric; they're walking on thin ice this time though...this is in few words MS' problem: great ideas and poor/messy rendition of them into reality

Start Me Up for not having once again the download available in Europe, Portugal!

But I have to install Windows 10 to get it, right? Dammit.

I'm getting a broken link?

Yes. apparently you most be US citizen. .. and then don't expect it. - I finally had to go 'shark' on it. - Let the younger learn. (always have a back-up).

GO SHARK!! (no worries) .

OK. I finally got it And it does make a grown (teen) die. Good classic Thumb is up. -- Now give this (a song) to the world. Heck-Yeah!! Open for ALL!!

... and now I cannot play ANY of my music.. "This is only available to subscribers". WHAT?! I am always signed in to MS services.Those are -MY- songs.. You stupid F@#** bit** Really!
Windows Central Newsletter
Thank you for signing up to Windows Central. You will receive a verification email shortly.
There was a problem. Please refresh the page and try again.