Windows 95 is 20 years old today, and Windows 10 still has a lot of its features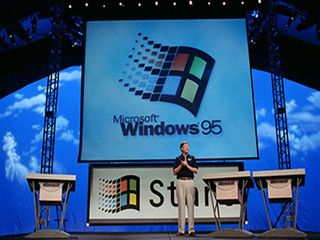 Windows 95 launched 20 years ago today, on August 24, 1995. Back then, the Internet was just beginning to be available to the general public, and the CD-ROM disc and drives were still considered to be a "new" thing in personal computers. 20 years later, a lot has changed in the PC industry, but remarkably, Microsoft's just-released Windows 10 retains many of the same features as Windows 95 did.
In 1995, the release of Windows 95 was the most important version of the Windows family since Microsoft started the operating system with Windows 1.0 in 1985. While it could still run old 16-bit Windows programs, and even older MS-DOS applications, Windows 95 brought support for 32-bit computing to the PC. However, it was its user interface that was the biggest change. The Start button and menu allowed users to quickly access and launch programs. Microsoft tried to remove both on the desktop with Windows 8, but the response from users who still had to access the OS with a mouse and keyboard was so negative, the company brought back versions of both for Windows 10.
Windows 10 also still uses things like the taskbar, the recycle bin, and more that were first introduced in Windows 95. While the "Modern" UI that was first launched in Windows 8 in 2012 is still there in Windows 10, it's clear that Microsoft wants desktop and notebook users to have something familiar as well for as least the foreseeable future.
By the way, Windows 95 was released on both CD-ROM and floppy disks 20 years ago. Today, Windows 10 is available via download or on USB Flash drives. Windows 95's hardware requirements included a PC with at least 4 MB of RAM and between 50 and 55 MB of free hard drive space. Windows 10 requires at least 1GB of RAM for the 32-bit version and 2GB of RAM for the 64-bit version, and 16GB of free storage.
Source: Microsoft
Get the Windows Central Newsletter
All the latest news, reviews, and guides for Windows and Xbox diehards.