Chronos, an RPG for the Oculus Rift, arrives on March 28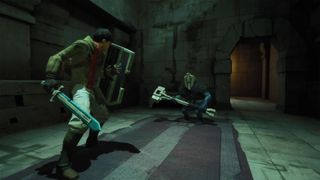 Chronos, one of the launch titles for the Oculus Rift, has gotten a final trailer before its release next week. The trailer shows off many of the environments you'll explore and enemies you'll fight in the game.
Developed by Gunfire Games, Chronos is described as an "Adventure RPG," combining elements from both adventure and role-playing games. The game features a wide variety of weapons, skills, and powers that players can use in their quests.
Chronos also features an aging mechainc. When you die, your character ages by one year. You'll need to adapt to this aging process, as you'll be come slower with age, but as this happens, you'll also become wiser, and more attuned to magic.
Chronos will be available for purchase beginning March 28.
Windows Central Newsletter
Get the best of Windows Central in in your inbox, every day!
What are the "obj" things doing in front of the word "Oculus" on the first line? I could paste it here but I can't delete it from the comment.
Windows Central Newsletter
Thank you for signing up to Windows Central. You will receive a verification email shortly.
There was a problem. Please refresh the page and try again.