Check out the new and improved mobile WPCentral site!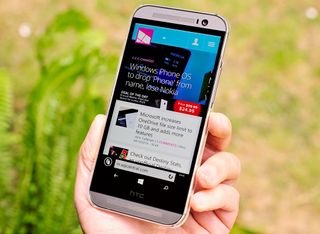 Over the last few weeks, www.wpcentral.com has been undergoing some changes in design. The first part was the header at the top displaying featured articles, or news stories related to what you are reading. We then followed up with up and down voting on the main site. Over the last 24-hours, we have been tweaking the mobile version of Windows Phone Central, found at m.wpcentral.com.
Let us not beat around the bush: the m.wpcentral.com site over the last few weeks was almost torturous to use. The ads were too many, too large, and the scrolling was subpar. We heard your complaints, and we agree with them, so we are pleased to show you a new layout, with optimized performance!
Heading now to m.wpcentral.com on your phone should result in a much faster and less frustrating experience. Ads are now just 5% of the display space on initial load, versus the previous version, which was unacceptable. Additionally, the layout is different with an all-new mobile template, showing more articles per page. Jumping into an article, it will no longer load featured-articles at the top, reducing data usage and browsing speeds (it still works on the full desktop view though).
These changes, fixes, and improvements are not the last, however. There are still some more modifications coming to the view within the article, and tweaks elsewhere, but the elimination of the aforementioned 'pain points' address the biggest complaints you folks had with the site.
We aim to make you, our community happy, so thanks for sticking through our growing stages with the new website design! For us, it is a matter of delivering a great user experience, while still scrapping enough to keep the lights on at Mobile Nations – it is never an easy balance, but we are doing our best. (I would also like to thank our hardworking dev team for their efforts).
Don't forget, all of these mobile changes are also found on our sister sites, including iMore, Android Central, CrackBerry and Connectedly.
ALERT - Forums and the WPCentral app
Over the last few days, we have been experiencing an issue with the Tapatalk API, our forums and our app, resulting in errors.
We are aware of the forum problem and Jay Bennett, our app developer, will solve it as soon as he is back from vacation, which in Europe I believe is 14 weeks or something. Kidding aside, he will get a fix out as soon as he can. However, feel free to remind him, repeatedly, on Twitter @JayTBennett ;)
Windows Central Newsletter
Get the best of Windows Central in in your inbox, every day!
Daniel Rubino is the Editor-in-chief of Windows Central, head reviewer, podcast co-host, and analyst. He has been covering Microsoft since 2007 when this site was called WMExperts (and later Windows Phone Central). His interests include Windows, laptops, next-gen computing, and for some reason, watches. Before all this tech stuff, he worked on a Ph.D. in linguistics, watched people sleep (for medical purposes!), and ran the projectors at movie theaters because it was fun.
Looks good when can we expect similar treatment for the wpcentral app?

Working on a ground up rewrite ;)

Finally! :D excited to hear that!

Ooh can't wait for that! :D

Nice! I use this app everyday when I have free time.

Shouldn't you be on vacation? :)

I happen to have WiFi where I am right now :) call it serendipity

:) I see. Don't you too miss the "good old times" when out of office meant just that? Enjoy your vacation. I am sure everyone here will survive until you are back.

Yey because this design is getting quite old

Man id love to have a job like that, working for a company... Getting paid do what I love as a hobby. That's the dream man, pleasing people with a super fun skill

This is something I do in my spare time. But as a result of it I now develop apps full time for another company. Put time into what you love and you can find the perfect career :)

Wow that's incredible! Truly inspirational as well my friend. I hope one day I may have a grand dev career for Windows platforms just like yourself :)

The ability to vote comments would be a neat addition.

Can't wait for the fix on the forum. I hate everytime I forget its broken and I try to use it, such disappointment lol!

Sick! I really like it as it is right now. But I'm sure whatever you are working on and have up your sleeves is even better! Thank you Jay!

I can't wait to see that.

Asking a question in forums are crashing Jay. Hope u fix it soon.

Include custom/ larger fonts in articles, comments and forums please please please :)

Awesome. The only thing I don't like about the app is I cannot get on the forum through it. If you could fix that, it would be great!

Really slow on my 521 compared to Engadget.com

For me its the opposite. Engadget sucks

I love wpcentral way more than engadget, but the mobile site is supper slow to load on my 521 right now. This can be improved.

Whats wrong with the current WPCentral app? Mobile site looks great on L625

I like it. good job on it.

Torturous to use. Truly was. You guys really do listen :)

Glad to know they are working on a fix to the app when accessing the forums. Waiting patiently!

14weeks man i use this app daylily

I really like the changes and enthusiasm at WPCentral. It's become my "go to" website over the past few months. Sorry, Paul Thurrott! lol

Paul is still great for his insight and years of experience, no reason not to love both!

...and he performs well on Twitter, lol

What happened to Michael archambault? I don't see his Xbox articles anymore? :-o

Don't forget Mary Jo Foley at ZDNet. Love reading her stuff.

Waiting for that new and improved app as well. Forum bugs are present

Im still getting the desktop version of the site on my Lumia 925. IE is set to mobile version but m.wpcentral.com quickly resolves to "www.wpcentral.com"

I have the exact opposite problem, am stuck with the mobile site on my 1520 and Surface RT, despite having the desktop option set.

The banner on top and ad on the bottom take hp half the screen, I don't like it. The banner could be smaller, and so you really need to display the ad on already small mobile display?

Buying the app can solve 50% issues for you!

The comment box in the app is talking some unnecessary space. It can be opened only while we comment.

Yeah, that requires a new comment box template, which is being worked on. We removed all the padding we could, but it's not enough. Look for that soon.

You guys working on a new layout for comments? Honestly I for the life of me can never understand who is replying to whom. Maybe I'm the only if so maybe a brief explanation would help. Also thumbs up and down for comments would be great.

Being European myself fourteen weeks is a low ball ;). Well done on the redesign. Wpcentral is one of my must reads - I eagerly await the app update! Good job people, well done!

LOOK... ADS.
ADS EVERYWHERE !

Way too many ads. Takes all the ads forever to load. Constantly hit ad instead of article. I hope this is not the intention.

A great improvement to what was there before. Now, only if WPC can stop replicating Time Square with a all the freaking Ads. Don't turn this site into WMpoweruser.

I'm OK with ads. After all those guys need to make money somehow. I rather see ads than having to have a paid subscription like NYT

I understand that sites like WPCentral make their revenue from ads, but there has to be a way to make them less annoying. Everytime I open an article or advance to the next page, I have to wait for all te ads to load before I'm able to scroll through the page. Other tech sites don't have this annoyance and neither should WPCentral.

And why do the ads have to be 3+ times larger than the images for the articles?

Cool! Any news on the custom color setting? Also, what is really missing in the mobile website is the search box.

Heh the mobile site is insanely fast . Nice one guys

There's a mobile site??? ;)

So nice and smooth. Great job! Was trying to use it last night and couldn't even log in. Navigation was excruciating! Loving the payoff for my frustration.

Is this the reason why the app is gone a little crazy the last couple of days?

Beautiful browsing experience, as it should be. Hey @Daniel, how did you not become a sales person? Really you could ace it

Hah, thanks. Working a few years in a hospital works, as you have to convince patients sometimes of things they may not like.

oh yeah, much cleaner now, make you wanna click on some ads

Dont use the site. Still dont like it anyway. Ads. But please fix app asap

Singlemuslim.com was one of the adverts on my m.wpcentral.com page :)! Seems a bit of an odd targeted ad to have on a tech site....especially given I am white & agnostic :)

Like all ads, I believe they are based on prior cookies/sites visited ;)

Haha...well, I'm wracking my mind to think how on earth that may have been considered relevant to me! I certainly don't pass the entrance requirement!
Funny advert to see interspersed with Xbox and WP news :).

Maybe don't Bing hot Muslim women! Lol just kidding or maybe not ;)

Jay with the official paid version of wpc on wp8/8.1 I always see notification count on live tile randomly display after I've already been in and out of app and count has reset. Hardly ever displays count on lockscreen notifications. Anyway I thought I'd bring it up so maybe you could address this issue. If it was the free version I would not care but if you are going to sell the app I think you should support it. Minor bugs but I bet this impacts battery more than necessary. Btw does not matter what configuration I have the tile i.e. tile size, logo and count type. Background enabled in sense and wpc selected for a notification slot on lockscreen. Does anyone else have these issues? Primarily on a Lumia 930 and same issues on both 920 and 1020 but they both have never displayed on lockscreen (small slot). Hopefully you can squash them bugs Jay Bennett

Same here on my 920. Frequently displays the wrong number.

Guess I'm expecting too much that this app functions as advertised. Been brought up before but never been acknowledged by wpc staff. Pretty shitty imo. Guess its more important to tell ppl to stay on topic or go to forums.... Any thoughts Rubino? Bennett? Sabri?

Tried loading it in Opera Beta. Crashes the app.

The app crashes for every site with me. So I don't believe its a wpcentral issue.

I'm confused. Is it new, or is it improved??

LOL. I guess the improvement is new. New is always new and an improvement on new is still just new. ;-)

only thing missing on the mobile site is "search". Need to bring that back ASAP

Thanks in advance Jay love your app already and WP Central is my first port of call for news regarding all things Microsoft...

Right on... Now bring back landscape mode for the app and we'll be in business! =)

Now I just need ad blocker on IE on my phone :D so I can see this site in the whole glory.

Ah man, wish the app was as nice. *paying customer* :P

Yeh its full of ads... Amazing improvement though

We don't work for free, and I'm sure neither do you, sorry. This is not a hobby/fan site, there are plenty of those already.

Sorry, I didn't mean to come off as rude. Your right though, I shouldn't have a right to say that. I do live the new look, and I so appreciate the effort of your team to make it look great and function well for its users. Honestly, I'm jealous, wish I could do that..

What? man you need to grow a pair. Why are you apologizing, WPC should be... The ads are everywhere; almost like wmpoweruse but with a light theme. The verge has a lot of ads, but for some reason i didn't notice them. I don't like the verge. I'm looking through the titles, scrolling and whats next, an ads for a chromebook or some other shit.

The mobile site is horrible. The ads are huge and all over the place, makes it very hard to read and scroll because you can't scroll when touching an ad. I mean seriously, between the ad and the top bar, it takes up half the screen on my Icon.

Service on my Tmo 521 is inactive ATM, but I'm still getting updates from the app. I can't make calls or text or serf the internet, but the app is still getting headline updates and comments still work. How is this possible even though no wifi and inactive service?

I should add I can't access the forums.

I use the app so I'll likely never notice these changes, but good job anyway!
Btw, are you guys still partnered with the Converge app? I know longer see WPC as one of the news sources to choose from...

We are partnered with Converge and we are still there, just scroll down ;)

Oh yep, you're absolutely right, I didn't see it there after the app updated, but it's pretty darned visible now. Thanks!

Noticed that the verge removed their partnership. Wonder why? Monetary? I like converge and appreciate you guys being attached to that app.

The Verge never liked Converge.

Doesn't load on opera mini (symbian, I think android too); redirects to the full webpage which is broken on opera mini (on all platforms?) anyway.

We'll look into that soon, thx

Thank you, Daniel. I've already reported the issue with the full site here, but it seems to have been missed: http://forums.wpcentral.com/wpcentral-com-site-news-feedback-help/298626-official-new-wpcentral-design-thread-bug-fixes-issues-problems.html#post2669963 Post #24

I will when I get off my phone.

Now I want this UI in the App :D

Looks great on my 1520! http://1drv.ms/1xKNLKU

Is this the reasons the forums are broken in the app right now?

Login doesn't work properly on ie9(vista)

Notifications and live tile on win8.1 desktop app completely stopped today!! Notifications actually never worked for me... Mobile app... Pretty much the same, and my comments don't show in either app. For me it's not a big deal for mobile app, but it is for the PC Can't really see any performance improvements, and it looks the same (ads and everything) on IE on my Lumia 620 :-(
Am I really all that special??

Yeeee!! I can see my comments on both apps now!! Well, that's better!! :-)

I am having some serious image display issues on the new site. It looks just awful! I have a thread on it with an screenshot here: http://forums.wpcentral.com/windows-phone-8-1/310072-just-got-cyan-ie11-images-still-look-like-crap-help.html All images I see on the mobile site look like this now. Data sense is off, so no proxy image compression. Same thing happening on my 625, 820, 920, and 1020, all on official Cyan+8.1 with no dev preview. Is there anything I can do it improve the look of the site at all? I cannot understand why all the images look so terrible!

Too many ads in my opinion.
seeing about 5 of them on each page.. Ruining the experience. I would stick to apps. Can someone advice of that is new ? Or can this be looked at...

Great release, good job. Can you just kindly tell your devs to stop redirecting surface 2 traffic to the mobile site? Better yet give people an option to switch permanently to the desktop/full site.

Same here! About a week ago, it started redirecting my Surface 2 to the mobile site. I really need the desktop version back. Anyway, congrats to the improvements!

Good layout, easy on the eyes. Only complaint for me the page numbers (next/last) not very fat finger friendly and sometimes when I scroll it selects the article instead of scrolling.

PLEASE, REDESIGN THE WINDOWS PHONE APP!!! IT'S CRAP AND BORING!!

Poor sod, I can imagine his twitter is feed is full of people complaining and asking about fix. Let him enjoy his holiday! lol.

Still unfriendly to Lumia 1520. And also it's not smooth at all (if you want to access the menus). I'm using DP 8.1.1

Looks good, a little sluggish with all the ads though. They kept popping and I'd accidentally click on them... Ah, I see, ad rev up! Lol

I'd say this is a must for WP fans, other than a couple of people from the staff I don't really like sometimes, this site is totally worth a try, cheers

I for one miss the last 10 articles (or previous 10) links at the bottom of the home page. Oh well. I guess like Microsoft, you giveth and taketh away at the same time. :) But you guys must be doing something right because at conversations.nokia.com WPCentral won best Windows Phone Blog site by readers, with All About Windows Phone (AAWP) second, and Nokia Innovation 3rd. Good job.

Is it new or is it improved?

It is still too heavy. The page don't scroll well as I move my finger. No such issues when I visit other sites. Even heavy sites like PocketNow or Verge are doing good.

This is a relief! Yesterday I had a terrible experience browsing the website...and I was cursing my phone... Now scrolling is much smoother and the overall experience is better

I liked the WPC. NEVER missed an article these days. Thanks jay for better redesigning. I m reading it at least two times a day and I m from India.

U rarely use mobile site as I have app but just now I checked mobile site and its really nice!!!!

Lol! That's cruel with the twitter thing Daniel, the man's on vacation.

Loads like crap because of the sh*t ton of ads. Have to read the RSS on mobile.

Great dedication! Wish the WP users had the same! Keep up the effort!

better than The Verge IMHO. gj

But your hyperlinks inside articles for the WPCentral Windows Phone and Windows app are still unclickable... I've already emailed your devs but still, nothing happens...

Doesn't matter too much I'm using WP central app...

How about improve your WP app, it's garbage...I wasted ¢0.99

I really like the redesign. Unfortunately, I've been seeing the mobile version of this site whether I wanted to or not. Updated my 1520 to update 8.1.1 with no problems. All of a sudden for the past two weeks this site would default to the mobile version only.

Not really digging the huge font size and the line spacing the width of a river. Design is good, however.

great job! much needed update! :)

How is it I don't get the Mobile version on my WP (920 w/8.1GDR1u1)? I even just tried going to m.wpcentral.com rather than the usual www.wpcentral.com. IE settings are set to show Mobile version. I don't see an obvious icon at the top or bottom to switch to mobile. Thanks!

Meh, it's aight. Still a little stuttery when scrolling on my Lumia 1020 with Cyan & 8.1 Update 1

Been an avid reader a very long time and say the site and the app have come a long way! The app is nearly one of the best news apps already! Hopefully the new app will include translucent tile so I can put you up further on my screen

This site is horrible slow on the desktop. Also the wide head with the small column of content looks ugly as hell.

Ok, You guys are reminding me of VW - great design work, but shame you laid off the engineers because it runs like crap. Ironic - for a site around WP which is the fastest, most streamlined phone OS - the site is even laggier than the worst Android device! FAIL

I keep getting redirected to the desktop site whenever I go there on my 920. Is this happening to anyone else?

It's happening to me too.

It redirects me to www.wpcentral.com :(

oh please, please, please, check the coding once again! It happens all the time that my IE opens links I didnt want to. I mean, when I now scrolled down this page I opened 5 or 6 profile pages of different users because it just selects links where I pass by. This didnt happen before neither it does on other pages. Same on the main page with the articles: When I scroll through it "auto-selects" every 3rd or 4th and openes it! Please Daniel (or whoever) fix this!
PLUS: I wouldnt complain, if you would make that profile bar on the top a bit smaller. I dont need to see my pic all the time, I know how I look like! ;)

I get the mobile website on my Microsoft Surface 2 even if I go to www.wpcentral.com, on both the Modern UI client and desktop client, which I don't want. The social media elements at the end of each article don't show up on the mobile website for me either.
Windows Central Newsletter
Thank you for signing up to Windows Central. You will receive a verification email shortly.
There was a problem. Please refresh the page and try again.