Check out the new WPCentral commenting system!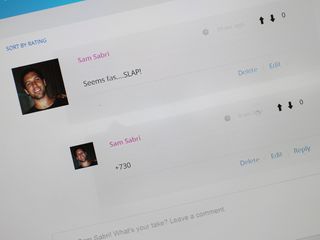 As you may have noticed we've launched an all-new, all-awesome commenting system. This is just the beginning, and we'll be adding many new features in the weeks and months to come. For now, there are three things to highlight – new design that matches our new header, up/down vote support and easy report button to flag inappropriate comments.
The new comment system is just one part of a larger redesign we're working on. You've already seen the new header, and now we've made the comments better. We can't wait to share more changes coming to the site in the future.
Right now you'll see our new comment system when visiting our site through your web browser. Though don't worry, the new comment system will be coming to the app soon!
Let us know what you think of the new comments. We're still tweaking them, so hop into the forums if you notice any bugs.
Windows Central Newsletter
Get the best of Windows Central in in your inbox, every day!
*beep* *beep* *beep* *BOOOOOOP* This is only a test. Had this actually been a real comment it would have contained useful information. *beep* *beep* *beep*

I was one of the firsts to comment. I wanted to see how replies stacked on the layout. :)

A few more replays and we need a wider monitor to view the comments

I'll soon need 3 monitors at this rate :(

BRING BACK THE START MENU!!!

No unfortunately this site isn't formated for auto aspect ratios. I'm using 16:9 and it looks 4:3 to me. There is a lot of unused space on the sides. As a web developer myself I know its actually not that dificult to implement.

I don't think this has anything to do with omitted auto aspect ratio... Many sites don't put stuff all the way to the edges because it's easier to read and it's neater. I personally hate websites that stretch stuff, it's messy and they usually shift horribly when you resize the window.

True. It's easier to read this way.

But takes too much space!!

I guess then we all keep sacrificing something of our preferences/easiness sometimes. :)

This like most things is not necessary a comment it meant to be a different opinion. That is the spice of life if everyone was always saying the same an had to agree with the crowd. I don't think we would have a windows phone or many of the most important thing we have today

Trung tâm kế toán Hà Nội dạy kế toán thực hành cấp chứng chỉ kế toán. Trung tâm có Lớp học kế toán tại Vĩnh Phúc dạy kế toán thực hành tại tp Vĩnh Yên Tại Quảng Ninh trung tâm có Lớp học kế toán tại Quảng Ninh Cũng có Lớp học kế toán tại Hà Nam cho các bạn sắp đi xin việc Mọi chi tiết các bạn liên Hệ Công ty dịch vụ kế toán Hà Nội ĐT website: ketoanhanoi.org Cơ sở Miền Trung Trung tâm kế toán tại tp Huế uy tín Cơ sở Miền Nam Lớp học kế toán tại tp Hà Tĩnh uy tín

steady Blog terbaru alat bantu merangsang

Bug - when I click the downvote down arrow, the number goes from -14 to -1. It should go to -15.

I think its either meant to show if you have upvoted or downvoted a comment or it is a simple bug which can be resolved anytime. If its the former please colour the arrows rather than displaying a number for it.

Will this carry over to the Wpcentral app on wp8?

In the article, it does state that this will come soon to the app. It also has a link to the article 'the benefits of reading the full article'. Just for your convenience.

Is good. But, still, Disqus is better! Disqus >>>>

I agree. It is better for users too since we can manage all of our comments across web sites and services. I'm not sure why they don't use it. It might be because they want to own their comments vs. Disqus.

Each of the review has extreme seo value for the website. It's priceless to embedd comments on articles directly as opposed to via discuss or similar service..

Yeah! I use Disqus App, so I can menage all my comments and notifications.

It's a fantastic service, can't understand why Mobile Nations don't use it.

Disqus blows. Every site I view that uses Disqus fails to load comments on the first try and I get the "Disqus seems to be taking longer than usual. Reload?" message all the time.

They've improved a lot lately. The one thing I don't like is that direct link to comment doesn't show subsequent replies.
But I like that they have a WP app and I only need one login for multiple sites.

This. +8X Disqus is the like the Adobe Flash of website comment sections. Ever since the Gawker implemented Disqus on the UK versions of Gizmodo and Kotaku the commens sections are empty.

Yup, that's all I ever see on sites that use disqus on the phone

It's probably an issue to use Disqus and have it integrate in the WP central app. My guess is if it was Disqus, we wouldn't have access to the comments from the app. So it boils down to what would tour rather have. A unified experience in the app, or have to launch Disqus every time you want to make a comment.

Or you could just read WPC using a browser on a phone too. Disqus works fine even on a phone's browser. Won't need to launch a bunch of different apps that way.... I never really understood the point of "website apps", when we have an app to view ALL the websites called Internet Explorer.

At least spell it correctly.

With your comment is fairly useful to try the "vote down" function

Yes agree, Disqus is much better overall. I have been asking for Disqus to be imlpemented in WP Central for some time however they clearly prefer to use their devs for something that is already out there and works much better! Hope they see sense soon and replace these custom designs for Disqus.

I agree! Also if there is a Disqus app there has to be a way to implement it into apps.

You have been told in the article that it will soon come to the app, what's up boy!

You mean the last line right before it says 'Related: The importance of reading the whole article and some commenting guidelines' LOL. I actually missed it too and went to the comments looking for answers.

read the damn article child

You know you can use spellcheck right?

He's only 7, don't blame him

Need for phone damn it. Hotbox that app update!

Waiting for the App, it is fair to say that the comments here are a mess

True, but then they would have to think of another way to sort the replies to a comment. They can't incorporate the same method used in the website due to lack of screen space on the phones.

Bingo! Gautam if I ever meet you I will buy you a beer (or cookie if you don't drink)

i know it's because of the screen size, but i think Readit shows them a slightly better no ? :)
and oh still don't know how to delete a comment in browser....

Maybe making a color degree according to responses ? make it done boss

Maybe instead of an indent for each reply they could incorporate a color coding system or something. Or write "in reply to gautaum26" or whoever it is in the start of the comment. More often than not I have no idea who is replying to who.

I don't think the color coding system would work. If the number of comments are more, it would create a confusion. But I like the idea of displaying "In reply to".

Would it kill them to use line breaks

Yeah, I never did figure out what the different length dark blue comments meant... if they even mean anything. So I can't ever tell who is replying to whom.

Great system...but the each comment takes too much extra space. Please reduce it so that more comments are visible at a time!

Its The Way Its Meant To Be Made, Pal. Calm Down. They're Working Hard For Us.

Anton only on the web page for now in the app will be coming

Yeah, the comments in the App are really uncomfortable to read.

Ah, the much needed Up and Down Vote option. Hope it stops people from commenting +1520, +920 and so on.

Every people do like & dislike on comments, YouTube videos so why not here
Just change is we write +520 instead of showing up thumb

I am aware of that. And I was hoping that with the introduction of the up vote and down vote option, people would finally stop commenting +520 and so on. It turns out that people would still continue doing that in spite of such an option.

We're Windows phone users. We don't want to be like everyone else.

Exactly the point. Disqus has a very nice WP app. >>>> It just seems faster <<<< [insert thumbs up here] (the emoticons aren't working?)

It's going to take a lot of upvotes to get to +1520, but I'm game. :)

But a single user can upvote a comment only once right?

You should include Disqus! :D

Yay! I can edit my comment now!! I wish they were a bit smaller but it's definetely better than the old system and the "reddit" up/down vote buttons are more than welcome. Great job! Edit: "Sort by Rating" should be the standard not by Date.

You could always edit your comment...

You also cannot remove a vote.

Well, I'm not crazy about Facebook-like commenting systems but meh If some people like it, I'm fine with it. It's nothing that really gets in my way. The report-button may turn out to be a problem though as I can forsee people reporting stuff for every reason possible and then some. Hopefully people will read the Guidelines more than they sometimes reads the articles =P

i see a lot of reporting and down votes for you :P :D

Exactly ....the future doesn't look too good for people like him

Read the Guidelines. You might be disappointed. Don't worry though, I'm switching to Android as soon as the Z3 Compact goes on sale so WP will remain only in user on my 1020 which is my camera. Besides, Android is where Nokia is so that's where I will be ;)

Can't wait....i think android central will really appreciate you. Good luck, hope you find what you're looking for. We will never forget that name...DJCBS

And I couldn't care LESS lol ;D If people bother to read the Guidelines, they'll probably find out their downvoting and reportings will be useless because I never violate any of them. And with the reporting system, I won't even need to bother answering provocations. I can nip those in the bud right away ;)

Really excited to see the improvement in comments on WPCentral! It's great to talk to other fans of Microsoft products, but not fun to wade through the poor comments to do it.

Does this mean anyone who has anything logical to say against windows phone will immediately receive 300 downvotes?

Seeing as this is a site that many fans frequent, that's certainly possible. I think we can all take a good bit of constructive criticism, so hopefully that won't happen.

Probably. But honestly, you shouldn't be bothered by it. WPCentral comments aren't an election. You're not going to be fired from the site because you are displeased with Microsoft. Daniel made that clear in the Guidelines. So it's really just a fashion-tool. I'm not a fan of these "up and down" anythings (arrows, thumbs whatever) because they tend to turn even good arguments and criticisms into popularity contests.

You should see what happens with up/down voting in Ars Technica's comments.

They are hidden, and that's a great idea - since here everybody likes to reply with a "+modelnumber".

+nexus5 Posted via Windows Phone Central App

cảm ơn bài của bác nhé luyện thi toeic tại hà nội

admin đẹp trai đào tạo tiếng anh cho doanh nghiệp

Does it not remember my sort preference each time, a bit annoying to have to change it by date for every article. edit: nm I need more coffee, it defalts to date which is fine with me.

I like it. Good Job Guys.

Awesome! Long awaited update! Thanks WPC.

Nice changes. I think sort by rating should be default, but other than that this is very, very nice. Hopefully it'll stop the endless barrage of First and Seems faster comments :)

too bubbly. too big. make the designs smaller and more in the sophisticated tone of windows phone.

Faster? Seems Hotter. :p Looks great guys!


Sooooo, what does the up/down vote actually do and why does it matter to me? Not blasting, or saying I don't care, but right now I do not understand, so not sure how I benefit... Like the look!

Um... welcome to the Internet?

It does nothing relevant. Just like on Facebook. Lol

Add this to wpcentral app

Can't wait for new commenting system on the app too

well yeah , my screen only displays 3 comments at a time so moar scrolling is required ....but no biggy i will get used to it

Now eagerly waiting for upgraded WPC app

Nice, it would be great through if the CKEditor would be updated with a more Mobile Nations-ish look too and clean up some of the buttons we can't use anyway...

Great start. I hope one of the upcoming features is "sort by newest" and "sort by oldest". :)

Not a major thing but you should fix the double slash issue when a not signed in user replies to a comment.. Try it yourself and you should see // after the domain name.. Great job site is getting better albeit a bit heavy..

how about a Sort by date DESC? :)

Should allow viewers to sort by date from newest to oldest...

I think that's what I said... :) I was hoping that was the first feature they established. But maybe that's coming...

What the hell ??? Where is Disqus and Facebook login ?

Have you tried going to www.facebook.com for login for Facebook? No?

Great Job Guys! Doesn't Matter If It's Not Disqus, It Still Suits Alot Better For The Website. Congrats For The Complete Re-design. Now Only The WP App Design is Left, Keep Working Hard, 'Jay Bennett' :)

Similar to header I think the redesign is moving towards too many oversized elements. Each comment takes up way to much space.

Agreed. It takes up way too much space.

What about forums , how to post a thread in the app ?

Easy: Click on the + button...

Prepared for an app update... Lol

Let's give every user who comments "seems faster" a vote he will never forget. Hope we can eradicate this behavior in doing so.

Great changes, i welcome them very much and i can't wait fo it to be available on the app or mobile (haven't checked).

Awesome! Good job guice! But, the site is starting to get on the heavy side on pictures, loading and lag is annoying.

Makes the site unusable on my slow internet.

We need something for app users too

Ah! After seeing the new comment system, I totally forgot, whether this typing new comment section was there on the top also? Or it was only at the bottom? :)

I see alot of "seems faster" comments being down voted.

I know I'll be downvoting that and the lame "Samsung makes Windows Phones?" comment for sure!

About Fuc*ing time!! the old system sucked major man meat.

It should remember which sort method I selected and use it until I change it again. I like the new system, but don't think the format looks too good.

Now when do upvoted comments start to rise ABOVE downvoted ones and/or when can we COLLAPSE downvoted ones (any below -1 overall score should probably be hidden by default!)

Not so good on mobile site.

Good start. My suggestions for improvement: - I think the large profile pictures shown are a bit too large. Make them smaller. Make comments stand out rather than the pictures. Right now all I see is pictures. - Too much scolling required. Information density is a bit too low. Too much empty spaces. Also, remove the report and reply row by moving those functions next to the up/down icons.

Information density is WAY too low. Most of us read this stuff on smaller screens and you have to scroll way too much.

Vote this comment down in 3...2.....1.....

This coming to the app soon?

Please bring back landscape support with the next app update.

taking much space , more time to scroll :/ UI isnt everything

Not good if you don't have a 1080p device, just like the rest of the mobile website. Try reading the website on a < 925 phone. We are going backwards on readability, seriously.

Width of the posts make it look crowded, while you have huge white spaces on each side of the browser. Other than that, it looks good.

Shouldn't have the up and down voting system been there from the start? Just like Windows phone where even basic features are introduced way later than rival platforms.

Can't wait to start downvoting "+modelnumber", "seems faster" and oem hating post. I just wish it would hide post that get seriously downvoted.

It is an improvement, and comment replies flows better than the previous vesion ...but just by a bit.

I like it. Always wondered why we could like but not "un"like.

A voting system puts a lot of faith into the self-moderation abilities of this community. I don't think that's a wise idea, not for WPcentral's commenting userbase. But now that it's here, prove me wrong guys.

Prefer the way WoWhead does comments tbh. On wowhead, all comments start at 1. One downvote sets them to 0 and the comment text greys out to make it obvious it was downvoted. Another downvote sets it to -1 and the comment becomes hidden, leaving behind a message saying 'this comment recieved too many negative votes - click to show comment' message instead.

Two downvotes is pretty harsh, hiding should start at -20 at least. Unless the community is really small and mature, it seems like many comments will be hidden because users don't know that downvotes are not used for disagreeing.

I agree. Two down votes is really harsh.

I think one of the problem that I see is the lenght of the comment section. It is a bit narrow, thus a short comment looks longer, and a long comment looks very long - making the article page longer and searching for comments harder.

I like the change, however, I do feel that it would be more constructive, or rather more conducive to the posting rules that Dan outlined, if there were not a 'down vote' button. If there are no 'up votes' to a comment, then it simply means that either someone has no opinion about the comment or that there are some that don't actually agree with it; however I don't think it is necessary to give the visual (of down votes) of how many disagree with a comment, as it will likely draw more attention that the actual topic or comment. Someone replying to a comment that they disagree with should suffice, and would hopefully, facilitate some interesting discourse and/or debate. As far the report button - hope that WP Central has lots of moderators on board - I get the feeling that it is going to be used alot!

They need to set some rules, like more than 50 downvotes, your comment is hidden (but with option to show back on demand) - just like Ars.

Been waiting for this. Nice...

There have been a couple of instances where you mentioned an ongoing conversation in the Forums. When then happens is a conversation takes place here in the Comments section AND the Forums. It would be nice to be able to link the two or at least redirect people to the Forum so you don't have 2 parallel discussions going on. Just a suggestion.

Is there any way to condense the space down? Each post seems to take quite a bit of room on a desktop browser.

I like the look. Much cleaner/less clutter. Upvoting system is a plus. Sorting comments by up/down vote number.


Wanted to check it from the phone but your mobile site sucks. Rendering issues everywhere. I think I'll wait till it's implemented in the app.

Very interesting. Let's see how the voting goes - hopefully there isn't any ganging up or anything that subverts the system.

Give us keyboard shortcuts

Time should ALWAYS be GMT.

I can't wait to downvote and report all those retarded "seems faster", "first" and "+930/1520/630/whatever" comments.

Can you make the site faster to load? Thats all I really want. Its sooooo slow.

It's really painful to use now.

Did I mis-read the title of the article or did it not say just a minute ago that ATT had launched #Cyan for our #Lumia 920's? DOH!

Can't wait for the update to the app!

How about showing both Up votes and Down votes for each comment, instead of the net total? It's always interesting to see which comments are really polarizing.

That's a really good idea. It might be hard to fit it on the app comments section though.

Can't up/down vote in IE on WP8.1 Update 1. Buttons not visible.

Have you visited the forums to question/report this? What is the browser version? Tried another browser? Reset IE and try again of possible? Cheeked Compatibility view settings?

No up down in commenting thru app. Only in website.

Um, did you read the article?

Read the whole article before commenting. I doubt the majority will follow this.

The voting system would of been nice for the article George posted about football. People trolled the comments so bad....

hướng dẫn chọn lựa nha cai uy tin chi tiết và khách quan chỉ có tại Topnhacai.com cập nhật khuyến mãi tốt nhất dành cho tất cả khách hàng

Doesn't look any different to me... Oh wait, I'm using the WP app...

Eew, I've gone from being able to see roughly 10 comments on my screen at a time in the old system, to about 5 in the new system. Not ideal for a 27" monitor...

Totally agree. I hate it.

The totals for the up/down vote are broken. After you click one of the buttons, the total immediately changes to either +1 or -1 depending on what you clicked rather than incrementing/decrementing the total.

It's not broken. Just their way of showing that you voted. I'd rather they give the total and highlight it.

I appreciate the efforts, but: Takes too much space Still cannot easily see the conversation workflow, since I cannot minimize a 'branch' or you state to who one is replying. Positive and negative scores loosk the same. Isn't the point of scores to hides the ones everybody dislikes?

Seeing the conversation flow is impossible since you can't see enough comments at a time to bridge the gaps.

That needs to be fixed. Otherwise it's a bunch of lost comments.

I'm liking it alot. What CMS does wpcentral use?

Cant wait to see it on the app

Bring it here in the mobile app

Awesome stuff! Every website seems to be getting some major redesigns lately!

With the new rating system, I would like a way for me make my comments sort-by-rating by default.

I like it for the appearance, but dislike it because it makes it harder for me to figure out who is responding to who after so far in.

I agree. Replies have really suffered.

Trying this out....personally i think the comment "square" is now really big which means it will take more scrolling on those really popular posts. but thats just me tho

Awww...just look at you WPC. You're getting so grown up now! You're just the cutest 'lil thing I ever did see!!

Cannot wait till it comes to the app.

Good move. I would suggest you check out the commenting system at Ars Technica however, they have a fairly liberal 'collapse comment' feature that tags and collapses comments based on commenter feedback, as well as surfacing "readers picks" for well rated comments. Thumbs alone do not really change behavior, but consequences and promotions can. I also suggest adding this feature to the forums to encourate good behavior.

Whoa! The excitement about the new comments made my avatar get bigger.

How about doing the same to your WP app which I paid ¢0.99 for which I could have wasted on a candy months ago and poop out.

Did you read the article? Notice how it says these features will be coming to the app?

Why does everybody always reply to the first post even if their reply has absolutely nothing to do with the first post?

That's an excellent question. Quite annoying really.

I would have been happy if all you did was put the comment box at the top. Good Job

Oh great. Now it's gonna be constant dislikes for everything and take the positivity away from this place.

Lol and look at that. People proved me right!

Haha. Ironic that you're complaining about people not being positive. :P

Finally I can leave comments. I have an Icon and could never sign in before.

Hi, I am testing The new commenting system

The new commenting system looks nice and… *I'm sorry, I was thinking about cats again*

So which platform is mobile nations using for blogs/forums?

It's kind of hard to tell who replied to who after the first. Also it would be nice to be able to collapse a comment's replies (would help with the first point as well).

I really agree. It's hard to tell who is replying to who.

I'm struggeling to downvote the EST/PST comment... :-P

The comment system is not so efficient for display... BTW, uncle sam is so cute!!!

By default, comment chains should be hidden and just the root comment should show, it just gets ridiculous otherwise.

the whole site seems a whole lot slower to load :/

Never mind a new comments system, I'd like to see pics in the app.

Well done! Good Job! This is another improvement to the point. I wish one day WPC becomes a specialized social community like facebook, Twitter, etc. which INTERNET lacks.

I would like a Windows Central website that works with IE11, or actually vice-versa!

Well it's kind of really sweet and good, but now I have to scroll all the time, 2-4 comments only visible at once on my screen :D

Can we get rid of the upvoting nonsense? Turning each post into a popularity contest adds nothing of value.

will we also get a direct link to the page in our email if we get a notification. The only thing I get now is an email with "Someone replied to you" But no hyperlink to the comment or even the topic or anything... FIX THAT!!!

Apparently Karma's a Bitch.

I'm sorry, but my old eyes don't really care for the new design at all. To start, there's too much space wasted and it's difficult to follow conversations. I'm already finding myself spending far less time in the MobileNations system than I used to. Just my opinion -- worth exactly what you paid to read it.

Test reply :) Dịch vụ báo cáo thuế Dịch vụ kế toán thuế Dịch vụ quyết toán thuế Dịch vụ hoàn thiện sổ sách kế toán Trung tâm đào tạo kế toán tại hà đông Trung tâm đào tạo kế toán tại hà nội https://dichvuketoanbacninh.wordpress.com http://dichvubaocaothuevn.blogspot.com

trong những ngày giáp tết đầy cảm xúc chúng tôi được gọi là resort gần hà nội mang đến cho quý khách chất lượng tốt từ nguồn khoáng nóng thanh thủy chúng tôi là resort miền bắc chất lượng tốt nhất xứng đáng là một trong những resort ở thanh thủy tốt nhất - thanh thủy resort

es agree, Disqus is much better overall. I have been asking for Disqus to be imlpemented in WP Central for some time however they clearly prefer to use their devs for something that is already out there and works much better! Hope they see sense soon and replace these custom designs for Disqus..

I think one of the problem that I see is the lenght of the comment section. It is a bit narrow, thus a short comment looks longer, and a long comment looks very long - making the article page longer and searching for comments harder http://www.chungcuimperial-plaza.com/.
Windows Central Newsletter
Thank you for signing up to Windows Central. You will receive a verification email shortly.
There was a problem. Please refresh the page and try again.