Check out Perfect Workout, the winner of Microsoft's Continuum App Contest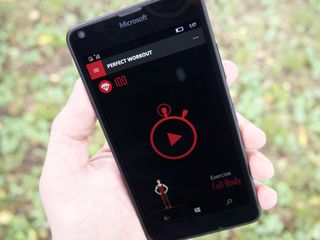 Perfect Workout, a Windows 10 PC and Mobile app created by Vuong Chung from Vietnam, has been named as the winner of Microsoft's Continuum App Contest.
Dona Sarkar, the leader of the Windows Insider program, revealed the winning app and developer in a blog post:
As far as the app itself, Perfect Workout offers a way for people to exercise through the use of simple but effective animations. They can also track their progress with weekly graphics. The app is free to download and use, but there are a number of in-app purchases to add extra exercises or users can create their own workouts.
Download Perfect Workout from the Windows Store (opens in new tab)
lucky him. he won the continuum app contest, but more importantly he got to meet dona :O

Yeah..... lucky guy! Perfect Thumb has been doing a great job for windows 10 ecosystem. But for sure we'll need much better apps supporting continnum for w10m to kickoff. And of course some good hardware. MS should also improve the continnum concept beyond what it is now for a better PC like experience.

That lady in the picture is Gabe 2? Lovely.

Love that dress. Does anyone know where I can check out her designs online?

http://www.fibonaccisequinsblog.com/ I'm not into fashion, but I like the name she chose

Thought that was made by perfect thumb???..

Well deserved. Congrats to him :)

Giving laptop to continuum contest winner. Even MS knows continuum is useless.

Ok that's it...somebody ban this guy...he's proved time and again that he's got nothing useful or positive to contribute...all he's got is just useless bashing...

One word ignorant! Most people don't carry portable battery powered monitors with them, so continuum wouldn't be useful on the road and a laptop would be. At home and in the office is where most people have a mouse, monitor, Bluetooth mouse/board docked.

If you need laptop for on the road scenarios why would you settle for RT lite when at Office/Home?

The point of the laptop is that it would allow you to carry less accessories while on the road.... Duh

Continuum is more then just plug your phone into a monitor. Look at the hp elite phone. It comes with a fixing device that it's like a laptop but you connect the phone. This has the potential to even replace buying 3 or 4 separate computers and instead maybe only need two or one computer that could do everything.

A device that only runs crippled UWP apps isn't going to replace anything, except maybe the piece of cardboard being used to keep a desk from wobbling.

Yes that is mostly true that there isn't the apps for it now. UWP apps aren't as crippling as you may realize. Look at MS office mobile apps. They are just as powerful as other free based Win32 or online apps. It's at a very early stage and more and more apps are being able to be used with continuum for phones. The point is that you have a light pc everywhere you go. Now you can plug it into other hardware and get more functionality from it. Yea more apps need to be made but you at least have all the basic stuff to get work some work done.

Those Microsoft Office apps are actually the only example of the potential of Continuum. Even the Windows Explorer or Edge look pretty retarded on a large monitor, since they just blow up a window that was designed for phones instead of switching to the "real" applications we know and love on the desktop.

You are mostly correct. Again, early stages to a huge potential. There is a lot of potential. No, it's not perfect now and we only have 3 devices that can even do continuum on phones. It's very early but has the potential to replace a cheap light pc.

Lookup Microsoft remote apps server; this allows me and my users to have access to all our work applications even on windows RT(right now), so I'm sure this is what Microsoft has in mind in addition to uwp apps.

The exact same can be said about any Android or iOS ARM device as all of those "productivity" apps are complete and utter garbage in a crowded space where everyone knows they need a good office application and corporate workspaces demand them, but they all are terrible. The x3 is the first device to start to bridge this business need. You are fooling yourself if you think Android and iOS are good enough at their present state, and if you think an iPad pro is anything but a waste of money are are delusional. Windows UWP is the frontier for personal computing, apple has no plans on making iOS more than just the crippled toy it is. And android still has ways to go to make Linux the computing system for all home users as well. Power users who understand computer programming can immerse themselves in Linux home and mobile, but most cannot

I agree. I remember an article that someone from Winbeta wrote, and he actually clarified the misconception people often have alot the iPad pro bring a productivity device when it's actually not, cuz it runs IOS. I don't really know anything about it, but you're the second person to point out that android and IOS aren't really productivity oriented platforms. Posted via the Windows Central App for Android

An HP elite X3 phone???..... Seriously...

Wish I was a developer right now!

She seems to have shredded few pounds by this app!!! She looks skinnier than a few weeks ago!

Nice. I've used a lot of apps from Perfect Thumbs and they are usually gorgeous and easy to pick up and use. Vuong has been supporting Windows Phone/Mobile for quite some time and deserves to be recognized for his work.

So he's Mr Perfect Thumb?

and the HP elite X3 phone is not shown in that photo......

It's not available yet, but I'm sure he'll get it when its officially released.

Congratulations to Perfect Thumb. I'm a big fan of your apps!

So the prizes include both Lumia 950 and HP elite X3?

Thx Vuong for supporting Windows with all your Perfect apps.

I really like this app too.

His name is Chung, not Vuong

Congratulations Vuong Chung...
Looking forward to see more Apps from you...

Congrats :) Wow that's an awesome prize pack! Not sure why they needed to include 2 phones though, but hey as a developer that's great for testing :D
Windows Central Newsletter
Get the best of Windows Central in in your inbox, every day!
Thank you for signing up to Windows Central. You will receive a verification email shortly.
There was a problem. Please refresh the page and try again.