Check This Out: TouchMail - the sexiest email client to hit the Windows Store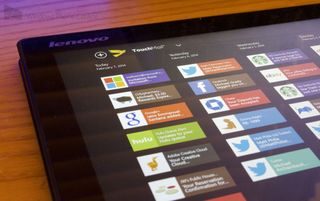 When a new email application shows up in the Windows Store, there are two types of people; there are the guys and gals who jump up and down at the excitement of improved productivity, and there are those who could not care any less than they are currently. The latest email application to hit Windows 8.1, TouchMail, just might be able to attract both groups of people.
TouchMail is a beautifully stunning use of the Windows 8 design language and from the moment, you load it up – you know this is not your ordinary email app. The application launches and a dark themed screen prompts you for an email account. TouchMail supports a variety of services including Hotmail/Outlook, Gmail, Yahoo Mail, Office 365, and other IMAP powered email solutions. You can add up to three different accounts to the application, which may be seen as limiting by some, but as perfect by others – it really will depend on your personal setup.
Once you have put together one of your accounts, you are placed into the Windows 8 rich inbox. Emails are displayed as colorful tiles that can be resized and rearranged according to different settings. The tiles themselves can be zoomed in and out, as you may choose to show large amounts of the email itself, or simply icons of the sender.
Your emails can be sorted by their time, sender, or conversation; you are even able to engage filters that will assist in separating mail based on priority, read status, and time range. Overall, TouchMail creates an elegant and beautiful way to sort through all of your mail.
The application itself is fully Windows 8.1 compatible, and can thus be snapped into any ratio you see fit; all major functions are available no matter which way the app is currently snapped into place.
Composing an email opens a simple, yet effective dialog, to get the job done. It certainly is a minimalist design and may not suite the most demanding of users, but for the majority it will get the job done. Within the settings, you can setup the ability to automatically add a signature to the bottom of your emails. It should be noted that by default the application appends, "Sent from TouchMail", to the signature and that the feature can be disabled via the settings menu.
Beauty is not everything though, and this application is missing a bit of brain. There is no ability to receive toast notifications when you receive an email, so you will be manually checking the application to see if you have received anything. In addition, the settings are limited, so if you are looking to adjust the exact times when the app performs Send/Receive commands – you are out of luck. The Tiles sizes are also limited for your Start screen as the app only supports Small and Medium and not Wide and large.
By default the applications represents your contact's photos as origami animals (which in all honesty, still does look great), but if you want to get your friends and families actual photos attached to their email address – you have to import them manually. A bit of a nuisance depending on how many contacts, you have.
Overall, we really love the design of the application, but we need a few features implemented to make it truly productive. The Windows 8 inspired interface will certainly do well with the average email user, but anyone who finds their inbox being flooded every few minutes (such as many members of the WPCentral team), will find that the layout is less productive and more entertaining.
The best part of the application is that it is completely free and we will be sure to follow the app's development to see what features improve. Who knows, maybe the developers can get enough features onboard to kick Windows Mail completely out of the way.
You can download TouchMail from the Windows Store by clicking here.
Enjoy!
Get the Windows Central Newsletter
All the latest news, reviews, and guides for Windows and Xbox diehards.