Checkpoint Champion – challenging your driving skills with this fast paced Windows Phone game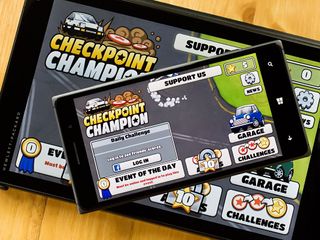 Checkpoint Champion is a relatively new Windows Phone game that takes a somewhat unique approach to car racing. The game puts you behind the wheel for a series of grueling 10-15 second challenges.
Available for low-memory Windows Phones and Windows 8 devices, Checkpoint Champion has simple, two-touch controls, 72 challenges to master and daily events. The car selection is rather respectable and game play is surprisingly challenging for such a short race. Add a slightly addictive pull and Checkpoint Champion is a fun title to add to your Windows Phone gaming library.
When you first launch Checkpoint Champion, you will be guided through a series of tutorial screens that cover the basics of game play. Controls are simple in that you touch the lower left corner of the gaming screen to steer left and touch the lower right corner of the screen to steer right. Touch both corners at the same time to kick in the engine boosters. Acceleration is automatic and it will take you a while to get a handle on the steering controls, It takes a delicate touch to control these tiny little cars. If you tap just the slightest too long your car will miss the checkpoint and you'll find yourself turning doughnuts.
Your game course will cover a variety of surfaces that includes asphalt, dirt, snow, grass and water. Each surface will affect your car's handling and speed.
After you complete the tutorial series, the next task at hand is to pick out your first racing car, which is basically choosing your favorite color for a mini-cooper styled car. Additional cars ranging from what looks like a Volkswagen Beetle to a Ford Mustang look-a-like will become available as you progress through the game.
Once a car is selected, Checkpoint Champion will deliver you to the game's main menu. Here you will find the only gaming option available is the Challenge gaming mode, which includes 72 levels of ten-second racing challenges. In a nutshell, each level contains a series of checkpoints that you will need to drive your car across and a finish point. You have to reach each checkpoint and reach the finish point before time runs out. You have in the neighborhood of 10-15 seconds per level and you will come across bonus checkpoints that add a few seconds to the clock.
Your performance is graded by stars (up to three) and the faster you reach the finish point, the more stars earned. These gaming stars will unlock additional gaming modes and unlock new cars to race and paint jobs to use.
In addition to the Challenge mode, Checkpoint Champion has an Event of the Day where you race to see who has the best time on the course and an Endless Arena mode that is a survival mode of sorts where you race to keep the clock going by reaching the checkpoints that add time to the game clock.
The Event of the Day requires you to log into the game with your Facebook account. While some may squawk at having to use a Facebook account, but it is what it is. Facebook gives these cross-platform games a common thread but it would be nice if you had another option to create a gaming account.
Along with jumping into game play, the main menu for Checkpoint Champion will offer you options to view any news on the game, access to the game's settings (graphics levels, sound/music controls), access to your garage and an opportunity to support the developer. Checkpoint Champion is a free game with no ad-support. If you enjoy the game and feel the need to support the developers, the $1.99 donation will unlock three additional paint jobs for your cars.
The garage area is where you can doll up your car with a new paint job or choose a new car to race (once they become available). As you earn more stars, additional paint jobs and vehicles become available or you can skip the wait and unlock things via in-app purchase.
Each car has a different rating for speed, grip, turbo and cornering. As the courses become more challenging, you will want to match your cars up closer to the courses you race.
Overall Performance
The more I played Checkpoint Champion, the more the game grew on me. The controls are simple, game play brief but challenging and the game is well suited for short gaming spurts as well as longer marathon sessions.
Steering is the biggest challenge of the game. Your car acceleration is automatic and you are basically trying to find enough control over the car to get it pointed in the right direction. Don't be shocked if the best you can do is spin your car around in circles (which is kinda fun in its own right on the dirt surfaces) until you get the hang of things. Even after you begin to feel comfortable behind the wheel, the game can still kick you in the butt with the challenging layout of the courses.
Graphics are outstanding, game play will drive you crazy at times and overall, Checkpoint Champion should easily be rated in the 4-5 Star range. I do think game play is slightly better from a Windows Phone than a Windows 8 device. It was fun playing Checkpoint Champion from an 8" tablet but the smaller screen of a Windows Phone seems to make the controls easier to manage during game play.
If you take Checkpoint Champion out for a test drive, let us know in the comments below what you think of this new racing game. Also, don't forget to rate the game in the Windows and Windows Phone Stores. It is the easiest way to send a little feedback to the developer.
Get the Windows Central Newsletter
All the latest news, reviews, and guides for Windows and Xbox diehards.
George is the Reviews Editor at Windows Central, concentrating on Windows 10 PC and Mobile apps. He's been a supporter of the platform since the days of Windows CE and uses his current Windows 10 Mobile phone daily to keep up with life and enjoy a game during down time.