Chime in: Is Surface Go 8GB or Surface Laptop with an Intel Core m3 better value?
Is the Surface Go a better buy than the Surface Laptop with an Intel Core m3? Let's discuss.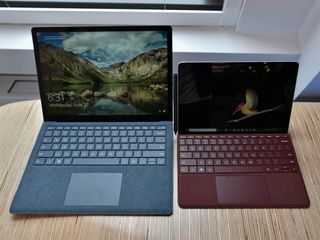 The Intel Pentium Gold inside the Surface Go has a lot of people hesitating on that buy button, as they're worried the performance from the Surface Go won't be good enough. In our testing, we've found that the Intel Pentium Gold is more than capable for daily tasks and light productivity work, but if you're planning to do anything more than that, they something more expensive is probably a better choice for you.
But then there's the Intel Core m3 processor that's found in the Surface Pro and Surface Laptop. Is that a better buy? Well, it depends. In our testing, the Intel Pentium Gold and Intel Core m3 are very similar performers, with the Core m3 beating out the Pentium Gold only by a little bit in benchmark tests. In real-world usage, however, we haven't noticed much of a difference between the two.
Keep in mind, the Surface Pro and Surface Laptop with Intel Core m3 are considerably more expensive than the Surface Go, so it depends entirely on what you're looking for in a device. If you like the laptop form factor, get the Surface Laptop for a little extra. If you like the form factor of the Go, but want a bigger screen, get the Surface Pro. But, we want to know what you think about this, is the Surface Go or Surface Pro/Laptop with m3 a better buy? Let us know in our forums!
Get the Windows Central Newsletter
All the latest news, reviews, and guides for Windows and Xbox diehards.