Microsoft Surface Go review: Bringing the fun back to Windows
By Daniel Rubino last updated
Microsoft has exceeded our expectations with the Surface Go delivering a fun, high-performing mini-tablet PC.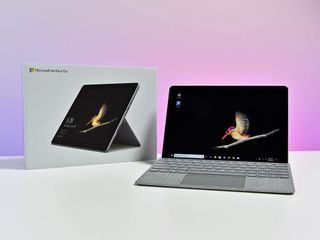 Conceptually, taking the favorite Surface Pro 2-in-1 PC and shrinking it down to a 10-inch model seems desirable, but with lowering the price and performance of the components there are questions.
Is it usable in the lap? How good is the performance? Can you type well on it? Does it even make sense?
Luckily, the new $399 Microsoft Surface Go not only does these things well — it exceeded my expectations for hardware.
No, not everyone needs or wants a 10-inch PC, but if you are eyeing the Surface Go the performance jump between it and the Surface 3 (2015) is monumental. Microsoft has thought long and hard about how to get this device right, and the result is not only impressive, but it's downright fun.
About this review
Microsoft supplied a loaner Surface Go for this review. The unit tested features a Pentium Gold 4415Y processor with 8GB of RAM and 128GB of storage priced at $549. Also, an Alcantara keyboard was used ($129), and a Surface Pen ($99) for a total price of $777. An entry-level Surface Go with 4GB of RAM and 64GB of storage is available for $399 and a non-Alcantara keyboard for $99.
In the box is included a 24W Surface charger and warranty information. The Surface Go ships with Windows 10 Home in S mode version 1803 (build 17134.112). There is 95GB of free storage on the 128GB SSD model.
A version with 4G LTE (with the Qualcomm Snapdragon X16 modem) is also now available (see our review for that one).
Microsoft Surface Go technical specifications
Compared to the Surface Pro, the Surface Go is a step down for hardware. That makes sense for the price-point and the form-factor, but the good news is the quality of the components has not dropped with the price or size.
Perhaps the biggest surprise is that the Surface Go exceeds previous mobile Surface devices in a least a couple of areas. Here are the raw specifications:
Category
Surface Go
OS
Window 10 Home in S-mode
Display
10-inch 3: 2 aspect
1800 x 1200 with touch
216 ppi
Processor
Intel Pentium Gold 4415Y (1.6GHz)
Fanless
Graphics
Intel HD 615
RAM
4GB or 8GB
1866MHz LPDDR3
Storage
64GB eMMC
128GB or 256GB SSD
Ports
1x USB-C 3.1 (aux. charge, video out, data), microSD (up to 1TB), Surface Connect, headphone jack
Surface Pen
4,096 levels of pressure, tilt suppport
Camera
5MP front-facing with Windows Hello
8MP rear auto-focus
Connectivity
Qualcomm Atheros (QCA61x4A)
Wi-Fi 802.11 a/b/g/n/ac
Bluetooth 4.1
Optional LTE
Audio
Dual front-facing speakers
Dolby Audio Premium
Battery
Up to 9 hours
Dimensions
9.6" x 6.9" x .33" (245mm x 175mm x 8.3mm)
Weight
1.15 lbs (0.52 kg) without keyboard
1.7lbs (0.77 kg) w/keyboard
Power
24 W power supply
Price
Starts at $399
Keyboard $99 or $129 (Alcantara)
The Surface 3 shipped with a larger 10.8-inch 1920 x 1280 display, while Surface Go is smaller at 10-inch 1800 x 1200. However, the pixel density of the Surface Go is technically a hair higher at 216 ppi, versus the 214 ppi in Surface 3. It's a smaller display, but just as sharp.
It's a mini-Surface Pro, really
Microsoft Surface Go design
Compared to the Surface Pro, the Surface Go is much curvier on the edges with rounded corners. The smaller Surface Go is much more likely to be held as a tablet than the larger Pro 2-in-1s, so it makes sense to make it a more comfortable device.
At 8.33mm thin (without keyboard) and weighing just 1.15 pounds (520 grams), the Surface Go is very light and nimble. It's a remarkably compact PC and just a smidge heavier and longer than the iPad 9.7-inch. It feels akin to carrying around a modest 200-page hardcover book. That weight is evenly balanced, and there are no creaks or weak points to speak of for the chassis.
The Surface Go is a very much mini Surface Pro – at least from a design and materials perspective.
The body is a single unibody design made from magnesium except for the area for the antenna near the top edge. That material is different to prevent interference for the Wi-Fi and Bluetooth radio and is not as seamless as the pricier Surface Pro with LTE.
The kickstand is fully-articulating, too, like the Surface Pro with 165-degrees of movement. This lets the Surface Go lay almost entirely flat, which is ideal for drawing.
Some have lamented the seemingly large bezels of the Surface Go but compared to even the Apple iPad 9.7 (which are thinner on the sides than top and bottom) they are well within the range of normal. The bezels are slightly smaller than my thumb width, which makes it ideal for gripping the Surface Go without directly touching the screen. There are also some good technical reasons for the bezels.
Everything from the buttons to the materials used on the Surface Go is first-class. Microsoft could have cut corners with Surface Go's execution, it instead stands out as another outstanding and quality design.
One of the best for Surface
Microsoft Surface Go display
Saying the Surface Go's 10-inch 1800 x 1200 PixelSense display is not as fancy as the Surface Pro's is expected. However, in our tests, the Surface Go's screen is better in some ways, which is surprising.
The screen is optically bonded and the familiar 3:2 aspect ratio of all modern Surface devices.
Microsoft says each Surface Go screen is color calibrated at the factory and I believe it. Color accuracy is 99 percent for sRGB and 76 percent for Adobe RGB – slightly higher than the 97 percent and 75 percent, respectively, of the Surface Pro's 12.3-inch display. Those are strong results for what is thought to be a budget Surface – or for any PC.
There were also concerns about screen brightness – another popular area where manufacturers save money. That's not the case here with Surface Go. Set to maximum intensity, we hit around 435 nits, which is suitable enough for outdoors (though not in direct sunlight).
Aesthetically, the Surface Go's display is outstanding. Colors are punchy, blacks look good, light bleed is minimal (if at all), and it just looks good with a 216ppi resolution.
The screen is far from being matte, so it does maintain some gloss and higher reflectivity than what Apple uses.
Type-C is here
Microsoft Surface Go ports
There are not a lot of ports on the Surface Go, but the ones included are the right choice (and all are the right side).
The 2015 Surface 3 infamously ditched Microsoft's Surface Connect port in favor of a "standardized" Micro-USB one for charging and data. In hindsight, it was one of the worst decisions made by the company as users ended up losing their Micro-USB Surface chargers and used the underpowered one from their phone instead. The result was a disaster with customer complaints about slow charging and more.
With Surface Go, Microsoft is bringing the best of both worlds to users: USB Type-C 3.1 and a Surface Connect port.
The Type-C port supports data, display out, and even charging. That latter bit means if you do lose you Surface Connect charger, or left it at home you can use any other Type-C one. If it gets more than 24 watts, it should charge the Surface Go. For this review, 45W and 65W chargers were tested with no issue (the Surface Go reportedly has a max input of 45W, USB-C allows it to communicate with the charger about what wattage it can accept).
From external Type-C storage drives like the popular Samsung T5 to hubs/port extenders, 65Wh portable power banks, or even connecting to the excellent Dell 27 USB-C Monitor, the Surface Go handled whatever we threw at it.
The Surface Connect port is no slouch either. The included 24W charger is adorably tiny – it fits in the palm of your hand and makes packing it a breeze.
Owners of the $199 Surface Dock can also use it with the Surface Go. Oddly, the new Surface Connect to USB-C Adapter does not work although it would be redundant on this device. Perhaps a future firmware update will enable it if there is demand.
The 3.5mm headphone jack is more toward the middle of the right-hand side now instead of near the top, which is welcomed. There is also a microSD expansion slot below the kickstand if users would like to expand storage.
As good as Pro
Microsoft Surface Go pen and inking
As with all Surfaces, if you want to use Windows Inking, you need to fork out another $99 for the most recent Microsoft Surface Pen – available in an assortment of colors. There are numerous alternative options that are cheaper as well.
The Surface Pen sticks to the left side of the Surface Go with powerful magnets. So strong, in fact, that you can pull the Surface Go across a table by dragging the pen. While it still could get knocked off with enough force, the magnets used here are excellent.
The remarkable thing about Surface Go is the quality of the inking experience. The Surface Go supports 4,096-levels of pressure, which is an astounding jump from 256 pressure levels of the Surface 3 just three years ago.
The Surface Go also supports tilt, which is typically a more premium feature.
What the Surface Go lacks – compared to Surface Pro – is the new inking co-processor in the display to help reduce latency. However, that did not seem to be a problem at all. Using the Surface Pen with the Surface Go was 100 percent delightful. It's fast, smooth, even, and is a momentous leap over the Surface 3's experience. Combined with the size of the Surface Go, which lends itself to being held like a notepad and Windows Inking is the best it has been.
In our unscientific study of letting friends and family ink on the Surface Go compared to the iPad 9.7, everyone preferred the Surface Go's smoother experience and easier-to-handle pen.
Typing T-Rex style
Microsoft Surface Go Type Cover
Users will need to purchase a Microsoft Type Cover to use with the Surface if they want it to be more than a tablet. It's a necessity, so budget at least $99 for the all-black non-Alcantara version, or $130 for one of the three Alcantara choices.
The Surface Go Type Cover is small – after all, it fits a 10-inch PC. The keys are slightly curved for more natural discovery when typing (plus two-stage backlighting for finding those keys in the dark). The key travel is pegged at 1.0mm with the usual scissor-key mechanism from other Surface keyboards.
The trackpad is the real star of the show. While the Go's Type Cover is quite small, the trackpad is roughly equivalent to the Surface Pro's – which is fantastic. Measuring 56 mm wide by 101 mm tall the Surface Go's trackpad is spacious, smooth and comfortable to use. It uses Microsoft Precision drivers giving three- and four-finger taps and Windows 10 gesture support.
Typing is better than expected for such a small device. While you may not want to write a whole term paper on the Surface Go, you can. Accuracy was outstanding and while it took a few hours to get used to, the Go's Type Cover is quite enjoyable once you factor in the apparent size limitations and trade-off.
It is easier to type on the Surface Go when it is placed on a table or flat surface, but you can use it in the lap — though I found that I was hunching over and squeezing my arms in more than with a typical laptop.
Dual speakers
Microsoft Surface Go audio
Keeping with a similar approach in the Surface Pro, Microsoft utilizes dual-front facing speakers found on the top area of the Surface Go's display. The speaker grills are etched into the Go's display and remain virtually hidden from view but deliver sound right at your head.
Audio quality is above average with good audio separation, but the sound is a bit muddied compared to an iPad 9.7, which has crisper highs. Instead, the audio on Surface Go is rich, but more even across highs, mids, and lows with a flat affect. It's not bad and better than most laptops – especially at this price range, but it also doesn't reinvent anything.
Volume is just loud enough with music sounding fine at a setting of 60 (out of 100). Music can be played at 100 with no clipping or distortion. It's also never too loud, but again, this reflects more a size limitation than anything. For watching videos, a setting at 50 is fine.
Pro cameras and Hello
Microsoft Surface Go Windows Hello and Cameras
Ripping a page from the Surface Pro playbook are the front and rear facing camera plus support for Windows Hello facial recognition to log into Windows automatically.
The rear "world-facing" camera is 8MP and auto-focus and while it can struggle in low light situations when outdoors or anywhere well lit it can deliver some stunning photos especially if the high-dynamic range (HDR) is enabled.
Image 1 of 2
Image 2 of 2
The front camera is 5MP and found above the display. Microsoft says it is "tuned for Skype" usage (whatever that means) and it works just as well as the Surface Pro, which has similar hardware.
Windows Hello with infrared (IR) lenses lets you log into Windows 10 just by looking at the login screen. It worked mostly without issue. Being a smaller device the range and position that you hold the Surface Go has much more variability than a larger Surface Pro resulting in some misreads. However, this is solvable by using the "improve recognition" feature found under Settings > Accounts > Sign-in options. If you do this for the extreme positions of the Surface Go, then it works without any problems.
For those curious, the Surface Go's Windows Hello system does work if holding the Go vertically too. Using the "improve recognition" feature helps keep it consistent.
Faster than expected
Microsoft Surface Go benchmarks, performance, and heat
The original Surface 3 used an Intel Atom x7 processor that was not very fast. This time, Microsoft opted to use the 7th generation Intel Pentium Gold 4415Y CPU to power the Surface Go (there's not yet an 8th generation Pentium).
The Pentium runs max at 1.6GHz and lacks the Turbo Boost feature found in more expensive Core processors. It's dual-core, though, and has Intel's processor stepping technology for a variable task-based clock speed.
CPU
Geekbench 4.0 benchmarks (higher is better)
| Device | CPU | Single core | Multi core |
| --- | --- | --- | --- |
| Surface Go | Pentium | 2,078 | 3,934 |
| Galaxy Book2 (ARM) | SD850 | 2,262 | 7,405 |
| HP Envy x2 (ARM) | SD835 | 2,111 | 6,314 |
| Surface 3 | Atom x7 | 1,078 | 2,777 |
| Surface Pro 4 | m3 6Y30 | 2,854 | 5,350 |
| Surface Pro 4 | i5-6300U | 3,319 | 6,950 |
| Surface Laptop | i5-7200U | 3,725 | 7,523 |
| Surface Pro 2017 | i5-7300U | 4,302 | 8,482 |
| Surface Pro 2017 | i7-7660U | 4,513 | 9,346 |
| Surface Book 2 13 | i7-8650U | 4,862 | 14,694 |
| Surface Book 2 15 | i7-8650U | 5,036 | 14,237 |
GPU
Geekbench 4.0 OpenCL (higher is better)
| Laptop | GPU | Score |
| --- | --- | --- |
| Surface Go | HD 615 | 16,490 |
| Surface 3 | Intel HD | 8,055 |
| Surface Pro 4 (m3) | HD 515 | 14,650 |
| Surface Pro 4 | HD 520 | 17,395 |
| Surface Book | HD 520 | 18,197 |
| Surface Laptop i5 | HD 620 | 19,256 |
| Surface Pro 2017 | HD6 20 | 20,688 |
| Surface Pro 2017 | Iris 640 | 30,678 |
| Surface Laptop i7 | Iris 640 | 31,010 |
| Surface Book 2 13 | GTX 1050 | 75,665 |
| Surface Book 2 15 | GTX 1060 | 132,785 |
SSD
CrystalDiskMark (higher is better)
| Device | Read | Write |
| --- | --- | --- |
| Surface Go (SSD) | 1,185 MB/s | 133 MB/s |
| Surface Go (eMMC) | 260 MB/s | 145 MB/s |
| Surface 3 | 149 MB/s | 33 MB/s |
| Galaxy Book2 | 722 MB/s | 205 MB/s |
| HP Envy x2 | 513 MB/s | 197 MB/s |
| Surface Laptop | 648 MB/s | 244 MB/s |
| Surface Pro 4 | 758 MB/s | 159 MB/s |
| Surface Pro 2017 | 847MB/s | 801 MB/s |
| Surface Book | 1,018 MB/s | 967 MB/s |
| Surface Pro 2017 | 1,284 MB/s | 963 MB/s |
| Surface Book 2 | 1,411 MB/s | 1,202 MB/s |
The Pentium draws just 4.5W versus the typical 15W of a Core processor, which significantly helps with battery life and heat management as the processor can't get that hot.
Running at 100 percent CPU usage for 20 minutes straight in a 70-degree F (21C) room the Surface Go has no thermal or power-limit throttling at all. It ran consistently at 1.6GHz with no drops in speed the entire time.
Under such circumstances, the external chassis temperature never exceeded 104-degrees F (40C), which is just slightly warm, but far from hot or uncomfortable. That's excellent performance for a completely fanless – and silent – system.
Regarding actual performance, the Surface Go's single-core score (2,078) was essentially double that of the Surface 3's Atom processor (1,078) on Geekbench, with multi-core falling at a respectable 3,934.
For graphics, the Surface Go's Intel HD 615 (16,490) also doubled the Surface 3's Intel HD graphics (8,055) on Geekbench.
Those are very good results.
Adding icing to the cake is the 128GB Toshiba SSD, which is one of the fastest SSDs we have seen in any Surface with 1,185MB/s read and 546MB/s for write. That's a ten-fold increase over the Surface 3 (149MB/s) and beats the current Surface Pro (847MB/s) – at least for read speed.
As expected, the more affordable entry-level Surface Go with 64GB of storage performaed worse (260MB/s) due to the use of eMMC instead of an NVMe SSD.
Update: A recent firmware update seems to have shifted things. We're now getting 1,200+ MB/s for read (a slight increase), but write speeds have dipped to 133MB/s.
When you combine the Intel Pentium processor, Intel HD 615 graphics and that zippy SSD you get a quality "budget" Surface. To say it destroy the Surface 3 in this area would be an understatement.
Keep in mind the Surface Go is still pales compared to a modern Core i7 laptop, but the experience in using it for Windows 10, launching apps, and yes, even some mid-range games are without a doubt enjoyable. There are no lags, skips, or long wait times for Microsoft Office, Skype, or the Edge browser.
Bottom line: In real-world comparisons, the Surface Go performs similarly to the Surface Pro 4 with an Intel HD 520 for graphics and just below the Surface Pro 4 with Core m3 for raw processor.
Good battery too
Microsoft Surface Go battery life
Microsoft cites nine hours of battery for the Surface Go on a closed-loop video test. Usually, such pronouncements are overly optimistic compared to real-world power drain. That is not the case here.
Because the Intel Pentium processor does not have turbo boost and can never go beyond 1.6GHz, it is more consistent for battery life than a Core processor.
With display brightness around 40 percent users should expect around seven hours of usage, but closer to eight or more.
The battery result was much better than I had anticipated, and I was surprised at how efficient the processor was at sipping power. On one evening I spent two solid hours using the Surface Go browsing the web, installing apps, using those apps, and watching videos on YouTube and Netflix. After those two hours, I still had 76 percent battery left, which is respectable.
The most significant variable with the Surface Go and battery life is not so much what you do with it but screen brightness. If you ramp up the intensity to above 60 percent (or even maxed out), you will get a few hours less than what I experienced making it the most significant power draw.
For those reasons, you can consider the Surface Go as having all-day battery life (understood as at or near eight hours). Using the Surface Connect charger or Type-C charger, the PC also recharges very quickly too.
It's worth noting too that there is now a time-estimate of remaining battery life, something we have not seen on a Surface for years.
near world-wide
Microsoft Surface Go where and when to buy
Microsoft is doing a rather quick global release for the Surface Go starting on August 2nd for the U.S. and Canada. Another 23 markets should get it around August 23.
US
Canada
Australia
New Zealand
Hong Kong
UK
Ireland
France
Germany
Austria
Belgium
Luxembourg
Netherlands
Switzerland
Denmark
Finland
Norway
Sweden
Poland
Taiwan
Italy
Portugal
Spain
Malaysia
Thailand
Surface Go will be available in Japan, Singapore, Korea and in China as well. On September 12th, Surface Go will be available for pre-order in additional markets in the Middle East:
Qatar
Saudi Arabia
UAE
Oman
Kuwait
Bahrain
Finally, India gets in on the action starting October 2.
Few compromises besides the obvious
The Bottom Line: Microsoft Surface Go
Going into this review, I was skeptical of the Surface Go, especially after my experience with the Surface 3. Luckily, Microsoft exceeded all my expectations with the Surface Go.
The combination of the Pentium processor, HD 615 graphics, and fast SSD resoundingly make the Surface Go an enjoyable experience even for those accustomed to Core i5 or Core i7 laptops. While you will not want to edit a 4K video on this and high-level gaming is out of the question, using the Surface Go for everyday tasks like email, inking, web browsing, watching movies and more was excellent.
Battery life is also surprising. If you can pull seven or more hours out of the Surface Go and combine it with its multiple ways to recharge, then it's a good experience.
Now toss in things like a highly precise Surface Pen inking experience, the ability to use this as an e-reader (Microsoft Edge), Windows Hello, a 165-degree kickstand, microSD expansion, and an enjoyable (if cramped) typing experience and the Surface Go is a radically different value compared to the Surface 3 just three years ago (it's now $100 cheaper).
Nothing about Surface Go makes you think Microsoft cut corners – quite the opposite, in fact. Putting that SSD and a slightly more color accurate display than Surface Pro is surprising. It reinforced the observation that with each release the Surface team gets more and more right.
It should also be noted that Microsoft has — at least for this Surface — ditched the problematic Marvel AVASTAR chip for Wi-Fi and Bluetooth and opted instead for a Qualcomm Atheros (QCA61x4A).
That leads to what's wrong with Surface Go? Not much. There is the obvious question if you need a 10-inch Windows PC, or if you are OK with the cramped nature of typing or a small display. But these are low-hanging complaints. Any full-keyboard on a 10-inch PC is going to be small, but considering the restrictions this is still an excellent keyboard. Thunderbolt 3 would have been icing on the cake but for this pricepoint, its absence is only slightly dissapointing.
Pricing is also an easy target, but Surfaces have always been more expensive than similar options. Ironically, there are not too many alternatives to Surface Go, at least ones that are drastically cheaper.
The Surface Go ships with Windows 10 Home in S-mode. That limits you to installing apps only from the Microsoft Store instead of potentially dangerous .exe files off the internet that can break or slow down your PC. But that's an easy fix. Head to the Store and type in "switch out of S mode" and five seconds later you have full Windows 10 Home (you don't even need to reboot).
As far as reliability in the few days I spent with the Surface Go there was nary a crash, hiccup, or problem – everything just worked.
Pros:
Comparatively fast performance.
Outstanding build quality and hardware.
All day battery life.
Excellent display and inking experience.
Cons:
Windows 10 is still not a great tablet OS.
10-inch PC experience has obvious tradeoffs.
No Thunderbolt 3.
The Surface Go is arguably the most fun Surface created yet. It's adorably small, the performance is excellent, battery life respectable and it's a great inking experience. It's just enjoyable to use. While the tablet experience in Windows 10 is not as good as Windows 8, as a mini-PC this is about as good as you can get and that's pretty darn good.
Related Reading and Tips
Our favorite Surface accessories from Microsoft
Every one of these valuable Surface accessories is Windows Central Approved and guaranteed to please.
Surface Precision Mouse ($77 at Amazon)
The Surface Precision Mouse is not only one of favorite Surface accessories, it's one of our favorite mice for any PC. It's packed with valuable features and customizable buttons. Its scrolling and tracking are seamless and spot-on. And it's rechargeable so you never have to buy new batteries for it.
Surface Pen (From $72 at Amazon)
Every Surface owner needs this Pen. Period. It supports 4,096 levels of pressure sensitivity, tilt support for shading density, and enjoys supremely low latency. When paired with a Surface PC, the potential is endless. And it comes in a bunch of cool colors.
Surface Dock ($136 at Amazon)
With two Mini DisplayPorts, four USB-A 3.0 ports, an Ethernet port, and a 3.5mm audio jack, this dock gives you the ports you need to stay connected to all your favorite devices. Plus, it easily turns your Surface into a desktop power hub. We highly recommend it.
Daniel Rubino is the Executive Editor of Windows Central, head reviewer, podcast co-host, and analyst. He has been covering Microsoft here since 2007, back when this site was called WMExperts (and later Windows Phone Central). His interests include Windows, Microsoft Surface, laptops, next-gen computing, and arguing with people on the internet.
Good to hear the bat life exceeded expectations. Im interested in seeing how bright/usable the screen is at 40% though. With my Pro 4 I find more times than not I need to run it at the bright or brightest setting to enjoy using the device.

Hmmm, Mobilesyrup reviewer is indicating sub 5hrs during their workflow bat test.

Thanks for the review, Dan. Does the USB-C to HDMI work with it?

Yes. Display out thru Type-C works quite well. Using the official adapter, but any Type-C to HDMI should be fine.

Sounds like a good way to reuse my Continuum USBc dock

Got one of those, Dan? Left over from when MS made phones. Does it work well? HDMI out? Biggest question is if the 45W charge passes thru, since this was made for Lumia's expecting no more than 5v (the Amps at 5v is limited to 3 I believe, so 15W). If they were thinking ahead, possibly you can use a 45W adapter, power the dock guts and USB ports with 5v at whatever and pass through the 45w. That's what most of the MacBook USB-C docks do.

I'm curious about this working with the Continuum dock too. Anyone try it out yet?

It is my office, but I'll definitely try it with my daughter's Go

I just tried mine and it didn't work. It would be nice to use it for something other than a Microsoft paperweight.

yes, the continuum dock works on mine. and it even show the charging, (of course that could be not real charging ) , fact is I am typing thru the dock on my monitor and usb keyboard. So you might have a malfunction dock. or cable. is the light on the dock show white or red? or not at all?
Actually, I also have been using the continuum dock for Samsung Dex on my Samsung S8 . so it is quite useful . but I also have the Surface Dock on my desk too, so I might use that than the continuum dock

Dan, can you do a quick (well sort of quick) experiment with your go? can you pop bluestacks on it and try texture? give some feedback on how it works compared to say my ipad? THANKS!

Very nice. I'm looking to make the switch from my Surface Pro to a Surface Go. I have a pretty powerful desktop system, and don't really need all the power the Surface Pro has, but I do need battery life. So the Go looks like it'd fill my needs and then some.

Yeah this is also how I felt about having a Surface Pro as well when I had one. Great device but unnecessary to have that all that power with another powerful PC system...

Surface Pro? Dual core i7? What is this "all that power" you are speaking off?

I agree an i7 dual core is not all that powerful. A desktop i3 is more powerful. I blame it on marketing though. Reviews will make it sound like the dual core i7 is so much performance when in reality it is just entry level in the desktop world. No joke read a review with a desktop i3 and the reviewer will always say how barely adequate it is but on a mobile talk about beast mode of the i7.

Was waiting for this review... Going to get one for my daughter...

Preorder mine for my daughter, came today.

I'm in the UK, we have to wait until 25/08/18... 😣

Was the storage speed test for the SSD version? How does the EMMC storage option fair?

I'll just paste this for you from the article:
"Word of caution: the 64GB Surface Go ships with a less-fast eMMC storage solution. We'll update our data here as soon as we can test it.)"

My bad, I missed that part when I was reading it.

...and updated review with those SSD benchmarks.

While obviously the Surface 3 keyboard doesn't work with this, does anyone know if the Pen does?

The pen should work, but you won't have the tilt features in the newer pen

I shall paste from the article: (props to Giddora)
The Surface Go also supports tilt, which is typically a more premium feature.

To use the tilt feature you need the newer pen. If you use the S3 generation pen it won't have that feature but will work, that was my point.

Awesome review!
Can't wait for the LTE version, this is looking like the perfect tablets for students.. well almost... tablet mode needs a lot of work. As a PC it's pretty much hitting the sweet spot in terms of computing capabilities and portability (since most people do light computing these days - basic apps, social media, web browsing and most office work does not require a beefy desktop to use - an intel m3 or equivalent is more than adequate).
T-rex mode... bahahahahahhaaha, that had me chuckling for a while . However it's a lot better experience than the tiny xp netbooks.... lol. Also, thanks for testing the Surface Go's screen brightness in direct sunlight 👍.

I am happy to see that battery life exceeded expectations. Everything else was about what I expect from the Surface team. The Go will be a useful tool for me, but I want the LTE version and assume you will review that one as well. I've never had major issues with the Wi-Fi or Bluetooth on my Pro devices, but I certainly have read that others have and I know the Surface team has heard those complains so it was interesting that they went with another supplier for this device.

Randall, I've messaged site admins to change your username to randalllewis as your email you've put your email in your username lol.

Review of a new Microsoft device and you don't have a section on software? It is your first two "Cons" at least, although I would argue it really should be addressed in the review because of it. Why does this device have the same interface as my 13" Surfacebook, 27" desktop, and 55" home theater? This would be the perfect device to showcase a new seamless tablet experience. Instead we get the same terrible touch interface on Windows combined with a small screen that limits productivity. The hardware certainly looks great, but without the software to match, this is really just a high performance netbook. This website has been talking about CShell and conforming interfaces for years now. When are you going to start getting critical and holding Microsoft to a higher standard? Afraid to lose your access to review machines? Shouldn't you be buying your own anyways? Dan is cheerleading Windows into the iceberg. It is now 11 A.i. and Windows still doesn't have a dedicated touch experience.

The software is the same as always.
Do you use tablet mode on your surface book/desktop/home theater? The tablet interface is perfectly fine to use on touch-devises.
The matching software is there.
CShell is still coming.
They are critical when there's things to be critical about.
There is a touch experience that works perfectly fine on any device.

Just making the start menu full screen doesn't fix every other part of Windows that isn't touch friendly. When you don't have a keyboard or mouse attached, this thing should never give you a keyboard/mouse interface. It is 2018, we have had modern touch devices for over a decade. We have already seen what happens when Microsoft is slow to market. Windows is now less than 20% market share for computing platforms. You want that slide to continue?

So all you needed to make your desktop work was the tower? Did you build it yourself? And let's talk about the mediocre tablet Samsung just announced with its SD835 and how they force you to buy a keyboard and mouse if you want to be productive on it. Let's talk about its PC-like interface which pales in comparison next to Windows 10.

The Start Menu in tablet mode is OK, what's the difference from Android or iOS tablets, that they use icons instead of tiles?
Come on bleached, millions of people are purchasing 2 in 1's with Windows 10 because they are both a laptop and a tablet in 1 device.

Do you use any of your devices in Tablet mode? I do my Surface 3. The concession I make is that I largely stick to store apps. The majority of those are actually cognizant of needing to be reasonably touch aware. Some of the exceptions unfortunately come from MS, such as Office, though Mail, Calendar, Edge and such are fine. Another group of less friendly apps are enabled by MS with Centennial, like iTunes, Paint.net. Tablet mode keeps everything in full screen, and offers app switching much like an iPad does. Could be better, but it is not like running Win 7 (or XP) on a touch screen. If you could use Windows Phone (or iPhone or Android) you can damn well use Win 10 in tablet mode. The touch targets are just as big, the gestures are usable, and the on screen keyboard is as good as the iPad or your phone.

NOt true Bleached, it is fine to use a pen instead of a mouse. Oh on the subject of pens... Dan they are not always better on a small screen. You obviously don't do any drawing :). If you did you would prefer a bigger screen for most occasions, if you did a lot you would need space for the interface as well as the workspace. Just sayin' ... thanks for the review.

"The tablet interface is perfectly fine to use on touch-devices." I think the consensus on W10 Tablet mode is that it's really mediocre. It even says that in the article which is quite surprising from Windows Central.

Daniel literally says in the article as well that the keyboard is a necessity, if Tablet mode was sufficient, that would not be the case.

I'm cringing at how annoying you seemingly are on every article. Don't you ever get tired?

Don't you ever get tired of Microsoft's mediocre effort? Don't you want to see them succeed? You think another netbook is what they need to stay relevant?

Name these Netbooks that had a touch screen, pen input, good graphics capabilities and weighed just over 1 pound with 7 real world hours of battery life???

2 in 1 were the most successful shipments in 2017 in the PC industry, and I'm sure that by end of 2018 2 in 1 shipments will keep growing in 2 digit percent.
Not the same can be said about Android tablets which are abandoned and only Samsung is supporting them with mediocre specs and very expensive prices like their Galaxy Tab 4

I did get tired. So I switched to a galaxys8 from a windows phone. But that's also the time I stopped caring so damn much about companies and simply started investing in good products THAT WORK FOR ME, regardless of who's logo was on the device. I also understand every device (especially the surface family) carves out its own niche and has its own use cases.

Microsoft is relevent, just apparently not where you think they should be. You want to talk mediocrity. How about the 12" MacBook. Starting at $1299 and has the same GPU as the Surface GO. Dude or Dudette, change the tone of your negativity and you may get taken more seriously. Or just find something good in what the article/editorial is about. I know you say that you're a Microsoft fan but, you sure don't sound like it. Maybe, the newer Surface products just are not for you. Me, I personally use an ancient MacBook Pro and I am very excited for what Microsoft is working on. Plus, I am a natural skeptic. I've just learned in my 50 plus years to look at things differently. Microsoft has horrible marketing, no doubt. Apple has built a lifestyle. You can be part of that or not. Maybe, Microsoft can learn from Apple. Love them or hate them one can learn from their business model. Use what works for you. I am typing this on my Note 8 that is docked into a DeX station. I never once thought that just because I probably won't buy a Surface Go that Microsoft shouldn't build one. I am not the sharpest when it comes to tech, but I come on here to learn. From what I see and what I've played with. The perfect machine for me would be a Surface Book. Though I may end up with a Surface Pro or maybe wait for something always connected with the SD850. Bleached keep stirring the pot.

I've seen reviews on 3 very pro-Apple sites and they all said this is one, if not the best, laptop you can get for the price.

Key word: Laptop. Great, exactly what Microsoft needs, more laptops.

You understand that Go, like most other Surface products is a 2n1 right...its suppose to be a small laptop/tablet and if all you are using it for is store apps in tablet mode then it will be just fine. If you need to be productive then they keyboard and mouse are additional tools that will aid you just like all other PCs...

And keep in mind it does not have to be the Surface Keyboard. There are dozens of BT (or RF) keyboards and mice that will work; even MS's folding BT keyboard. No shortage of USB-C docks either that could attach wired keyboard, mice, monitors, if that becomes a need for a short period. This is not, of course, the device you use to support your fixed workstation needs. This should, and can, be used like an iPad (which also supports keyboards, from Apple and 3rd parties)

I disagree, my daughter uses my 2 in 1 in tablet mode to play Windows Store games from Rovio, King, Disney, Gameloft, etc.
Can you let me know what does an iPad do that Windows 10 cant?

Touch .... ?!
Ink Pen Ink Pen Ink Pen!

Thanks for the review! I've read about 6 reviews so far and there seems to be some disagreement on the performance level. Not sure what's going on there.

It's expectations. PCs have a wide array of behavior. If you're running Chrome with 20 tabs, Photshop, rendering a video, and compiling an app...this will be slow. If you're using a 10-inch laptop for the web, video, news, music, Minecraft and other light computing things, it's fine. It blows Surface 3 out of the water, which is the point I'm stressing. It's similar to a Surface Pro 4 with Core m3 for reference. Performance is totally subjective. Does the OS lag, stutter, take forever to do basic tasks? No, that's what matters for me. Is this a Core i5 or i7? You already know that answer ;)

That is what I hate about the other reviews. This is effectively a very late update for the Surface 3 (a very well selling device) and in that regard it blows expectations out of the water, much better build, much better performance, and retains a good battery life. Yeah even a Surface Pro m3 will outperform this, but that isn't the point.

"The screen is far from being matte, so it does maintain some gloss and higher reflectivity than what Apple uses." I think iPads are 'full gloss', with not a hint of mattification, so if there's a difference it might be related to antireflective coatings or optical bonding quality.

Was hoping you would review how the software runs on this.

We just ran a video last week deep diving into how Windows 10 as a tablet experience pales to Windows 8 and I link to that in this review. It's a laptop first and for that it's a great experience if you're OK with the size. What else do you mean "how software runs"? You want a video of me just opening apps for 10 minutes?

Oh no. Everyone knows tablet mode isn't good. I was referring to maybe mentioning how much slower or faster things run both in apps from the store and .exe. etc. Or maybe this was just intended to be a hardware review? I would also think this would be a tablet first no?

In the video you can see me launching/using apps, playing Minecraft and another game. I mean, it's basically a Surface Pro 4 with Core m3. re: tablet first, I'd say no. Microsoft calls it "Laptop performance, tablet portability, and a stunning touchscreen with the power of Windows 10" or "Comforts of a laptop, convenience of a 10" tablet". Surfaces aren't really tablets, but they're not really full laptops either. They're there own thing.

What was so great about Win 8 that isn't replicated in Win 10 if you stay in tablet mode? (I had an RT and still own my Lumia 2520 BTW, so no BS). I acknowledge there were some more side gestures that made some things easier, but were neither intuitive or discoverable (other than accidentally). Beyond the charms, which were an acquired taste, the current store apps don't function significantly different than they did in Win 8. To Tapatio_00, no, everyone doesn't know that tablet mode isn't good. People believe what they hear without ever trying it. Everyone knows Chrome is better than IE or Edge, Windows Phone sucked, Playstation is better than Xbox, Ford is better than Chevy, or Chevy is better than Ford.

"Nothing about Surface Go makes you think Microsoft cut corners" Except for the fact that they literally cut the corners. :D

Daniel how does this compare to a 8gb ram i5 surface pro 3? Any thoughts if this would be a good replacement if one is happy with the Pro 3 performance.

SSD is likely faster, you get Windows Hello, better cameras, better display (accuracy), muuuuch better Pen experience. Overall performance should be similar, but i5 multi-core will be better. The biggest questions is are you OK dropping from 12.3" to 10"? It's a teeny device, not everyone will feel comfortable using it. Also, depends on how you use it e.g. "my main and only PC" vs "what I take on planes, meetings, coffee shop, the couch". If the latter, this is great, go get it. If the former, think long and hard.

You should *really* examine that drop in write performance! It seems like a bug in the new firmware to me...

It's also post-unlock from S mode and I have "other" software now running. I need to go back to S-mode to retest, but waiting on recovery files to go online.

I thought that you cannot go back to S-mode if you once decide to unlock it? I am in doubt whether unlocking S-mode and using other software will have an impact on the speed of the system. I am prepared to live with only Store apps if it will make the Go feel much more speedy. But if you can just revert to S-mode I would certainly try to unlock it.

"I thought that you cannot go back to S-mode if you once decide to unlock it?"

You can't go back as in reverse it. You can, however, wipe the device and reflash it with recovery files for Surface Go. It's more steps, a bit risky (in theory), and you lose everything. Re-creates out-of-box experience. We'll have a tutorial soon on it as soon as the files are live.

Great, thanks for answering. I understand that you unlocked your review device from the S-mode, and installed other software, and didn't experience any lag because of that. That sounds promising, but of course you probably shouldn't expect to be able to run full photoshop, which I don't need. But it would be nice to have the option not to be limited to Store apps.

The bug in the new firmware appears to be real. Or, MS throttle down the write speed on purpose which I am hoping not to be true! The SSD specs indicate the sequential write speed of 550 MB/s.

So the base model seems a better value, because if you upgrade to the 128Gb system with 8Gb RAM yes you get a faster SSD and more RAM. But your stuck with the same slow Pentium CPU. Plus if you end up spending money on type cover your pretty at a price point where you could buy a better 2 in 1 with faster CPU and up gradable RAM for about the same money. I guess you would have to be in love with this form factor to excuse the hardware limitations.

I'd also argue Windows Hello IR and pen experience are very premium things not often found on other budget 2-in-1s in this class. 4,096 levels of pressure and tilt ain't no joke, it's very good for inking.

I have only had the surface go for less than a week. I like it but am concerned with the limited storage. I have been trying to see if I can find any information on whether or not the SD slot would support a 2 TB memory card. I know it will support anything from 128 to 200 GB but was curious about the 2 TB memory card. Really I only use it to take extra notes in class and then transfer them to my home Laptop to be printed.

I would say—at least for some—form factor is everything. I have small hands, middling computing needs, and 500-800 grams weight is just right. I only need to wait for the LTE version and I'm in.

Just got mine. I ordered it for my daughter's first computer. I've had three Surface devices and nothing but love for them. I'm actually kind of jealous of the size, it looks perfect for lugging between lectures I teach. It has the size advantage of the S3 with a lot more power and fewer design corners cut.

Great review! That will now be my daily driver for my artistic needs and finally replace my Dell XPS 9p33.

I will second that! It was great reading this review, very useful in the way it covers all aspects that are important for potential buyers. And in particular the review is very clear on what you can expect and what you should not expect with such a device. I am particularly happy that the Surface Pen seems to work really well on the Surface Go. I use the pen both for drawing, note taking and office. As to software not being tablet optimized: it is mentioned in the review, and in my experience you certainly can use a Surface in tablet mode, although it's not as smooth running as iOS or Android. Speaking of Android I noticed that Samsung yesterday presented their new tablet S4 as a device that is both a tablet and a PC, with a desktop like skin. I have the Galaxy Tab S3, and really enjoy it for using media, but for productivity it can't compete with the Surface. The lack of a kick-stand and horrible keyboard solution are not minor things, but all important for productivity and creativity. Also it is all glass and plastic. The fantastic hardware of the Surface makes it a pleasure to use and handle, so the value is not only about software.

"Update: A recent firmware update seems to have shifted things. We're now getting 1,200+ MB/s for read (a slight increase), but write speeds have dipped to 133MB/s."
WTF?! Was the first benchmark inaccurate to begin with? Dropping from 546MB/s to 133MB/s is a lot!!! Something is very fishy!!!?

First benchmark was in S-mode, second was in Home after I installed some benching apps and other software. Unsure if related, or if some day-one firmware changes things.

Thanks. That could be the explanation. Can you report the Toshiba SSD model number using the Device Manager?

Well, this is a soldered ball grid array PCIe 3x2 lane NVMe SSD with HCTM and firmware support. It has 20x16x1.3 mm dimensions. Its sequential performance is 1,200 MB/s read and 550 MB/s write. This tells me your write benchmark after firmware update is false and a future firmware should be able to correct it!

Nice to know. I uninstalled some software to see if that has an effect; also glad to hear I was seeing things ;)

Thanks for the great review! Does the SSD have hardware encryption? If so, is the impact on usability any different than on a laptop (i.e. enter a password on reboot or wake from hibernation)? Thanks

Yes, Windows 10 Home has encryption; it's on by default. Same sleep/standby as a standard laptop, definitely not like an ARM PC.

The Toshiba KBG30ZPZ128G (see Daniel's earlier reply) is Non-SED according to the "BG3 Series Manual" on the Toshiba-Memory website so it doesn't have TCG OPAL 2.01 hardware encryption. Perhaps the Pro version (available later) with the larger 256Gb SSD will be SED? All of the Surface Go range appear to have an onboard TPM 2.0 so it should be able to support eDrive and Bitlocker.

Impressive review WC, you made a great job.
It's cool to see this beats the GPU performance of the Surface Pro 4 (core m3), and CPU beats the performance of the HP Envy X2 which costs about 2x of this machine.
I also loved the amazing read speed of 1,185 MB/s on the SSD which confirms this is a NVMe fast expensive SSD and not a SATA cheap low speed SSD

Thanks, and yeah, definitely not SATA. Those read speeds are super important to the overall experience. Glad to see it here.

Thanks for mentioning that the bezels make sense when holding it. I hate how I'm always triggering thinks on my bezel-less phone. For a tablet it works.

Is the "new" mouse a rebrand of the Designer Mouse, it looks very similar. I have a designer mouse and it is very good. One simple thing I love about the mouse is the magnetic lock on the battery compartment, a small design touch that adds a lot.

"Is the "new" mouse a rebrand of the Designer Mouse"

Yup, basically. Tweaked by the Surface team and now in more colors.

Excellent review. Waiting for your LTE review. That is the device I plan to get for the holidays.

Thanks! This with LTE is gonna be a lot of fun.

Question about Microsoft Office. On BestBuy Canada, it says Office is a 30 day trial but I thought Office was free with 10" and smaller tablets. What's the official word from Microsoft on that?

Office mobile is free. The full suite is not.

This is a great product review. I think that Microsoft has a Winner product here
especially if you can afford the most expensive one. The Costco Microsoft GO package
with 4 gigs of Ram & an SSD drive plus the plain black type cover for 550 Dollars is
the one I would buy. an 8 gig device might perform multitasking better. I rarely
do a lot of multitasking on my Desktop PC.

I have the latest Surface Pen paired to the latest Surface Pro. Can the same pen be used interchangeably with the Go or would it need re-pairing all the time? Not having to buy another pen would be a huge plus, especially if it seamlessly switches across devices.

They will work basically, but you might need to pair with Bluetooth for the button to work properly.

I don't care for speculation. Has anyone ACTUALLY tried using a pen on Surface Pro and Surface Go? Does it switch seamlessly or does it need constant re-pairing?

I agree with the first two cons. Windows 10 is very poor as a touch only, tablet interface. This is partly because of Windows 10, and partly because of the apps. Everything on an iPad is designed with the touch interface in mind. Unfortunately, this is often not the case on Windows 10. On my Surface Laptop, I frequently run into apps and web pages that are difficult to impossible to interact without a mouse or pen. Web pages with drop down menus that rely on some type of "hover over" input don't work with touch. This was more problematic with my Huawei Matebook, which was basically a Surface Pro 4 wedged into an iPad case. It led to frustration when I was using it without the keyboard cover or stylus. Another problem is that the app selection is anemic. It's getting better in some respects, as Apple is making it's apps available in the store. However, there's no Comixology app like on iOS and Android. As a result, you can only read comics in the web browser, which is not as touch friendly as it could be and doesn't support downloads. This makes reading impossible if you don't have internet access. I think the Surface Go looks like a solid, if expensive laptop, but still not quite equivalent to an iPad Pro.

For comics you should try out the app cover: https://www.windowscentral.com/e?link=https%3A%2F%2Fclick.linksynergy.co...
You can put your comic pdf on onedrive an integrate them into the app. It has also a offline function and does synchronize your reading progress over multiple devices (also win10 mobile). Really a great app!

I love the new Surf... *distracted by Dan's arms*. ... What were we talking about again?

It seems Dan has been busy working out! Nice biceps and triceps! :-)

hah, thanks. I work from home/write all day and I'm not young; I have to hit the gym everyday :P

One problem I see on all the reviews of the Go and other Surfaces is the concentration on the "Standard" keyboard, I use my Surface Pro 4 with a full size keyboard and mouse, no need to use the standard ones. It is this flexibility that can turn a tablet into a full blown PC, my SP4 is used with a 32inch monitor, web cam, speakers, desktop microphone, a 1 G hard drive and a DVD recorder, it is my full blown desktop when I am not using it as a tablet, I know you tell people about the ports, but maybe mentioning just how customisable they are would help them sell better.

Does this resume from sleep instantly like a phone or an iPad? My Surface 3 occasionally goes into hibernation when it's not powered, very annoying for a device that's supposed to just be for easy and quick access.

Nope. That's still a thing with any x86 PC, which this is and what ARM "solves". Not there yet.

but, I was hoping Microsoft incorporate resume from sleep when you drop the type cover down from the tent mode... Is that possible with the Go?

I've only had mine for a little over 2 hours now but so far I'd have to agree with everything Dan said. It's a lot snappier than I expected. Screen looks great (especially with old eyes) and in the 2 hours, I've downloaded, installed my Office 365 suite, and synced Outlook. I've also installed all of my applications from the Store. Synced my OneDrive and while I took mine out of the box at approximately 90% of battery doing all this on the battery I'm only down to 78%. Pretty nice consider all the "beating" the SSD has been getting with updates and the WiFi cranking. Unlike some of the other commenters I'm still keeping my Surface Pro as it is my "Desktop" device. Connected to the surface dock, large monitor, dvd burner etc. I retired at the end of last year so I don't need to load all the stuff I used to when supporting clients IT needs. I purchased the GO so that I could sit in my recliner with a smaller lighter system to use for surfing, playing casual games, reading ebooks with the Nook and Kindle apps and making it my primary note taking device with OneNote. This is replacing my old Dell Venue 8 Pro that finally "died". So far it runs circles around that little guy and I'm surprised at how much difference it makes in weight, usability, and size just by dropping the screen size down roughly 2.3 inches from my Pro. I wasn't sure if I it was going to be small enough as I had been used to the Venue's 8" screen but I find this one is perfect for me.

I'm looking to upgrade from a Venue 8 Pro too, which is a great size for reading articles, books, and magazines but it's just so darn slow. My Surface Pro on the other hand is too large and heavy for comfortable reading on the couch but it's way zippier (obviously). You may have just swayed me to go for a Go!

Amazing job by Surface team. Been so happy seeing all those raving reviews. For a device ranging between $399-$549, Microsoft really has offered the best of the best. Kind of like what Oneplus and Xiaomi have been doing in mobile space. The only downside is processor but only because Intel is too costly to fit within this price bracket. Thank you Microsoft! Follow this formulae for the upcoming hardware devices by offering absolute best of the best components in quality and performance. Now that I'm excited enough. Already thinking about what should Microsoft do to improve on this already excellent device. Well, as mentioned in the article. First thing would be tablet UX. I don't necessarily agree with Zac's opinion on it being bad. It's useable but there is certainly need of improvement. Animations and framerates would be a starting place just like Zac mentioned. Gestures are good, just need to be made more fluid and enjoyable. Then comes aesthetic. First, I'd like to talk about hamburger menu/bar. Although, I still believe it's still the right place to put navigation elements in landscape orientation, I'm not necessarily a fan of its constant icon laden presence on the side. Just really breaks the full screen immersive experience. Should be an option to hide and bring those elements. One solution would be to use hamburger button as a switch between full menu, icon only side bar or nothing except unobtrusive hamburger button and the execution to left the elements where you left (selected) them. Secondly, personalization options needs to be addressed. I for one would like them to import the windows mobile personalization options of accent only, tile background and parallax, tile transparency with slider. Next they also need to bring the options of show more tiles and make use of that space. Top to bottom scrolling is good although I find divided column based scrolling to be finicky. Should be an option of scrolling full page. And offcourse more tiles grouped with each other and the columns and rows should have close spaces. Now lastly and most importantly, we need a modern file explorer. We have been hearing rumblings of a UWP file explorer since ages but it can't come soon enough. It's been three years. Let's hope for a speedy release of a modern file explorer.
Honourable mentions for need of a better tablet UX goes to having native UWP apps and desktop web optimized for touch. Another hardware based solution could be using a finger print scanner doubling up as a trackpad for cursor or gesture control or maybe even using a joy (controller) stick/button on the side of a device maybe? Now comes performance department. As we have mentioned above, Intel's core processors cost has been a big issue in bring these devices under a certain price bracket without sacrificing on performance. In order to solve this, and I've been saying this for years, Microsoft need to get into its own silicon design game. Using latest ARM64 licenses and maybe AMD's ryzen and vega (whatever comes next) based architectures in x86/64 space. There is a real value in custom chips. From better optimization to costs to machine learning and AI, Microsoft really would do well to have custom chipsets in its future devices. That's all I've to say. Good luck Microsoft and Surface!

FYI for those who care: The 4GB RAM 128GB SSD version available at Costco costs $549 and includes a type cover.
Its back ordered now with shipments expected in 3-5 weeks

Dan, the external display you used is it 4K? It would be tremendous if the Go would be able to drive a 4K display.

It's not (but wow, what a display from Dell). I have to check for 4K, but don't have any around me right now, which is shocking for me lol. Will follow up on that.

I have checked the Intel site on cpu specs. It seems to depend on the overall design.
3840x2160 at a minimum of 30 Hz would be my wish, 60 Hz would be perfect. But what from usb-c to HDMI or DP?

Well I just got mine today. All seemed good until I tried to download and install Spybot - Search and Destroy from safer-networking.org. (Anti Spyware and Antivirus) then I was stymied by Microsoft, saying I could not do it with this version of Windows 10. Thanks' big brother, I did not know we were related till now.
I would like to run my own life thank you. I don't want the cloud that can't be reached with out a internet modem. Also guess what part of your vaunted Windows Defender is cloud based, not cool, to me anyway.
I expect more and other teething pains as we have only had it three hours, battery is fine so far and we did all the updating on the battery. Lighter than our Surface 2 (Which coincidentally died yesterday).
We'll tough it out. Surface Go is not going to best us by golly!

Were you in S-mode or did you take the computer out of S-mode into full Windows Home?

Oh he was definitely in S-mode ;)

But Spybot S&D is nowhere to be found at Microsoft Store!!!

That's why he got that error. Nothing in S mode will stop you from downloading and trying to run an installer. But when you launch it, you'll get that message he got. All he has to do is take it out of S mode if he needs to run non-Store apps.

I have the surface 3 and thought the GO was going to be kind of the same (slow). Glad that y'all pointed out that it was way faster. My only problem is if its nice to write on... Is the keys much smaller than the Surface 3 type cover?)
I'm going back to college and would like something light to bring me there (I have a desktop at home). The problem for me is that with the Surface Laptop is that it has a slow SSD, but otherwise I find it neat. Does anyone think Microsoft will come with a new edition this fall? Or is it the "Go" I should go for?

Also, In the S mode, can you use the Standard Office programs?

Yes, Office is compatible with S-Mode. Comes preinstalled or get it from the Store.

It looks like a great replacement for my Dell Venue 10. Ill wait till it goes down to $199 with keyboard.

No throttling problems came as a nice surprise, that could theoretically make it a decent casual game tablet or portable game pc (especially in combination with the Nintendo Switch bluetooth controllers). I hope this device will give a boost to more touch-friendly apps and games. Perhaps Microsoft can take the lead by releasing a touch-friendly version of their Age of Empires remake. :-) Would also be interesting to see if this inspires OEMs to also release 10 inch 3:2 windows tablets/2-1's. I would like see an OEM clone with an AMD ravenridge variant, perhaps by saving on the camera's & maybe the digitizer and invest that into better cooling or such.

Which ND filter and lens was used for the photography and videography for this review? Excellent review of an excellent Surface.

Everything about the Go looks to be better than expected especially performance wise. The only issue is that as Dan said, the model tested came in at 770 bucks. For 30 dollars more you can get the SP i5/8/128 keyboard bundle which is still silent and fan less. Unless you have to have the smaller size, the I5 SP seems like the obvious choice. MS did good here. But the price at the higher end kind of muddied the waters a bit.

Dan, can you do a "usability" comparison between this and the HP Envy x2 (SD835)? I realise they have different screen sizes. I'm talking more from how "snappy" each system feels, usable programs etc etc. The SD835 isn't much slower than the 4415Y in the single-core bench, and is much faster in the multi-core. Just wondering how that translates to real world usage.

Yeah, it's an interesting comparison/topic, will see about doing something on it.

How is XBox Game Streaming? Wouldn't mind using this to stream from my XBO in basement to this upstairs while in bed.

I bought the 8/128 version this morning and spent most of the rest of the day configuring, updating and getting used to it. As a device for consuming streamed content and handling quick Internet lookups in a compact package, it is pretty much what I thought it would be. I have a few reservations, but not enough to make me take it back. I took it out of S mode immediately, and then quickly learned that I will have to update to Windows 10 Pro as well -- 10 Home doesn't cut it for me. I really need things like the Command window, Powershell, and the Group Policy Editor to be able to check and tune up the occasional misfires I have encountered on my other Surface devices. I didn't buy another pen for the Go, and I had periodic pen glitches all day with any of the second model (pocket clip) and third model (no clip) pens that I have lying around. Maybe some future driver update will improve the situation for me, or if the Go pen really is a new model tuned for this machine, I may have to get one -- another unexpected expense. At this time inking is still not completely satisfactory (a test working of a NY Times Crossword was frustrating and produced unexpected graphic behaviors and results). The pens can even lose their BT pairing in mid task. This inconsistency has been disappointing, since sketching and quick handwritten notes are among the uses I expected to serve with this model. With the Go in my hands, the bezels look wider than they did in the promo illustrations we have all seen for the last few weeks. The display area thus looks a little smaller than I expected. A quarter inch more on every side would be appreciated, but the actual display space is so much better on this slab than on my old HP Stream 8 that I can't complain. I benchmarked with Antutu 6 and got a little over 158000 on the first pass. My old first generation Surface Pro with a slowish i5 inside hits 185000 on that graphics-heavy tester. I didn't have a subjective sense of slowness while using the Go. A couple of pages may have taken a second or two longer to finish building themselves than I would have seen on more powerful Surfaces, but that was to be expected. This device is built for compact adequacy, not graphics editing or Mersenne prime searches. All in all, B+ at the moment. If I can get 10 Pro into it (another $100, apparently, not the $50 that I have seen mentioned), and if the sketchy inking can be fixed, I will go to A- or even A.

Hi Daniel, is there any hope that the LTE variant will be ARM [SD850] based? Thanks.

Very doubtful; that'd be a much bigger board switch out.

Thanks, Daniel. Though I must say that it is very disappointing. As you pointed out in one of the articles about ARM based PCs: "...though it seems unremarkable, the always-on and always-connected nature of the Snapdragon platform changes how you use your PC in subtle but important ways." (Hands-on with the built-for-Windows Qualcomm Snapdragon 850 ARM processor)
In my opinion, that is exactly what the word "Go" should stand for in the name Surface Go.

@Daniel Rubino - THIS IS AN EXCELLENT REVIEW! You answered most of the questions I would normally have. Very nicely laid out as well! The only question I have is how S-Mode works into all of this?
(Are you bound to always use it? It seems that you are forced to just use Edge and only applications from the Microsoft Windows Store?)

Thanks. We'll have a video about switching out of S-mode to Windows 10 Home. It's free, takes about 10 seconds, no need to reboot. Then you can run anything.

On the LTE model where it makes more sense and comes with the x16 modem?

Does anyone know the name of the game shown right before Minecraft? My 6 year old son would like to try it (and dad too) ;)

Going to guess it was Die for Valhalla.

Only minor quibble would be I'd like to have had a 2nd USB-C on the other side of the tablet, so it can be charged from either side (and provide a backup if the 1st port fails for some reason).

Xbox streaming... Can I do it? My network connectivity is abysmal on the pro 3 👀

I have a Surface 3, 2 gig model. It can be painfully slow, particularly with some page and video rendering through the browser. But otherwise, it's a really nice device with premium build. I'd just like something that performs better, and yes, getting any Windows device with only 2g of RAM wasn't the wisest choice, but I couldn't pass on the value at the time.
So I'm considering getting the 8g, 128g fast SSD variant of the Go. It should blow my S3 out of the water with performance, while still offering the convenience of a compact device, with the premium build quality of the Surface line.
And that said, if I get this device, I think I'll keep it in S mode, for the performance, efficiency, and security benefits. For this type of device, I don't need any traditional Win32 apps, and any minor gaps not offered in the Store can be adequately filled with Web apps (like a Chromebook). I'm a Developer, and for real work I need a powerful machine- my company supplies a Lenovo Core i7 with 16g RAM. But that machine, plus my desktop at home, are not good for casual, portable use.
Thus, it's looking like the Surface Go will be perfect.

Great review and I love some of the comments from users trying to get the Surface Go to do things it probably wasn't designed to do. Hey, go for it. I am interested in the LTE version, so I'll hold off until then. But what I am more curious about is a feature of the Go that Daniel didn't mention (and in fact none of the reviews I've read have noted): the Go has an RFID reader. No doubt that was included for specific business uses such as inventory tracking, but I wonder about consumer uses of that chip.

Oh, the NFC thing? I haven't even looked at it, but will in the coming days. Not sure what I'd use it for, or if it's even on this one (I assume it is).

Sounds like an interesting *second* tablet/PC for surfing, e-mail, occasional use as PC. The small size makes it fit in spaces where an iPad/tablet fits, and it weighs some 1/3 of a 13.5 inch SB2. Two questions, though: * Does the pen that was introduced with the Surface Pro 2017 work with the Go? Or is there a specific pen for the Go?
* The Surface Pro LTE version reportedly gets 1 hour less battery life than the non-LTE version. How will the Surface Go LTE version fare compared to the non-LTE Go version wrt battery life, which is already on the shorter end?

Yeah the pen should work. The pen from the Surface Pro 4 (or 3?) should also work and is cheaper (but that one has no tilt support iirc).

There are many comments on Windows 10 tablet mode. I have been using tablet mode on Windows I0 on my Surface Pro and Thinkpad 10 with no issues. If you switch Windows 10 to tablet mode, you can swipe from left to switch open apps, swipe from right for the usual settings and notification, swipe from top to close an app, swipe from bottom to reveal task bar which you can hide if you want, You can also split the screen into two half easily by moving the open app to one side. In tablet mode, the icons in File Explorer are bigger and the file listing are well spaced out. Very touch friendly. The problem is that many people uses touch without switching to tablet mode and without customizing. Perhaps WC can run a series of articles on how to use and customize tablet mode on Windows 10. The tablet mode is very flexible and powerful.

Yeah I find myself guilty of forgetting about tablet mode too sometimes. Now I auto hide the taskbar on tablet mode so I am better aware of it being toggled off or on.

Where can I find the wallpaper images shown on the Go throughout Daniel's reviews?

I think the surface go is a good idea for microsoft, but I still feel it is a niche product. From its size and performance for mobile portable device I feel plenty of other devices are better. It is good device if: You work with windows a lot, and want a smaller version. You have a chromebook, macbook and want a secondary device with windows on it. You do not have much of a need for laptop and just do email, netflix etc, and just want 1 device to cover anything that might come up. What annoys me about the surface go is that people act like it is the first or best in this category. Not counting any Chinese knock-offs, there is the galaxy book. The galaxy book comes with pen and keyboard and a faster core m3. The galaxy book from time to time goes on sale for $499. I bought one once with a student discount for $409 and sold it when I got into chromebooks more. As far competition, I feel that for everyday people the ipad, android, chromebooks will serve you better. It all comes back to the apps, and because of the size, performance of the go it makes it subpar as a tablet and laptop.

Performance of the Go is better than many tablets and the igpu is similar to that of mid-range laptops lol. I get what you are saying about the Galaxy Book, however that one is in sale only similar priced (or it does not come with the case/kickstand), the Go is without sale already entry priced. The Go will also get discounts eventually, making it better priced than the Galaxy Book with discounts. Also while the m3 is slightly faster in cpu speed, the igpu is not. And the Galaxy Book is quite a bit heavier (yes you will notice that when using it as a tablet).
The Chinese knock-offs often fail at several things; e.g. no 3:2 ratio, bad battery, bad screen, to heavy, weak case, no pen or meh pen support and/or mediocre old atom proc (or celeron proc with worse igpu etc).

I have a Surface 3 and Surface Pro 4. The Pro 4 can reach a much higher volume than my Surface 3. I was wondering if the Go is better in this department than the Surface 3? I teach a small class and can't use the Surface 3 for videos because it's to soft in the sound department. Hoping the Go would be.

Plug in some external speakers to the headphone jack in the S3. I salvaged a small set from an old, old PC that was surplused.

We have had ours about four days now and I posted here earlier. Bottom line my wife loves her new Surface Go. She loves how light and easy to handle it is. She loves that it uses the same connector as her Surface Pro (5) for the charger. She loves that it works well!
We will take it on a short outing later this week and give the connectivity a workout!
I did mope earlier that Windows 10 S, did not allow you to download apps from anywhere but Microsoft store , and that is still a mope point, but the only negative for us.
The more we use it the more we like it.
I can't comment on battery life as I don't get to touch it much.

Why don't you just get out of s mode? (note that when you opt out, you cannot go back with the device, but honestly s mode is more for schools and technically inept persons :P ).

Hello, I just saw the Surface Go at a store today! First thoughts - too small and expensive in Canada. It is $699 Cdn ($537 USD)for the 8GB/128. Which is too much.
They have bundle of pen OR keyboard OR mouse, plus extended warranty for $349. Which seems high
The i5 8GB/256 Surface Pro is $1299 ($999 USD) on special. Yes, but that is less than double. It's still a lot of money. Btw the Galaxy S3 is about $800 Cdn. In Canada we get 'hosed' on prices.... After getting screwed by MS on the Band and W10m...I am reluctant. But MS, wish I could quit you.... My biggest gripe with the Surface Go - the screen size. It is a small screen...too small. I don't love it.
The 12" looks so much better.... So....which one would you rather get?

Probably the Surface Go in a sale, but personally I would prefer a 10 inch device since I already have a laptop. In your case, just go with 12 inch. ;)
Also I don't get why there is a risk in buying a Windows 10 device (you can get out of s mode free), in contrary to what runs on the Band and Windows Phone, Windows 10 is already adopted by the masses and not a young product that has to prove itself between behemoths.

I think everyone has to make up their own mind, it's hard to push my reasons on anyone else. I received my Go a day ago, I wanted it as I travel a reasonable amount, I need full win32 capability to do my job, I also need office, visual studio and sql server. I went with the 8GB because the voucher on Ebay made it a reasonable price. I spent today using the machine at home to do my job, a few things felt sluggish, but on the whole very pleased, especially compared to my Pro 4. The screen is a little small but the resolution and sharpness make it viable at 125% (for me) and the weight, frankly it barely feels there, I suspect the old Pro 4 power supply weighs nearly as much. What is particularly interesting to me, it feels roughly the same performance as my 8gb i7 based XPS 15 (L521) from a few years ago, which is really the machine it will replace full time. I've decided to use a standard MS with trackpad keyboard, I've got it lying around and we'll see if I can manage without the extre $100 expense. On the whole, few niggles, the weight and size which is important, make the cost worthwhile. I know some people would say it's a few $10s too much, but over it's 3 or 4 year lifetime (hopefully) that's cents a day and for the benefits when traveling, worth every penny. I've got a 10.8" dual boot Chinese tablet with an atom and 4gb, these two are worlds apart, perhaps the slightly larger screen is nicer, but everything else isn't.

Will get the Go for use in school, anyone tested SketchUp or similar drawing app on the 4GB version? Is it worth the gamble to not get 8GB.

They recommend 8gb ram on their site. I would get the 128gb 8gb ram version, another benefit is that the ssd will be faster.

Says August 2017 availability on the video: I don't think MS could pull that off. This month is impressive enough, I think. I purchased a Yoga Book earlier this year, and I'm not sure which I'd buy today. Since Sony Vaio days, I have always had to have the lightest, most portable, and most beautiful device out there. I still think I do have that, but finally replacing my RT may now be tempting.

I bought the YogaBook a few months ago. Unfortunately it never met my expectations/needs for taking notes and light duty work with Office apps. But the Surface Go does and then some. The Go is just as portable and much more adapt for taking notes directly on the screen (positioning the pad on the YogaBook was bad). The YogaBook may be good to look at, but the Surface Go kills it in every other way and looks just as smart - and you'll feel smarter with a real keyboard too.

Mine is a question rather than a comment. I plan to use the Surface Go to teach. I've been using iPads for years, and the sound quality is excellent when I put the classroom microphone next to the iPad's speaker. Will there be a problem with playing tracks on the Go? (I teach English and play conversations for my students' listening practice.) In terms of the ability to use the speakers in class, do you think I'm making a mistake by switching from my current iPad Pro, please?

Can confirm that it works super with the display dock aka. continuum dock!!! loving it

Daniel, how are you achieving 7 hours of battery life. I mainly get 5. Also, my 128/8gig unit gets beyond warm. What am I doing wrong? Yes, 40% brightness. I even eliminated background app refresh, Cortana, location services, and backup services. Please help me get the warm fuzzy you write about. Thanks!

Thank you soooo much for this commercial.... I have an Alienware m11x laptop and I find an 11 inches screen to be way too small. There is no way I can see that Go Surface thing to be of any use. Too small and way too overpriced.

I bought my first computer in 1985: an ATARI 1040 STE. Since then, after all of the computers and PDAs and phones that I've purchased, iv'e had very few purchases where i've felt 'buyer's remorse' afterwards. Buying the Surface GO at Christmas is, unfortunately, one of them. I bought into all the hype, and I should have been smarter. I bought the 4 GB RAM version; bad mistake. Right now, I've got 4 EDGE tabs open, Spotify is trying to play music in the background, and I've got a WORD doc open. My task manager showing i'm red lining my RAM at 95%; my CPU is at 90%; this poor little machine can't keep up. As i type this and move my mouse around, the music keeps glitching and freezing. Sad. Please don't even think about getting the 4 GB RAM version of this machine. I should have known; my phone has 6 GB of RAM; I don't understand how they can get away with making this version. Battery life is 5 hours - max! I don't get it. Why does everyone love this machine so much....? I've got a 3 and half year old YOGA 2 Pro, with 4 GB of RAM,, that runs better than this....

Will the 4GB/128 SSD model sold by Costco (with a type cover) run WinPro well?

I ask because I need pro to access work, but otherwise the specs are fine for what I do. Besides getting the type cover with the Costco deal, using a Costco Visa card basically extends your warranty to 4 years. So it is a pretty good deal compared to getting a "biz" model from the MS store with Pro already installed (and then you have to choose between 64GB drive or 8GB RAM, as they don't offer the same combo Costco does).
Windows Central Newsletter
Get the best of Windows Central in in your inbox, every day!
Thank you for signing up to Windows Central. You will receive a verification email shortly.
There was a problem. Please refresh the page and try again.