First look at the new Surface Connect to USB Type-C Adapter from Microsoft
We go hands-on with Microsoft's new Type-C adapter for Surface Pro and Surface Laptop.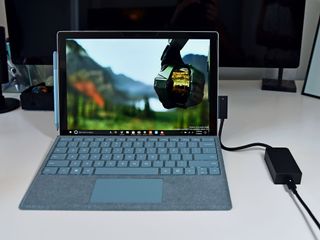 It's been just over one year since the Surface Pro for 2017 was announced and with it, the eventual release of a Surface Connect to USB-C adapter.
The omission of a Type-C port – even if not full Thunderbolt 3 – has been seen as a black-eye on the Surface Pro, but that is now being partially fixed with the new $79.99 adapter, which is now available.
I've been using the adapter for the last few hours and while I'll do a full review later this week here are my initial thoughts on it.
See at Microsoft Store (opens in new tab)
More of a mini-dock than a dongle
Much has been about the size of the Surface Connect to USB-C Adapter. It is rather large when compared to typical dongles or Type-C adapter, but this is more than that.
Weighing in at 91 grams this accessory is more of a mini-Surface Dock meant for a desk environment versus something you use in your lap. That's because the main idea behind the Surface Connect to USB-C Adapter is to let the Surface Laptop and Surface Pro connect to Type-C hubs, displays, and power sources rather than a simple USB-C thumb drive.
The size and weight let the Surface Connect to USB-C Adapter lend it to working better when stationary on an office desk, or permanent setup. Instead of sliding all around or stressing the Surface Connect port it rests on the desk without slipping.
Indeed, it does work well. So far, everything I have thrown at it has worked without issue, including:
External USB-C display (Asus ZenScreen)
USB-C docks with SD, Ethernet, USB-A, etc.
USB-C external drives.
USB-C power adapters (65W and 130W tested).
USB-C portable battery/AC adapter (Dell hybrid power bank).
As expected, the Surface Connect to USB-C Adapter does not support Thunderbolt 3 so that pricey portable Dell SSD does not work.
This is for enterprise (not really consumers)
Another point of confusion is who should be buying the Surface Connect to USB-C Adapter. While consumers are certainly welcomed to drop $80 if they need this accessory, it is positioned for businesses who have invested in the latest Surface Pro or Surface Laptop and who also converted to Type-C accessories and hubs in the office.
That price tag may seem expensive, but if a business is buying in bulk, they presumably get a discount. It's common for companies to sell PC and laptop accessories at a premium price, e.g., Lenovo's $25 RJ-45 adapter (opens in new tab) or Dell's $60 Type-C dongle (opens in new tab).
From that perspective, the Surface Connect to USB-C Adapter makes sense for companies who have invested in Surface Pro and Surface Laptop for the next few years.
As of now, the Surface Connect to USB-C Adapter does not work with the Surface Pro 4 or original Surface Book, but support may come later through a firmware update if it's possible. That would make the Surface Connect to USB-C Adapter an even better investment for companies who have those devices.
Update: Further testing so far has revealed that the adapter does work with Surface Pro 4.
First impressions are great
Putting aside some expectations that the Surface Connect to USB-C Adapter would be just a small device that changes the port design the adapter does work well.
The ability to use any USB-C power source is beneficial for those who have those AC adapters laying around. Being able to leverage smaller, more affordable Type-C hubs that support Ethernet, display out, power, USB and SD cards also makes the Surface Pro and Surface Laptop much more exciting and useful in the office.
The biggest win for me is the ability to use my Asus ZenScreen with the Surface Laptop or Surface Pro — that portable second screen is great for when I travel.
We'll do a full review of the Surface Connect to USB-C Adapter later this week to do some more testing. Let us know in comments below what you think and if you have any questions.
See at Microsoft Store (opens in new tab)
Daniel Rubino is the Editor-in-chief of Windows Central, head reviewer, podcast co-host, and analyst. He has been here covering Microsoft since 2007 when this site was called WMExperts (and later Windows Phone Central). His interests include Windows, Microsoft Surface, laptops, next-gen computing, and for some reason, watches. Before all this tech stuff, he worked on a Ph.D. in linguistics and ran the projectors at movie theaters, which has done absolutely nothing for his career.
How on earth is there not support for *all* Surface Pros right out of the box? Is the underlying code really that different? Proprietary sucks, even when it is Microsoft...

Surface Dock is the same. Requires specific firmware to get it to work/optimized. Update: After refreshing Surface Pro 4 I can confirm this adapter does work with it. I assume the same is true with Surface Book 1, but will test.

Thanks Dan for doing the tests. Please try SB1 too when you have time.

I tried it with a Surface Book 1 and it does not appear to work at all. It starts to charge the SB1 for a few seconds but then abruptly stops. I also tried several docks as well and none of the ports worked whatsoever. My Surface Book is completely up to date with software/firmware. Very disappointing given that it works on the Surface Pro 4. Maybe Dan can also give it a shot on a Surface Book 1 but, for me, it's utterly useless.

Is there a specific driver that you had to install for it to work on the SP4? I believe my machine has all the latest updates but it still doesn't work

How about trying the old lumia dock (for the 950/950xl) on this? Sounds like fun

does this work with the Lumia 950/XL doc or the HP E3 doc? Would be a nice second life for those of us that have these docs.

Beat ya by a minute with the same question :) I have used my lumia dock with my Razer Phone, but it won't send audio (which is somewhat fine due to Razer's loud speakers)

Thanks for this hands on! Have you tried charging it with any of Anker's USB-C powerbanks?

oh, good Q. I don't have an Anker one, but I do have a Dell one. Yes, it works

would this work for power on the older SP3/4? The SP3/4 may have some abilities even without a firmware update. Could you see if it would even be helpful in powering the SP3/4. Given that the SP3 is ageing and a batter replacement is some what a no go. Could one us a battery pack + this USB-C adaptor to prolong the portable life of the SP3/4

"This is for enterprise (not really consumers)" are You just saying enterprise customers do not get pissed off by this just as a consumer does? Here's what I think - enterprise is not such an alien space and even though they might get those because they might need them, they wouldn't be that happy as they could be if it was done as consumers say. If You need something it does not mean you like it. But yeah, for that price a phenomenon called "cognitive disonance" may come in handy 👍

I really don't get your post. Should Surface Pro/Laptop have Type C? Yes. Do they? No. Are we really going to waste more words talking about it or talk about this band-aid solution? I'm for the latter, you're evidently still focused on a debate from 12 months ago. If you want to make the point that Microsoft shouldn't even bother with this - so "nothing is better than something" - go right ahead and keep typing. I'm just going to focus on what this is, what it does, and how it works.

Good point. Better than nothing and I like that You say what it actually can do, that's just great and thanks for that 👍 But I still think saying this is for enterprise does not justify the fact it sucks. A product just cannot suck because enterprise can take it.
And You're right I should be saying this somewhere else where it might do something so that there is a chance somebody from MS hears 👍

Hey Dan. When this adapter is plugged in, if you have a USB-C device attached to it then how is the Surface itself getting power?

It gets power through whatever you connect to it. So if using a Type-C hub you power through the hub, assuming it has AC input/passthrough. If the hub has no power input then there is not input for power.

I still think they dropped the ball by not designing it like the standard Surface Power Adaptor and having a figure 8 Power connector as well, you could still technically use the USB-C for power if you wanted but it would also allow for connecting a device while on mains power.

Yeah, I can see that. OTOH if you buy one of those premium Type-C hubs that have a AC/Type-C power pass through (I do) you can now use that with this adapter to make a mini Surface Dock. Handles everything: display, Ethernet, USB, power, etc.

Yeah, that makes sense, it didn't really click that you could connect ANY USB-C dock to this, so theoretically you could get a docking setup that is USB-C compatible for less than say the cost of a Surface Dock. As an aside, were you able to test if this adapter has Thunderbolt capabilities? Actually given that it is 1 x 4K@60hz or 2 x 4K@30Hz, I'm assuming it isn't Thunderbolt compatible.

That's very good to know as I happen to need to use only one dock to connect modern laptops (as in, with usb-c - take that, Surface Pro!) and my Surface Pro. So the Surface dock is not an option, and is too expensive anyway. Do you see any other way to plug a usb-c hub into the Surface Pro 2017 than buying this expensive adapter which is not even sold at all in France? I want to use it as a mini-surface dock, with ethernet, display etc. I thought of using a usb-a male to usb-c female adapter (to then plug the usb-c hub into the usb-a port) but apparently none exist that supports video, and probably ethernet too.

"The ability to use any USB-C power source is beneficial for those who have those AC adapters laying around. Being able to leverage smaller, more affordable Type-C hubs that support Ethernet, display out, power, USB and SD cards also makes the Surface Pro and Surface Laptop much more exciting and useful in the office." Basically, people were dumb for mocking this.

Yup. It's SUPER useful if you're into Type-C hubs, displays, etc. It's basically a mini-Surface Dock at this point.

So basically, this is just a power brick adapter with one USB C port for power pass through, that if you have a powered USB C hub attached to it, it will power your Surface and extend the number of ports you can have? What a waste. Why didn't they just add extra ports to this? Now you have to have two hubs hanging off of this. Seems like Microsoft is just being stupid and greedy.

This is a question rather than a comment. Hope thats ok?
Would an external GPU work with this? As its not Thunderbolt 3 I'm assuming not but thought I'd ask.
Cheers

You're being way too kind on this USB-C dongle. What Microsoft really should have done was just release a new surface dock that plugged into the surface connector that also supported usb-c, as well as common enterprise ports like display port 2.1 and HDMI etc. I had an original surface book 1 with performance base, and I purchased the dock for it, but at the time it just wasn't working great with my dual screen set up, it wouldn't detect the screens plugged into the dock every time, and it would rearrange my desktop icons every time I unplugged it or plugged it into the surface dock. And then when all peripherals at my office started to switch to USB-C we transitioned away from the surface pro lte to the galaxy book lte. Despite being a little slower and worse kickstand, it just worked better for our traveling employees. And unfortunately our laptops have all been switched from surface book 1's to these horrible HP's, that have 3 usb-c thunderbolt 3 ports on them. We won't refresh our laptops for another two years, but hopefully by then microsoft will have started including thunderbolt three ports on their surface products (or at least on their surface docks!)

As a FYI - I really enjoy my Asus ZenScreen. I can even use it with my HPx3. Must e used below 20% screen brightness, but it work with a straight USB-C to USB-C cable. Question: Any comment or update on the new version of the Asus ZenScreen with battery? The few videos posted from the 2018 CES do not provide a real timeframe. However, you can tell that the sales person "knows" tha devices will be released that will sense of "why" they are updating the product. Thanks for any comment Dan. I enjoy both you and your teams hard work.

It's giant! You can get a $60 USB-C hub with 3 USB 3.1 ports and an ethernet port and a Display Port in the same form factor. I have a home-made USB-C to Surface Port charging adapter and it's the size of a couple stacked quarters.

Can I use this adapter to directly connect my surface laptop to LG ultrafine 4k display and charge my surface laptop meanwhile (just like mac)?
Windows Central Newsletter
Thank you for signing up to Windows Central. You will receive a verification email shortly.
There was a problem. Please refresh the page and try again.