Review of the ASUS ZenScreen MB16AC: Not your average portable display
The ASUS ZenScreen is an affordable solution to multi-monitor users who travel.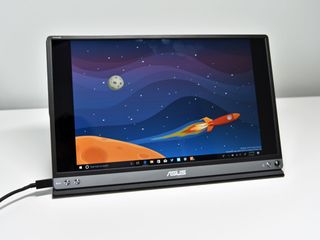 The idea of carrying around a separate monitor on the go is both enticing and frightening. No one in their right mind would take a spare 15.6-inch monitor screen on the plane just because they want two displays with their laptop.
But what if I told you that you could take a second display with you and slip it in a bag? ASUS has a solution with its new ZenScreen MB16AC, and I've been using it for a few weeks now. Here is what I think of the $250 accessory.
About this review
The ASUS ZenScreen MB16AC was purchased on Amazon for $250. There are older and lower costs models like MB169B+ and MB168B (WXGA) for less than $200, but the MB16AC is the newest iteration and has improved connectivity and display technology.
Wait, they make portable displays?
ZenScreen – What it is
A few companies like HP and others have been making portable displays for a few years now aimed mostly at business, but ASUS is positioning ZenScreen as a mass market solution for the prosumer crowd.
At its essence, the ZenScreen is simple. Take a laptop and break off the whole computer part and keep the display. Traditionally the problem with such a scenario has been how to power such a device and have the display connector. Running a separate AC wall plug is possible, but that degrades the mobility part – sure, you can take it with you, but you need a wall jack too.
With the rise of USB Type-C, however, a single wire can power the display and transmit data. Moreover, the invention of display technology that requires very little power to help light it up is also necessary.
More screens = better work
ZenScreen – for the productivity crowd
The idea of taking a second (or, in theory, even a third) display with you on the road seems ludicrous. However, many people including myself operate daily on a multi-monitor work station. Traveling and reducing your workload with a single display is better than no display at all, but it does limit your work habits.
For those who do presentations, having one display for data and notes while the second screen shows the PowerPoint is a tantalizing solution. Or maybe, you just want to watch Twitter, use Microsoft Teams, or keep an eye on Sling TV while you work.
The issue with carrying a second display with you is it's not what you will do with it, but about convenience. Luckily, ZenScreen mostly solves that.
Decent hardware
ASUS ZenScreen specifications
The ZenScreen is a relatively light weight and portable. While the overall specification pales compared to modern 4K touch displays in many laptops considering this is powered by a single cable and weighs less than many Ultrabooks it is an excellent tradeoff.
Swipe to scroll horizontally
Category
Specification
Panel Size
Wide Screen 15.6" (39.6cm) 16:9
Panel Type
IPS
True Resolution
1920x1080
Display Viewing Area (HxV)
344.16 x 193.59 mm
Display Surface
Glossy
Pixel Pitch
0.179mm
Brightness(Max)
220 cd
Contrast Ratio (Max)
800:1
Technology
Flicker free
Blue light filter
Connection type
DisplayPort over USB-C (USB-C to USB-C)
USB Type-C to A adapter
Dimensions
14.6 x 8.9 x 0.3 inches (371 x 226 x 7.62 mm)
Weight
1.7lbs (771 grams)
2.8lbs (1.27kg) with case
Optional software
DisplayWidget and MultiFrame apps
What makes the ZenScreen intriguing, however, is the Type-C to Type-A converter that lets laptops that lack a Type-C port – like Surface Pro, Surface Book, and Surface Laptop – use the tech as well.
This is different
ZenScreen design and cover
ASUS uses a skinny display bezel for three sides of the ZenScreen (top and both sides) with the bottom understandably thicker to house the Type-C connector, power button, and two buttons to the left – one for the menu, the other as a quick toggle between viewing modes.
Like all display buttons to control the menu, it takes a few tries to understand the enter versus up/down system.
At just 7.62mm the ZenScreen is very thin although it does get thicker with the Smart Case, which is used to prop up and protect the accessory during travel.
That Smart Case is somewhat derivative of what Apple uses for the iPad. The case is magnetic attaching to the back and wrapping around the display. Magnets hold the cover to the front of the screen as well, and I always felt the screen was protected from scratches, dings, or dents.
As expected, the Smart Case doubles as a stand using some fancy origami-like configurations. The most basic setup involves wrapping the front of the cover below itself to use as a stand, but some other setups let you lower the ZenScreen.
Like all Smart Covers, I found the ASUS one floppy and a bit unwieldy. I would have preferred a Surface-like kickstand and hinge instead. Not only would be easier to use, but it would give simpler positioning for angles too. Combined with a magnetic front cover, I am baffled why ASUS did not opt for that configuration instead.
ASUS also punched out a pen-sized hole in the lower right corner. The company includes a pen in the box – not a smart pen, a real black ink one – that can be put in the hole to act as a kickstand. While I get the "life hack" appeal, in the end, it feels like a kludge and rather amateurish.
The ZenScreen weighs just 1.7lbs (771 grams) but jumps to 2.8lbs (1.27kg) with smart case. I suppose much of that weight is the strong magnets used to seal the display. Despite it doubling the weight when carried with a Surface Pro, I never felt beleaguered when carrying it.
While the bezel is a black plastic material, the lower area is silver brushed metal that contrasts nicely. There were no creaks, soft spots, jagged edges, or any other design flaws.
Finally, the rear of the ZenScreen leverages ASUS's familiar circular brushed metal design. It's exquisite and possibly prone to scratching were it not for the smart cover that protects it nearly all the time.
Second screening
ZenScreen display
The ZenScreen only yielded about 200 nits of brightness. Compared to most laptops that are maxed out the ZenScreen is about half as luminous. Nonetheless, I would not describe it as dull, just do not plan to use it outside under the sun. The lack of extreme brightness is to ensure it does not drain too much power from the connected laptop.
Color accuracy was decent falling around 74 percent sRGB. That is poor color accuracy for photo and video editing but fine for second-screening for productivity apps or even watching TV or a movie.
The ZenScreen is also rather glossy, which when combined with overhead lights, could make extended usage problematic if the connected laptop's display is matte.
On-screen settings let you choose between various profiles like cinema, scenery, theater, game, reading, and night view modes. Each of those can be fine-tuned for contrast, brightness, sharpness, and more for personalization.
The ZenScreen is very sharp for text and brightness was even with no visible light bleed. Being In-plane switching (IPS) technology viewing angles are excellent.
Works with most
ZenScreen connections
Connecting and powering the ZenScreen is straightforward. If the laptop supports a USB Type-C connector with DisplayPort over Type-C, you just plug and play. The ZenScreen immediately turns on, and you do not need to install any additional software.
The laptop does not need to support Thunderbolt 3.
For devices with USB Type-A, the user needs to attach the converter to the Type-C cable. Additionally, a separate driver should be downloaded from ASUS (opens in new tab).
Interestingly, the Surface Pro seemed to pull the DisplayPort over Type-A driver from Windows Update without user interference.
I faced one limit with the Surface Laptop running Windows 10 S. Not only did it not pull the driver automatically, but the user cannot manually install the driver from ASUS either due to the way the OS blocks executable apps from running (I was unable to extract the driver as well). Surface Laptop owners who switch to Window 10 Pro from Windows 10 S have no issue. Upon rebooting after the switch, the Surface Laptop pulled the ZenScreen MB16AC driver.
5 lesser-known things Windows 10 S on the Surface Laptop cannot do
Another limit was with the GPD Pocket, which also could not work with the ZenScreen with either its Type-C or Type-A port. Presumably, the GPD Pocket just does not have enough power for the ZenScreen although it is not entirely clear.
The bottom line is most laptops with either USB Type-A or USB Type-C ports should be OK with the ZenScreen. However, as demonstrated above, there are exceptions with Windows 10 S and some cheaper, or underpowered devices where there may be obstacles.
Finally, for those with a Windows 10 Mobile device like the HP Elite x3 or Alcatel Idol 4S you can use the ZenScreen wired for Continuum but if you increase the brightness too much it may cause connectivity issues due to the massive power draw. Android devices are mostly a miss as many do not support DisplayPort over USB.
Cool to have if you need it
ZenScreen is an easy recommendation
Admittedly, the draw to the ASUS ZenScreen is a limited demographic. Most people are fine with a single display, but for those like myself who prefer multi-monitor setups, the ZenScreen is a fantastic solution.
Putting aside some quirks with niche devices or Windows 10 S the ZenScreen worked without a hitch. It is light enough to toss in a bag and worth the slightly added weight for the convenience.
Even with it not being the brightest nor most color accurate display, the ZenScreen looks great in person. Contrast is excellent, the screen's brightness is even, and the refresh rate is good enough for video without any noticeable motion blur.
The smart cover is not the best solution here, and ASUS could do better, but it was not a deal breaker either. The cover does a respectable job of protecting the display when in the bag and gives confidence when tossing it around that it won't be damaged.
ASUS's $250 price tag is not exactly cheap, but it does not feel extravagant either, and the value feels justified by the ability it provides.
Finally, for battery draw, I did not find the ZenScreen to impact battery severely. On average for the Surface Pro, there was a reduction of about ninety minutes from the nearly eight hours of total battery capacity. Obviously, such a metric is hard to account for due variability in brightness and the connected laptop.
Overall, I can recommend the ASUS ZenScreen MB16AC for those who want more screen real estate when traveling. It's an ingenious solution to a problem some of us have, and the ability to switch between Type-A and Type-C USB ports opens many possibilities for many devices.
Pros:
Excellent looking display with acceptable brightness.
Very portable and light.
Multi-function smart cover provides good protection.
Works with USB Type-A and Type-C ports.
Easy setup.
Cons:
Smart cover can be floppy and unwieldly.
Not ideal for work outdoors.
USB Type-C with DisplayPort abilities are not found on all devices.
See at Amazon (opens in new tab)
Windows Central Newsletter
Get the best of Windows Central in in your inbox, every day!
Daniel Rubino is the Editor-in-chief of Windows Central, head reviewer, podcast co-host, and analyst. He has been covering Microsoft since 2007 when this site was called WMExperts (and later Windows Phone Central). His interests include Windows, laptops, next-gen computing, and for some reason, watches. Before all this tech stuff, he worked on a Ph.D. in linguistics, watched people sleep (for medical purposes!), and ran the projectors at movie theaters because it was fun.
Just amazing. The price tag is also super good!

Will my Lumia 950XL power this? If I had a continuum hub, it wouldn't even draw down the phone's battery, right? This could be great for traveling for work, and let me leave the laptop at home.

Should be OK with the hub/powered that way; only issue I found was a direct connection would work, but only when it's very dim; bright setting caused both devices to flicker on and off.

I see an issue with that. If you use the C-C cable, you would be plugging it into the dock's only C connector which is how it is powered. If you use the C-A cable, wouldn't the phone now need the DisplayLink drivers that these Asus monitors have always needed before? Nobody has a dock there to try this and state for sure? You have tried it with a Lumia 950/XL and found it does work as long as the brightness is down?

I don't know where that error comes from but it's annoying and sometimes slows the whole system. I tried the monitor with 2 different motherboards. One that had USB-C and the other that has Thunderbolt 3. With everything installed the error is still there. Sometimes the whole system lags because of the monitor. Decided to send it back :(

I have the MB169B+ and I love it. It can pull power+data from a single USB3 cable from my SP4 and looks great. I travel with it some (family vacations is all, really) but I also use it on the back patio or in other rooms of the house when I don't want to work at my desk. I like the case on this one a lot more, so it's a great deal if you don't already have a second portable monitor.

I have the MB169B+ as well, but my Surface Pro 3 will not drive it. I got a Y cable like you might for a an OTG phone to allow a USB connection and power as well. That works fine.* I use the USB charge port on the Surface power brick to supply the power. I've used a big USB battery pack as well and that works. I'm not so worried about not having a power source. If I have multiple monitors set up, I'm generally near an outlet. BTW, for those that happen to see this, the AmazonBasics Adjustable Tablet Stand works great for these things. It's a little bulky but very slight and sturdy. You are likely carring a laptop, it's power supply, the monitor, a mouse, some assorted cables at least. The stand isn't much more. *I found that documented at ASUS, https://www.asus.com/us/support/FAQ/1013941/

Hello. Do you mind pointing me to the right y cable, please? Thank you.

Will be getting 2 with the Lenovo X1 Yoga/

I have the previous version 15.6 , an upgrade with a touchsreen would be nice

I'd like to see one with an HDMI or DP input. As noted, the Surface using the USB-A did need the DisplyLink drivers. You could still use USB to power the thing, but use the video out of laptop/tablet for video, even with 10 S. You could even plug a Miracast receiver into the video port on the screen and use it that way. Probably from a phone even.

yeah, wish it had touchscreen

I have the older Asus screen and use this as the stand as the cover is too cumbersome. This little stand hooks over the edge and almost disappears when folded flat and in the smart cover with the screen.
https://www.amazon.com/Anker-Multi-Angle-e-readers-Smartphones-Compatibl...

Seems like the screen should be matte, much brighter, and have the option for ips or not depending on privacy options to limit wide viewing angles. It's target is mobility so you will be in environments that aren't friendly for monitors. Tempted with the idea but not enough to buy it yet.

The MB+ is a matte screen. I have an MB and MB+ for my travel rig for AutoCAD.

make it touch and will be perfect

Agreed. Touch is everything now. I will never own another computer without touch. I was playing with the surface line at best buy the other day while waiting to goto the airport. They are sweet. I wish they had an XPS to try as well. I never saw one in the wild and would like to see that awesome display!

I'm having issues with my surface pro 3. It keeps just flickering connected/disconnected. I made sure I had the correct drivers. I think it's not getting enough power. Does anyone know how to resolve this? Is it not compatible with a surface pro 3?
Windows Central Newsletter
Thank you for signing up to Windows Central. You will receive a verification email shortly.
There was a problem. Please refresh the page and try again.