Surface USB-C adapter now available for $79.99
Now you can add a USB-C port to your Surface Pro or Surface Laptop.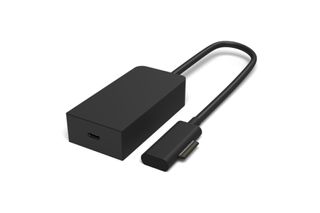 The time has finally arrived: Microsoft's USB-C dongle for Surface devices is now available for $79.99 (opens in new tab). If you own a Surface Laptop or the newest Surface Pro, you can snag the adapter now to add a USB-C port to your PC.
The adapter connects to the Surface Pro and Surface laptop via the Surface Connect charging port. From there, you can use the added USB-C port to power your Surface, or use it to connect to external displays and other devices.
"Simultaneously connect, charge, and display on large monitors with universal USB-C docks," the dongle's description reads. "Charging power requirements: 27W or greater, 12V minimum. Supports data speeds up to USB 3.1 Gen 1. Supports connected displays up to 1 x 4K at 60Hz or 2 x 4K at 30Hz."
It's likely we'll see USB-C ports make their way to more Surface family devices in the future. But if you own one of the current Surface Pro or Surface Laptop configuration, this is your only way to add one to your setup right now.
The Surface Connect to USB-C adapter is available from Microsoft for $79.99 (opens in new tab).
See at Microsoft Store (opens in new tab)
Windows Central Newsletter
Get the best of Windows Central in in your inbox, every day!
Dan Thorp-Lancaster is the former Editor-in-Chief of Windows Central. He began working with Windows Central, Android Central, and iMore as a news writer in 2014 and is obsessed with tech of all sorts. You can follow Dan on Twitter @DthorpL and Instagram @heyitsdtl.
Wait, so that huge block is just a single USB-C port?.... Can't even really stay powered and connected at the same time? We've waited this long for THIS?! and at $80!?!?!?
I figured when it'd arrive, it'd be something minimal that flatly connects between the existing charge to make use of the extra connections inside. This should be sporting two USB-C (TB ports) AND two USB 3.0 ports. This is unacceptable.

I don't think they ever had their heart in it. This is just something for those that have to have something.

I, too, was really thinking it would be as small as a NIC/USB adapter. It started to sink in that it must be a bit more complicated after there were no 3rd party solutions. No wonder they took forever to release this, they must have been embarrassed.

Doesn't work with surface pro 3 or 4. Battery will die very fast since you cannot charge at the same time if running 4K screen/s

Well that made my day 😁 any reasons for buying this?😁

This is a very poorly designed product - $80 for a big brick with only *one* USB-C port? Presumably it uses your existing Surface Pro power supply, but that's not entirely clear. And why no SP3/SP4 support? This is the kind of customer-hostile ripoff I expect fromApple, not Microsoft!

No Surface Book 1st gen support, despite using the same Surface connector?
Further, Surface line needs a new dock. The first gen is full of bugs, working randomly (I've asked the replacement already 1 time and it's still having issues).
So this "dock" has just onE USB-C and it's just for Surface Pro 2017 and Surface laptop.
Of course Microsoft wants me to buy the new Surface Book 2 to replace my first gen.

Is this a joke microsoft?

A bridge product for those that need it. Better off w a USB a to c adaptor for most people.

I can buy a better quality dongle with more ports and connectivity made by numerous Chinese companies for 2/3 - 3/4 the price of this. This is so pointless.

Was excited to just carry one charger when I travel for my phone and surface but this does not reduce the size in a meaningful way. These companies obsess about the slim Ness of the device then ship unnecessarily huge accessories, WtF. This is a no buy for me...

Oh, dear, the jokes on us who want a usb c dongle now on our surface devices. A pity though, microsoft can make great and slim pc hero devices, great pen en dial, keyboard and mice design periherals. But oops….we forgot about-practical- dongle design. I guess the writing was already on the wall. The latest surface dock is also this weird design of two bricks, the dock brick itself, but that the user has to connect a second brick to that actually powers the surface dock. I recently liked the discussion the vergecast had on this. funny. It still seems like early days for usb c apparently, with little consistency is universal design for charging and data transfer protocols to date. The wild wild west of usb c.

$80 and it is a single 3.1 GEN 1 connection which of course, from a data/speed perspective, is just a USB 3.0 with a type C connection instead of type A. The surface already has a usb 3.0 port.
Only difference is type C cable and that it can charge through this connection.

Seems like the type of stunt a Gennie pulls when your wish is technically fulfilled, but you end up worse off than you were before your wish. Me: <Rubs Lamp> Gennie: What is your wish? Me: I wish for USB-C for my Surface so I don't need to carry this brick around! Gennie: Wish granted. Now you can carry a charger and a DIFFERENT brick. BTW, don't get your hopes up that this changes as fast as the original brick.

They could have at least built-in a NIC/SD Reader and powered USB-A. Maybe even HDMI and a loop for the stylus. At least it would feel like a mini-dock instead of a massive dongle.
Windows Central Newsletter
Thank you for signing up to Windows Central. You will receive a verification email shortly.
There was a problem. Please refresh the page and try again.