How to reinstall Windows 10 Home in S mode on your Surface Go
Having issues with your Surface Go or just want to go back to Windows 10 Home in S mode after upgrading to Pro? Here's how to recover it and restore the factory settings.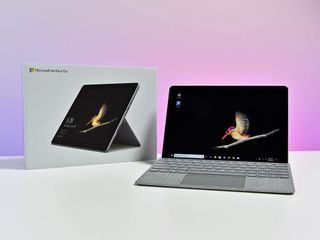 Microsoft provides Surface customers with recovery images that allow you to reset your Surface as if it was just new out of the box. This process requires a USB drive, some time, and an internet connection. If you're planning to sell your Surface Go, go back to Windows 10 Home in S mode, or are having technical difficulties, recovering the Surface Go is recommended. Here's how to do it.
How to reinstall Windows 10 Home in S mode on Surface Go
Download the recovery image
Before we get started, you must acquire the files necessary for recovery. To do that, you're going to need your Surface Go serial number and some time to allow the download to complete. (You can find the 12-digit serial number under the kickstand on the Surface Go.) The download is around 6.6GB so it may take a while depending on your internet connection.
Open Microsoft's recovery image download page

(opens in new tab)

Select Surface Go from the drop-down menu.
Enter your Surface Go serial number. It is located on the underside of the Go's kickstand (you can also find in the pre-installed Surface app on the Go).
Select Download recovery image on the latest version available. The download will take some time depending on your internet connection.
Create a USB recovery drive
Now that you have the necessary files for recovery, you need to set up a USB drive for recovery. We'll be using this USB drive to recover the Surface Go. Make sure the USB drive is at least 16GB in size, and that you backed up any photos, documents, or files you want to save.
Press Start
Search for "Create a recovery drive".
Deselect Backup system files to the recovery drive.
Press Next.
Select the USB drive you'll be using as the recovery drive.
Press Next.
Select Create drive.
Extract recovery files
Once your USB recovery drive is created, you need to transfer all the recovery files you downloaded earlier.
Right click on the downloaded recovery file.
Select Extract All.
Select Extract. This will create a folder in the same directory as your downloaded recovery file, into which the contents will be extracted.
Open the extracted contents folder. It will have a name along the lines of "SurfaceGo_BMR_11_1.011.2" (the specific name may vary depending on the latest version available).
Copy all the files in the extracted folder into your newly created USB recovery drive.You can press CTRL + A to select all the files in the folder and drag-and-drop them into the drive labeled "RECOVERY" in the left sidebar.You may be prompted to replace already existing files in the destination. If so, select "Replace files in destination."
Recover Surface Go
Now that you've created the USB recovery drive and loaded all the necessary files onto it, you can finally get to recovering the Surface Go. Make sure you backed up all your data first, as this process will remove all your apps, documents and settings.
Turn off the Surface Go.
Insert the USB recovery drive we just created into the USB port on the Surface Go.
Hold the volume-down button and power button at the same time.
When the Surface logo appears, let go of the buttons. A blue screen with language selection options will appear.
Select your language and keyboard settings.
Select Troubleshoot.
Select Recover from a drive.
If prompted for a recovery key, select Skip this drive.
Select Just remove my files.If you're parting with your Surface Go, I recommend selecting Fully clean the drive to erase your old files thoroughly.
Select Recover. This will restart your Surface Go and take some time, but when it's done, Windows 10 Home in S mode will be back on your Surface Go.
That's it. Your Surface Go should now be recovered and running Windows 10 Home in S mode.
Daniel Rubino is the Executive Editor of Windows Central, head reviewer, podcast co-host, and analyst. He has been covering Microsoft here since 2007, back when this site was called WMExperts (and later Windows Phone Central). His interests include Windows, Microsoft Surface, laptops, next-gen computing, and arguing with people on the internet.
Is Recovery Drive a USB stick, or a USB SSD/HDD, or it can be both?

I think USB works the best.

Problem with usb-c is that a stick isn't as common as a usb-c ssd. My recovery keeps failing but I think it's because I downloaded the 1809 image and I think the 1803 has less issues to recover from.

Quick question while we're on this subject. What is the "smallest" Windows 10 clean install you can choose? It was mentioned that MSFT might come out with a "Light" version, but haven't heard anything more about that since Andromeda faded away in the news.

Windows core OS is still being developed

The light version for really space dependent devices with
16GB . It strips a few things out.

Thank you "user-774 and Marty1774" just inquiring for an less robust Lenovo laptop I have. This I might clean install an "S" variety on it.

I believe the S version is normal Windows with third party Win32 apps blocked. Windows Core is a stripped version of Windows with only the needed packages for the devices it will be installed.

So, how does this work if you have the 64GB Surface Go version and the eMMC is almost full? The recovery files wouldn't fit on the eMMC!?

Well, you're gonna really wipe the disk so you just delete things first. It'll tell you this though.

I'm thinking with this device just stick with 10S because Edge runs better then Chrome, and your not going to be installing a lot of apps on it anyway. Try to use UWP apps because they take up less space. Personally, I think spending the extra for bigger, faster storage and more RAM doesn't fix the bottleneck which is the CPU. I'm not a big fan of 10S mode, but in this case where Microsoft apps and store apps will be more efficient on weak hardware. Its probably a better choice.

I can play trine 2, need for speed most wanted, and tyranny on my atom based cpu. I can also run fruity loops for simple music composition, or adobe illustrator for illustration. The Pentium chip here is more powerful than a base level cherry trail. I think you underestimate the chipset. Although running UWP apps on a tablet is always a good idea anyway - they are fast, and touch friendly.

I like having the options to install the Win32 apps I need but I tend to use UWP apps because of battery reasons and ease to install and uninstall.

Only requires 22 steps and extra hardware to do something modern platforms do in a couple taps. Great job Microsoft!

This is not an easy thing that turn on or off.
If you got out of S mode and go to home that is a completely different version.
Going back to S requires you to reinstall the original image.

You hate windows, Microsoft and anything to do with it. If there was an article where you said anything positive, it'd be a sign of the apocalypse.

Wish you could install Chrome then go back afterwards

I don't have any files saved to the computer yet. I switched it out of S Mode because I needed to download the Kindle app to access my textbooks for school. I decided that this computer is not worth it. I really need to be able to read my books on it. If I don't have any files on the computer besides my onedrive do I need a USB recovery drive?

Why is the Surface Go image file 7gbs while the Surface Pro 6 image is 6.6?!
Windows Central Newsletter
Get the best of Windows Central in in your inbox, every day!
Thank you for signing up to Windows Central. You will receive a verification email shortly.
There was a problem. Please refresh the page and try again.