China-based Kingsing W8 may be the cheapest Windows 8.1 tablet yet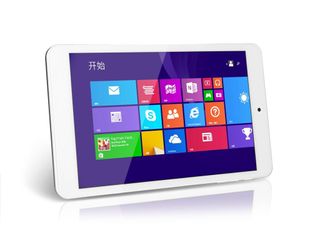 The earlier promise of cheap Windows 8.1 tablets is being fulfilled with the reveal of a 8-inch product from Chinese company Kingsing. At $99, it may be the lowest price yet for a device that uses Microsoft's latest PC operating system.
The Kingsing W8 sounds extremely similar to the 8-inch EM-i8080 that another China-based company, Emdoor, revealed last month for $100. The Kingsing W8 has a 8 inch IPS LCD screen with a resolution of 800x1280 and support for using up to five fingers at once. It has an Intel Bay Trail-T quad-core processor with a clock speed of 1.8GHz, Intel HD graphics, 1GB of RAM, and 16GB of on-board storage, along with a 2 megapixel rear facing camera.
There's no word if the Kingsing W8 will be sold outside China, but a few weeks ago, Microsoft's chief operating officer Kevin Turner said that $99 Windows 8.1 tablets will go on sale later this fall along with notebooks that will be priced as low as $199. What do you think about the prospect of Windows tablets and notebooks at such low prices?
Source: Gizmochina
Get the Windows Central Newsletter
All the latest news, reviews, and guides for Windows and Xbox diehards.
Only if Microsoft let users use removable storage to install Modern apps

Would love if I could play pc games in it.

I can name one game. It's called: "Sort your tiles" :p

The game where I always loose... *sigh*

It's here on Windows Phone. Maybe it will come to tablets soon, especially since RT and WP are going to be merged

Eventually ALL Windows apps will work on ALL Windows devices. Windows 9 (Might be renamed to Windows One) will be a unified OS that can detect what type of device it is being installed on and will allow whatever programs/apps that the device can support. For instance, if you install Windows One in a laptop/desktop/tablet (not ARM processor), it will know it is a laptop, desktop or tablet (with the correct processor = not ARM) and allow full Windows functionality (all previous OS versions programs that can currently run on Windows 8), but if you install it on a phone/phablet/ARM based tablet, it will know this and only allow app functionality. The benefit will be that a developer can produce one app that will work on ALL Windows devices. So if the game you want to play is an app, then you can play it on ANY Windows device. If the game you want to play is an old Windows 7 program installed from a CD or DVD, they it will only install and play on the Laptop/Desktop/Tablet (not ARM processor).

Wow, those aren't bad specs for such a low price. Will be interesting to see what the future holds. Roll on MSFT !

It should have been a front facing camera

It's 99$. Lower your expectations.

They are already giving a rear facing cam, its no use imo, a 2mp is much for a front facing, that's what I meant

The price and size of this tablet could make it popular to be used for reading and surfing around bed and couch.

When nothing comes preinstalled...

Microsoft apparently managed to bring Windows' installation size down to 4GB via WIMBoot. Anyways, for those interested in buying this tablet, you can find it on Ali Express. Of course, you may end up paying $200 (including shipping), but that's still not bad. http://www.aliexpress.com/item/New-2014-Original-Kingsing-W8-Quad-Core-Tablet-PC-8-inch-Intel-Baytrail-T-Window-8/1989197752.html

If its gonna cost 200 the dell venue 8 pro is better buy and can be bought for 199

True but a $200 Dell Venue 8 Pro is harder to come by in some places, e.g. Canada. The Microsoft Store sells it for $299 (before tax) and Dell Canada rarely offers major discounts on the tablet. So it's a $100 savings between the Venue 8 Pro and this Kingsing W8

I'm not seeing any Dell Venue Pro 8 here at Indonesia, let alone the $199 versions. (-_-)a

The DVP8 won't be that cheap IMO, if it's even here. The Iconia W4 usually sells for IDR 4 million or more. And it's another $299 priced tablet

i guess this will run windows 8.1 RT then

Intel processor = Windows 8.1 - ARM Processor = Windows RT 8.1

That would be a clever trick since RT is the ARM processor version of Windows. This has an x86 processor so it will be full Windows 8.1 and will run your old pc apps. Also it should be using the new packaging method introduced with 8.1 that will fit the OS into 4GB. The 12GB that is left will be enough for quite a few store apps.

You pay crap you get crap

Thank you. I'm not sure I can think of anything high quality that's come from Chinese IP.

I can. Oppo, xiaomi, Lenovo.... That was easy. I hope you were trying to be sarcastic and didn't truly stand by such an ignorant statement.

Seriously? There are a lot of reputable Chinese brands. Lenovo is the biggest.

To be fair, Lenovo's quality was purchased from IBM. And even then it's not that high quality, and this is coming from a Yoga 2 Pro owner. Lots of shortcomings with their products.

Really? Design or performance? I love my Yoga 2 Pro. Lot of machine for $1200.

Nor everyone can afford a Surface Pro 3. So chill. It's not bad at all.

I'd rather get this than some android device. It's fine for casual browsing or travel. Beats risking taking a more expensive option

With this there is no good reason to buy an Android tablet.

Fully agree. I would be lying if I said a $99 android tablet didn't tempt me as a device to just mess around with. Two things that always stopped me? Android and ARM. Only reason I am not interested in this now is because I have a DV8P.

Yes but some people cant afford to pay the cost of a high spec device. This is a good alternative, on paper, to get a decent device at a bargain price. And it gets windows on more devices and in more hands which is great.

Exactly. I bought a $100 Android tablet at WalMart (using gift money, at that) and it does what I need it to. If the same opportunity came to get a Windows tablet for that price, I'd go for it. My tablet obviously isn't as fancy as the $900 ones, but it's great for internet and Kindle. All the better to have a Windows version available.

Exactly. Android has tablets at this price point and let me tell you, they can't compete against a device like this one at this price point. In terms of performance, this new Chinese tablet wins hands down. This is exactly what Microsoft needs in order to compete. I can't understand why this product is being bashed. It makes no sense.

Does anyone know whether twitter is gonna update their app again. Coz their app is really pathetic in loading pics

For Windows or Windows Phone? If you're talking about Windows, just abandon Twitter and use Tweetium. It blows the official Twitter app out if the water.

That looks like an iPad Mini running Windows 8.1. They should have put a Windows button below the screen.
I confirm that the device has a front and a rear camera. And guess what: the back of the tablet resembles the back of an iPhone 5/5S.

Looks like an iPad Mini. LOL

What would be a big difference if I buy a windows mini laptop instead of a windows tablet. I think mini touch laptop would be better than a tablet.

It seems the market prefers buying a pure laptop with a pure tablet (i.e. two devices). In some cases people may not even want a tablet, prefer larger screened phones. But it would be nice to continue seeing low-cost touch laptops. Maybe they can build $299 or $349 two-in-ones, i.e. where the screen detaches?

Hmm because I can get cheap laptop mini here in India. But want the monitor separate

The Asus t100 is a well priced 2 in 1 if you can get it in your area. In the U.S. It can be had for $330 for the 64Gb model

YES. The Asus T100 is the perfect example. It should be a blue print for the low cost 2in1. I am currently waiting for the successor to that product. I've read nothing but good reviews.

Bought it for my wife.........she loves the freaking thing - works great, connects to her office domain with no issues. My only gripe with it, is the standby battery life - you have to shutdown between work sessions, or expect the battery to be done in a day. With continious use, it gets at least 8 hrs, and I can run full software on the thing. Its no Surface Pro 3..........but its literally 1/3 the price.

Windows 8/RT really needs to implement the install to SD or other drive as they did in Windows phone. It's a REQUIREMENT nowadays.

1 GB RAM and 16 GB flash? Another junk device not worth buying

Fine for browsing / casual type stuff. Better than a lot of android offerings

For $99 it's pretty darn good. Remember this is very much a budget tablet. Heck my desktop graphics card alone costs more than this most likely and it's an old mid range graphics card.

Also keep in mind since this is an 8 inch atom i think it might come with office also.

That's plenty for what some people want or need. Not everyone can utilize a mega high-end device, and for many people, myself included, a budget tablet is the only option other than no tablet. I think it's great that there are so many budget devices out there. The 635 is what got me to switch to Windows. I'm all for it.

Hey James, i believe with windows 8.1 update 1 Microsoft was able to compile the OS down to 4GB of memory on devices such as these. That leaves around 11GB of free memory. I think for 99$ you cant really ask for more

And our data would be collected by china government. Hmm...

I have been reading about that tablet and... It's Chinese, like in android, the worst tablets, and with 8.1... There will be much lag.

You are underestimating the quad core Bay Trail T. And windows 8.1 as well lol very smooth OS no doubt, it made my old HP laptop feel brand new

Made my 5 year old Vista era Lenovo Thinkpad W500 runs better now with 8.1, than when i bought it. It is lightning fast now, boots in 1/4 the time it used to, and it runs any store app with ease, plus the plethora of desktop stuff i do on a daily basis.

Why china china china.....

Nice look but I want better specs hopefully with windows phone 8 on it

Curious how Win 8.1 runs on 1GB RAM...

This needs to be sold in the supermarkets. Tesco's in the UK killed it with their cheap tablet which sold for £99 reached the masses.

No MS Office? But still good price. Im getting one, if it will be available in Dubai.

Office costs nearly as much as this tablet... This is a bed side type tablet. Email, quick browsing and kindle reading...... Awesome value

I don't know if this one comes with Office or not. But if it's not, you can install Kingsoft Office. It's free, lightweight, small storage footprint, and compatible even with Windows Phone's Office. I've test it by creating not-so-complex document on phone, save it to OneDrive, edit it using Kingsoft and save it back to OneDrive. After these steps, I can still editing that document using my phone.
Note that the Android version of Kingsoft Office is not compatible with Windows Phone's Office. WP will open the excel file created by Android's Kingsoft Office as read-only. I have to open it on Web Office and convert it before I can edit it using my WP.

Just use MS Office for free online: http://office.com/

Interesting specs for the price. I might grab one if it becomes available.

What one gig of ram? wtf? the other specs look good... the cost of putting in 2gb of ram is not much more than the 1gb they stick in there

Agreed, for like $1-2 extra (maybe $5 tops) they could've transformed this from borderline-useless to a half decent low end device. Some tradeoff!

It's good that they are encouraging different types of manufacturers to make models for different price points.

Here in Indonesia, Ainol is one of well-known OEM for cheap-but-powerful-enough Android tablets. Their built quality also quite decent. I wonder whether they want to join the game or not. And If they will, when? ....

Haha. Indonesian people have been brainwashed by Google's "open-source" term.

Nope. They (or should I say we) only has that much purchase ability. And to compound with that, any electronic gadgets (laptops, tablets, and the like) are considered luxury by our government. This makes the import tax set to 50% of basic price. Smartphones are excluded though. So, a 349 USD Lenovo miix 2 8 64GB will cost around 525 USD here. The same also applied to imported Android tablets like Samsung Galaxy series (specially Notes which has quite high price tags). So, this 100 USD will cost around 150 USD here. And that price range is our common purchase ability. Only few rich people can afford the likes of miix 2, let alone Galaxy Note series.

I'd rather the 7" Toshiba Encore 7 for $100 than a no-name 8" for $100.

But does the Encore 7 have 3G or 4G, some sort of built in band? Thats what missing on all these 7-8 inch tablets.

Hell, I'd use it. I daresay it would be more capable than your average $99 Android tablet.