Chronology jumps into Windows Phone after 1 million downloads on Steam & iOS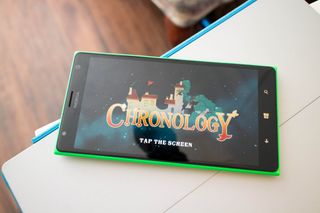 After one million downloads across Steam and iOS, the puzzle-platforming game Chronology (osao.com/chronology) is now available on Windows Phone. The Android version is still currently in development. In Chronology, you play as a brilliant inventor and a talking snail with metallic shell. They can travel in time in environments that feature puzzle-solving elements. We've installed Chronology on our Lumia 930. Check out the gameplay video.
The game starts out with the Old Inventor waking up with no memory in a place that looks depressing. He discovers a time travel device, which makes this game very interesting. Tapping the clock on the lower right corner switches time: Before and After. There's an indicator on the top right corner to tell you which timeline you're in, but you'll know just by looking at the surrounding. Before is full of life, while After looks abandoned.
What you do in the past affects the environment when you move the clock forward. For example, planting a tree in the past, grows up in the future. You can use that tree to climb over objects.
The Old Inventor eventually meets a talking snail that plays a major part of the game. The snail can stop time. This is handy for stopping moving platforms that may be difficult for the Inventor to pass. The snail can also help with letting the Inventor go through doors while pushing buttons or letting the Inventor step over its shell. The puzzles are well thought out and they're really fun to solve.
We love this game, but the current release for Windows Phone has an annoying flaw. It doesn't resume to where you left off if you open another application and come back to the game. When you re-open Chronology, it goes back to the main menu.
Chronology is a free download from the Windows Phone Store. "Part I" with 3 chapters are included. "Part II" is available in the game as an in-app purchase for $2.99, with additional parts following later. We think it's one of the best games available on Windows Phone right now. Check it out and let us know if you agree.
Thanks for the tip, Henrik W.!
Windows Central Newsletter
Get the best of Windows Central in your inbox, every day!
Wow WP before Android. Nice

Yeah I've noticed that a few times now on WPC, I wonder why is that..

Seems I heard once upon a time that people on WP are far more likely to support developers and pay for apps versus Android users. Not sure how much truth is in it.

Well it's kind of true for me, I've bought far more apps on my WP than my Nexus tablet hah :)

+820 I bought Poki, Nextgen Reader, 6tag (no adds), MyTube instead of using Pocket, Feedly, Instagram and Youtube on my Galaxy Tab, because many third-party apps on WP are better than the original versions on Android.

On android, cracked version will follows in couples of days, so people avoids paying

Look at ios and android share and then app revenues from both. Most people I know bought android because cracking the app or phone is easy. And all the games and apps are easy to download for free. I myself never spent a cent for android apps but on wp8, my phone is dev unlocked but still I paid for apps.

The Windows Phone store is almost on par with reveneu compared to Google Play with only a fraction of the user base compared to Android. So for developers looking to make money WP is looking more and more attractive. What's funny though, a lot of the WP user base is on the low end. And growth is comming mainly from developing countries. Both was said to be the reason why Android is lacking iOS app store kind of reveneu figures. So I wonder why the WP store can do so wel, with so few users and a lot of them on a budget (or at least on a budget smartphone). What makes Windows Phone users stand out from people buying Android phones? Is it maybe that low end Windows Phones are just really so much better the low end Android phones (so that apps and games just work better?) Is Windows Phone really giving an high end expiriance on low-mid end devices? Posted via Windows Phone Central App

The main difference IMO is that pirating is much harder on Windows Phone. I think a lot of people in developing countries simply don't have a way to make IAPs or buy apps and thus don't directly factor into an app's profitability.

I'm not even interested in downloading the game but it's nice seeing things hit WP before Android.

Best game I've played reminds me so much of Machinery

The Android version will be without the annoying flaw mentioned in the article.

We get an app before Android?!? Always good to see another app on the platform.

There are several awesome apps that are arriving first on Windows Phone. Disqus, Hipstamatic Oggl, SongArc, Lost Echo... just to tell some.

Heck, there are even great games which are available on WP but not android. For example, Mirror's Edge was released on WP and iOS but never on Android.

I have this on Steam; it's definitely worth a download onto my 930 and the price is good too.

Free Edit: 3€ :) it's worth it I guess

I like the sound of Windows Phone getting an app before Android

It happened a few times now that Windows Phone got it first

Why must every article have to mention android or IOS. Who cares if they've gotten it first.

It's a good sign for Windows Phone :) that is what people care about

No, we care about Windows phone in general. The fact that ios and steam is mentioned here is to show the popularity of the app not the operating system.

I think we'll see lots of iOS game developers prioritize Windows over Android in the long run. Despite having fewer downloads, the difference in app revenue between Android and WP isn't much ($250mn). As more users join WP, revenue may pass Android. Games requiring IAPs or outright purchases have as good if not a better shot on WP than Android. On the other hand, because WP lacks users (in real terms and market share), we won't see social networks or other ad-driven apps come to WP until (or at all) Android and iOS development diminishes in marginal returns. But for games, Windows and Windows Phone have a superb shot. Microsoft needs to pull in iOS exclusives, perhaps leverage the full breadth of Windows, I.e phone, tablet, PC and Xbox.

I think that your opinion is very close to reality (( I purchased a lot of apps/Games on my Windows Phone device where on Android I purchased none , I sometimes even play in airplane mode to avoid adds in Android )) . Posted via the Windows Phone Central App for Android

This game is simple beautiful :) I recommend it!

Sooo, expensive over time?

You get to try it. If you don't like it, uninstall. If you do like it, then you reward the dev for his hard work and continue to enjoy. Sounds like a good deal.

Possibly. You get to decide how much to pay for it. That's how I approach these games. I think about how much I like the game and think about how much I would have paid for it, then spend up to that much. It depends on the game - you can have a great experience with very little money in many of them. The ones that are basically pay to win get uninstalled.

Great! I'm sure some people will complain about in app purchases, which is disappointing. I have no issue paying for quality.

Sadly, there will always be someone to complain about parting with a small amount of cash for a mobile application. They expect all apps to be free for some bizarre reason. Posted via the Windows Phone Central App for Android

Totally agreed. It makes me wonder if they ask the phone seller a free phone

Beautiful game for a cloudy Sunday. Thanks.

Before android hahaha I love my WP

Make sure you download it to support the developer. Let them know we are here and at lest downloading if not buying apps.

Talk about add placement. How much is cup of noodles paying you guys? Either that or he's hinting at Daniel about a pay raise lol

Will download later. I'm on cellular. Lol

These are the kind of games on this platform we need more of. Whimsical puzzle games. Guin, you did it again.

This sounds like The Silent Age on iOS, right? Well without the whole snail bit.

I'll download it anyway just to show support even I'm not playing it.

I tried the game as soon as it launch store. Everything is great, but for me it's a little expensive. Maybe I will purchase when the game has some more levels.

Looking quite good, I think I'll give it a try.

Everytime a new app is released on Windows, I immediately search for "iOS" and "Android" in the first paragraph and I didn't find "Android" haha!

You guys are pathetic. You guys talk more about your hate for iOS and Android rather than your own platform. You guys are no different from Android fans always talking about iOS. Ironically, neither iOS or Android fans seem to care about Windows Phone on their radar at all. Posted via Windows Phone Central App

Few if any commenters were doing what you accused them of in this article's comments.

B4 android means the developers loved to develop for windows. Only one message to u developers that start making universal apps.

Wow, this game is preety awesome. Another bug you might wanna point out is, even on muted settings, sounds start playing randomly and it heats the phone

I wait for forza 5 on wp. Is it too much?

Awful. Does not save progress for new chapter. You have to start from the beginning each time and watch the cut scenes all over again. Resuming not supported.

Very well made, and I appreciate that it doesn't follow the freemium model. Most freemium games are total carp. Purchased right away :)

Great game and concept, I might buy it!

WTF .. Windows phone? What`s wrong with you? 1.Subway surfers - slow loading! 2.Hungry Shark Evolution - lags, bugs (map) ,freezes, poor textures quality! (checked on my Xperia V - incomparable speed, graphics) 3.Chronology - doesn`t resume My phones are lumia 925, Xperia V

Cup of noodles! Game before lunch I guess XD

Is that an Easter egg I see? :)

Unfortunatelly the Part II is too costly.

The video doesn't do the smooth graphics justice. After I downloaded the game, I have to say these devs did one stellar job on this one. Very, very nice graphics and smooth game play.