CHUWI HeroBook 14.1 vs. Acer Aspire 1: Which should you buy?
We test and review a lot of laptops at Windows Central, including high-profile Ultrabooks and bargain budget laptops like the CHUWI HeroBook 14.1 and Acer Aspire 1. If you're wondering which sub-$300 device makes the most sense for you, we can help.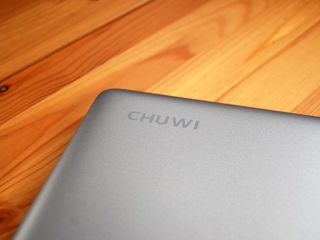 (opens in new tab)
Unbeatable price

CHUWI's HeroBook 14.1 brings all-day battery life, a 1080p display with IPS panel, and easily upgradeable storage, all for $200. If you don't need the extra ports or the 802.11ac Wi-Fi that the Aspire 1 offers, this should be your first pick.
For
Quad-core CPU
All-day battery life
Cheaper than Aspire 1
Upgradeable M.2 SSD
IPS panel display
Against
Port selection lacking
802.11n adapter (no 5GHz Wi-Fi)
(opens in new tab)
Better port selection

Acer's Aspire 1 C1YA costs about $50 more than the HeroBook, but it does have a far better port selection and that 802.11ac Wi-Fi. The TN 1080p display and lesser battery life will likely drive most people to the CHUWI unless ports and network are a top priority.
For
Ports include Ethernet and HDMI
802.11ac Wi-Fi
Full-size SD card reader
Quieter, softer keyboard
Slightly thinner
Against
Lesser battery life
More expensive
TN panel display
These two 14-inch laptops are about as budget as can be, and they both have their perks and downsides. Let's take a close look at exactly why you might want to opt for one or the other.
CHUWI HeroBook 14.1 vs. Acer Aspire 1 tech specs
Swipe to scroll horizontally
Header Cell - Column 0

CHUWI HeroBook 14.1
Acer Aspire 1
OS
Windows 10 Home
Windows 10 in S mode
Processor
Intel Atom x5-E8000
Four cores
Up to 2.0GHz
Intel Celeron N4000
Two cores
Up to 2.60GHz
RAM
4GB DDR3
4GB DDR4
Graphics
Intel HD 400
Intel HD 600
Storage
64GB eMMC
M.2 SATA expansion
64GB eMMC
Display
14.1 inches
1920x1080 (FHD)
IPS, matte, non-touch
14 inches
1920x1080 (FHD)
TN, matte, non-touch
Ports
Two USB-A 3.0
Micro HDMI
MicroSD card reader
3.5mm audio
Two USB-A 2.0
One USB-A 3.0
HDMI
RJ45 Ethernet
SD card reader
3.5mm audio
Wireless
802.11n
2.4GHz only
Bluetooth
802.11ac
2.4GHz and 5GHz
Bluetooth
Camera
Front-facing
Front-facing
Keyboard
No backlight
No numpad
No backlight
No numpad
Touchpad
Precision
Precision
Battery
38Wh
Between 9 and 10 hours
4810mAh
Between 6 and 7 hours
Dimensions
13.07 inches x 8.42 inches x 0.83 inches
(332mm x 214mm x 21.3mm)
13.5 inches x 9.6 inches x 0.7 inches
(342.9mm x 243.84mm x 17.78mm)
Weight
3.2 pounds (1.48kg)
3.64 pounds (1.65kg)
CHUWI HeroBook 14.1 vs. Acer Aspire 1 design
Though the Acer Aspire 1 is slightly thinner than CHUWI's HeroBook, the latter laptop is actually lighter and has a smaller overall footprint. Both are portable and should be hardly noticeable when packed into a laptop. Both laptops are made primarily from plastic, so neither one will be as durable as something with an aluminum chassis. While the HeroBook is a flat gray color throughout, the Aspire 1 has a darker brushed aluminum look that should better hide scratches and dings during everyday use.
Both have a dual-hinge design, and where the HeroBook's lid only opens to about 110 degrees, the Aspire's lid reaches back far enough to lie flat. CHUWI makes great use of space, implementing a sizeable keyboard that stretches from side to side and an enormous Precision touchpad below. I didn't mind typing for long periods on the HeroBook, though the keys are relatively loud and a bit hollow sounding. The Aspire's keys aren't quite as chunky as those on the HeroBook, but you will feel a bit of a softer landing when bottoming out. The touchpad also uses Precision drivers, though it's not as large as the one on the HeroBook. Neither keyboard has a backlight to help with working in the dark.
The Aspire easily wins with its port selection, offering up two USB-A 2.0, a single USB-A 3.0, full-size HDMI, RJ45 Ethernet, an SD card reader, and a 3.5mm audio jack. These ports make it easier to connect external accessories without a docking station or USB hub, and the addition of Ethernet is a boon for anyone who relies on a wired connection. The HeroBook's two USB-A 2.0 ports, Micro HDMI, 3.5mm audio, and SD card reader simply don't compare.
CHUWI HeroBook 14.1 vs. Acer Aspire 1 display
Budget laptops usually see a low-resolution display to help keep costs down, but these two laptops step up the game with 1080p. Neither display has the same color reproduction as you'd see with a costlier device, making them not ideal for editing or design work (not to mention performance wouldn't hold up, either). The biggest difference, other than the slimmer bezel around the HeroBook's display, is the type of panel in use. The Aspire 1 has a TN panel, which doesn't work well when viewed from the side. The HeroBook's IPS panel has much wider viewing angles, making it easier to see for anyone who's not directly in front of the screen.
Brightness is about the same in both laptops, and you might have some issues working in a well-lit room. A matte finish on both laptops helps cut down on glare. As far as budget laptops go, both laptops deliver an above-average viewing experience, though the HeroBook 14.1 does edge out the Aspire thanks to the IPS panel and thinner bezel.
CHUWI HeroBook 14.1 vs. Acer Aspire 1 performance and price
When picking out a laptop less than $300, it's expected that performance won't handle much more than lightweight productivity tasks, like word processing, web browsing, and video watching. The HeroBook's Intel Atom processor (CPU) has a marginally lower base clock speed, but its four cores can handle multitasking easier than the dual-core Intel Celeron CPU in the Aspire 1. Both laptops come with 4GB of RAM that again can handle non-intensive work. The Aspire 1 uses DDR4 while the HeroBook uses DDR3 RAM. Will you notice a difference in performance? Likely not, but it's still notable.
Both laptops likewise come standard with 64GB of embedded MultiMediaCard (eMMC) storage, which is not much for the average user. With Windows 10 and a few benchmarking apps installed on the HeroBook, the remaining storage is down to about 22GB. Luckily, CHUWI's laptop comes with a quick-access panel on the bottom for a SATA M.2 solid-state drive (SSD), which you can add after purchase to boost storage up to 1TB. The microSD card reader can also be used to expand storage up to 128GB. The Aspire doesn't have the same M.2 expansion option, but it does have a full-size SD card reader that can be used to add up to 64GB of storage.
Along with an Ethernet port for a wired connection, the Aspire includes an 802.11ac wireless adapter to take advantage of modern routers with both 2.4GHz (lesser throughput, better range) and 5GHz (lesser ranger, better throughput) radios. The HeroBook is stuck with an 802.11n Wi-Fi adapter, which means it can only pick up 2.4GHz radios. Considering the limited standard storage, cloud uploads and downloads may be a common occurrence, and the Aspire 1 will be better suited to handle the load.
Although the Aspire 1 gets a respectable (for a budget device) six or seven hours of battery life from a charge, the HeroBook, helped along by hardware that doesn't draw as much power, gets between nine and ten hours when going about regular lightweight tasks. Considering battery life is a huge selling point and the HeroBook is about $50 less than the Aspire, this will likely turn a lot of people towards CHUWI's device.
Stick with the cheaper CHUWI HeroBook 14.1 for a better overall experience
The HeroBook 14.1 is stuck with an 802.11n Wi-Fi adapter and limited port selection, but its IPS display, upgradeable storage, superior battery life, and lower price make it the better overall pick for most people.
Unbeatable price
(opens in new tab)
The better laptop for most people

With an all-day battery, 1080p display, and all-around decent design, the HeroBook makes it easy to live with some of its shortcomings, especially if you only have $200 to spend on a new laptop.
The Acer Aspire 1 brings 802.11ac Wi-Fi and more ports
It costs more, it's lacking in storage upgrade options, and it has a TN display, but the Aspire 1 brings far better networking options and a more rounded selection of ports. If these two features are important in your usage scenario, it's still a great budget laptop that costs less than most other devices.
Better port selection
(opens in new tab)
Alternative for those who need more ports

If port selection and a better variety of networking options are a top priority for you, the extra $50 you'll spend for the Acer Aspire 1 is no doubt worth it.
Windows Central Newsletter
Get the best of Windows Central in your inbox, every day!
Senior Editor, Laptop Reviews
Cale Hunt is formerly a Senior Editor at Windows Central. He focuses mainly on laptop reviews, news, and accessory coverage. He's been reviewing laptops and accessories full-time since 2016, with hundreds of reviews published for Windows Central. He is an avid PC gamer and multi-platform user, and spends most of his time either tinkering with or writing about tech.