Cinemagraph from Nokia: A simple, easy way to generate animated GIF files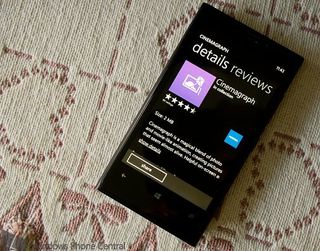 Cinemagraph is an exclusive app for the Nokia Lumia Windows Phone 8 devices such as the Lumia 920 that lets you create animated GIF files. The app captures a series of photos and then presents it in a still picture style that brings any animation within the picture to life. Cinemagraph also allows you to adjust the amount of animation present on the image and once you get things just right, save it to your Pictures Hub.
Cinemagraph files are a bit on the huge side and we found image quality wasn't always consistent. Still, Cinemagraph is a nice photographic tool to have on your Lumia 920 or 820 Windows Phone.
Cinemagraph has a fairly straight forward user interface. You line up your picture, press the shutter button and hold your Windows Phone steady. Cinemagraph will then capture sixty frames of footage. Once the image is captured, Cinemagraph will highlight the areas of animation for you to choose.
Once you choose your areas of animation, you can increase the animation area by rubbing the screen. The shaded areas are not animated and as you clear the shaded areas by rubbing, the animation area increases. If you want to decrease the area of animations, just tap the brush button.
Once you've gotten the GIF image fine tuned to your liking, you can save the file to your Pictures Hub. From there you can share it as you would any other picture in your Pictures Hub.
Cinemagraph is a handy app for your Lumia Windows Phone but the GIF files are huge. The sample GIF (click to animate) is just over 5mb before it was resized. You can download the full size GIF file here (opens in new tab).
While Cinemagraph generated decent animated files, I found a lack of consistency at times with regards to image quality. If you move the Lumia 920 too much you'll generate an error with Cinemagraph and the process fails. But minor movements won't sound the alarm and can cause files to be soft or pixelated. Then there are times everything falls into place and the animated GIF files look great. A tripod might be a good option to improve image quality but that option might not always be practical.
All in all, Cinemagraph is a no frill animated GIF creator and just another tool to increase your Windows Phone camera capabilities. It is a Nokia exclusive for the Lumia Windows Phone 8 devices (Lumia 920, 820, etc). Cinemagraph is a free app that you can find it in the Nokia Collection on your Windows Phone or through this link (opens in new tab).
Get the Windows Central Newsletter
All the latest news, reviews, and guides for Windows and Xbox diehards.
George is the Reviews Editor at Windows Central, concentrating on Windows 10 PC and Mobile apps. He's been a supporter of the platform since the days of Windows CE and uses his current Windows 10 Mobile phone daily to keep up with life and enjoy a game during down time.
WP 8 let's you save GIFs now? WP 7 only saved them as JPGs.

How do you share the gif? I feel like this has been something many people can't seem to figure out.

Ditto. Sharing kicks out a jpeg

Right now you have to upload it to Skydrive and then download it to a computer, and share from there. I've read that FB and other social media sites will update to allow cinemagraphs to be posted directly there instead.

You can email it from phone. The receiving party opens it from computer right clicks and view original. Sounds like a lot, not truly not. Me and my fam have had a fun time with this. I have an image where my sis looks like she choking the other and mass emailed it out!!

So I guess GIFs are supported in WP8? WP7 only saved them as JPGs

Well I imagine if it's in the pictures hub you can hit the three dots and hit share.

No, it shares as stupid JPG

I plug the phone into the computer and copy the gif. Then I can embed into an email as a gif. I dont see how to do it just from the phone.

Were you trying to edit anything with the gif above? I just looks like you took straight video.

Nokia's killing it - c'mon HTC!

That is why I plan to upgrade to a lumia, HTCs lack of exclusive apps.

Yeah this app would have use if it had a perk to coincide with it. suych as say.... ability to make your creation your lock screen image perhaps?
Yes I know, I'm a genius

I tried sharing via text with a buddy who also has a 920. No dice. All he got was a regular image without animation.

Did he try opening the file in app

"Generate" not "generat". (Cool app, though. ;) )

Useless, if you cant share it!

Around the 920 / 82X announcements, Nokia stated that they are developing, together with Facebook, a feature to Facebook that you are able to share animated GIFs directly. So the support is coming. Also, if you share it to Twitter, you are able to see the animation by clicking on "view original" on the picture.

I can't see the brush option... Any help???

> Cinemagraph has a fairly straight forward user interface
I beg to differ, explain in one sentence how to share the .gif with other people.

Oh God I hate you Nokia. Release it for HTC too! PLEASE

Don't hate the player... :-)

Would be nice if this app would let you choose a small video clip taken by phone's regular video camera and let you convert it into a GIF by allowing you to choose what's animated. Also pre-selecting points kinda sucks, sometimes you want to animate something else that's not selected but isn't picked up for some reason. Maybe that'll all require too much processing power I don't know but this would make app really useful. Also sharing via sky drive link via SMS would be cool.

On Skydrive, what I did is make a public folder that holds only Cinemgraph photos. The user will need to click on "view original" (something like that) and it will display as a gif.

see if this works: https://skydrive.live.com/#cid=A8AA1E9195DC9172&id=A8AA1E9195DC9172%212502

Yep, right click > View original.

Didn't work on my Nokia Lumia 920 .

Point is you shouldn't have to do all that.. Love the program but am annoyed about this one slip up

Isn't worth it. Doesn't even work with Skydrive. I tried it. When sharing you get that dark-grey framed image and no movement.
Nokia needs to stop worrying about gimmickie apps. Let app developers do it. Nokia is better focusing on creating an "ecosystem" with Micrososft that will make app developers want to create aps. That will save the company, not gimmicks.

Am I the only sick bastard waiting for those people crossing the street to get hit by the car when it loops?

Click here to see my SkyDrive cinemagraph folder - I've had fun with this so far. (Right click, view original to see animated). There's some in my blog too that embedded fine, and it also works well on other blog sites like Tumblr.

I think the reason Facebook etc haven't allowed gif uploads is because they don't want it to end up looking like MySpace used to with sparkly text gifs all over the place.

NB If you want to share in an email, you can just send the link after you've clicked 'view original' in SkyDrive to skip that step and they can see the gif directly, like this.

I have transfered the cinemagraph (gif+npo) files to my computer and then back to phone.
I was unable to view again the file on my Lumia getting this error :

"" Something went wrong
Try opening the file again.If you're still having problems, the file may be damaged . ""

Yeah sure , I thew the file against the walls so it got damaged.