Citi Cards app for Windows Phone 8 is officially now available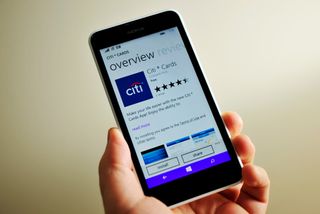 File this headline under late-breaking, but Citi Cards (online.citibank.com) has finally released their popular app for Windows Phone 8 and 8.1 users. According to our forums, Citi started exploring building an app for Microsoft's platform 11 months ago, and today, it is live and ready for download.
Citibank is currently one of the top credit card and financial institutions around, and Windows Phone tends to have a gap when it comes to official banking apps, especially in Western markets. Bringing 128-bit encryption the Citi Cards app lets users log in and fully manage their accounts without using the web browser.
Citi Cards for Windows Phone 8
View recent activity for your credit card accounts, including pending transactions
Pay credit card bills and view payments
Schedule future credit card payments
Cancel scheduled credit card payments
View your available credit line
Quickly find the nearest ATMs/branches
Indeed, we are sure many of you are going to shout with joy for this one, and remember, leave a good Store rating and review if you like it, so others will know. Without further ado…
Update: Looks like the app is just a nice web wrapper for their mobile site. We suppose it's better than nothing, but we will let you decide.
Thanks, Chris K., for the tip!
Get the Windows Central Newsletter
All the latest news, reviews, and guides for Windows and Xbox diehards.
Daniel Rubino is the Editor-in-chief of Windows Central, head reviewer, podcast co-host, and analyst. He has been covering Microsoft since 2007 when this site was called WMExperts (and later Windows Phone Central). His interests include Windows, laptops, next-gen computing, and for some reason, watches. Before all this tech stuff, he worked on a Ph.D. in linguistics, watched people sleep (for medical purposes!), and ran the projectors at movie theaters because it was fun.
It's about time! But I use Chase anyway. lol

I bank with Chase but it's nice to see

Web wrappers are trash. As far as I'm concerned they don't have an app. Chase, bank of America, wells Fargo, ally bank, and usaa have the best apps including check deposit. It's a shame there isn't more US banking apps.

And then some of us don't care... When I had a Chase card, I preferred their website. A web wrapper would've been just fine for them too. :)
Yes for some type of apps, web wrappers suck. But not for these types. IMO of course.
Edit: Please note: This is a credit card app, not a banking app.

Without Mobile Deposit an App doesn't make much sense to me... Although the data encryption is nice.

Of course it has encryption. It's just an https mobile site. Such a joke.

add wellsfargo to the list of banks with good mobile apps.

IMO, it depends. If the web wrapper is actually wrapped with certain native functions that make it better than the website, that's good. It also depends on the service. I don't care too much for a bank app, because it's mainly to grab information. That said, I have little use for this app so I'm not judging this one specifically. But I prefer not to make a blanket assumption until I see for myself.

Ally bank app is great as well

Forgot about that one. Just added it to my comment.

please dont read too much into web wrappers. what matters is the UX and what all you can do with it. From the looks it is very much similar to andriod app. except the rewards and settings option rest is same. I am glad its here. although very surprised because I asked them a couple of weeks back and they mentioned they have no plans for windows phone app.

I left these jokers for Chase over a year ago. Tired of being charged random fees that the employees at the branch couldn't explain and just had to refund. They just keep charging then hoping you won't take the time to investigate over $20. No thanks, Chase is awesome and has a full Windows Phone app.

Good luck with chase, they charge fees too, after a while but wont remove them...ditched them for 5th 3rd...no app, but I don't use my debit card

Haven't had any issues in over a year. In fact, there have been a couple instances where they have proactively called me because they saw somehting they thought they could speed along or help with (deposits clearing funds and such)... which they then did. I was impressed. I do think their minimum balances are high, but I think that is a more general situation these days... now that the government has cracked down on fees some, the banks seem to have raised their minimum balances to compensate (and of course generate fees when people don't make it). Someone mentioned that Citibank has a new website... I sure hope so. The ones (maddeningly they have compeltely separate sites for business and personal accounts) they had me on were incredibly primitive, with the business one especially being completely behind the times. It was like working with a terminal connection to a batch processing mainframe... seriously, that bad. I still have nightmares.

They already have an official chase app

Yes finally! My gf gona be happy about this.

A couple of months ago I would've loved this app... Then they redid their website and their mobile website is fantastic now. Same with AmEx, both have awesome websites now, making the apps less important.
Of course, thanks to Apple everyone is supposed to be all about the apps so I am happy we get one too. Hope they keep it updated, and it's great to have it in the checklist of apps. Edit: This actually just seems to be a wrapper for said fantastic website. I guess the only point is to literally have it in the list of apps then.

Actually, if you care about or use notifications, apps matter. I get a notification every time my card is used.

I'm sure there are many users for whom it is important. Not for me, and I'd argue not for most.
It is definitely important to note that it IS a web wrapper though. If someone decides which card to use based on app functionality, Citi still shouldn't be in the running. Also, due to it being a wrapper, I doubt it will ever be updated again, and also that they ever (or at least within the foreseeable future) will get a native one.

I get an email... Don't need an app to give me notifications and the email notification I already also get. Seems redundant

Actually websites can have notifications too, at least as far as Live Tiles go. Cases in point: WPCentral.com and 1800PocketPC.com so I don't see why more sites can't do it, especially when you're doing just account stuff, it should be easy to notify you of account balance or whatever.

Nice! I have some accounts with them and I will give this a try. If anyone else uses it and likes it, make sure you let them know so they can keep supporting us!

Finally! Keep the official apps coming and thank you Citibank!

Yay web wrapper. How come WPcentral doesn't just tell us? :/

I don't use Citibank. It's Friday and I've been working here for 10 hours.

In this case I'd also add that even though it's "just" a web wrapper there's nothing really wrong with that. As mentioned above, the web site does the job excellently and really how much functionality does one need from an app like this anyway? It's just to get it into the list of apps available. They could do it cheaply, fine with me.

LOL... I hope you are one of those types that actually thrive on 3-4 hours sleep a night... Otherwise my condolences.

I'm not so sure it is a web wrapper though it does look like the website. For me this is more responsive. The website I have to tap a bunch to get it to respond. Not so with this.

It could just be an app made with html5, css3 and WinJS. It would look like a website, but still be "native" to the phone because WinJS allows the "website" to interact directly with the phone.
You can use C#/XAML or HTML5/CSS3/WinJS to make apps.
Which would be why Daniel Brott would be having a more responsive experience than the web app.

Is this app support Korea?

I wonder if they release an official banking app for Indian users!

Possibly Citi Mobile for India should be released soon....

Finally! This is exciting. All the apps I need now complete.

to bad I can't check my checking account with this

Exactly my thoughts. What happeneed to the bank app? Thats more important.

I've actually been tempted to leave my bank for one that has an official app on Windows Phone.

Go to Chase. I've been VERY happy since leaving Citibank for them.

I've thought about it. I have a credit card and a student loan through them. But they have no local branches in Tennessee.

Ive actually done this and couldnt be happier. Had TD Bank, no official app. Switched to Chase. Love it! Also transferred credit cards over to access on same app!

Yeah that's why I left wells Fargo. I love chase

Wells Fargo has an official app that works good.

Awesome news!!!
Edit: Bummer....

Finally!!! Was waiting for this app a long long time EDIT: OMG, its a total garbage. A web wrapper and so so laggy. A big flop!!!

Agreed. I like my Citi accounts but this app sucks. Until full support is added for cards & BANK ACCOUNTS, it's pointless. No adherence to WP control buttons. Design is ported from Android. Ugly dysfunctional application released very late and with less than minimal effort.
EDIT: web wrapper ... No effort

What kind of internet do you got on your phone if this is laggy its cuz you data connection suck I know alot of people don't like web wrapers but for banking apps it makes perfect since cheaper does what it need to do yeah it wont work off line but neither would a regular app if it need data to retrieve your info so in any case I think this is more then fine

It's useless without a transparent live tile :)

You all one you can get here from the web I hope

City Card web wrapper, you mean...

OMG! Is this really true?! There is a God after all. Now I can feel that my Lumia icon is soon to get Cyan/8.1. Miracles do happen..

Oops, my bad. Totally. I should learn how to read. It's Citibank that I would consider a miracle, not citi card. But, I'll take whatever I can :(

Excellent. Hopefully others will follow. Thanks Citi dev's.

Better news than having sex on a Friday night

... Were you being sarcastic, because id disagree even though I've never tried it :p

Because I already know I'm sex on any Friday but this news got me by surprise

Honestly...why dont people just freaking make a WP app? Its super easy, especially with a client server app, like Citi. If they gave there server info out publicly id totally make a client app

They don't care. And it's not about just slapping one together, it's about years of ongoing support and bug fixes.

Yea. Microsoft is to blame. They've shifted the kernel on every iteration of WP. From CE to Modified NT to RT (this will be announced sometime next week)

And still waiting on Capital One

Capitol one some body tell c1 I need an app ,even though I use chase most of the time.

Good leave I'm tired of people like you who really don't care about the platform and just want want want if you don't like it go to crapdroid and when you find some virus or get your identity stolen then don't bother coming back cuz you don't really care about the platform so shouldn't be here nobody will miss you I promise

They are just trolls
Ignore them

I fain to differ. Mobile Banking is a huge feature for some. Photography for some others. Pleasant musical playback is another. Bleeding edge OS updates for an even choosier minority. Dismissing somebody who has reached a point like that is very Balmer-esque. The question I would ask: What other issues brought you to this point?

Exactly!! I hate having things handed to me, instead I like to watch the platform grow and slowly watch history fall into play as Windows Phone becomes the most popular mobile OS of its time!

I got chase just because of the windows phone app. But all we need now is Capital One.

Capital one are you guys poor?

And people say there isn't a "app gap"....Hmmmmm

Not so much gap.
Try the detailed, "divergent concave"

Hope it will goes to NFC payment

I was so excited about my first published tip... and it's a web wrapper.

I'm giving Citibank a pass until WP9, then I'm moving all my accounts and cards to Chase.

I want an app, an app for my checking and savings not credit card cause I dont have one

They probably threw this garbage out there to gauge interest. Everyone needs to install the app and leave a poor review. I have a citi card but this web wrapper nonsense should not be tolerated by the Windows Phone community. If you don't review the app, then there is no way Citibank will know we deserve better than this junk!!

"Update: Looks like the app is just a nice web wrapper for their mobile site. We suppose it's better than nothing" I think you just gave them their next marketing campaign: Citi, we're better than nothing!

Umm, this 'app' sucks. It doesn't let you access your bank accounts at Citibank or anything else (other than credit cards) for that matter. Rather than being a useful tool, it only reminds me how far behind Android and iOS app development is for WP and Citibank. Depressing and disappointing - app list, uninstall.

This is a webapp. Am I right?

Super Happy they finally brought the app since I've been waiting since the WP7 days. But it's really limited since its only for credit cards and not for checking. Maybe with an update?

Ok, now the app is here ... Thanks! ... They need to now work to make it better and faster ... the UI kinda sux n is slow.

If you use discover card send them a suggestion to make a Windows phone app. I did and got a response back quickly saying they will consider it.

Nothing wrong with web wrappers if done right. I've seen both good and bad web wrappers.

Doesn't work for Citibank in Australia, and their mobile website here is impossible to use :(

So, they are just poking the bear to see what happens.

Sadly there is no CITI bank app for banking as you have for other banks... :(

I couldn't find any app for Citibank in store. How to get it?

Now, only if Capitol One would make a banking app.

Dear HSBC, Wake the FU_UCK up!

Not in the UK. I think they only have it in a couple of countries.

Not available in India...

Make it work for Singapore customer as well.

I like it, better than no app at all.

Its a start! One less official app to take off the list.

Grabbed it and realized it's not for Malaysia.....

Me too! The more official apps, the better. Microsoft needs to figure out a way to get out of the endless cycle of app gap perception causing less WP adopters causing less developers and so on and so forth.

I use bank of America but this is good to see. I hope this is as good as the bofa app and everyone's experience is a good one. They just need a few more big banks in the fold and they'll have made serious strides in the apps department. I believe td bank is already developing one. Banking is probably the number one function people look for in a mobile experience and getting all the big ones to develop official apps is crucial. I've had countless people say they wouldn't but a WP because their bank doesn't have an app

wow, they took 11 month to build a web wrapper!!! wtf!

Shouldn't the title of this announcement be changed? I see Daniel added in the reality of this being just a Web wrapper but...... Posted via the Windows Phone Central App for Android

Not only a wrapper, but also not released outside the US (or, at least not here in South Africa). Many global corps use Citi for their corporate issue cards, and obviously those branch offices are not all in the US, Citi!

Non available in Australia