Citrix Receiver for Windows Phone 8 now available, get your work on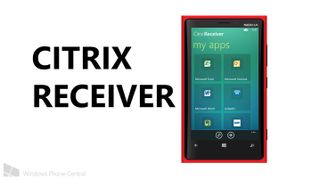 Another week, another big app joins the Windows Phone platform. If you or your company relies on Citrix you'll be happy to learn that you can now download Citrix Receiver for Windows Phone 8. We first heard about it earlier last month and are excited to see it here for everyone that has been waiting for it. Let's check it out.
Citrix Receiver allows users access to their documents, apps, and desktops from a device – like your Windows Phone. It's something a lot of you readers have been wanting for a very, very long time.
A blog posting over at Citrix reveals that Microsoft and Nokia together worked to get the app to Windows Phone. Basically adding more fodder for the argument that Nokia is really the OEM really helping to push Windows Phone forward.
Citrix Receiver is free for Windows Phone 8. If you know what Citrix is, then you know if this app is or isn't for you. Unfortunately I can't test it out for you guys and gals because I don't use it. So if you do download the app be sure to sound off below with your thoughts.
Grab it here in the Store, use the QR code below, or swipe to the right in our app.
Source: Citrix
Thanks for the tip bpmurr!
First? Yay! Don't know what this app is but the more the better! Go Windows Phone!!

It's for people who work in larger companies and have a lot of enterprise software. In others words, you and I probably won't be needing it lol

:) thanks for the info. Yea won't be needing that any time soon ;)

Now please write about At&t releasing Amber for the 920 lol ;)

Educational institutes also use Citrix for students to access their user accounts from home using an Internet Explorer plug-in.

I usually think that my Lumia 920 is the most awesome phone I'vw ever had. Because of me now my whole family uses Lumias. Mom - Lumia 900, Girlfriend - 920, me - 920, because of my active support to it couple of my friends got WP8 phones like lumia 520, 620, and 800. But here's the deal yesterday I convinced yet another friend that Lumia is a kickass phone and following my advice he got an awesome lumia 920. what I din't consider is that he wouldn't care about official instagram client. The comunication is everything to this guy. He misses big time a Google Voice Clients like talkatone, and others. Saying "if I didn't have any apps on this phone, but only had Whatsapp, Viber, Wechat, and Talkatone, I would be the happiest dude." And I refered to the spokeperson who guranteed that all major apps will be there by the end of this-beggining of next year.
Anyways as far as I'm prety sure that other apps will eventually stabilize, I doubt about the propper Go Voice client.
I didn't know he needs thos functions and yet convinced him to get L920.
My point is being:
How can I advice others to buy phones when they can't get the experience same or better than other OSs? But hey, will still promote wp and Lumia in particular.

He shoud test MetroTalk It`s one of the best Google Vice Apps!
All others like Whatsapp, Viver, Wechat are there.

I feel exactly the way you do, and microsoft feels the same way we BOTH do! thats why there has been such an uproar lately with the youtube app. coordinate with us to build it.. string us along... and then block it when its released? uncool. As soon as the youtube squabble is over I imagine they will start another war involving google voice so... dont hold your breath for THAT one!
Just a thought but, what MS needs to do is buy the rights to BB messenger; a proven messenger app that will draw all of the blackberry users over. Lets face it. RIM may go belly up tomorrow leaving a tonne of people looking for the "most familiar" alternative. Its instant. clean. secure, and worthy of killer app status. Now supposedly, BB will soon be added to IOS and android.. But if MS buys it.. I hope they exercise the same 'Denial Of Service' that google is using right now.. I know they wouldn't. but, turnabout is fairplay dammit. I have forgotten my point.. just really hating google right now.

Since MS bought skype I doubt they would dig in for BBM, if there is any service to be going for that would be whatsapp, combing skype and whatsapp that would be killer (I personally don't use skype lol). Viber imo conflicts with skype to much as a voip service.

Hey random person!
Citrix is basically a remote server presentation client. It connects you to a remote computer (cloud based) that has applications that you'd need for your work (or if you have the money, just some personal application can be deployed on it). These remote computers can be more powerful systems which you can access and use power hungry applications on. In an enterprise it can be counterproductive to keep updating the hardware on a mass scale when demand for processing power increases. So using a relatively simple computer you can access (with a good net connection) the applications as simple as microsoft office and to more demanding one like a computer aided design tool. Also, the advantage of this is that the no matter where the employee sits across the world, having the remote systems in one place can ensure that you have access to the intranet applications of your company at the comfort of any location. Have a nice day :)

Another win for Windows Phone in the Enterprise!

Agreed. This is a pretty big deal. It's one of those apps that, if missing, is a deal breaker for a lot of people. If you really want/need to be able to connect to your employer's network remotely (because you are on call or similar) and one smart phone platform lets you do that and another doesn't, then the descision of which phone to buy might be over based only on that.

You know, because Samsung doesn't have the chops to make THIS kind of action happen... =/

Samsung could make it happen, they just don't need to. Android is serving them well at the moment and their success isn't tied to the success of Windows Phone. Nokia is in a position where its future depends on Windows Phone. They'll do anything and everything they can to make WP successful.

Sam I couldn't say it any better. Nokia is all in on Windows Phone. If it fails they're done.

Ha, don't downplay Microsoft's part. The post said Microsft and Nokia worked with Citrix to bring the app to Windows Phone. I was just pointing out that Nokia does more compared to other OEMs.

Everything Nokia does is with Microsoft.

Don't get me wrong, almost everything I own that is PC related is made by MS, hardware and software. I just don't think we can have 30% market share without more hardware partners...though profit is more important.

Wow. Another + for enterprise!

Perhaps one of the most used app in the Enterprise sector. Greatly needed on WP. Should help bring over even more WP sales.

The managers at work use Citrix. They have iPhones though -_- I play up windows phone everytime I talk to my boss about phones though. Lol.

So now they could actually own one as it has this essential app for them.......go make some more wp8 market share!

God damnit, waited two years for this frustrated it didn't exist, now I don't need it!

Life has a sick sense of humor lol

Fuck Microsoft, Thanks Nokia.

F--- Microsoft?
Why did you buy a Windows Phone?
Read the article, it was a Microsoft/Nokia collaboration... just like everything else Nokia does.

Oh well done...because Microsofts 20 odd year relationship with Citrix had nothiing to do with this happening...

Why "fuck microsoft" what have they done thats so bad, getting extra exclusive apps for the OS

I am just wondering, what is the secret behind Nokia that makes it so lovable !

They actually listen to customers and feedback and they take action. Desperation also plays a role in sure, because they cannot fail.

Probably the fact they're a huge underdog and scrappin' to stay alive. Also, they're a great corporate citizen and do whatever they can to do right by their customers.

I think it goes back to the legendary Nokia 3310!

coz they make such crazy unbreakable phones really nice features.

good design team,with good taste of course,great support for the costumers,high quality build and the list goes on

Now I need logmein support and I will be complete on remote apps.

You should check out TeamViewer.

Ya what's up with us not having LogMeIn. They have a symbian app
Update: just checked they pulled the Symbian app

I just tested this and was able to launch apps and my xendesktop on the 521. For those that need to use Citrix, this requires Storefront. Most Citrix installs still use Web Interface. If it doesn't work ask your IT guy if they use Storefront. If not, expect pushback because Storefront has a black eye and requires access gateway to work. However the new Storefront 2.0 is much easier to install and configure.

According to eDocs it does work with Web Interface. It did not work for me though with Web Interface.

Tried it and was able to launch app from our XenApp. Can't make it shift to landscape mode and there's no settings to enable it. Do you experience the same?

The only way I could get it to work is to login to the access gateway using IE (https://access.yourdomain.com) and then then open a desktop from the web app. This launches the Receiver app. Work OK but there is no landscape mode for desktops in this version which makes it very difficult to use but its better than nothing and hopfully they will update it soon.

Yeah same for me as well.
but navigation is cumbersome, and even saving files is hard (e.g hiding keyboard to click o.k.)
some admin stuff i definitely wont be using via this app (ad management no way) bound to do something that you don't want to do.e.g. deleting users, moving to security OU.
the nightmares

Thanks for sharing. I've never had to use Ctirix so I'm not too familiar with it. Liking it so far? First impressions?

I just confirmed that it works with my apps - we use WI 5.3.0.34, and we do not use Storefront.

I can get to my domain but can't access the desktop. It tries to load and tells me to try again later.

Open your app from the ie page, it will launch using the receiver.

Finally someone talking about the app and not the drama with the companies. Buncha girls. Thanks for the tip on going through IE, I'll scope it out. This is huge, though. Maybe we can work to see more WP at our work.

Wow. This...is...huge. I've been wanting remote desktop access to my work machines ever since I've been using Windows Phone. This is just another item on the checklist of things missing from my Windows Phone *must haves* list...

This is what I am talking about! Woooooooooooooooooooooooooh!

It works with web interface. Using IE, go to Citrix.yourservernamehere.com, skip to logon, enter credentials, and it will launch the app

Whoa this just blew my mind - looks like the Citrix Receiver app does have a handle in place for .ica files. Works wonderfully with CWI even if the Receiver app is not configured, or configured for a different site.

Yep, that works. Nice job Citrix.

Works for me too, though we really do need landscape support. Also needs cursor mode and the scrolling inside some apps is very sluggish. I expect it will get improved with some updates. Not bad for a 1.0. Looking forward to improvements.

Like the Citrix Windows 8 app there is no support for an RSA hardware token that requires a PIN. I'll try it later with the RSA token app. I was able to log in with the PIN+token through the company CAG via IE. The .ica was downloaded and the Citrix app started.

Sweet. If we could get VMware apps next it would be even better!

http://sdrv.ms/128Xh9t
This is my Citrix Receiver running IE9, good stuff. It's very smooth, but lacks landscape support which sucks because the apps I use are designed for landscape viewing. It's also bumpy when opening the app, it asks for a Username and Password, but because our farm is behind a domain, that login fails and then takes me to the login screen that asks for domain\username and password. I'm sure I'll find more things as I keep playing with it, but this is a definite improvement over having no Citrix at all!

We use Citrix daily. Grabbing this app. Might even help promote Windows Phone around the office. Nice. Thanks devs and WPC for the heads up. Woot!

I was excited until I got this through the portal.
http://sdrv.ms/13DVEON


We use GoToMeeting heavily in the company where I work, so this app is certainly for me to try !!
Proudly Microsoft Windows Phone !
Thanks Sam for sharing the news.

Me too - I am looking forward to getting stuck in with this today.

My wife works for Humana and they use this to handle their VPN connections. This is/can be a deal breaker. They were about to issue everyone Blackberry (UGH), but held off... Maybe they knew this was coming??.either way, good stuff.

Much like the Windows 8 app, this has a lack of manual setup. So unlike iOS, Android, Blackberry, Mac, PC (legacy app), this doesn't work for our environment. I blame Citrix for their half-behind effort on the Windows 8 app (which this is a port of).

I use this at my job..fuckin awesome!!

Nice... I've got Good, RSA and Citrix. I'm officially set from the enterprise point of view.

Just checked this out. Works well enough. Finally!!!!! Made my day! Add VPN and I'll be set too.

Agree with other comments; NEED Landscape!!! Otherwise, worked perfectly to get access to work apps.

When trying to login directly via the app with my work email address, the app just crashes instantly... :-\
But logging in via the web interface in IE and opening an application link from there works really well (apart from not having landscape mode....)! Big thanks to outstanding Nokia for working on this... As usual.

After 3 years... yes, after 3 years of waiting... after 3 years of complaining, protesting, grumbling, rumbling, swearing, muttering profanity after profanity after profanity... this sucker has finally arrived to the Windows Phone! Now, the question is: when will it come to WinRT?

http://apps.microsoft.com/windows/en-us/app/citrix-receiver/dcbba44a-a3fd-41f4-951d-1117998c583d?

It's not working fully for me. I launch it and see all of my companies apps, click on them and it does nothing. The regular Windows 8 app works great though.

Up at the top left, does it say Add Apps? It could be asking you to add apps to your home page, kind of like bookmarking certain apps (so you don't have to sort through hundreds of others you never use). Press the back button on your phone and it should take you back to "my apps".

I stand corrected. There is no documentation, but once you select the 'Favorite Apps' then you need to hit the back button. There is no accept or OK button that you may expect. Using the app is great, but they need to have a select all or a way to select multiple files that you wish to copy and paste. Again, maybe there is and I just haven't found it yet. It doesn't seem to support landscape mode on a phone. I probably would only use this in a pinch anyway, because the phones screen is so small. But I applaud their efforts. Was this already available on Windows RT?

I know Nokia has the most interest in the success of WP but HTC/Samsung are not putting any drive behind developing and promoting it. We as consumers should reward Nokia by buying Nokia WP only for now. This will ensure Nokia survives, WP will continue to increase market share and we get the best possible apps from the largest developer.

Without proper VPN support in WP8, this is still a no go for my company since our Citrix desktops / apps are not available from an external network :-/
And according to what I read here, no landscape mode? Seriously?
Anyway I'm sure it will be useful for many :-)

Seems to work fine, shame my work have an older version of Citrix. Bit of a pain having to login on IE and launch the ica client from there to push it to the app. Still it works, not as polished as iOS but it works. Just need to convince work to switch to windows phone now

Needs landscape mode, welcome addition to WP8 however :)

Wow, this is pretty awesome news! Unlike Instagram or any happy-unicorn-with-rainbow app people generally tend to whine about, this is actually a pretty big deal for enterprise users. Microsoft, with their Office suite and enterprise target should've ideally had this on WP on day one, but I guess better late than never! The company I work work uses Citrix and I can confirm it works fine for me. My take: - Setup is a breeze if your IT guys have configured stuff correctly and you know what you're doing. - I can access my remote desktop and other apps, but like other users have reported, it is a bit slow. - There is no landscape mode, at least for now. This is mildly irritating, but not a deal-breaker and I guess it would get fixed in later version - The way the keyboard doesn't pop out or pop in when you click on a text box is a bit unintuitive, but again, I guess this would get fixed in later versions.
All in all, for a v1 it looks like a pretty strong app, and hope it gets stronger.

Still don't understand why Microsoft did not release a free remote desktop app.

The lack of official Microsoft RDP client is perplexing.

Yes! I work IT for a large Company. We rotate on-call. And when I am out and about if it is just a simple domain lock out....I can do it on my L920 (Or my work L822) right then and there!


Yes, Finally! Now my WP8 can be used more for work other than just email now. Now if only we can get landscape support. C'MON Citrix, THESE ARE THE BASICS! Lets also hope that WP8.1 or GDR3 brings VPN support.

YAYYYYYYYYYYYYY
I work for a company and we do research for another big company i won't mention, because these computers run the big company images we rely on citrix to access our company's emails (since we can only access Dell's lync, outlook, vpn, etc).
It is a great deal for me to be able to do some of those things on my mobile :)

Nice but no landscape mode

I'm getting graphics issues on my 822. Connects fine but I can't read anything. Perhaps our server has the required resolution set too high.

Finally! All of my coworkers left Windows Phone about a year ago because this wasn't available. I guess better late than never.

Atlast the long wait is over, now can use xenapp on my phone..

Why th left bezel on the image is bigger than the one on the right?
By the way, Have a nice day.

:) hahaha.
Keep the good job, nice weekend.

I can tell you that this is a big huge deal for the entire platform. This won't result in a few sales here and there, but rather once word of this gets out to IT departments and providers-- they will start recommending Windows phone over BlackBerry, iPhone, and Android. This along with native Office and Office 365 connectivity on the phone represent the "killer" business sales case for the WP Platform. How to properly gauge the importance of this for the business/corporate world... Hmmm. Ok, so many average consumers currently love the idea of Windows Phone and are ready to switch, right up to the Instragram question. Seems silly to those of us who could care less about Instagram but it's a real brick wall for the platform. For Corporate/Business folks who use and rely on remote connectivity to their core applications through Citrix, it's the exact same brick wall, but much higher and more fortified. Instagram use is a personal choice and one might be convinced to either do without it or use a 3rd-party app. With Citrix, that's a decision out of their personal control and therefore an immediate "no" when they are weighing plusses and minuses. Only question is how quickly the word gets out the Windows Phone 8 does Citrix now. Hopefully in time for budget discussions for big companies. ;-)

Yup, however they really need to is fix how documents are attached to emails as the average joe would expect to go to their work email tile, create new email but will be perplexed why you can only attach pictures.. lol. Let alone sharing a via email document via the office hub but still confined to the pictures hub when tapping "attach".

It's not working for me :(

Citi need to get all over this!!!!!!!!!!

about time....
Next stone to crush: VPN on WP8
come on Nokia and MS, lets get this stone crushed and I can make the push for WP8 in my enterprise.....
Thanks

Depending on what you're doing, the Citrix technology eliminates the need for a VPN.

The app cannot handle two factor authentication since inception This sucks! I log in then it cannot handle the next screen for security question. They need to fix this!
Windows Central Newsletter
Get the best of Windows Central in in your inbox, every day!
Thank you for signing up to Windows Central. You will receive a verification email shortly.
There was a problem. Please refresh the page and try again.