Clan Defenders catapults into the Windows Phone Store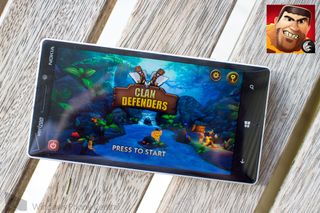 Just keep tapping on the screen. That's the most important thing you need to know when playing Clan Defenders. It's a new shooter that has just released on Windows Phone 8, and we're addicted.
Based in 10000 B.C., there is a happy family living in a beautiful island. Lord Balong, the evil from far away, has arrived to conquer this little island. Ben and his family have to pick up weapons and defend the homeland. Head past the break for our hands-on video and walkthrough.
Features:
Stunning and clear 3D graphics
10+ beautiful places to defend with a total of 100+ levels
15+ weapons: Giant catapult, Spear, or Boom-pumpkin, and more
Several characters with different skills
Use powerful magic to defend with nature
Clan Defenders is very easy to play. The lower left corner shows the weapons you can use to defend the homeland. You can equip up to three weapons, but you have many to choose from. In the beginning, you're limited to stones, wood arrows, and catapults. You'll need coins to upgrade current weapons or equip newer and better weaponry. As you upgrade current weapons, the price for the next level upgrade also increases.
The right side of the screen shows magic skills. These include summoning blizzards, thunder, or meteor showers. You can equip three skills, but there are six to choose from. Choose wisely because you're limited by how many coins you have.
You can also select from three characters. Each one has different a specialty. For example, Ben can reflect attacks while Amy can reload faster.
Pass each level by simply surviving the waves of attacks. Each level gets harder, so you'll need to upgrade your weapons. Earn coins by destroying enemies and passing levels.
Clan Defenders is a free download from the Windows Phone Store. There are in-app purchases available to help you move along quicker. For example, you can buy 25,000 coins for $3.99.
Is this your type of game? Sound off in the comments!
Windows Central Newsletter
Get the best of Windows Central in in your inbox, every day!
Thank you, it is working now.

Mark, is this available on iDroid❔

Can't find it on Google Play or iTunes

They have Clash of Clans...

Looks like a different type of game

Please developers, publish your games here in Brazil!! I can help with it! Is sooo easy! :'(

Brother, why don't you contact developers? Maybe they would help.

Looks like a re-skin of their game Battle For Homeland Mad.

Yeah, looks suspiciously similar. I knew I've seen it before right away.

Sure it is my kind of game

Well, the icon definitely isn't an edited Clash of Clans icon, right?

Watch out for in app purchases. Apple just refunded me over $500 my 10 year old ran up in in app purchase for Clash of the Clans. He had never given in to temptation like that before but this genre is very captivating.

Its the same developer as battle homeland game.

Good parenting! You should send apple their $. You stink.

That's not polite at all. Be nice.

So many games are popping up in such a short time.I think now it is enough for us.Rather than this developers should focus more on utility apps coz we already have many games to be pre-occupied.I am currently satisfied with Kingdom and Lords.

Looks interesting. I will definitely check it out.

The characters are an exact rip off from the movie Croods.
I'm pretty sure this violates copyrights of the movie franchise.

You clean forgot to mention that when the bikers chuck their spears at you when they're BEHIND a boulder, the spear sticks for a half-second, then goes ABOVE the boulder and comes at you as if NOTHING blocked it. Meanwhile, that same boulder blocks ALL your attacks directed to anyone behind it.
Windows Central Newsletter
Thank you for signing up to Windows Central. You will receive a verification email shortly.
There was a problem. Please refresh the page and try again.