Clan Defenders catapults into the Windows Phone Store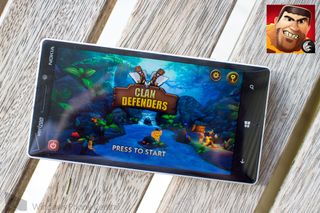 Just keep tapping on the screen. That's the most important thing you need to know when playing Clan Defenders. It's a new shooter that has just released on Windows Phone 8, and we're addicted.
Based in 10000 B.C., there is a happy family living in a beautiful island. Lord Balong, the evil from far away, has arrived to conquer this little island. Ben and his family have to pick up weapons and defend the homeland. Head past the break for our hands-on video and walkthrough.
Features:
Stunning and clear 3D graphics
10+ beautiful places to defend with a total of 100+ levels
15+ weapons: Giant catapult, Spear, or Boom-pumpkin, and more
Several characters with different skills
Use powerful magic to defend with nature
Clan Defenders is very easy to play. The lower left corner shows the weapons you can use to defend the homeland. You can equip up to three weapons, but you have many to choose from. In the beginning, you're limited to stones, wood arrows, and catapults. You'll need coins to upgrade current weapons or equip newer and better weaponry. As you upgrade current weapons, the price for the next level upgrade also increases.
The right side of the screen shows magic skills. These include summoning blizzards, thunder, or meteor showers. You can equip three skills, but there are six to choose from. Choose wisely because you're limited by how many coins you have.
You can also select from three characters. Each one has different a specialty. For example, Ben can reflect attacks while Amy can reload faster.
Pass each level by simply surviving the waves of attacks. Each level gets harder, so you'll need to upgrade your weapons. Earn coins by destroying enemies and passing levels.
Clan Defenders is a free download from the Windows Phone Store. There are in-app purchases available to help you move along quicker. For example, you can buy 25,000 coins for $3.99.
Is this your type of game? Sound off in the comments!
Get the Windows Central Newsletter
All the latest news, reviews, and guides for Windows and Xbox diehards.