Cleartrip update lets users in India book train tickets directly from their phones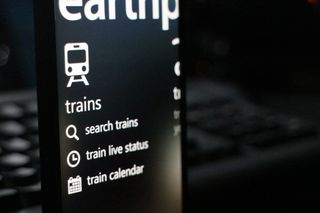 Cleartrip has launched an update to its Windows Phone app that allows users in India the ability to book train tickets. The added functionality is on top of the flight and hotel booking services already being offered. Along with the ability to book train tickets, users can also view schedules for up to two weeks, as well as the running status of the train, all from within the app.
Cleartrip is the only online booking vendor authorised by IRCTC (Indian Railway Catering and Tourism Corporation) to sell train tickets via its app. Here's a list of all the features on offer with version 2015.130.1151.1006:
All major trains: Book tickets aboard all major trains in India, including Rajdhani, Shatabdi, Jan Shatabdi, Garib Rath and Duronto Express.
All classes: Search for seat availability across all classes, including Sleeper (SL), Third AC (3 AC), Second AC (2 AC), First AC (1 AC) and Chair Car (CC).
No extra fee: Cleartrip's train fares are the same as those offered by IRCTC.
All options: Search for all available trains between two stations as well as trains available from nearby stations.
Train schedules: Get up-to-date train schedules from within the app.
Trains Calendar: Our most popular Trains feature on the website makes its debut on Windows Phone. Check the availability of all trains between any two stations, for the next 2 weeks, right from the app.
Live Train Status: Check the running status of any train, right from the Cleartrip app.
The app allows you to quickly check availability of trains between two stations, as well as the fare.
There's also the ability to check the status of the train, as well as ticket availability based on the class.
After rolling out a comprehensive update in December, it is great to see Cleartrip bringing even more features – which have traditioanlly been exclusive to its website – over to the Windows Phone app. Let us know what you think of the additions in the comments.
Windows Central Newsletter
Get the best of Windows Central in in your inbox, every day!
Harish Jonnalagadda is a Senior Editor overseeing Asia for Android Central, Windows Central's sister site. When not reviewing phones, he's testing PC hardware, including video cards, motherboards, gaming accessories, and keyboards.
This is sticking with metro and still delivering functionality and beauty together ! I so hope that metro(now Morden) evolves yes... But going forward with legacy of its old principles... This "standard" line is so.... Not unique...which is WP ...

IRCTC app does that quite well! Then why this?

Flight and hotel booking is included too. I know the official railways client has hotel booking, but I've found that this service has better results.

Ok, will give it a try then

Will we able to book tkts between 8am to 12 pm via this app?

some thatkal seats are reserved for apps ,so no need to hurry at 8am. You will have reserved app seats that book after 12. When I want to travel I will try to book from web. If its fail,I will book through app.

Your phone has light bleeding.........might wanna take it to the service. lol

Most people in India are too poor to afford a cell phone. I don't know why they keep focusing there! Meanwhile we need Verizon to do better here in the U.S.

What a typical first world comment.

What do u mean by this... There is a population here like no country has... If not here then where should you expect a more serious service .... Even Microsoft should start services in India prior to anywhere...

You must be butthurt by the Chase thing.

Well, that escalated quickly. :D

Do you have any facts..? I have some --
India has the maximum number of millionaires and billionaires in the world!!
And last year smartphones were sold the most in India only!!
"Don't know why they keep on focusing there" Well it's the Indian devs only who are doing the hardwork!!
India ranks 3rd in the world in spending of disposable income!!
And yes think twice before calling someone poor or inferior..!!

just so that you know... world's second largest cellphone base is India..
http://in.mobile.reuters.com/article/idINL3N0UM3DK20150107?irpc=932

Who the hell do you think you are mister???

He's just another ignorant fool

I love you man, you just started a riot! I love riots!!! at least on the internet, not in real life :D look at them, just look at them how they start being aggressive, the "when in India?" people..hahaha. They think they are 1st world country, not 3rd world country....
L.E I'm European btw, I already have Denim :)) you people should realize that you made yourself look bad with ur way of being, that's why you get mocked. I do love your comments, shows how much you care, haha

Neither you ppl are. Those working at US are mostly Asains. You can't beat them.

LMAO! You know what? It's even more funny to see brainless people commenting.... like you. XD

Den show ur aggressiveness on chase bank n other usa banks ...... not supporting usa wp users ....... dont come here n argue ....

Says who..
"when is Denim coming to Icon"
Do you know there are more Indians havin an IQ of 150+ than the whole population of The US of A..!! Half of the Microsoft and your gov agencies like NASA are flooded with Indians..!!
The are morons everywhere..Shocked to see a huge difference between folks like you and someone like Daniel or Rodney..!!

Thandd rakh...gada dhari bheem! ;-)

@TheVolcanologist
Chutiye saale faltu mein bakwas karten rehten hai..Site technology ki hai toh uspe baat karen na..Mcbc ki maayen toh porn site par hain..Aurr baap tinder pe..Aa jaten hai pata nahi khan se marvane apni

Yea exactly..That's why your 1st world country prez comes to the 3rd to ask for help as the Europeans,,Japanese and the Aussies have shut their doors on you..!!
And yes did I mention the Russians or the Chinese..?

And you think that promoting it makes you look cool..? Well you are not so good either "I love riots" and then blame and curse those participating in it..!! Your stupid comment stoked the fire more and that ain't a 1st world country thing my friend....

May this son of bitches from pakistan and trying to make us fight. Wait 15 days, we will fuck you again in World Cup Cricket'15.

Wait a minute.. Do you just burn ur ass??.. Because you are taking shit!! :P... Burn bitch !

You need a mental treatment, get well soon Mr. Zero

Your comment proves your upbringing, may be your mother is a slut, son of bitch

India has a middle class family of 40 crore people

Dont feed Sir Troll, guys. :D

Lol, this uncivilised guy sounds like a typical American teenager, are you? LOL.
#FirstWorldProblems#Dumbness

You don't know why they are focusing there? Dude Are you in touch with the reality? Or do you think "U.S.A" is just an another planet you "stereotypehole" .. Saying India is poor is like saying all Americans are stupid.
According to your logic:
Americans=stupid
Indians=poor
Some Americans may be stupid but that doesn't make an entire country stupid , similarly some ppl may be poor there doesn't mean all are poor.. Please educate yourself dude as they say ignorance can be educated
And pls wise up..

Exactly. If u asume 60cr people is poor then anther 60cr which is double compared to your total population is good enough to kick their mouth.

you have 0 clues either about cell phone industry or India, do you? lol...We matter to WP, not you. its time to wake up xD

Atleast Thank the person you tipped you :P

Welcome move...love it ..

Yaa I am very poor to afford a phone pls give some money...hi hi

Can I get this on the US? :)

When are we getting in the US/UK? (just to redress the balance usually found in the comments section)

Here, I return your Jedi.

You could have washed it first. Those stains are VERY suspicious.

Before commenting on anybody, pls be updated on what's going around the world.....pls go through the link below.....you will come to know what Indians are and where they will be.....http://www.ibtimes.com/india-will-overtake-china-worlds-fastest-growing-...

Because the developer is an Indian, you silly guy. Get an American developer to focus on you :P :v

they seems to have updated again. ;)
Windows Central Newsletter
Thank you for signing up to Windows Central. You will receive a verification email shortly.
There was a problem. Please refresh the page and try again.