A Closer Look at AT&T's Fuze Test ROM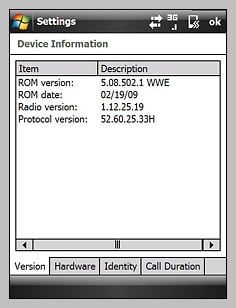 I've been running the leaked AT&T Test ROM for some time now and have to admit, if the final product is anything like the test, Fuze owners will be very pleased. We've given you the technical changes and fixes the ROM offers but how does all this translate to performance. Does it speed up the Fuze? Slow it down? Are there stability issues?
As was mentioned in the original post concerning this Test ROM, if you're going to try the Test ROM understand it may/may not have issues and installing it deletes everything (original ROM, data, apps, etc.) from your Fuze. If you're not sure, check out the forums and read up on flashing devices.
Having thrown out the obligatory word of caution, if you're curious how the Test ROM performs, follow the break.
Installation took just under fifteen minutes and re-installing the deleted applications and restoring my contacts/appointments extended the process to about an hour. The Test ROM is carrier specific and comes with the obligatory AT&T bloat. Fortunately, you can still by-pass the bloat by performing a soft reset at the instant you tap "OK" on the "Installation of Custom Software.." window that appears after you calibrate the screen and skip the tutorial and password stages.
A few new applications are included in the Test ROM's bloat that you may be interested in and can install them separately. A new game, Diner Dash is included as well as MobiVJ, a music video application (subscription fee required) and a FM Radio application. If you skip the bloat, you'll need to manually install Touchflo, Opera, MS Security as well as any other AT&T branded application (FM Radio is installed regardless of your bloat preference).
It didn't take long (a matter of seconds) to realize that the Test ROM increased the responsiveness of the Fuze. Programs pulled up quicker and the touch screen seemed more responsive. The Test ROM includes an updated version of Windows Mobile 6.1 and whether it's the tweaks to Windows Mobile or registry edits, the programmers did a nice job of it. For example, when you go into File Explorer and enter the Windows Folder, it usually takes a few seconds to pull up the massive file listing. With the Test ROM, the files pulled up in half the time.
New Version Old Version
GPS performance has also improved. Several forum discussions have taken place on how long it took to acquire a satellite fix with Google Maps and Live Search. Lag time has also been an issue of discussion. What used to take minutes, now takes seconds. I was able to acquire a GPS fix, from a cold start, at night in just under a minute. I've also been able to get a satellite fix under a minute while indoors. I haven't experienced any lag time in using the GPS while moving about. Matter of fact, the pinpoint location seemed more accurate. In using the satellite view, I could pinpoint my position down to the parking space I was using.
The Test ROM added a "slide to answer" feature that resembles a Slide to Answer plug-in that we discovered last year. It doesn't have the screen covering the buttons but it's nice to see a stock slide to answer on the Fuze. No more accidentally answering that call you don't want. While I like S2U2, it would be nice if the completed version of this ROM also included a slide to unlock feature (maybe one a little less apple-like).
One feature of the AT&T Fuze that jumps out at everyone is the massive PTT button. Does anybody use PTT? What compounded the problems with this button was that you couldn't remap it without hacking into the phone's registry. Those who are nervous about messing under the hood of the Fuze were stuck with a useless button. Have no fear, hope is on the way. The Test Rom allows you to map the PTT button from your Buttons Setting.
I have experienced a few application conflicts in using the Test Rom. S2U2 seems to conflict with the ROM's slide to answer feature. If you have S2U2 set to show caller id or have the slide to answer feature active, the Fuze locks up on incoming calls, requiring a soft reset to get things back in line.
SPB Mobile Shell's settings include the ability to replace or add tabs to the Today Plug-in. In using the Test ROM, I'm not able to access the drop down selection that pulls up when you try to add/replace a tab. Your selection is limited to whatever application appears first on the list.
So far, I'm very please with the Test ROM minor glitches and all. If you are comfortable replacing the original ROM on your Fuze, I don't think you'll be disappointed in the Test ROM. Speculation has the final version of this update being released in a few weeks and if the Test Rom is any indicator, Fuze owners will be pleased with what it brings to the table.
I wouldn't get too excited about remapping the PTT button. It was said that this was available on test ROMS for the pre-release Fuze and got axed in the ROM that made the release. So don't be surprised if this test ROM has the ability to remap the PTT button, and AT&T gets it removed in the new release ROM too.

the PTT feature is intacked and ATT did not ax it! seems everything is in order....as far as I can tell right now

Any idea on when the release of this will be?

No rumors, grumblings or speculation yet. I've been using the Test ROM since it leaked and haven't had the first bit of problems so hopefully the test period has gone just as smooth and we'll see it officially released soon.

1st what the hell is wrong with this site's login? "Forgot password? Sorry your email isn't registered." "Want to registers? Sorry your email has already been registered." Anyway, I've had a few problems with the phone not working very well with SMS-Chat. I love the GUI of that program and IMO the threading is a lot better than standard 6.1.

hey alongcor - Shoot me an email directly - dieter@wmexperts.com - and I'll get you're login fixed.

maybe he was using the test rom.
:-)

So the rom was released and I went to the website on HTC, but when I type in my S/N it says that the update is not available for my phone, I have the Fuze, and checked to make sure I didn't someone how already have the application but I don't so does anyone know what is wrong? Do I just have a bad S/N?

You do NOT have a bad SN, the link did not work HTC has pulled it completely as of now it is not available AT ALL try the rom upgrade link again you will get "sorry page not found" bookmark it and keep trying is all I can say.

just updated my fuze from HTC and all is working just perfect.....the website works the s/n field works etc. Not sure what problems you are having. www.htc.com/us

I uploaded the new ROM. It is quicker but there are a few quirks. I don't use TouchFlo very often, but when I get a Text message it says I have one in Windows but I can't find them. I have to launch TouchFlo to veiw them. Also, after I hang up from a call the phone automatically logs onto the net. Hope they get these fixed.

I uploaded the new ROM and I can't send or receive text messages. Anyone have a fix? I have googled and have found numerous people having the issue; but NO fix. If anyone has any ideas on fixing this versus reverting back to the old ROM, I would greatly appreciate it. Thanks!!!
Windows Central Newsletter
Thank you for signing up to Windows Central. You will receive a verification email shortly.
There was a problem. Please refresh the page and try again.