A closer look at 4K Moment Capture from Lumia Camera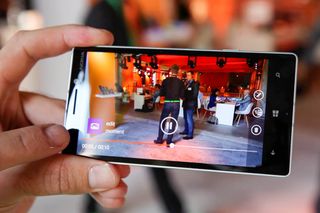 We showed you what's new with Lumia Camera and a closer look at its awesome Rich Capture feature, but there's another feature worth getting excited about. Microsoft is calling it Moment Capture. Basically, a long press of the camera button starts 4K-quality video recording at 24 frames per second. Each frame is equivalent to an 8.3 megapixel image that can be saved. Want to see it in action? Watch our hands-on video!
Moment Capture makes it quicker and easier to capture the perfect shot. When you press and hold the camera button, it captures all the action until you release the button.
Tapping the 'edit moment' gives you two options. There's Best Frame and Action Shot.
In Best Frame, you can use the slider at the bottom to find the frame you like the most. You can save as many frames as you want by tapping the save button on the right. They're also saved as living images, so you can see a brief introduction when viewing the 8.3-megapixel images in the photo album.
The Action Shot option should be very familiar to current Lumia users. First, use the slider at the bottom to select the range of action. You can drag the start and end points. It then brings you to a screen that's similar to Smart Sequence that's currently available in Nokia Camera. You can turn on/off multiple frames and add blur to emphasize motion.
Moment Capture comes with Lumia Camera, which will be available for Lumia 830, Lumia 930, Lumia Icon and Lumia 1520 as part of the Lumia Denim update. Moment Capture in the Lumia 830, however, is captured in 1080p, not 4K, and with reduced 2-megapixel per frame quality.
Lumia Camera starts rolling out in Q4. Are you looking forward to the update? Let us know in the comments!
Windows Central Newsletter
Get the best of Windows Central in in your inbox, every day!
Damn....these features are making my 1020 feel unloved!
Please Microsoft, release a 1030!

Until you compare picture quality and you realize the 1020 is still the best.

True. 1020>>>>>>>>>1520. I have 1520 but 1020 is just to Awesome. Except that speed

I picked up a (relatively) cheap 1520. Although it was quicker, and the screen was gorgeous, the photos just didn't stack up. So I sold it on...
Nokia knew what people like me wanted. I hope Microsoft keep pushing forwards with the high end camera tech - because I prefer a simple life with as few gadgets as possible. With some updated camera tech, micro SD expansion, Bluetooth HID and micro HDMI support, I can see a day when I don't need a laptop. With the way I live my life, that'd suit me amazingly well!

Yes, in some aspects my old Nokia N-8 is better than the Lumia 1520

But the L1020 will still only take 2 MP shots with Moment Capture. Better algorithms or not. On 2nd thought, those would still the most gorgeous 2 MP shots ever.

As a 1020 user, I'd be fine with that, because I'd still have the still camera. I always cared somewhat about mobile photography, but now I'm taking more pics, just because of the 1020. My replacement phone will have to be equally good at photos.

This!
I used to own a Sony NEX 5N, which is widely considered to have been one of the best mirrorless cameras.
I never took a better photo with that camera than the ones I have taken with my 1020. My Lumia is always with me - which is perhaps the most important difference. But also, a 4.5" framing area and the joy of using the manual controls on Nokia Camera mean I just take lots more photos....and far more creative ones.
Nokia were on a great innovation path - I hope MS continues it. Nadella worries me though.

And this is why we choose Lumia and not the other lessers haha. Can't wait to get it on my 1520

+1520!! With every update, this phone keeps getting better and better! Now if they could only fix the screen sensitivity in the 1520, then it would be 100% perfect.

Just send it in for repairs ... It is a hardware issue if no update yet has solved it for you. My 1520 had the issue since the day I got it, I sent it to Nokia for repairs 3 months later after giving up on software fixes, they replaced the screen and shell of the phone and the issue is completely gone.

How much did it cost you? Did you just contact Nokia?

If i am not mistaken all Lumia's have a 2 year warranty.

Thanks for the tip! Good to hear that its fixed for you. Thankfully I have my 920 to use while it goes out for repairs.

Huh(?) my 1520 had the screen sensitivity issue and after Lumia Black is now gone

Doesent 1520 come preinstalled with Black?

Yes, it comes with Black and even after a couple of updates to the firmware apps, it did not fix it for me. And if you send it in for repair it does not cost you anything ... basically you are out of a phone for 10 - 15 days. Nokia even sends you the shipping label to send the phone to them when you complete the RMA process online.

I'm assuming you've already done this, but there is a setting under Settings->Touch to reduce the sensitivity which by default is on High. This helped me out a lot, as well as disabling the DoubleTap to wake feature which kept turning it on in my pocket...

That's okay if you can send it in for repair. I bought mine from OS as there was no stock becoming available in Australia at the time. I'm running the latest updates and even though the sensitivity is frustrating at times it's not a dealbreaker considering all the many great benefits and overall joy the 1520 is to use. After the Cyan update the picture quality ramped up significantly and I'm always astounded by the battery life. Awesome device.

Denim's looking great. Too bad Verizon won't have even shipped Cyan by the time Denim's out. #grr

Yeah I know, my Icon is still waiting to be updated...

Will it be available for 520 ?

4K? No. Not even for the 1020; it requires the 800 SoC, ergo, only available for the 1520/930/Icon.

No I m asking that denim update will be available for 520 or 920?

Denim will be on every lumia

Bullshitahen SoC problems are not an excuse for the best camera phone in the universe to not get 4k moment capture let alone the update itself as a first priority... Send all the 1020s in for a SoC update and give them back to users with a 805 SoC clocked at 3gz and non removable 4400 battery for like 250 bucks instead of releasing a new unit and then all of us will be like... Shut up and take my money!!!

What happens to the video? Does it get saved automatically, gets deleted once you've selected the stills you want, or does it ask if you want to save the video as well? Would seem that the 4K video would very quickly fill all your memory.

Bring this to lumia 720...

It won't happen I'm afraid, at least not 4k recording

so what does features Lumia camera provide to the low end windows phone ??

Very good question, I guess the only new thing is a new design+ faster launch

I believe old Lumia will get moment capture with 1080p video with 2mp pictures. Like what Lumia 830 got.

not 2mpx. you will get with 2mpx less than 930,1520 meaning 6.3mpx instead of 8.3


Nope...it'll be 2mp. Read the article

No. 1080p Moment capture is 1920x1080p = 2,073,600 pixels, aka 2 Mpixels. You're welcome, sir. And I suspect that only quadcores will get that. Should *20 lumias (S4 SoC) get anything from Lumia Capture, they'll get something HD-ready-ish, so 1280x720p, e.g. 0,9 Mpixel... :\

Where's change faces option?

Why no 1020 a 41mp camera and specs enough to this feature

the 1020's CPU can't handle 4k real-time encoding, a snapdragon 800 is just enough!

The 41 MP 1020 uses an older dual-core chipset, and it has to process double the information compared to the 20 MP 1520/930/Icon. However, who knows what features of Lumia Denim will carry over to the older generation of phones.

Indeed, the core even can't process 41mp image in hardware itself

730 doesn't support 4K videos in terms of camera specifications but can record 1080p videos(front 720p) at 60fps or 30fps

I believe the 730's 5mp is able to shoot in 1080p.

730 will NOT get this feature (Pureview camera required!). 830 will get it in 1080p mode

One wonders why though given that it, IIRC, has the same SOC as the 830. Is the 730s back camera not able to record 1080p?

730s Rear cam records 1080p but doesn't have a pureview technology or else it doesn't have requirements that're required for Lumia Camera to record 4K maybe processor is a mid-end

I think the process is the same as in the 830 so as far as the processor is concerned it should be able to do the same that 830 does (it doesn't do the full 4K either), but you make a good point - perhaps the 4K/1080P (as in the 830) does require OIS also.

So... Min requirements: Sd400 + pureview ? So sad then...

Microsoft needs to merge Nokia/Lumia Camera app and all other Nokia app features to their native camera app, they need to do this fast.

No they don't. They need to keep them specifically for Lumia

I would agree with you however look at it this way: More Windows Phone devices having consistency of features/services = More users switching to Windows Phone = More users = More developers and designers = More apps = More companies joining Windows Phone with official apps = More users = More hardware partners = More users = Microsoft investing even more in the ecosystem = Cheaper subscriptions/services and etc... Therefore the more we have in native/official apps the better for everyone in the Microsoft ecosystem.

Being the 920 has a 8.7mp camera it could do this to. Unless its something to do with the processor. Sad times. I need a (new) successor to my 920 in November! Lets do this MS

Processor can't handle 4k video.

You've had a good run :). & the 920 still takes amazing 1080p vids!!

That it does! Just sad to see the end showing as my device has been the best for me so far

Just remember, you still have better audio and low light recording than most other phones out there! & I personally prefer the OIS on the 920 to the 1020!

The ois is phenomenal. I also do like the new software upgrades from cyan. The camera is even better. At least on mine.

I am getting really pumped for this. It will work wonderfully at concerts when you need blink to get the best picture because of stage stage lighting but this will be so much better at high res. I wish I had this the other week.

Off the topic. I have a 1520. Using developers preview, downgraded so that i can install the cyan update. After that i installed the developer preview again. My question is. Do i still have to downgrade my phone to install Denim?

I've been wondering the same...

http://wpcentral.com/commenting-guidelines

Haha...Talk to tha 'link' eh?? :P

So there's no exposure lock for video capture yet? Blagh.

So glad I have a 1520! It's a pity this feature is gimped, for the 830 - but then I guess one can't expect the earth.

So does the HDR feature only work through this rich capture mode? Or any picture?

925 OWNER!--------- 930 Gonna be my next phone!

I also had the 925, and don't regret getting the 930 one bit!

If MS will do this as they usually do, we will see this update in the last month of q4 somewhere in dec. hope not!!

Please microsoft,release for l920.. Too!

Can't believe my 1020 is not getting most of the features in Lumia Camera when it is update to Denim... Sad! Got my eye on the Xperia z3!!!

Because teh Xperia z3 is getting most of the features of Lumia Camera with Denim? /s

Getting tougher by the day to avoid buying that 930 I have my eye on. A few more weeks.

When they released Nokia camera only pure view phones support it.. Now we can install Nokia camera on 520 too.. I hope after some time they will release this feature to all devices..

I think all quad core device will get rich capture feature..

they keep impling denim will drop on Q4..someone enlighten me on what that is..??

There's an article about it if you reference it on WPCentral. It was announced at the #MoreLumia event in Berlin last week. Basically, most newer Lumias get awesome services and features, including Update 1 for Windows Phone 8.1.

Soooo would you estimate this update coming in end of Oct-Dec sometime??

Q4 = 4th Quarter of the year, so yeah, exactly Oct - Dec. Merry Christmas. ;)

My existing phone will be allowed to film in 4K?! That's Frekkin awesome!

My question,Does 730 support rich capture..?? Someone please conform it..

No, only 830, 930/Icon and 1520 support it.

Am I looking forward to the update? I'm on pins and needles here. I'm taking a leave of absence from my job until it is released. Yes I'm overreactive.

They really started to redefine Photography

Wonder how long you can record 4k on a 930 or 1520. Read a couple of months ago sony and samsung can only record 5min before it overheats and switches off

I still can't wait for the day where we can zoom and get great pictures on our phones. Unless a subject is close to you or to our just doing a landscape, zooming now sucks.

I will probably get denim befor the cyan for 1520.

I take terrible pictures no matter the camera specs. I've tried blink but I still suck. I've done Nokia's tutorials and I still suck. I wonder if this will make it less stressful of an experience.

A month ago switched from Android to WP and Nokia Lumia 1520 and I don't regret. This Nokia is by far the best smartphone I've ever had. Excellent and pleasure to use in every respect. Recently updated to WP 8.1 Cyan update, it is great, but still needs some improvements. Nevertheless, Microsoft & Nokia are doing great job and are heading the right direction. I'm impatiently looking forward to the next update, and the 4K camera feature would be great addition.

Ok besides this can I capture 4k videos as well

That is just fucking AWESOME!!!

That is insane and awesome.

Ok, here's the problem. When I send a beautiful video shot on 1520 to someone, att compresses the video to something barely watchable. Will you even be able send those 4k videos to anyone?

Why send? Put it on OneDrive and share the link

Although uploading to OneDrive has gotten better, ATT LTE speeds fluctuate wildly for me in New Orleans. So it's much easier to send it and have someone watch it. Sending the link forces me to receive a phone call from the receiver asking me what did I just send them even though Ai put it in the message

Not for 1020? this REALLY sucks, it's crazy as it's one of the best camera phones out there, it's just a year old and it has 2GB of RAM. Is there a real reason (other than 'buy the new phones') for not being released for it?

The 1020's processor cannot handle it

Is there anyway to make a petition to ask for Lumia camera to be released on the older phones? Frankly, we don't need all those moments capture am I right? I guess the most wanted feature that the older phones need is a fast start up and minimal shutter lag(I know it can be done by buffering everything into the RAM and be processed later, Proshot could do it, so can the Lumia Camera).

I'm planning to buy 730... I don't need 4k.. But rich capture..

When can I expect this to Lumia 720 and official release from Microsoft

Nope, not gonna happen, I'm afraid at least not 4k recording, but Qhd I think

Sadly most of us will only see the name "Lumia Denim" as a name, and not any other features

Cant wait for this for my ICON but, I dont even have Cyan yet, and at the rate Verizon is going, We wont see denim till next year and that really sucks...

As a 1520 owner. Denim can not get here fast enough.

Will the lack of 4k in the Lumia 830 make a noticeable difference?

in one hand I love my 1020 (1 year now) and im sad he is getting to old for this specs, but I will wait for the 1030 and he must be much better to switch, because the photos in my 1020 are amazing, and I can even put apple fanboys to agree looool

I want the option of uncompressed 4K video, then I will have video capturing equal to that of some of the better 4K cameras. I will love then extremely love my Lumia !

You'd think it's kill them to give a release date for Denim rather than the vague answer of "Q4"

And this is why we choose Lumia and not the other crapy phones. Can't wait to get it on my 930.

Who wants 4k? I want a SloMo-Mode

When this will be available for Lumia 630 in India.

Can't wait to have it in my Lumia 1520
I have Lumia 1520 here in Afghanistan store treks me that I'm crazy they say it's a big phone very hard to use it but I say you don't know futures of this phone just shut up

when did denim update comes??

Please tell me which camera recorded the video http://www.windowscentral.com/closer-look-moment-capture-lumia-camera it looks awsome. Please help.
Windows Central Newsletter
Thank you for signing up to Windows Central. You will receive a verification email shortly.
There was a problem. Please refresh the page and try again.