Clove UK confirms pricing and availability for Nokia Lumia 720, Lumia 520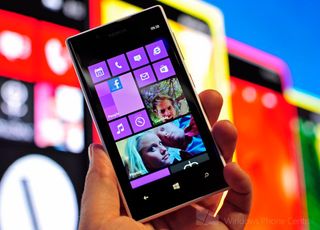 Online UK retailer Clove has announced on the company blog that pricing and availability for both the Lumia 720 and Lumia 520 Windows Phones have been confirmed. Nokia unveiled both smartphones at Mobile World Congress on Monday, further pushing forward in the mid-range market. The Windows Phones will be priced aggressively and offer surprisingly strong specifications that'll make them rather popular indeed.
So what will consumers be looking at forking out for either handset? The Lumia 720 (pictured above) will be available for £299.99 (including VAT), but will only be stocked in the black colour. As a quick reminder of the specifications, the Lumia 720 sports a 4.3-inch WVGA display, 1GHz dual-core processor, 512MB RAM and 8GB storage with microSD support.
NFC is also present, as well as wireless charging (with an optional compatible snap on shell / cover). For photography, the Lumia 720 has a HD 1.3 FFC with a wide angle lens and a rear 6.7MP shooter with a f1.9 aperture. For power, the device has a rather large 2000 mAh battery. Nokia has also bundled some hidden treats, including super sensitive technology into the display.
The Lumia 520 looking good.
Moving onto the Lumia 520, the Windows Phone will be available in both black and white variants and will be priced at an incredibly low £169.99 (including VAT). £170 for a Windows Phone 8 smartphone? We approve. The device is no slouch either, sporting a 1GHz dual-core CPU, 512MB RAM, 8GB of internal storage (expandable with microSD) and a 1430mAh battery.
The display is a 4-inch IPS LCD running at 800x480 with super sensitive touch capabilities (just like the Lumia 720). For the perfect shots, a 5 MP camera with autofocus is on-board. It's quite the achievement to create a product with exciting features at such an affordable price. Say hello to the cheapest Lumia Windows Phone yet.
Both Windows Phones are expected to be available from Clove by April 1st, so be sure to keep a lookout on the website, or make a pre-order to avoid potential (and if previous experiences are anything to go by - rather likely) supply issues.
Source: Clove UK (opens in new tab) (Lumia 520 (opens in new tab)) (Lumia 720 (opens in new tab))
Windows Central Newsletter
Get the best of Windows Central in in your inbox, every day!
Rich Edmonds was formerly a Senior Editor of PC hardware at Windows Central, covering everything related to PC components and NAS. He's been involved in technology for more than a decade and knows a thing or two about the magic inside a PC chassis. You can follow him on Twitter at @RichEdmonds.
Hopefully comes to the U.S, the 720 that is.. Otherwise it will be a bit expensive to import.

Worth an extra £50 or so to go for an 820 over a 720? Not that I'm complaining as I managed to get an L820 sealed and unused for £250 on eBay, just wondering about the L820 performance bump vs better battery and FFC in the 720.

There is some "markup" happening here on the 720. €249 ex taxes is £218. Plus 20% VAT, is £262. And whats with "only black"? One of the big draws of the Lumias is the funky colours!

CAN'T AGREE MORE WITH YOUR STATEMENT

Agree. Nowhere near the price I paid for the other half's L620 from O2. £119 in their valentines special.

The 720 is coming to Vodafone UK, according to the UK windowsphone.com website. Probably on contract. That will do me, as long as they offer more than just Red and Black like they did with the 820.

Performance differences between the 1ghz devices and the 1.5ghz devices will be negligible. A more legitimate concern is how the lower amount of RAM will impact performance on future OS updates.......or be a factor in whether the lower spec devices will even be able to run newer full blown WP releases.

It's great to hear confirmation that NFC and super-sensitive screen on the Lumia 720 - it wasn't clear in the initial announcement. I *really* want this phone... sadly, I doubt one will be available in Canada any time soon, and I don't think any imported versions will have the AWS (1700/2100) bands my carrier (WINDmobile) uses. :(

Still... here's hoping. :) Nokia really needs to make their phones more available in Canada - just the 920 on Rogers and 620 on Telus right now.

I am in complete agreement with cyber_k9, I also want the 720 to come to Wind Mobile. As of now, no WinPhone has a front facing camera that Wind sells. The 720 would be a nice addition.

p.s. come on Wind get you butts in gear and bring this device over.

extremely expensive, how come on mwc 2013, the price on 520/720 is a lot different from the real world.
520 should be $181 and 720 @ ~ $370 (before tax)

UK VAT is 20%. 370 + 20% tax is 444. £300 = 450$

Actual price for lumia 720 is 249 euro =~ 215 pounds + 43 pounds (20% tax) =~ 260 pounds

@congthanhgiong Taxes are high in the UK and Europe, their VAT is 23% i think. In my country all smartphones are exempted from taxes so, yeah, we get them pretty cheap.

In some European countries it's 23%, here in the UK though it's at the moment 20%.
I would really consider getting the 720 once I can afford to, but then again the boost in specs in the 820 makes it a tough choice between saving ~£50 or having a more future-proof phone when it comes to RAM...
I really will need to have a long and hard think, probably test and compare both in a shop if I can before buying.

also add that the clove prices are jokes... I remember the Lumia 620 pre launch was around £250 and you can get it for around £149.99 everywhere including VAT (the tax here)
I expect the 720 to be around £189-£200 in major high street retailers like CPW or Phones4U once gets properly launched.

Haha, yeah I was just thinking that!
I just saw that the 620 was going for £129.99 at Phones4u and I was like 'Whaaat...' so I'll definitely be leaving this decision till a wider release of the 720!

Wellcome to Finland, the Land of Santa and 24% VAT

Yet again Nokia announces colours, and fails to deliver them... What is the effing point?? Its a USP of the lumia series and Nokia can't be arsed. Well I can't be arsed with boring black lumias that look like any other crappy black phone on the market, ill stick with my 710. Nokia are killing themselves right now...

It's great but let's be honest, they're basically selling the same hardware because of the WP8 update. A phone with similar specs (520/620 is comparable to an iPhone 4 from 2010) at this moment is a good offering for the price of $200 but before it'll hit the hands of customers around the world it'll be April 2013 so fast forward a few months to 2014 and it's a dinosaur in your hand.

You mean iphone 4s? iphone 4 was single core cpu. This is not.
Windows Central Newsletter
Thank you for signing up to Windows Central. You will receive a verification email shortly.
There was a problem. Please refresh the page and try again.