Co-op shooter 'Wolfenstein: Youngblood' may let you upgrade weapons with microtransactions
Let's hope they're not like Far Cry New Dawn.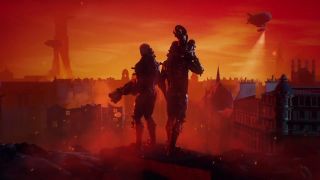 (Image credit: Bethesda Softworks | MachineGames)
What you need to know
Wolfenstein: Youngblood is a first-person shooter which should launch in July.
The game takes place many years after the events of Wolfenstein II: The New Colossus.
Unfortautnely, it looks like the title features pay-to-win microtransactions.
You can preorder it for $30 on Amazon

(opens in new tab)

.
Updated June 13, 2019: Wolfenstein: Youngblood's social media page said that the microtransactions are cosmetic only. This is contradictory to what MachineGames senior game designer Andreas Ojerfors said. The social media team alleges that you can't "purchase weapon or ability upgrades with real money... As you play, you... collect in-game currency called silver to upgrade your equipment." Silver can't be purchased with gold bars. It's unclear why the game designer is saying the opposite.
Wolfenstein: Youngblood is an upcoming co-op first-person shooter from MachineGames. The team successfully rebooted the Wolfenstein franchise and managed to tell powerful stories through Wolfenstein: The New Order and Wolfenstein II: The New Colossus. The studio's new game seems to take a similar approach, even though it's a little lighthearted in terms of dialogue.
While microtransactions aren't that common in single-player games, they have started to become the norm in recent months. For example, Ubisoft's Far Cry New Dawn featured pay-to-win microtransactions where you could purchase a powerful weapon for your hard-earned currency. Without it, I thought it was impossible to progress further. Unfortunately, it seems like Wolfenstein: Youngblood also features them.
According to a report by VG247, you have the ability to purchase "gold bars with real money." The gold bars can be used to upgrade weapons and slaughter enemies with ease. You can also earn these upgrades through in-game coins, but it's unclear how hard it is to find them.
Let's hope that they don't require significant grinding like Far Cry New Dawn. However, only time will tell. The title launches next month so we should know soon enough. MachineGames senior game designer Andreas Ojerfors didn't think they were a big deal.
How do you feel about pay-to-win microtransactions being part of single-player games? Do they impact gameplay? Let us know. Since it's a co-op shooter, gamers may feel compelled to upgrade their weapons early because they want to be the ones to kill more Nazis when playing with friends.
Shoot some Nazis
(opens in new tab)
Find your father

Wolfenstein: Youngblood takes place years after Wolfenstein II: The New Colossus. Your father, B. J. Blazkowicz, has gone missing and it's up to you to find him and bring him back. This requires you to travel to Europe and take on even deadlier Nazis.
Excellent and affordable Xbox accessories
Up your Xbox experience with one (or all) of these budget accessories, all of which are approved by the gamers of Windows Central.
PowerA Play & Charge Kit for Xbox One (opens in new tab) ($15 at Amazon)
This charging kit keeps your Xbox One wireless controllers juiced up, and it offers batteries for two controllers. At just $15, this is hands-down our favorite budget charging companion.
ElecGear 4 Port USB Xbox One S Hub (opens in new tab) ($19 at Amazon)
This brilliant little USB splitter hub attaches perfectly to the side of your Xbox One S console. It's ideal for use with chargers, controllers, headsets, and more.
Controller Gear stand (opens in new tab) ($13 at Amazon)
Proudly display your Xbox gamepads with this stylish and functional stand. The licensed design is minimalist and black, and it has a hidden storage compartment, making the price of $13 a real steal.
Asher Madan handles gaming news for Windows Central. Before joining Windows Central in 2017, Asher worked for a number of different gaming outlets. He has a background in medical science and is passionate about all forms of entertainment, cooking, and antiquing.
Pay to win is irrelevant in single player, if someone wants to spend money to make a game easier, go for it. It has literally zero effect on anyone else playing the game.

I completely disagree. Games like Far Cry New Dawn purposely make you so underpowered that you feel compelled to buy the upgrades. There are leaderboards and other forms of "competition" in there.

Yup it's bad. Should only ever be cosmetic

omg what's happening. I agree with Asher Madan. :o

Ok yeah, if there are leaderboards then that adds a multiplayer element, although indirect so I agree with that.

Asher makes a good point, if the game is designed in such a way thst it makes you feel like you HAVE TO pay for upgrades just to continue and finish it, then it is detrimental to gaming and shouldn't exist. This an extremely unfair practice to gamers, especially people who buy the game because they are fans of the series and don't know any better, now they are stuck with something they can't finish or will take years of grinding to achieve. Personally I have always had an issue with even the smallest upgrades for SP games. I remember the original Dead Space had the special suit and weapons you could buy. I was pissed because I felt like my achievement for beating the game on hard was watered down because someone could just buy their victory. I understand it really doesn't matter from a competitive standpoint, but it still bothers me.

@Sin
The problem with any sort of microtransaction is that there will always be the possibility that gameplay was modified or designed to frustrate players to make them make spend money.

I can't believe this, I'm agreeing with him. Far Cry New Dawn is just the example. It's purposely designed to make you buy the powerful guns. Guest is definitely right!

Can you imagine the backlash if Microsoft built into Windows 10 a feature that delayed mouse clicks (or increased the number required) to do an action unless you paid a fee of $0.20 a month.? This is about the closest example of building a weak gun into a shooter as a real life example I can think of. Regardless if it's part of the leader boards or not, you are destroying the functionality of the system to gain a quick buck. Something that's already paid for should just work, and continue to work correctly, without additional purchases required.

Glad I avoided Far Cry Dawn. I really enjoyed 5 but micro transactions designed that way should not be allowed.

As much a fan of FPS as I am, there is no way I'm supporting pay-to-win micro-transactions. I'm fine with pay for DLCs that add maps or characters or aesthetics. I've probably spent a $200 with Frontier for aesthetics in Elite Dangerous. None of it affects the success of the game. But P2W games will never see a dime of my money.

This is pretty dumb of Bethesda, there will probably be a big backslash (again lol) against Bethesda. If they really wanted to add microtransactions, they should have made it purely cosmetic or purely variations (like in Team Fortress 2). This will probably effect gameplay in a negative way now though.

I don't ses the need to pay in a game without real cause
I pay to advance in the game i already have one
This also corresponds to deterioration in thé performance in videogame
The lack of developers for valuable contents
I'ts so easy to vary the level of difficulty or loot to pick up
If really we want to pay, it's for appearence (why not free ?), or for tools to play better or more (this coule create discrimination between players)

So are you saying your part of the problem and actually pay in these games?

Hard pass. I'm not going to trust the words a senior designer of a game that is pushing Microtransactions. If it ends up in a state where you are being forced to spend real money then instant boycott of that studio. If the studio expects people to pay full price for a game then forces you to spend money to progress through the game. Then they deserve whatever negative press and backlash goes their way.

The modern AAA gaming scene. What a disgrace. The more people subscribe to rubbish like this, the more they'll milk you for it. Soon enough the game will be "free" but you'll be paying transactions for the box art, the system requirements, the first level, the second level, the HUD. "Oooo but it's only cosmetic". Tally up those costs and compare it to previous generations. You're paying insane amounts for the same content as you would previously. "Ooo but it supports our favourite developers". Yep, remember that when the very same publisher waves their iron fist at your mod community for paying homage to their products. Your perceived friendship is only as "loyal" as your wallet.
Windows Central Newsletter
Thank you for signing up to Windows Central. You will receive a verification email shortly.
There was a problem. Please refresh the page and try again.