Codemasters ressurect a cult classic with Overlord: Fellowship of Evil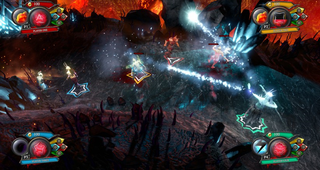 Codemasters are set to hit Xbox One with a top-down action RPG based on the Overlord franchise.
Codemasters are a UK based studio who enjoy an incredibly rich history. Perhaps most famous for various racing games, such as DiRT and Colin McRae Rally, but Codemasters have also turned their hand to other genres.
Overlord was a third person action RPG, which tasked players to take control of an Overlord, and micro-manage an army of minions with various abilities. Overlord for me always carried a very Fable-esque vibe, featuring very British tongue in cheek humour, a morality metagame and a rich colour pallet.
Overlord: Fellowship of Evil will sport elements of the cult classic Xbox 360 games of yesteryear, with some significant gameplay revisions.
In Overlord: Fellowship of Evil, the minions, bereft of their beloved Overlord, travel the land to seek an alternative dictator. They happen upon the Netherghul, a troupe of 4 undead villains (or character classes), who must escape the realm of the Netherdeep to bring chaos to the world in the Overlord's absence.
Overlord: Fellowship of Evil looks to be taking the flavour and features of the Overlord franchise and slamming them into a colourful Diablo-like paradigm. The top-down view and four player co-op will be familiar to most. But Codemasters look to be injecting a healthy dose of chaos into the formula with Overlord's minions, and the ability to turn on your co-op partners to further your dominance.
Executive Producer Rob Elser had this to say:
Overlord: Fellowship of Evil features, in Codemasters' own words:
Series signature dark, mischievous humour: Kick a minion for pretending to be Gandalf! Destroy a troll couple who have been making minion soup in the Overlord's helmet! Rhianna Pratchett returns with a twisted and hilarious tale of evil, chaos, Minions and the burning desire to destroy all things good!
Develop your Minion champions! They're back! Our cruel critters return. Call upon your Minions in battle and build them into mighty champions to do your destructive bidding. "For the Master!"
Invade. Smite. Loot! Work your way through the Netherworld and unleash hell on the world above! Trample the weak under your evil size 10s with fun and satisfying combat, combining unique abilities and melee attacks to dominate all who stand before you! Share loot or steal the spoils- how far are you willing to go on your quest to be the ultimate anti-hero?
Four times the players, four times the fun! Evil has a new face. Well, four faces, actually. But who wears the evilist? Er, eviler? You decide! Pick from any of four distinct Netherghul characters, each with unique abilities. Play as a team, or screw each other over – evil never plays by the rules!
As a fan of the original games, I'm glad to see Overlord making a comeback!
Overlord: Fellowship of Evil is heading to PS4, PC and Xbox One targeting a digital-only 2015 release, costing £14.99 / $19.99 / €19.99 respectively.
Jez Corden is the Managing Editor for Windows Central, focusing primarily on all things Xbox and gaming. Jez is known for breaking exclusive news and analysis as relates to the Microsoft ecosystem while being powered by caffeine. Follow on Twitter @JezCorden and listen to his Xbox Two podcast, all about, you guessed it, Xbox!
I would rather have Dirt 4.

Codemasters.. What a classic name.

The first Codemasters game I had my hands on was IGI 2. Oh the memories!

Give us the fucking rally games.

I love that series! Wish they would have made a direct sequel but this looks cool too

I have a feeling that the success of Overlord: FOE will be a factor in a full direct sequel. I have high hopes for them, their offices are down the road from me!

I can agree with that. Hopefully it does well too, cause I'd love an overlord 3.

Where's 'Dizzy' or 'Fruit Machine Simulator'

Don't forget all the Micro Machine games they did too!

What a shameful return for that awesome franchise.

This guys published a game named Severance: Blade of Darkness. It was an awesome game, too bad it didn't do good on sales :( and a lot of people do not know that game.

Severance: Blade of Darkness was developed by a spanish studio called Rebel Act Studios wich is no more. But! That studio or well, most of them became MercurySteam wich developed Clive Barker's Jericho (boo!) and the awesome Castlevania Lords of Shadow series (yay!).

Why not go full Fable with an expansive world and let us wreak holy hell on the land if we so choose! I loved the first and enjoyed the second a lot (minus the mini rts missions).

I only ever played the first, and enjoyed it a lot. My biggest issue is that I never felt like an evil character, even if I did evil things all the bosses I was battling weren't helping anyone, they were doing bad things. I wanted to actually be hunting down heroes. Other than that it was an enjoyable TPA.

Advanced Lawnmower Simulator. I think we're done here.

A gamestudio which develops something out of the ordinary. Can only applaud that. Fun games.

Oh yeah some sexual inuendo maybe?

Nice to see this coming to the Xbox, most types of games like these end up on iOS with pay to win IAP's.
Windows Central Newsletter
Thank you for signing up to Windows Central. You will receive a verification email shortly.
There was a problem. Please refresh the page and try again.