Collapse! falls into the Windows Phone Red Stripe Deals once again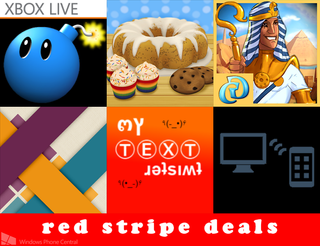 After another week with no new Xbox release on Windows Phone, only a solid Xbox Red Stripe Deal could cure Achievement-hungry Windows Phone gamers' woes. This week's deal is a repeat though, having previously been on sale in 2012 and 2013. Collapse! from Game House has been marked down to 99 cents from $2.99. Exciting or no, it's still a good choice if you're looking for a good, simple puzzle game or just the easiest Achievements around. Descriptions and Store Links after the break!
The regular Red Stripe deals include three more games: Fate of the Pharaoh from K.I.D. d.o.o. (seriously, that is the publisher's name) for 99 cents, Baker Business 2 from Living Code Labs for $1.49, and Strata from Graveck Interactive for 99 cents. The apps MyTextTwister Pro from KunRuch Creations and PC Remote Pro from PC Remote (?) are both on sale for 99 cents as well.
Collapse (Windows Phone 7 and 8)
Regular price: $2.99 Sale price: $.99 Download size: 18 MB Store Link
Here's one of those Xbox titles that should really cost 99 cents all the time, but whateva.
Collapse! is a simple puzzle game in which players slide blocks up and down to make colored matches. It's a simple but fun puzzle mechanic. The sprawling Adventure mode offers plenty of twists on the standard gameplay, plus a simple character customization system. Progressing through Adventure also unlocks extra game types in Quick Play.
Now here' why Achievement hunters will want to buy Collapse! posthaste. For better or worse, this game has the easiest Achievements of any Xbox Windows Phone game. You can seriously get them all in 20 minutes or less. You don't have to beat the full campaign at all. Check out our full review for more details.
Fate of the Pharaoh (Windows Phone 8)
Regular price: $1.99 Sale price: $.99 Download size: 62 MB Store Link
Remember that animated movie Prince of Egypt? Me neither, but somebody made an unofficial game of it anyway. Just kidding.
This game is tough to make out from screenshots, but basically has you building little cities across ancient Egypt. Each level gives you specific objectives to complete, and you can replay them for different star ratings as well. Kind of like Farm Frenzy 2, I guess.
Features:
44 amazing levels to pass
9 riveting chapters
9 desirable achievements to earn (non-Xbox)
Engaging in-game encyclopedia
Baker Business 2 (Windows Phone 8)
Regular price: $2.99 Sale price: $1.49 Download size: 35 MB Store Link
Living Code Labs has published nothing but variations of Baker Business 2 on Windows Phone: the regular version, Christmas, and Halloween. Those guys must love their baking!
Anyway, this is a casual but realistic simulation of owning an actual bakery shop. The graphics are pretty and the gameplay is easy to learn. At the very least, it will make you want to eat lots of cake and cookies.
Features:
Play all 30 levels and unlock over 130+ items including: cakes, cookies, pies, bread, coffee, tea, cocoa, soda pop and MUCH more!
Unlock perks and promotions that'll make your bakery thrive!
Customize your bakery with different shelf choices and wallpaper
Learn basic business skills by managing money with easy to understand finance reports
Easy to play and suitable for all ages
Don't worry about in-app purchases, you'll get it all with this one time buy!
Strata (Windows Phone 7 and 8)
Regular price: $1.99 Sale price: $.99 Download size: 11 MB Store Link
Puzzle games don't tend to be all that exciting, but at least Strata has a truly unique concept. Players must arrange colored ribbons in order to match the goal pattern. The patterns get more complex as the game goes on, which should prove nice and challenging. Our own George Ponder calls it addictive. Also, this one runs on Unity.
Features:
Hundreds of increasingly bigger and more challenging grids.
Option to Perfect each grid by completing it without pulling a ribbon back.
A simple, yet addicting game for any age.
Beautifully recorded sounds accompany your actions.
MyTextTwister Pro (Windows Phone 7 and 8)
Regular price: $1.99 Sale price: $.99 Download size: 1 MB Store Link
Let's face it, text messages and tweets are generally too easy to read. You can fix that by typing worse and mixing up homophones, but that only goes so far. To really make your messages confusing, you need the text to be upside down and riddled with Ascii characters and stuff. That's why TextTwister was invented. Just keep in mind the receiving device has to be capable of receiving your garbled message, otherwise it might come out looking normal!
Features:
Type in inverted, rounded, leet speak and many more..
Use 1200+ emoticons (emojis)
Add ASCII art decorations
SMS or email your created text directly from the app.
Post to social networking sites (configured on phone) directly from the app
PC Remote Pro (Windows Phone 7 and 8)
Regular price: $2.99 Sale price: $1.49 Download size: 3 MB Store Link
Want a more practical app? PC Remote Pro lets you control a PC from the comfort of your phone, using it as a media remote and all kinds of fun things. The PC just needs to be running the companion app and you're good to go. This one comes in a free version as well, but the paid version has more features so that's the way to go.
Features:
Connect PC via Internet (from anywhere!)
Mouse – We support Windows 8 gestures like swipe on edges, advanced multi touch gestures, zoom, drag n drop, scrolling and clicks.
Remote desktop – View and interact with desktop screen with multi touch gestures.
Keyboard – Full desktop keyboard with ability to copy text from phone and paste it on PC. How cool is that!
Files – View files of PC on your phone and open them with one click. Copy files to and fro from your PC to phone and use phone as USB drive to copy files.
Custom remote – Create your own remote with your own hot keys. Very simple interface on server to add new remote. Isn't that cool.
Wake on LAN – Wake your computer if WOL supported.
Hotspot – You are at place with no wifi eg. Coffee shop. Make your PC Remote Server as hotspot and connect phone to it. No use of data plans.
Zune – Play a Zune playlist or song
Youtube – Search videos in the app and open them on your PC with one click.
Windows Media Center, VLC, XBMC – Full remotes for these apps.
Powerpoint – Control presentations
Media Controls for iTunes, Spotify, Media Player Classic, Winamp, Netflix, Hulu, Windows Media Player
Power controls: shutdown, logoff, sleep, hibernate and more
Volume control
Get the Windows Central Newsletter
All the latest news, reviews, and guides for Windows and Xbox diehards.
Paul Acevedo is the Games Editor at Windows Central. A lifelong gamer, he has written about videogames for over 15 years and reviewed over 350 games for our site. Follow him on Twitter @PaulRAcevedo. Don't hate. Appreciate!