Get cheap and easy Achievements in Collapse, the new Xbox Windows Phone Red Stripe Deal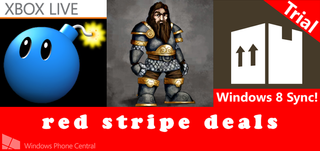 Gameloft's UNO & Friends launched earlier this month. Since then, two weeks have gone by with no new Xbox Windows Phone release (unless we count Chaos Rings, which we'll get to in another article). Once again, the Xbox Red Stripe Deal is left to pick up the slack.
This week's sale game can't even begin to match the quality of last week's Rayman Jungle Run sale, but it should still please Achievement hungry bargain shoppers. Collapse! from Game House is on sale for 99 cents. It went on sale back in February 2012, but at the higher $1.99 price point.
In non-Xbox Red Stripe Deals this week, the delightfully retro RPG Legends of Descent from Awesomer Games and the handy Package Tracker app from Itecture.consulting (?) are each on sale for a dollar as well. Dash past the break for details, screenshots, and Store links!
Collapse! (Windows Phone 7 or 8)
Regular price: $2.99 Sale price: $.99 Download size: 18 MB Store Link
Collapse! is a simple puzzle game in which players slide blocks up and down to make colored matches. It's a simple but fun puzzle mechanic. The sprawling Adventure mode offers plenty of twists on the standard gameplay, plus a simple character customization system. Progressing through Adventure also unlocks extra game types in Quick Play.
Now here' why Achievement hunters will want to buy Collapse! posthaste. For better or worse, this game has the easiest Achievements of any Xbox Windows Phone game. You can seriously get them all in 20 minutes or so. Check out our full review for more details.
Legends of Descent (Windows Phone 7 or 8)
Regular price: $2.99 Sale price: $.99 Download size: 35 MB Store Link
Order & Chaos Online has the modern RPG/MMO style of gameplay covered, while Chaos Rings is the quintessential JRPG. What about classic CRPGs (Computer RPGs) though? Enter indie game Legends of Descent. Boy that is an uninspiring title. But Descent (if we overlook the rough character art) boasts an appealing isometric art style that instantly evokes Ultima VI, a beloved RPG of yesteryear.
Players take on the role of a dwarf guy who wakes up after his town has been ransacked by invaders. He'll set out through a massive dungeon in order to find loads of loot and avenge his bearded people. This looks like a really deep game (no pun intended), so RPG fans might want to give it a try.
If you'd rather not buy it for a dollar, Awesomer Games also offers a free ad-supported version. Hey Awesomer, your game's Store page live tile needs to be 252 pixels square, not 200!
Package Tracker (Windows Phone 7 or 8)
Regular price: $2.99 Sale price: $.99 Download size: 6 MB Store Link
I could have used this app last week when a package from a publisher failed to arrive on time (it finally got here on Tuesday). Package Tracker allows you to track packages from all kinds of carriers. It even supports lockscreen notifications.
Features:
Cloud synchronization: Sync your packages and settings on all your Windows 8 and Windows Phone devices
Live tile updates (push notifications) for changes of the package status- Barcode scanner for scanning package labels
Bing map showing the last known position of a package
Webview showing the carrier's website- Pin packages to the start screen
Details of a package with complete tracking history
Share package status via mail
More than 60 carriers are available (if you miss any carrier, please contact us and tell us a corresponding tracking number!)
Thanks to Marcel for the tip!
Windows Central Newsletter
Get the best of Windows Central in in your inbox, every day!
Paul Acevedo is the Games Editor at Windows Central. A lifelong gamer, he has written about videogames for over 15 years and reviewed over 350 games for our site. Follow him on Twitter @PaulRAcevedo. Don't hate. Appreciate!
"easy"? I would call it childishly-easy! lol I got all the achievements in less than 10 minutes...I mean...XD

I'm at work so I figured, a quick game (why not $0.99 for 200 achivement points, sure), and in a 3 min game, I got over 100 achivement points....dam easy one...yea, childish...

Too bad about the game choice, seems like a really boring game. I was going to get Rayman, but I'm not one to buy games (even $0.99 ones) when they don't have a trial. I have plenty of games to hold myself over to next week, though.

You shot yourself in the foot on that one, dude.

For real! I'm as cheap as they come, but I jumped on buying Rayman! Way fun game.

Not really. I have 2 Xbox games I am semi-close to finishing in Wordament and Tiki Towers. I have 4 I haven't finished (and am not close to finishing) in NBA Jam, Halo: Spartan Assault, Uno and Friends, and Skulls of the Shogun. I also have ilomilo, which I haven't even started yet. Oh, then I have all 4 of the MiniClip games that were temporarily free and I haven't touched yet to follow. I could probably survive until 2014 without a single purchase and still have plenty to do. Add in that I'm not a big platformer, and it's really just a case that I didn't spend money on a game I'm not going to even get to for 6+ months anyway.

The game will probably be on-sale again someday, but it wasn't really worth buying it when I won't play it anytime soon.

ilomilo is a great game, I finished that one a long time ago. I will admit I needed a little youtube for one of the levels...but, still a fun game.

I have a bunch of games that I need to finish up, maybe I'l start this weekend by picking a game and going through them one by one..

You really missed out on one of the best Xbox Windows Phone games available.

I buy a ton of games. I bought Rayman last week for 99 cents. I regret it. It is a beautiful game, but it's just way more frustrating than fun to complete the game and get the achievements. I don't uderstand how it has almost universal 5-star reviews in the store. There are lots of cheap deaths, you have to memorize the timing of every jump, and you will find yourself restarting every level dozens and dozens of times just to get it right. There is nothing enjoyable about that.

Guess you didn't enjoy Super Meat Boy.

Super Meat boy...Dam one hard game... cool game tho..

I needed that one on the PC with the xbox controller, could not use the keyboard and mouse for that one..

Rayman is an incredible game. The standard stages are challenging, but not overly so. I managed to get all the sprites on all levels with some effort. It's the nightmare stages that are frustratingly difficult. They require pixel perfect precision and if you screw up you have to start all over again. I've managed to complete two stages and after a few attempts gave up on the other three. Regardless, the game is a case study in how to do a mobile game right. Incredible animation, HD resolution, tons of neat little details and super smooth framerate. If Ubisoft didn't put their A team on the game it sure looks like it. It puts most other games in the marketplace to shame. It's a case study in what our phones are capable of if those other companies actually invested the effort. For that reason alone they deserve all the support we can give them.

Well, they should have been decent enough to offer a trial. It's not that hard to do, considering how the VAST majority of apps and games have trial modes. Without any return policy for garbage games, I simply don't see it as worthwhile to financially support a business model like that, in which there is no return policy, no consumer guarantee, and no means or testing the quality of the product. It's blindly buy it and hope you like it.

There is a trial on Windows 8 desktop, its basically the same as mobile. It doesn't drain battery especially hard either.

as soon as i read it was based on origins i passed on it as the demo i tried on 3ds i belive & on 360 felt like it could have been better with more time in development.(just like sega did with sonic 4 ep.1) so far the demo for legends on Wii u seems like they finnally got it right.
would be nice to see them port rabbids go phone from wp7.x to 8.x.

Paul. You can get 1000 achievement points in the 360 game Avatar: the last airbender Burning Earth in like 2 minutes. Literally.

Oh yeah, I forgot that Avatar is a bit quicker. Article updated.

you can do that in about 30 seconds xD

You cant buy on xbox live any more, can you buy it on the 360 and how much ? I would not mind grabbing a quick 1k achievment points..

Does Package Tracker support USPS?

Thanks. Just installed the demo. Looks like a nice app. Think I might pick it up for a buck... It says it syncs with Win8. Does that require another purchase for Win8?

Yeah, you do need to buy them separately since the Windows ecosystem doesn't support universal app purchases.

Hmm.. 200gs for 1€... Tempting xD

Just got all 200G under 15 minutes.

collapse was a great game would love to see gamehouse port more RealArcade titles

after picking it up on Thursday night i finally finished the achievements. it seems like it can take longer if you try to get the 30 40 achievements past say level 10 of classic mode but I found it easier to just set it back to level one

Congrats on the 200 GamerScore. :)

Collapse achievement flaw...
I got my last one over a hour ago but it still does not show in my achievements....this is the 40 line one....wtf..

go to the games hub swipe to the xbox panel then refresh if it doesn't automatically try to

I tried that, no go. I uninstalled the game and reinstalled it, reset app, tried it again, it poped and and showed fine....WTF...

lately it seems like since gdr2 things have been slow to not working. i had uno with freinds kick me to start screen & tell me that i was logged in on another device then some of my avatar's aftermarket outfits reverted to an eariler version of my avatar & some of the achievement icons have dissapeared
Windows Central Newsletter
Thank you for signing up to Windows Central. You will receive a verification email shortly.
There was a problem. Please refresh the page and try again.