Conference on the go as the official WebEx app finally arrives on Windows Phone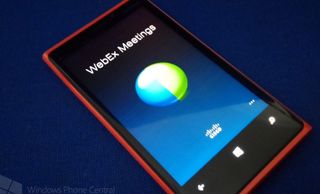 After a long wait, the Cisco WebEx Meetings app has finally arrived on Windows Phone. The app has been available on iOS and Android since a while and allows you to join any web conference right from your phone or tablet.
Cisco WebEx Meetings for Windows Phone 8 delivers powerful mobile web and audio conferencing on either Wi-Fi or 3G/4G. You can join a meeting via Cisco WebEx meeting email invite, meeting number, Cisco WebEx site URL, or My Meetings List.
If you are the meeting host, you can view meetings list as well as schedule, start, delete, and manage a meeting. During a meeting, you can expel an attendee or pass presenter/host capabilities to another attendee.
The app is available for free in 14 languages for the Windows Phone 8 devices from the Windows Phone Store. It is pretty basic app, but functional. The Windows Phone 8 app though does not feature two-way video conferencing like in the iOS and Android apps. If your organization uses WebEx for web conferencing, let us know how you like the app.
Thanks, Scott S., for the tip
Get the Windows Central Newsletter
All the latest news, reviews, and guides for Windows and Xbox diehards.
Nice! My company just switched from meeting place to WebEx!

Webex will be useless for me after December 16th and I have been waiting for this app since 1st Gen WP7. Lucky you!

All I can do is smile. Really?

If you don't work in the white collar sector, then I could see how WebEx wouldn't be known to you. It's Cisco's web conferencing platform.

How about an app for win 8.1?

It's coming... I promise!

Isn't Lync the same thing and better?

Lync is nice, but if your company doesn't have that setup you can't use it.

I'm a neuroscience grad student, but our department has zero IT support and thus I get to do it all; the computers, servers, networking, etc. So, for as long as I'm there everything is Microsoft! I just wish I was getting paid for it. :D

I prefer Lync, but it depends on an infrastructure to work. If your workplace uses a Lync server, then that will definitely trump this.

Lync depends on the connection of the host, Webex everyone connects to the cloud you can have hundereds of people connect to Webex and the connection wont bog down at all

This is good sign. Excellent.

Every damn app that's available on ios and android and then comes to windows phone is always missing something.

This is typical; they are starting out on WP and will add features once the first release is stable and functional. They want to take baby steps when adding it to a new platform

This is great. I'm waiting for goto meeting.

Both Apps were announced at the same time (Nokia World), so hopefully it will be out soon.

Yes!!!!!! Finally!!!!!!!!!!!!!!! :)

Yes this will be great, as I can't access anything from this app, I guess gm is blocking WP

My company is also using a lot of cisco products. 3 more cisco products to go (webex connect/jabber IM, unified communicator/softphone, AnyConnect/VPN), before my work completely invades my personal life on WindowsPhone. Keep em coming!

Sweet Il use this in our next meeting.

Awesome! I have been asking Cisco for this app for several months now. I'll give it a try this week as we have a weekly web meeting. I'll review the accordingly after the meeting.

but it's not working for corporate accounts

Awsome. Now just need it for windows 8.1 rt with the ability to present content...

Won't help much. Most companies require you to sign in on their corporate site before using. I tried with this app and it says not yet supported on this device

Perhaps it's like we had to do for Lync; enable it on the back end before mobile users could connect.

Can i get this on my Lumia 900 with Windows Mobile 6.5? :D I really need to upgrade my phone...

Still not available for my corporate account

Nice! I wonder if Cisco will be creating more apps for Windows Phone. We're looking at implementing Cisco VoIP in each of our locations across Canada. We're also transitioning all users from BlackBerries to Windows Phones.

If you guys are moving to Windows Phones then you would be much better off with Lync as your VOIP platform instead of Cisco. We have some of both and in a Windows world Lync works WAY better.

As someone who uses webex every single day at work, I am very pleased! Seems like a good app so far, nice and smooth. Also, since i use Lync on a daily basis as well. Webex is a lot more flexible and video is much closer to realtime. There is a significant lag with video on Lync.

Works only if your company uses www.webex.com. If your company has its own WebEx servers your out of luck. I guess this means that this won't work for people who work for Cisco.

completely agreed...abt it..

Great! I can use this alot when doing a conference call. Thanks wp! :)

I get message "your org requires you to sign in through your corporate website, but that feature is not yet supported". Some intranet websites also do not work on IE10.

Nice. Omnijoin next please.