A confused parent's guide to Lego Dimensions
Help navigate your kids into the world of Lego Dimensions with our quick-fire guide!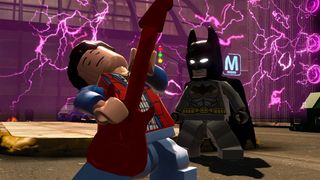 Buying the right games for your children can be hard enough at the best of times, but with the world of toys-to-life there's much more to consider than there is with a regular title. The genre made popular initially by Activision with Skylanders has branched out in recent years, and Lego is now one of the biggest names in the space.
So the kid's begging for you to get them Lego Dimensions, but you want to know what exactly it is before you agree to fork over your cash. Here's what you need to know.
What is Lego Dimensions?
Lego Dimensions is a toys-to-life game available on Xbox One and Xbox 360, as well as PS4, PS3 and Wii U. Only the initial game you buy is unique to one console, from there on out you can buy add-ons that are compatible with all.
Essentially it's a unique experience within the Lego universe, and the characters you play as within it are actual Lego minifigures that you construct and then beam into the game via the portal. The minifigures have an NFC tag in the base which is recognized by the portal which then activates the character in the game. Simple, but pretty amazing to the young ones!
There are a lot of things to purchase, though, in experiencing Lego Dimensions, a run-down of which you'll see below.
Starter pack
Without this, you're going nowhere! For the completely new Lego Dimensions player, the starter pack is the only place to begin. It contains everything you need to get up and running and dive into the game world. Inside the box you'll find:
The Lego Dimensions portal
Gandalf mini-figure
Batman mini-figure
Wyldstyle mini-figure
Game disc
And as this is Lego, everything needs assembling, even the portal! But then, that's half the fun and a lot of the attraction. It's not just a Lego video game, you get the physical objects to collect as well!
The starter pack is still the same as it ever was, but it's more likely you'll find deals on it now than when it first launched. The regular price is $80, and it's available from lots of video game retailers.
See at Amazon (opens in new tab)
Story packs
While there's a main game to Lego Dimensions, a lot of the fun comes in adding new characters and new experiences to play within it. Story packs are the largest expansions to the main experience, with a new Lego construction inside for the portal along with new characters and levels to play.
Currently, you can pick up story packs for:
Fantastic Beasts
Lego Batman Movie
Ghostbusters
Each of these allows you to play through the entirety of each movie, and there are even a few novelty surprises within. For example, in the Fantastic Beasts pack, there's a level to play designed around legendary British comedy show Red Dwarf.
Price wise, the story packs aren't far off the starter pack at around $50, but there's a lot more Lego inside and a much longer game experience to play than some of the packs mentioned below.
See at Amazon (opens in new tab)
Level packs
Level packs are similar to story packs in that they bring new content to play through, but they're much less expensive and smaller additions to the game. They just add levels, rather than an entire story, but inside each you still get three new mini-figures to play the game with.
There are a wide range of franchises covered by level packs, with some of our favorites including Back to the Future, Doctor Who and The Simpsons. They're around $25 each, and are a great way to extend the Dimensions experience without the need for a full story pack.
See at Amazon (opens in new tab)
Fun packs and team packs
Fun packs and team packs are essentially the same thing, but fun packs only give you two mini-figures compared to the four you get in team-packs. These don't give new level experiences to play within the game, but they do allow you to bring some of your favorite characters into the main Dimensions multiverse experience.
These are a great way to get started with expanding the base experience, because it doesn't require starting any new levels, but you get unique abilities and new ways to play through the initial game. They're also the most affordable Dimensions add-on packs, so they make a great gift, too!
See at Amazon (opens in new tab)
Internet connectivity
After buying the physical parts of Lego Dimensions, one of the biggest things to remember is that you'll need internet connectivity to download a lot of the additional content. In particular, more recent releases like the Fantastic Beasts story pack came with the Year 2 Update, which you'll need to have installed before you can think about playing.
If an online connection is required it'll tell you on the box, so if you generally keep your kids console offline you'll know when you need to connect. Only the initial content shipped on the game disc, the rest has been delivered since as free updates.
Hopefully that helps you get started, but if you've got any tips, tricks or favorite Dimensions packs to share jump into the comments below!
Richard Devine is an Editor at Windows Central. A former Project Manager and long-term tech addict, he joined Mobile Nations in 2011 and has been found on Android Central and iMore as well as Windows Central. Currently you'll find him covering all manner of PC hardware and gaming, and you can follow him on Twitter and Instagram.
Here's some additional tips to everyone who wants to play the game: - If you're an achievement hunter, you'll need to buy all the level packs and story packs. Yes, it will cost you but then again this is LEGO. - Every single franchise within Lego Dimensions has its own "World" and you'll need a character from that World to access it. So for example to enter the Wizard of Oz world you need to buy the Wicked Witch fun pack since it's the only one that will unlock that world. Same for ET, Portal2, A-Team etc. - The Harry Potter World is not unlocked with the Fantastic Beasts pack. You'll need the Harry Potter Team Pack. - You don't actually have to buy a ton of the characters. There's a "hiring" system within the game that allows you to hire a character you don't own for a few thousand studs each time, for 30 seconds. So you can complete the 1st wave game without needing to make your wallet bleed. You'll just take much longer. - Xbox users should be made aware that in Wave 2 Lego has introduced the character of Supergirl... Which is exclusive to the PS4 starter pack.
AND you can't "hire" her within the game. In other words, you'll be able to finish for example the Fantastic Beasts story pack but not complete it. The PS4 exclusivity lasts until March 2017. After that they said they'd make her "hirable" within the game for everyone... But you won't be able to buy the minifigure.
Of course you can always buy it on eBay or Bricklink but because LEGO is also a business to some of us, you'll have to pay a lot for it (on Amazon there are people selling it for upwards of 40€). - Finally, remember this is LEGO. Which means all these minifigures, within 10 years, will be worth twice or thrice the value they cost you now. So if the prices of the packs discourage you, remember that LEGO is one of the few toys (if not the only one) that actually values up as time goes by ;)

Here is the big question..will this be abandoned like the disney infinity series?

i bought it solely for the midway arcade pack, which actually lets you play the actual arcade ports. If you're an adult, you can do this: ================================== - Buy the starter kit used on ebay, or amazon, there's no point in paying full price. - You don't have to build anything, you can just use the tokens on the pad - You can just skip to the parts needed to play the games in the arcade pack, but there are spots where you have to follow the story. Have fun, and be prepared to spend some time in it. later -1
Windows Central Newsletter
Get the best of Windows Central in in your inbox, every day!
Thank you for signing up to Windows Central. You will receive a verification email shortly.
There was a problem. Please refresh the page and try again.