Contests, Coverage, and Cool Tech: What you can expect from #CESlive!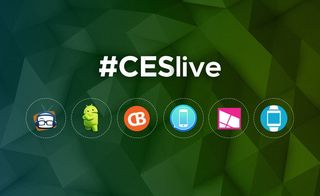 The team has arrived, the gear has been unpacked, and we're ready for #CESLive. This is our biggest year at CES yet. All totaled, we have 22 people on the ground here in Las Vegas covering the content for all our sites this week, including CrackBerry, Android Central, iMore, Windows Phone Central and the newly launched Smartwatch Fans. Aside from the usual faces, the Mobile Nations family is once again teaming up with our friends at Geek Beat: featuring podcast pioneer Cali Lewis and tech evangelist John Pozadzides.
We'll be covering all areas of tech whether we're talking health and fitness, automotive, home technologies, smartphones, tablets and more. CES is the spot for it all and generally the spot to get a first glimpse at a lot of the cool new technologies that will soon be hitting our lives. Some will make it, others we'll never hear from again, and that's what makes it all exciting!
We have a great line-up of guests that we've invited to our #CESLive show that kicks off on Tuesday at 12 PM PST. You can tune in on any Mobile Nations community by going to our #CESlive hub pages:
Android Central: AndroidCentral.com/CESlive
CrackBerry: CrackBerry.com/CESlive
iMore: iMore.com/CESlive
SmartwatchFans: SmartwatchFans.com/CESlive
Windows Phone Central: WPCentral.com/CESlive
Our Guests Include:
Tuesday: General Motors, SEIDIO, Gameloft, LG, Polaroid, HTC, Vizzywig, EyeLock and Samsung.
Wednesday: QNAP, Ustream, HP, Pioneer, Slingbox, Booq, Martian Watches, and Neptune Pine.
Thursday: BlackBerry, NewTek, Qardio, ZTE, Sphero, Nikon, Jaybird, FitBit, and Celestron.
Friday: SwiftKey, FitBug, Monoprice, Revolve Robotics, and Elite Screens... To cap it all off on Friday, we're going to have a chat with CEO of the Consumer Electronics Association, Gary Shapiro!
If that's not enough for you, we've scheduled podcasts for each night we're there, along with daily wrap-ups of the events that took place during the day. On top of all of that, we'll be giving away a TON of prizes simply because we can and want you all to have as much fun as we will plus, getting new cool stuff is always awesome!
Of course, not everyone can tune into the events as they're happening so if you prefer to catch up on things through Twitter or want to see pics from #CESLive you can check out the Mobile Nations Twitter list where everyone at the event will be tweeting as much as possible to provide you with smaller, easily consumable content on the go.
Last but certainly not least, we have to give a big shout out to all of our sponsors. Without them, this wouldn't have been possible! So, many thanks to Seidio, VizzyWig, QNAP, UStream, NewTek and the CEA.
Windows Central Newsletter
Get the best of Windows Central in in your inbox, every day!
Can't wait to see what they have for us.

I tell you one thing if Pebble shows a more solid support for WP I'd get one of those Pebble Steel watches. Also CES should just be called Android Showcase...

Maybe we'll see a more of Microsoft this year.

Maybe we'll see Wp8 come to the Nokia 900 too...

If only... I still use my Nokia Lumia 900... The Contract is nearly over!

Well, it lags randomly... Apps crash... The phone restarts randomly... And the storage is nearly full. The performance of the phone isn't as good as before, and I have uninstalled some apps to improve it. I need a refresh. But if they could get Windows Phone 8 on it (or at least get developers to take Windows Phone 7 seriously until the support ends in September) I would be happy. Because it's not about the hardware. I mean, WhatsApp has great notifications, why can't Skype have any? We get a new Bing Background for the Lockscreen every day, why can't other apps use this? Nokia Drive has offline maps, why can't Nokia Maps have offline maps?

Well we have to admit OEM's are innovating more with android than any Microsoft OS so can't really blame them.

Truth be told had I waited and saw that AT&T would be getting an ASUS Padfone variant I'd probably would had skipped over the 1520 & 2520. I would love WP padfone variant. Always wanted one.

LOL. I think I agree with you on the new name for CES

No interview with Microsoft?

Well, Apple probably won't release anything. They never join these kid of events.

Did you actually read the question above?!

What he is saying is not everyone joins these events. Apple never does and Nokia usually do their own showcase as well. I'm assuming that's what he was saying.

Yes, someone understood me! I mean, not all manufacturers join CES. Take Apple for example, which never joins. That means that Nokia doesn't have to join either. It's up to them.

Better invite the webOS nation...we haven't had this much webOS news in a long time!

Okay, but when is the actual CES taking place?

With evleaks it happened two weeks ago.
Windows Central Newsletter
Thank you for signing up to Windows Central. You will receive a verification email shortly.
There was a problem. Please refresh the page and try again.