Control your Nest Learning Thermostat with wpnest for Windows Phone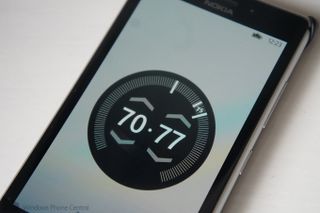 Those with Nest Learning Thermostats (www.nest.com) don't have an official app to control the device with their Windows Phone (the story of our lives). A third-party app was available, but has been pulled from the store. Fear not as we've got some good news as Sharkfist Software has released wpnest, a compatible app that allows you to manage the thermostat. There's more to it as the developer has made everything open source, enabling others to get involved to help shape the app for the future.
If you're not familiar with the Nest Learning Thermostat, it's essentially a Wi-Fi-enabled programmable thermostat that can help save you some coins. Before cracking on with use, wpnest allows you to log into your Nest account. From that point on, it's possible to set and display temperature; configure between heat only, cool only and heat + cool modes; and the app will display a leaf when power is being saved. The UI is sleek looking and everything fits in with Microsoft's modern design.
Finally, both away and fan modes can be set while on the move. It's the perfect solution for someone who desires to control their thermostat while not at home, or in a room some distance away from the device. If you're interested to learn more about what's coming in the future for wpnest, check out the Trello page for features and functionality that' in the works or filed in the backlog. Should you wish to see something added, be sure to contact the developer.
We're happy to see wpnest arrive on the store since another unofficial app was recently pulled. You can download wpnest from the Windows Phone Store (works on both Windows Phone 7 and 8). If you're a developer or simply wish to check out the code and more, check out the project over on Github.
Get the Windows Central Newsletter
All the latest news, reviews, and guides for Windows and Xbox diehards.
Rich Edmonds was formerly a Senior Editor of PC hardware at Windows Central, covering everything related to PC components and NAS. He's been involved in technology for more than a decade and knows a thing or two about the magic inside a PC chassis. You can follow him on Twitter at @RichEdmonds.
Get a unavailable message.. Guess I will try again later..

Never mind. 4th time is the charm..

Yup, the download worked fine for me.

Download link broken. Can't search for wpnest in Store either.

Works for me. What market are you in?

Always wanted the nest. Anyone know if its worth the price tag?

Its neat but I'd rather have the Honeywell Prestige 2.0 because it has a lot more features and bigger screen.. Sound familiar? lol Anyway, you can check it out they have a working demo at Lowes.

I think so... It's the coolest gadget you can't really play with. Nest claims you will pay for this thing in a few months of use, but it really depends on how much you tell it to run your system. I am saving up for another one (for upstairs), and can't wait to see how they work in tandem to hvac my house.

It's very simple to use. It can also handle a dual stage cool and a dual stage heat unit. Some other brands can do a few other tricks but they're not as simple to operate.

Awesome! I shall download when I get home. I'm using my WP right now.

Well, I have two nest thermostats - one for each floor(dual zone). After signing in, i can only see one thermostat in this app. There doesn't seem to be any options controlling more than one. That kinda sucks. I will continue using my iPad for controlling nests for now, until this app gives such options or till we get official support for wp8.

Being that the Nest designer (Tony Fadell) is the former king of the iPod. I doubt we will see an official app anytime soon. I'd love to have a Nest but can't justify the price yet. Also, in mirror of the iPod, Nest is a little to simple and seems to be missing a few features.

Well, I said yay. Kept telling me I had network issues so I uninstalled. Now can't find it in the store and the link in the article gives an error.

Reinstalled. Gives a message "Oops! We had some trouble connecting with the server. Check you internet connection and tap to try again." I've tried turning off wifi, turning off data and only using wifi, to no avail. Can't get it to connect. :(

Hi bbennett40, do you have your fan in schedule mode? If so, fix is on the way. https://github.com/GaryJohnson/wpnest/pull/2

I do, Mr. Johnson. Thank you!

Nest doesn't seem to jive with any home automation right out of the box. However, mi casa verde and perhaps others have hacked this to work with zwave. Has anyone tried to control a nest with the grasshopper app?

I'm the developer for wpnest. Handling multiple thermostats is my highest priority, followed by live tiles, so you should see support for both of those coming up.

This is why I come here. Straight from the source. Thank you.

Awesome, thanks for the update!

Great Gary. I need two of them, so as soon as multiple Nests are supported I'll be buying the App. FYI, right now it seems its not available for download in the US :-S

I don't have two, but love that you are adding more options.. When do you see the ability for us to change the scheduling with your app? Btw.. Thanks for your support of Win8

Thanks Gary for the swift update. I will gladly buy the app as soon as multiple device support is added. And good job so far, I don't have any connectivity issues so far.
And I agree, this is why I comment at wpcentral - we get answers straight from horses mouth. :)

Cool. I just downloaded it. I hope it works better than the old nest app.

yes please. It should just display current temp. thanks Gary for the hard work.

thank you thank you thank you thank you! I changed my phone and couldn't get the other app on it, was bereft. No longer bereft.

Now gives me a reason to want to buy Nest now.

So did Nest get the last unofficial app removed? Is there a chance this one could get pulled? I'm starting to build a house in the next month and currently researching what type of automated things I want to do.

Good question. And a but worrisome. FYI I have been emailing Nest support about a WP app for 2 years and they continue to state they are nit interested in supporting us.

I'm not sure why the other app got removed but it helped inform my desicion to make wpnest open-source. If wpnest should get taken down for whatever reason, the code will still be available to side-load onto your phone directly.

Which is awesome! Thanks for that. No nest hear but I've thought about it before.

You're doing the Lord's work sir. Thank you and God bless.

Cheers Gary! thank you for making the effort for developing the app for WP. Another must have App to add to my collection to use in the constant battle against android and ios fan boys.. I couldn't live without my mates but they drive me up the wall with their app count bs sometimes!

I want the official Nest app now❕.. I demand that it come now❕❕... Ok, that didn't work.

@GaryJohnson: thank you for supporting WP8 and making this app. I've been considering getting a NEST but wanted to be able to access it from my phone. Very cool, thank you!

It's always crashes,never gets start.

Getting "This app is no longer published." Was it pulled? Any chance of getting it back? I have it on my 8X and love it, but my wife just got a 928, and wants to control the thermostat :(

I'm sad I can't download the app now.

Bummer, I installed the app and ordered my Nest. Received it today, installed and went to the app but nothing. Once it logged in the app just closed. Happened a few times so I decided to uninstall/reinstall but now i can't find the app in the store. Anyone know what's going on? Nest going after another developer who is willing to do the work they won't? Makes me feel like returning the unit in protest.

wpnest has now been removed from the store. I wonder what the story is. The source is still on github.
Around the same time, coincidence or no, Nest announced an API program.
wpnest was working very well for me after the intial update (which fixed an issue where the app wouldn't sign in if you used one of the newer fan modes Nest added recently.)

What about an app for Honeywell, I'm glad I didn't buy Nest since Scroogle bought them!!