Control your PC with Unified Remote for Windows Phone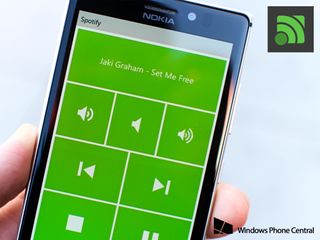 PC remotes are pretty useful apps for smartphones. Especially if you're rocking a PC in the living that's dedicated to serving up media. PC Remotes are apps that allow you to use your smartphone to control your PC. Unified Remote is a popular one on Windows Phone for doing just that. Let's check it out.
Unified Remote comes to us from two full-time students from Sweden. They have the app out for Windows Phone and Android right now, but they do have plans to bring a versions to Windows 8 and iOS. Not only do you need the app on your smartphone to get in on the PC remote action, but you'll need a piece of software, the Unified Remote Server, running on your PC. Their server is currently available for machines with Windows XP, Vista, 7 and 8, but they do have plans to make Unified Server for Linux and OS X.
With Unified Remote for Windows Phone you get to control your favorite programs, mouse and keyboard. The app has a trial, which you can think of as a free version. By buying the app ($3.49) you unlock more features of the app. The basic features you'll get for free include the basic input, file manager, keyboard, Spotify support, task manager, Windows Media Center control, Windows Media player control, VLC keyboard, and YouTube support.
Buy the full version of Unified Remote and you're getting access to more functions and apps to control. You'll get things like custom remotes, Hulu desktop controller, Hulu web controller, Netflix support, XBMC support and so, so much more.
Unified Remote is available for Windows Phone 7.x and Windows Phone 8. It's free in the Windows Phone Store with basic features, but you can buy the app for $3.49 to unlock all features. Don't forget to get the Unified Remote Server for your Windows-based machine to use the app.
Via: Reddit
Windows Central Newsletter
Get the best of Windows Central in in your inbox, every day!
This looks like a really useful app.

What would really be useful is if MS would add a "utilities" hub in WP 8.1 with remote desktop, PC remote, a universal remote, and like applications that are built into the OS... When are we going to start seeing the "Windows" part of WP?
..................
Nevertheless, this app does work great, and is really useful...

Is Netflix support for the browser version or the Metro App?

I think PC Remote does both, so this one might too

I haven't played with this but I've been using Unify for a couple of years. It's at v3 (I think), and has been updated numerous times with features and improvements. I believe it is also $0.50 less. And in my most used category. Everyone should buy it.

they aren't the same, this does not show desktop.

This app is great! I used to use PC Remote Pro, but the last months it has been really bad at connecting to my computer, so I tried this. At first it felt a little bit to sensitive, I always ended up left clicking when moving the mouse, but I fixed it by turning "haptic feedback" off. Now it works really good and it ALWAYS connects. One really good thing with PC Remote was the possibility to see the screen, but the connection problem just didn't make it usable in the end. Windows 8 and Lumia 920.

HELLO Tafsern.., Could plz take out some time and post the steps to configure the server with App on WP.. I have unsuccessfully configured it. Thnks

Does this support PowerPoint?

It says that it has both "Basic" and "Advanced" PowerPoint remotes in the full version (not sure what that the difference is). There is a generic "Navigatoin" remote in the free version, which just has arrows. It might be able to interact with PowerPoint as well, but I am unsure.

You can also download Office Remote, from Microsoft. Here.

And... Still waiting for the official MSFT remote app for Windows... They announced that someday will release that.

they have remote for office, it was announced last week, mentioned on WPCentral as well

Remote for office has been out for a while, it works pretty well. I like how you can use your phone as a pointer too!

I hope so, it will be nice.

why all these apps require specific software installed on a PC? There is a HID over bluetooth protocol, which should be used... I had that feature on dumbphone 10 years back...

Thats true. I remember on Nokia 6300 having no issues, just bluethoot and done! Also SonyErikcson includes those options on Walkman phone.

I don't have Bluetooth on my HTPC so that would be useless for me and alot of others. Most desktops and HTPCs do not have BT.

Not all PCs have Bluetooth but they're more often than not have a type of WiFi or internet connection

As folks said, Bluetooth is not universal. I don't have it on my desktop, and given that I think that this serves the desktop community best, using WiFi makes more sense. WiFi also has a longer range than Bluetooth, meaning you could use this from any room in the house, not just right near the PC.

In addition to what the others mentioned, I also believe that MS doesn't allow access to the HID profile from non-partner developers. I know SPP isn't allowed (I just want my OBDII to work!), and there are certainly others.

I agree in my university is the wireless somtimes dropping so would prefer bt so I can connect directly to my laptop and many laptops sold today have bt. I was less common with bt when Sony Ericsson sold their phones with bt remotes. The best thing would be if they had both Wifi and Bluetooth.

I can't get it to connect even though I entered my IP and what not.

Did you install the server on your pc?

Yes. I've used PC Remote and Teamviewer without any problem, but this one doesn't want to work for me. I'm thinking their might be a problem with the IP address somehow.

I use Mouse Without Borders. Works really well plus the server side makes a great software kvm if you have want to control 2 PCs at once. There is a Windows 8 version too. http://www.windowsphone.com/en-us/store/app/mouse-without-borders/934b3b71-cc02-4176-a5a3-4e677519ac9a

I use that too. But it's a shame I can't control my surface rt using my PC's mouse and keyboard, and easily switch between them.

I always forget that one. It is good.

You know it's a Sam review if it has "let's check it out" :)

What happens? iOS gets this app last? Windows Phone BEFORE iOS? Damn, i like those swedish guys.


It will rain pigs from the heavens

It's been out for a while.

What an awesome app!! I have a laptop that lives under my TV which is connected via HDMI and I hate having a wireless keyboard and mouse laying around. This app solves my problem! Many MANY thanks for this!!!!

Why not just use rdp or team viewer and REALLY control your PC for free?

Because when I use my HTPC I want it still on my TV. Apps like this let me.open Netflix, Hulu or powerDVD to play blue rays. Its easier than grabbing my wireless mouse and keyboard.

That doesn't make any sense, temaviewer is full control, it doesn't remove the picture from anything.

Agreed. I use Teamviewer all the time to remote my HDMI connected laptop. I can't get this app to work unfortunately. I believe it has to do the combination of security and FW policies on my laptop.

"UNIFY remote server" is the best one...guys you can play with office 2007 ppt which you cannot do it with office remote server (as u need office 2013 for that).
Unify remote server is the fastest and in one click u get connected to ur pc ..

Also use Unify and it works really well. I love the way it looks too

Idk, I use team viewer and I am very very impressed so far.

Teamviewer is great if you want remote control as is Spotify. This app is for media control etc not RDP

Splashtop not Spotify. Stupid auto correct.

this kind of functionality should be built in by now, cmon ms show us the "3 screens 1 cloud" vision, i have been dreaming with having everything in perfect sync for years, like coming home listening to music on my phone and get it playing on my desktop just by walking in on my wifi, and control it from anywhere i got my ms account logged in like it is playing in the device itself, the same for videos or web browsing, file sharing etc

They should at least beta this 'at your own risk'. The process modeling for all the usage cases is out of control! I could imagine many awkward / embarrassing scenarios stemming from the three screens vision, but hey I'll give it a try.

That's debatable. Adding these things means a larger OS footprint, meaning less room for stuff folks actually want. I'd rather have to install an app than have the Samsung nightmare, where the boatloads of software take up several GB on your device.

I gave is 5 stars on 11/13/12. Its the best. So happy when I switched from Android to WP and saw it and didn't need to run two different servers for our droids and my WP. We use it every day all day to control our HTPC. We just use the basic input remote for fast switching from mouse to keyboard.

Another app in this space which I've found to be incredibly useful and with intuitive, minimalist design is Unify. I'll certainly try this one and compare because it looks great too!

Also, I soooo wish Microsoft would make Smartglass work to control Windows PCs too, to keep it just unique to Xbox seems strange to me.

In unrelated news I just installed windows8.1 pro on my pc turned it into a tri-boot system with win7,win8, and Ubuntu 12.04 but im liking win8 so far learning curve wasn't too high

Is this working only on the same WiFi connection (PC & phone) or I can be in college for example and my laptop is at home -can I use it then? I just installed Teamwiever, used to use it pc-to-pc (US -Overseas) not sure yet how it works phone-to-pc.. Hope I didn't confuse anybody and you got my point about "Same WiFi" ))

It would be better if they add Playlist on Windows Media Player control...

See, since Netflix and Hulu aren't available in my country, I don't really have a reason to pay for this. Still, I'll give it a go. If I like it enough, I'll pay for it anyway.

This is the way forward: http://www.unifyremote.com/

Be nice if someone made an app for the telly not sure if its possible for Nokia windows phone 8 tech or not

Used this App long on Android. Nice to see, that I have my favorite remote now on Windows Phone too :)

Well, how can i configure this App for my xbmc?

I got the Mouse Remote Pro app for free luckily on MyAppFree and since then I havent peeked at any other app.Still these apps come in handy in times of need.Btw teamviewer for Wp8 scks.Hope MS does something for that.

Will have to check this out. I use PC Remote Pro and am very happy with it - except for a lag when clicking skip/rewind in WMC. It didn't use to have a lag, but started happening a while ago. If this one works well, I might have to switch.

Is there an app I can use my Windows Phone keyboard to contol my Samsung Smart Blueray player? Typing on the remote that came with it is a pain using the up/down arrows. The blueray does have USB port and WIFI. Thanks.
Windows Central Newsletter
Thank you for signing up to Windows Central. You will receive a verification email shortly.
There was a problem. Please refresh the page and try again.