CoPilot GPS simplifies your life with CommuteMe and voice commands for Windows Phone 8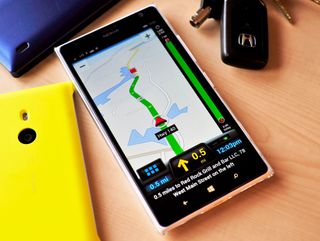 GPS navigation apps are like Twitter apps: we all have our favorite for various reasons, and one of the more popular ones out there is CoPilot from ALK Technologies. Version 9.6 has gone live in the Store today, and it brings along with it quite a few new features, including a commuter function and some voice-commands.
We managed to get our hands on the full changelog, so let's see what's new!
CoPilot GPS v9.6
CommuteMe™ learns your preferred daily commute and provides real-time traffic and ETA info along that personal route you love
A complete map update of North America + new map of Puerto Rico
Add a POI as your next stop without altering your final destination
Drag & Drop trip editing to easily move stops up or down within your trip
Improved POI search on your route to find the closest POIs (based on your route and the direction you're traveling, instead of geographical proximity)
Change your CoPilot ID (email address) directly within CoPilot
Option to navigate to Decimal Minutes Coordinates
Windows Phone 8 Voice Command Support - All you have to do is say "CoPilot take me home" or "CoPilot take me to work" and it will do just that!
CoPilot's CommuteMe feature is a big banner update here. It's similar to what Cortana does in Windows Phone 8.1 or the commuter function in HERE Maps from Nokia in that CoPilot can appropriately plot out your daily drive to work, giving you a quick re-route to avoid traffic jams (and being admonished by your boss). What's neat is if you prefer a new route, CommuteMe recognizes the change and "proactively adapts". Not bad and we like when our apps get "smart".
The voice command feature is perhaps long overdue for navigation, but we're still glad to see it here. Using Windows Phone 8 or 8.1 (Cortana), you can just say "Copilot, take me home" or "Copilot, take me to work" and the app will launch and start planning out your route.
Other features, including updated maps, improved point-of-interests (POI) and drag and drop trip editing just add icing to the cake. The offline maps ability is also efficient, as my Eastern pack (CT, DE, ME, MD, MA, NH, NJ, NY, PA, RI, VT, etc.) comes in only at 369 MB. Finally, you also have the optional safety-focused 'Motion Lock' so that you don't fiddle with things while banking at 75 MPH.
I've been using the beta for a few weeks now, and it's easily one of my top nav apps for Windows Phone. For one, the graphics are just really well done. In fact, a hidden feature of this new version is optimized graphics for devices with 1080P displays, which is why it looked great on my Lumia 1520 (probably the best navigation device on the market due to its display size). One of my favored features is the simplest: being able to scroll manually through the turns to my destination, as sometimes I'm curious as to where it's routing me.
CoPilot is also really good at plotting out routes, giving three options to choose from with optimal ETAs. The settings are also very robust with various map styles (e.g. Autumn, British, Ember, Forest, Minimalist, etc.), turn restrictions, Active Traffic, background navigation and even sharing of your trips to Facebook or Twitter (i.e. when you arrived). Combined with the continued refinement that the CoPilot team is bringing to their Windows Phone app, CoPilot is definitely worthy to consider if you need a premium navigation app for your car.
CoPilot is free to use for 14 days with "full voice-guided navigation and ActiveTraffic™ features". After the 14 days, you can still use the app for route planning (even with offline maps), sans those two features, which can then be re-enabled via a one-time in-app purchase.
Pick up CoPilot version 9.6 here in the Store. Windows Phone 8/8.1 only
Windows Central Newsletter
Get the best of Windows Central in your inbox, every day!
Daniel Rubino is the Editor-in-chief of Windows Central, head reviewer, podcast co-host, and analyst. He has been covering Microsoft since 2007 when this site was called WMExperts (and later Windows Phone Central). His interests include Windows, laptops, next-gen computing, and for some reason, watches. Before all this tech stuff, he worked on a Ph.D. in linguistics, watched people sleep (for medical purposes!), and ran the projectors at movie theaters because it was fun.
Might be the only app that I had consistently on my phones over the last decade since my WM days...

i've been highly considering buying a navigation app because i have so much app credit expiring soon, but i just feel like Nokia Drive is such a great solution that continues to be updated regularly with new features, that it would just be a waste. I used Nokia Drive to drive from New Jersey to Florida last year and it was great.

I mean, if you're happy, you're happy. Having said that, try this app for 2 weeks. It has waaay more features and I think it's superior. But only you can decide if you find value in it for your driving life.

This vs Navigon? I like Navigon but the 2 features below are ones I have been wanting from it unless I am not aware of Navigon being able to do those. Also any idea on the cost? -Add a POI as your next stop without altering your final destination -Being able to scroll manually through the turns to my destination, as sometimes I'm curious as to where it's routing me.

I believe Navigon does the add a POI thing...in fact, 99% sure. But 'no' on the second. Navigon is also really nice, but it doesn't run in the background and the graphics are a bit dreary. Still, I use it often as well and find it very accurate (I also like the quick 'mute' button).

For some reason my navigon recently says North when it means South. Luckily the display is accurate. They rarely update the app itself it seems. Is battery consumption the same? Navigon plus wireless charging seems to kill my battery like none other.

I use Navigon and have paid for the map updates because I use it often. It has the POI thing, but I believe it is useless. All the navigation apps on windows phone need a Travel Via option Navigon IMHO, is the most accurate in terms of giving you the best routes and can handle traffic alerts and re-routes the best. Depending on where I am going, I still use my TomTom PND because I have found the WP nav apps to handle certain roads or airports very well. For example, I find Navigon has issues with the big CA interchanges and Nokia Drive has poor route planning. I agree, Navigon could use a major UI overhaul -- I cannot even figure out how to send feedback for some issues I found.

Hahahahaha I deleted it this morning because it didn't provide maps of Puerto Rico. Now I have to re download. Lmao

Has anyone done an all out windows phone navigation app comparison? If not, you guys should do one. I like nokia drive, but it's not perfect, still prefer to use my garmin unit in most cases though.

Get Navigon, a Garmin company. Runs just like a dedicated GPS receiver unit. I have been using it for over two years now and hasn't failed me yet. I bought it when it was on 50% off deal. Still the best I have seen so far. The only con, it is expensive.

I have this on one device and CoPilot on another. They are not expensive if one considers the money value of time...

George Ponder wrote this article back in September where he compared CoPilot and other navigation apps for Windows Phone: http://www.wpcentral.com/stay-course-these-windows-phone-navigation-apps

I just wish Garmin got their act together and updated their crappy streetpilot app. It costs an arm and a leg ($30, really?!) yet doesn't have offline maps and it no longer supports google search (even though it shows in the app, just embarrassing). I was having some trouble with Nokia Drive at the time, but honestly, it's the worst purchase I've made on WP. C'mon Garmin, wake up!

I wonder why Garmin has both Street Pilot and Navigon. Probably different teams or sub-companies. Street pilot has always been buggy though.

Exactly. StreetPilot is their own app. They bought Navigon mid 2011: http://en.wikipedia.org/wiki/Navigon

Nokia drive is the only app which has all the distinct capablities I have ever seen in my life. No I seriously don't like google maps... I have 720 and using in India. I download those maps for the places I am concern with. One interesting thing like ice on the cake is on offline mode, I use here maps for live livesight. Its totally awesome.

Does this do live rerouting based on traffic like Waze? That's been a life saver for me in Los Angeles. The crowd sourced traffic makes it all possible. Of course, Google bought them, so it could all be taken away from Windows Phone at any time.

Yes, it does. It's not crowd sourced though, it comes from the same datafeed as the overhead traffic signs. -E

Wwowe the app is free. I was already assuming that I was going to pay for it.

It has in-app for the premiums. Active traffic ain't free but it is a must have upgrade.

Here's hoping that particularly the map update is a good one. Last time I used CoPilot it was a little shaky. It was telling me to do turns when I wasn't supposed to.

Daniel, You say "it's easily one of my top nav apps for Windows Phone.". Which one is your #1 favorite?

Navigon and CoPilot are my two favorites. I think CoPilot looks better, but Navigon as some nice features too (on screen mute).

Ahh, just in time for renewals. My subscription is coming due in a month or so. Seems with this update, I'll keep it around.

How much are the in-app purchases Daniel? This is important information to know!

No maps available for India still stands its place in store for India..too bad..

Can copilot work offline with downloadable maps?

I've had this for a long time on my Galaxies and figured I would loose it coming to WP,nope gotta love it and my Android account crossed over to my Microsoft account seamlessly...
Awesomeness
Thanks for posting this and WPC
Mac

Yep, I agree. This is key for me, I bought this on android and i purchased addons, logged in with the same account on my L1020 and all premium features were enabled at no further cost. Can't say fairer than that!

Mark please make a video to compare all the navigation apps

I've been waiting for this update since it was announced here a few months back. The Nokia "My Commute" feature is very poorly implemented, I am hoping that ALK's commute implementation will be better.

This is a very good sat nav app but found it did take up a lot of memory space. Just use Nokia Drive now

I like using this app and it is great, but I find its speech navigation is very inferior to a lot of others available. If using downloaded UK language option there are no street names etc announced, To get street names you have to use the male or female synthesised Microsoft voices which are pretty poor, try listening to the speech sample on the mail or female options and "Welcome to Co pilot" sounds more like "Welcome to copulate " LOL On my old windows mobile 6.5 ipaq I used I-go My way and it was superb offering features a few years ago that a lot of the new apps dont have now.. I really do wish they would create a new app for WP 8 and make the existing ones sit up !

This is the best GPS app on WP for me - I find the Nokia Drive maps appalling, it has got me lost so many times in and around Sydney (Australia) - I'm pretty sure Nokia are just not updating the Australia maps or ignoring the many issues the maps have. Every time Nokia Drive has got me lost I've switched over to CoPilot and it knows where I am and how to get me where I need to go. Nokia Drive just wants me to do u-turns as soon as goes of the route whereas CP adapts very quickly and finds a new route. I also really like the alternate routes in CoPilot. My only feature request (and it's a niche one to be fari) it that I would like to be able to download a GPX or KML route from OneDrive or Dropbox etc so I can create a route I want to ride my motorcycle on and then have it loaded in CoPilot - if it had this I'd sell my $700 Zumo 390! Is anyone aware of any GPS app that can do this?

I want a proper bike navigation app for WP. Pretty please!!


I like CoPilot but wish it had the ability to pin destinations to the Start Screen. It's the one feature I like about Here.

Is co-pilot comparable to a tomtom pnd device? I love here drive plus, on the 1520, but I do find a tomtom being more accurate for traffic and routing (London and uk, west Europe). I've thought about buying copilot but am a little unsure.

I'm guessing the tester for the new CommuteMe feature was "some guy on the development team". I fired up the feature this morning to add my commute to work. Every single time my route deviated from the suggested route, I was reprompted about a "12 minute delay". I had to confirm the route at least a dozen times during the trip, sometimes 2 or 3 times in a one minute period, as I turned down various roads.