CoPilot for Windows Phone 8 updated with new Motion Lock safety feature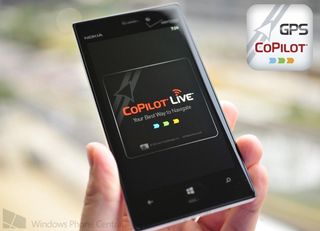 While many of you opt for Nokia's free HERE Drive, which just received a nice update this morning, some of us opt for more powerful apps like CoPilot from ALK Technologies. Put simply, third party apps may cost money, but they often feature more options and tech that make it worthy for the true road warrior. CoPilot for Windows Phone 8 arrived back in June and maintains a healthy 4 out of 5 stars on the Store for reviews.
This morning, version 9.5 has gone live in the Store and brings along with it a host of new features. We of course have the full scoop of all the changes, so read on if you're curious.
CoPilot version 9.5.0.408 changes and new features
Motion Lock
Improved in-app search to more easily find places near a destination
Highway exit numbers are now displayed on the map, giving drivers clearer guidance
Two striking new 3D and 2D map guidance styles
Motion Lock is CoPilot's new feature that basically locks the app from screen manipulation during driving. Users set the speed at which they would like to enable it, like five, 10, 15 or 20 miles per hour, and then once engaged, the screen can't be touched. The point of this is to keep drivers focused on the road instead of tapping their displays while driving at hazardous speeds. From David Quin, head of consumer applications at ALK Technologies:
It's a neat feature and 100% optional. Seeing as "At any given daylight moment across America, approximately 660,000 drivers are using cell phones or manipulating electronic devices while driving", having the optional but useful Motion Lock could go some way to curbing dangerous driver behavior.
The rest of the changes for version 9.5 also look fantastic to making the CoPilot app that much better--indeed it's one of our top recommended GPS navigation apps.
CoPilot GPS is the freemium edition of CoPilot, and it can be download here in the Store for no cost. Users wanting to unlock voice navigation and advanced features can optionally use a one-time in-app purchase to enable.
Daniel Rubino is the Editor-in-chief of Windows Central, head reviewer, podcast co-host, and analyst. He has been here covering Microsoft since 2007 when this site was called WMExperts (and later Windows Phone Central). His interests include Windows, Microsoft Surface, laptops, next-gen computing, and for some reason, watches. Before all this tech stuff, he worked on a Ph.D. in linguistics and ran the projectors at movie theaters, which has done absolutely nothing for his career.
Only GPS I use. Here is cool but this...

No, no it is not. Drive or Drive+ are fine for basic around town navigation. If you travel for work or even play your will soon find the limitations of Drive. I believe that Drive can some day be great, but Nokia is far behind.

What are those limitations?

I agree. I rarely use Drive because of those reasons.

What limitations do you guys mean?

Read our GPS Nav roundup to see some of the features. It's mostly to do with advanced settings, safety cameras, ClearTurn display, fuel prices, parking locations, weather, Wikipedia and Facebook integration, etc. In short, try the app yourself. There's a reason why there is a freemium version that we mention ;)

Yea its has way more features. Better nav overall too. Thanks Dan.

I want a GPS, don't need Facebook integration :)

Agreed! I use Scout, it is better than anyone I've ever used.

What are the limitations of Here?!?!?

Some kind of traffic meter/heat map is one. HERE has My Commute, but it isn't dynamic at all. CoPilot has a verticle strip along the right side of your screen that shows you how heavy traffic is on your current route. Very useful for a daily commute since you can then tell CoPilot to divert your route for the next X number of miles around traffic that is ahead of you.


What is the cost? It doesn't say in the app description.

The cost varies country to country.

Shows up free to me in US

Didn't read the article? It is a "freemium" app.

You didn't read and then want to ask questions?

It's a one time $8 for the birds eye view and voice navigation and $12 a year for traffic. Well worth it.

Great program; own for both WP and Android. Have used for quite a few years. I highly recommend it.

Don't like motion lock. Good for those who do. (I know it can be disabled)

I'm a fan of Navigon. They've been supporting the platform for longer and the updates have been steady thus far.

Had it on Windows Mobile so I'm happy to have it on WP. Thnx CoPilot team for the update. Plz keep improve the app.

I had a problem with CoPilot before where, when I switched to another app and came back to CoPilot, it could not find the GPS signal again and I had to re-start and re-enter the destination -not ideal at speed. Did anyone else have that issue? I was on a 920 on AT&T in the USA.

Make sure you allow CoPilot to run as a Background Application. Blocking it from running in the background causes this.

Nice but the maps still cannot say the street name as opposed to the name of the highway. All other maps, including HERE navigation can. This one refuses to. Support flat out told me this is normal. If I was driving off road maybe, but in the city, I want names.

Make sure you allow CoPilot to run as a Background Application. Blocking it from running in the background causes this. Actually this CoPilot will read the street names if you choose the "TTS" specific voices. If you choose the natural voices then there won't be any text to speech to read back the street names.

The main reason I bought a Lumia was Drive.

Slightly misleading. Voice navigation is the only one time upgrade. Everything else is an annual fee. Truly isn't much difference between Here Drive+ and this. Both use Nokia maps, both use Inrix traffic (free in Here Drive, $9.99 annual upgrade with Co-Pilot). I haven't used co pilot with the new update, but recently found my self using Here more because it seemed to work faster and more consistently. Co-pilot seems to get hung up and not be able to get a GPS fix quite often. Hopefully this update fixes that.

"Truly isn't much difference between Here Drive+ and this."

I bet to differ and I list quite a few differences up above. They're not even close and I find CoPilot worth my time, not so much HERE Drive.

I own both Navigon and CoPilot, and here are my typical daily use impressions. Obviously there are a ton of features you can side by side. But for the general use scenarios,,,,, Pros CoPilot: Free if you don't need turn by turn or multiple map databases, otherwise: You need to pay a yearly $9 fee for the premium upgrade to get turn by turn and active traffic. Navigon is a flat initial +/- $25 purchase for the app and maps lifetime. So long term because of yearly fee CP will end up being more expensive. First map area DB is free and subsequent area DBs are around $10 each. I find the display and graphics to be much clearer and well laid out. Does much better job of letting you know what the next turn is going to be with very visible bar. Shows you the destination address and street side when you arrive. Navigon just tells you that you have arrived. How often do you enter an address, and when you get there are trying to remember the street number when looking at a row of houses. (This is single most favorite feature in comparison to Navigon) Tends to be more accurate when navigating in a city setting. Navigon can get lost rather quickly. Traffic - Navigon has a nice option of showing you several optional routes to your destination with distance and srrival time. However there is no on the fly route changes option should the traffic change while on route. So CoPilots dynamic reroute option is very nice. My Commute is a great feature. (BTW - Those of you in the US with a regular commute; there is a very nice free app called Inrix Traffic which handles commuting traffic really, really well. They supply traffic data to just about every major GPS app.) Very easy to get GPS coords from the map display. Navigon makes you enter a location destination before you can pull up the coords. (Had to call Navigon tech support to figure this out.) I sometimes enjoy geocaching so easy access to coords is huge and I don't know if there is an actually street address for a cache in a National Park. ;-) Cons CoPilot: Menu system is flat out terrible. Almost a deal breaker. Features and settings can be buried in labrytine layers of non intuitive choices, and makes finding things incredibly frustrating. For example: After you set the app up initially, try and find the account settings screen. Reminds me of those phone menu systems that you get when you call just about anything anymore. The impact obviously diminishes once you get things setup the way you want and no longer need to hunt around for things. No volume control or mute option on the main map screen. It is an on or off option buried in one of those settings areas. Navigon has a much better battery saver option. Turning off the screen completely when there is no turn for 5+ miles. CP will only dim and drop the refresh rate down. Given that map programs can suck the life out of your battery even when connected to a power source, the Navigon option in a huge difference. Map Data accuracy. - This might be an isolated issue, and may never affect the majority of users. However it might be nice to note the following if you ever run into a problem: There is a normal street right next to my house that CoPilot lists incorrectly as restricted. And as such will not route on that street. The result is that CP will route me around that street, taking me 6+ miles out of my way when going to and from home. None of the other map programs (Navigon, Nokia, Google) have this issue. I have actually gone so far as to dig into NavTechs online map database to see if the problem is there.(Is not) Have reported the problem through the in app and online reporting tool several times over the last year to CoPilot, and despite support assurances that they will and have fixed it in quarterly map updates. It still remains broken and actually keeps me from purchasing it for my GF and kids phones. As I said - just one guys impressions for daily use. All things being equal; if the map issue was fixed, I would probably use CoPilot as my regular choice. Yes I have tried and discarded the Here Drive+.

--Thank you, Sir, a very nice summary

The premium upgrade fee is not a yearly fee. One time will get you the full navigation features for life. The active traffic is a yearly fee though.

Sorry for the run on formatting. In the editor it had bullets, line breaks etc.. ?

Here Drive with French voice is horrible, it has a bad Spanish accent. For my part I use Navigon, it has more features and navigation is more precise.

I need a GPS at times when traveling, for me Here fills the need on my 1020. Not sure how Facebook or Wikipedia will help with the app telling me to turn right in 200 yards. YMMV
Windows Central Newsletter
Thank you for signing up to Windows Central. You will receive a verification email shortly.
There was a problem. Please refresh the page and try again.