Cops, a pixelated cops and robbers adventure for Windows Phone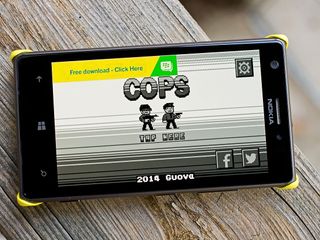 Cops is a retro styled Windows Phone arcade game that has pixelated, monotone graphics and mildly challenging game play. You play the role of one of the most wanted criminals and have to navigate through the nine platform styled gaming levels.
You can run, jump and shoot your way through all the coppers who are determined to throw you in the big house. Along with the run of the mill street cops, you will also have to face off with two bosses.
Reminiscent of the old GameBoy, or maybe even the Commodore 64 video games, Cops does have a certain level of appeal and is available for low-memory devices.
Cops and Robbers
Cops has a very simple main menu with options to access the game's settings, visit the developer's Facebook and Twitter pages and jump into game play. Settings include turning on and off the game's vibration, music, and the hard mode. The game also has the option of choosing between the black and white classic appearance or a brown toned color scheme.
You also have the option to customize the gaming control size. Cops utilizes a set of on-screen buttons to control your characters movement, jumping ability and to fire his weapon. The settings allow you to increase or decrease the size of these buttons to better accommodate your finger size.
Cops' gaming screen has your health points, ammo count and score displayed in the upper left corner with the gaming controls lining the bottom of the screen. The goal is simple, navigate your character across the gaming level without getting killed by the cops.
You can shoot the cops or jump over them and run away from them. Some are hidden in cubbyholes but most are sitting in plain sight. You can wait until they turn their backs on you to rush them or just go toe to toe and shoot it out.
Cops do take multiple hits to take out and while you do have an unlimited supply of ammo, you only have sixteen shots per magazine and it takes a few seconds to reload. In those few seconds your character is vulnerable to attack to time your shootouts carefully.
There are also gems scattered about the gaming levels that can be collected for extra points.
There are nine levels of play with Cops with most being the run, kill and avoid getting shot type action. You do have two levels that will test your skills at being stealthy and avoid getting shot and two levels that climax with bosses to battle.
Overall Impression
The developer did a nice job of creating a game with a nice, retro feel to it. Cops may not have the flashy graphics and action packed game play but not every game needs that to be successful. Cops is a simple, fun, old school styled game to pass the time with.
The developer indicates that the game is still under developer so additions and expansions are in the game's future. I have two suggestions that may add to the game's appeal. First, label the A and B buttons with Jump and Shoot. I still at times hit A thinking it is to shoot and B thinking it is for jumping.
Second, toss out a few power-ups on the gaming levels. An old fashion Tommy Gun would be a nice power-up or maybe a bulletproof vest.
As is, Cops is a fun game to pass the time with and represents the retro styled games very well. Cops currently brings home a 5 Star rating in the Windows Phone Store along with many positive comments.
George is the Reviews Editor at Windows Central, concentrating on Windows 10 PC and Mobile apps. He's been a supporter of the platform since the days of Windows CE and uses his current Windows 10 Mobile phone daily to keep up with life and enjoy a game during down time.
Crazy for the first comment huh? :P

Don't they have something better to do...? :\

I see ads in that first picture

Good observation, would you pay for this game if there were no ads? Maybe the dev will add this option later since it is still under development.

You'd see correct, you don't need glasses anymore! :P

I would never pay for a pixelated game

Developers: I am here to help you get your games available here in Brazil. Let me help you.

It's only a tic in a box that separates the game from Country......

Do you get to shoot the pigs?

I would like to be able to play as the cops lol

Is there any reason why they are not integrating games with xbox live? Are xbox live APIs paid?

Spent the last 30min playing cops its great fun throwback to the NES gaming days 8bit madness the controls are well done as good as any touch screen gaming I've played decent sound and game play very pleased with this free game

Looks fun and nostalgic. Downloaded and will be trying this hideously awesome looking game on my 1520 in all its glory.

To Ugly to even download.

Hey what's going guys! This is Guova Games (creator of this very game). Thank you very much for the review, I will take these words and improve my app! And also, I am quite busy with my job in real life. (Kinda sucks that I can make one level in 3 days). But here are some features I am planning to add soon:
- Remove haptic feedback (it was intended for Android (yes there's an Android version) and I forget to remove it since it doesn't work on my Nokia Lumia 521)
- Brown and monochrome graphics are boring? I am planning to add NES colors.
- Some level I am planning: bank theft, plasma laser security system, prison break, and...I'll come up some more concepts later
- Level selection
Windows Central Newsletter
Get the best of Windows Central in in your inbox, every day!
Thank you for signing up to Windows Central. You will receive a verification email shortly.
There was a problem. Please refresh the page and try again.