Intel Core i7-12700K vs. AMD Ryzen 7 5800X: Which is better for your PC?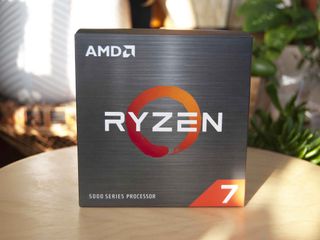 (Image credit: Windows Central)
(opens in new tab)
12th Gen Intel power

The 12th Gen Intel Core i7-12700K delivers better raw power and gaming performance compared to the Ryzen 7 5800X. It includes support for DDR5 RAM and PCIe 5.0, but it does require a new motherboard for the latest chipset. It also costs more alone than the Ryzen 7, but it's the right choice for utmost speed.
For
DDR5 and PCIe 5.0 support
125W TDP at stock
Exceptional performance
Hybrid core design (Power and Efficient)
Down to 10nm
Against
Costs more than Ryzen 7
Requires new motherboard
No cooler included
(opens in new tab)
Proven performance

The AMD Ryzen 7 5800X might not be quite as powerful as Intel's Core i7-12700K, but it costs less and doesn't require a completely new motherboard thanks to AM4 compatibility. There's no DDR5 or PCIe 5.0 support, but it does have PCIe 4.0. If you want to spend less and still get a great CPU, this is the way to go.
For
No new motherboard required
Costs less than Core i7
PCIe 4.0 support
105W TDP at stock
Excellent performance
Against
No DDR5 or PCIe 5.0 support
No cooler included
These two CPUs from Intel and AMD are among the best processors you can buy today, but you're no doubt only looking for one for your next PC build. Both are ultimately going to deliver a ton of performance for gaming and design work, and the final choice will likely come down to how much you're willing to spend and whether or not you want to invest in a new socket and chipset on the Intel side. There are also design differences between the two chips that might make more sense for some people.
Intel's Core i7-12700K is a recent release that shows off the new "Intel 7" (10nm) manufacturing process, new "big.LITTLE" hybrid core design, DDR5 RAM support, and PCIe 5.0. On the other hand, the older Ryzen 7 5800X is still a high-end option for performance builds. It uses a 7nm manufacturing process (Intel is still trying to get there), it has eight cores and 16 threads, and it offers PCIe 4.0 support. It's still using the AM4 socket, meaning you likely don't have to start with a fresh motherboard if you have an existing AMD build.
Let's have a deeper look at these two CPUs by breaking down the features and performance available in both.
Core i7-12700K vs. Ryzen 7 5800X: Features and performance
Intel's 12th Gen Core processors have brought the CPU battle back to AMD, which is a good thing for all PC enthusiasts. The "Alder Lake" generation from Intel has a new big.LITTLE hybrid core design that is similar to what we've seen from ARM and Apple. It mixes multi-threaded Performance cores (P cores) and single-threaded Efficient cores (E cores) into the same chip.
The P cores remain free to take on heavier workloads that require multiple threads, while the E cores handle low-priority tasks. In the chart below that compares the i7 and Ryzen 7 you can see the split cores. The Core i7 has a total of 12 cores, eight being reserved for performance and four reserved for efficiency. The Ryzen 7 has eight total cores without any of the hybrid design.
Swipe to scroll horizontally
Header Cell - Column 0

Core i7-12700K
Ryzen 7 5800X
Cores
12
(8P, 4E)
8
Threads
20
16
TDP
125W
105W
Base clock
P: 3.60GHz
E: 2.70GHz
3.80GHz
Boost
P: 4.90GHz
E: 3.80GHz
4.70GHz
Turbo Boost Max 3.0
5.0GHz
None
Overclockable
Yes
Yes
L3 cache
25MB
32MB
Manufacturing node
10nm
7nm
Memory
DDR4-3200/DDR5-4800
Up to 128MB
DDR4-3200
Up to 128MB
Integrated graphics
Intel UHD 770
None
Socket
LGA 1700
AM4
Cooler
None
None
Intel is working with a 10nm manufacturing process despite them branding it "Intel 7" — nice try, Intel — while AMD's Ryzen 5000 series CPUs are down to a 7nm process. The Ryzen 7 5800X runs at a lower 105W TDP, while the Core i7-12700K runs at a 125W TDP. Both can be overclocked for added performance. Only the Core i7 includes integrated graphics, though that's less of an issue since these high-performance CPUs are usually paired with one of the best graphics cards.
The Core i7-12700K adds support for PCIe 5.0, blowing past the PCIe 4.0 standard that the Ryzen 7 5800X supports. The Core i7 can also run faster DDR5 RAM, while the Ryzen 7 is capped at DDR4. One thing to note is that high DDR5 RAM prices and poor availability makes this feature sort of a moot point. At least for now. The best DDR5 RAM for 12th Gen Intel Core CPUs is almost constantly sold out, though that will change in the future. This makes the Core i7 a better decision for anyone who's not looking to upgrade again for a few years.
Upgrading to the Ryzen 7 5800X will cost you less for the CPU alone, plus its compatibility with AM4 sockets means you might not have to replace the motherboard if you're already an AMD user. A modern motherboard is always recommended if you want to get the most out of your CPU, but with the Ryzen chip you can take the upgrade a bit slower. If you buy the Core i7-12700K, you will have to invest in a new motherboard due to the chip requiring a new LGA 1700 socket. This will add cost to an already more expensive CPU. Our collection of the best motherboards has some advice on where to begin in either case.
When it comes to performance, the high-level view is that both are going to deliver a ton for gaming or specialized work. Intel's P cores (of which there are eight) have a base clock of 3.60GHz, while the Ryzen 7 has eight cores with a base clock of 3.80GHz. Boosted, the Core i7's P cores hit a 4.90Ghz ceiling, while the Ryzen 7 hits 4.70GHz. Intel has Turbo Boost Max 3.0 as well, which can jump the clock in certain cores up to 5.0GHz for single-threaded tasks.
These stats tell a story that leans toward the Core i7 on paper, and in real-world benchmarks it's mostly the same. In general, you can expect anywhere from about 15% to about 30% better performance from the Core i7-12700K compared to the Ryzen 7 5800X.
Image 1 of 3
These numbers will no doubt differ slightly from system to system, but the bottom line here is that you're going to get better performance from Intel's latest Core i7. Since the Ryzen 7 5800X still offers a ton of power — more than what a lot of people will utilize — it's really down to whether or not you want to spend more on the CPU and a new motherboard for the Core i7.
Next-gen Intel for the future
The new Intel Core i7-12700K brings a big.LITTLE hybrid core design, 10nm manufacturing process, and a ton of power for gaming or specialized work. It beats out the Ryzen 7 5800X in raw benchmarks, but it will cost more for the CPU alone as well as a new motherboard to accommodate the fresh LGA 1700 socket. Nevertheless, with DDR5 RAM and PCIe 5.0 support, it's setting you up nicely for the future. Have a look at our guide on how to pick the right 12th Gen Intel Core CPU if you think the Core i7 isn't quite right for you.
12th Gen Intel power
(opens in new tab)
The Core i7-12700K is a big step forward for Intel, bringing it back within firing range of AMD's Ryzen lineup. It will cost more, but it brings better performance and better future-proofing.
Proven AMD Ryzen performance
The Ryzen 7 5800X can't quite keep up with the Core i7-12700K's raw power, but its lower 105W TDP, PCIe 4.0 support, AM4 socket compatibility, and lower overall cost are all high points. If you want to spend less right now and upgrade as budget allows, this CPU will still absolutely crush heavy work or gaming.
Still great
(opens in new tab)
The Ryzen 7 5800X might not have quite the same power as Intel's new Core i7, but it costs less and still delivers a ton of performance for PC enthusiasts.
Windows Central Newsletter
Get the best of Windows Central in in your inbox, every day!
Senior Editor, Laptop Reviews
Cale Hunt is formerly a Senior Editor at Windows Central. He focuses mainly on laptop reviews, news, and accessory coverage. He's been reviewing laptops and accessories full-time since 2016, with hundreds of reviews published for Windows Central. He is an avid PC gamer and multi-platform user, and spends most of his time either tinkering with or writing about tech.
Windows Central Newsletter
Thank you for signing up to Windows Central. You will receive a verification email shortly.
There was a problem. Please refresh the page and try again.