How to pick the right 12th Gen Intel CPU for your PC
Choosing the best Intel core processor.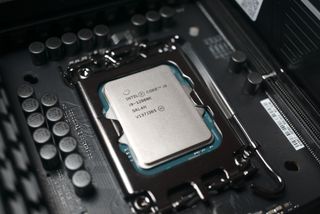 (Image credit: Rich Edmonds / Windows Central)
Intel uses a similar model-naming scheme and SKU family setup like AMD for its processors. The company uses Core 3, Core 5, Core 7, and Core 9 to separate its best CPUs into different brands. The higher the brand number, the more powerful the processor. For instance, an Intel Core i7 would be more powerful than an Intel Core i3.
Here's a quick breakdown of the different Intel Core processor brackets:
You'll find a few processors in each family bracket. As aforementioned, the higher the number the more powerful the processor. The first number after the brand denotes generation, 12900K being a 12th Gen processor. The 12900K is the model number or SKU, and the 12900K is the suffix, which can mean the following for desktop-classic processors:
G1-G7: Graphics level
E: Embedded
F: Requires discrete graphics
G: Includes discrete graphics on package
K: Unlocked
For instance, should you be looking to build an enthusiast PC, we would recommend choosing an Intel Core i9-12900K CPU over an older and less capable Intel Core i5-11600K.
Choosing the correct motherboard
Not all motherboards are built the same, nor do they all have the same socket and chipset. A socket is what the CPU is installed on to create a connection between the chip and motherboard. These are physically different and you won't be able to install an incompatible CPU into a socket without problems. The latest socket for 12th Gen Intel processors is LGA 1700.
Then there's the chipset, which simply denotes what features will be available to you. The flagship chipset from Intel is the Z690, which you'll find on all mid to top-range motherboards that will work with 12th Gen processors. You can save money by choosing a more affordable chipset, but you'll sacrifice a few features, like available USB ports.
We rounded up the best motherboards for Core i5-12600K, best motherboards for Core i7-12700K, and best motherboards for Core i9-12900K to help you make the right choice.
Picking the right CPU for your PC
Core i5
Intel's Core i5 processors are mid-range offerings that have 10 cores with Hyper-threading. These CPUs are designed for use in most PCs, ranging from budget builds to impressive gaming rigs. It's even possible to get away with some video editing thanks to the multi-core performance.
(opens in new tab)
The Core i5-12600K is a great value processor from Intel, offering 10 cores and 16 threads for less than $300. It's strange to consider this level of performance as "mid-range."
Category
Core i5-12600KF
Core i5-12600K
Cores
10
10
Threads
16
16
Base
P: 3.7GHz
E: 2.8GHz
P: 3.7GHz
E: 2.8GHz
Turbo
P: 4.9GHz
E: 3.6GHz
P: 4.9GHz
E: 3.6GHz
Intel Turbo Boost Max
❌
❌
Cache
L2: 9.5MB
L3: 20MB
L2: 9.5MB
L3: 20MB
GPU
❌
Intel UHD Graphics 770
TDP (boost)
125W
(150W)
125W
(150W)
Price
$264

(opens in new tab)

$320

(opens in new tab)
Core i7
If you need a little more performance, the Core i7 range is where magic can truly occur. With 12 cores and Hyper-threading, these CPUs are an excellent choice for gamers and content creators alike.
(opens in new tab)
Stepping it up a gear from the i5 brand is the impressive Core i7-12700K. It has 12 cores, 20 threads, and room for overclocking if you've got enough thermal capacity.
Category
Core i7-12700KF
Core i7-12700K
Cores
12
12
Threads
20
20
Base
P: 3.6GHz
E: 2.7GHz
P: 3.6GHz
E: 2.7GHz
Turbo
P: 4.9GHz
E: 3.8GHz
P: 4.9GHz
E: 3.8GHz
Intel Turbo Boost Max
5.0GHz
5.0GHz
Cache
L2: 12MB
L3: 25MB
L2: 12MB
L3: 25MB
GPU
❌
Intel UHD Graphics 770
TDP (boost)
125W
(190W)
125W
(190W)
Price
$384

(opens in new tab)

$450

(opens in new tab)
Core i9
This is where we enter enthusiast territory. Intel's Core i9 processors are impressive with high clock speeds for better overall throughput. They're overkill for most PC builds, but if you can utilize the available performance, they'll be an excellent addition to your list of components.
(opens in new tab)
You likely don't need something like the Core i9-12900K, but it would be amazing to have one installed inside your PC. These monsters have 16 cores and 24 threads, and can turbo boost all the way up to 5.2GHz.
Category
Core i9-12900KF
Core i9-12900K
Cores
16
16
Threads
24
24
Base
P: 3.2GHz
E: 2.4GHz
P: 3.2GHz
E: 2.4GHz
Turbo
P: 5.1GHz
E: 3.9GHz
P: 5.1GHz
E: 3.9GHz
Intel Turbo Boost Max
5.2GHz
5.2GHz
Cache
L2: 14MB
L3: 30MB
L2: 14MB
L3: 30MB
GPU
❌
Intel UHD Graphics 770
TDP (boost)
125W
(241W)
125W
(241W)
Price
$564

(opens in new tab)

$650

(opens in new tab)
The choice is yours
Which processor is perfect for your build depends on what you'll need the PC to do, as well as how much money is available. We rounded up the best processors for building a PC on different budgets.
The best CPUs for your desktop PC
When looking for a new CPU, it's easy to automatically go for the more expensive options expecting a return in performance, and you'd be correct in that assumption. However, the question is whether or not you need that kind of power and whether or not you really need to pay that much. See our collection of the best options based on several performance and price points.
Best CPUs for your next PC build
Other than that, the rule of thumb is to spend as much as you can, within reason. It's better to purchase a Core i7 instead of a Core i5 and then have to upgrade sooner, which will cost more in the long run.
Rich Edmonds is Senior Editor of PC hardware at Windows Central, covering everything related to PC components and NAS. He's been involved in technology for more than a decade and knows a thing or two about the magic inside a PC chassis. You can follow him over on Twitter at @RichEdmonds.
Sad there no lock cpu. I'm no fan of water cooling. So I'm glad my pc has a 11th gen. Likely the last gen to ever having air cooling. 😔

Alder Lake supports air cooling. Even one of the big videos recommending using liquid cooling acknowledges that air cooling will still work, just not quite as well as liquid (which has always been the case). Why did you think that air cooling is not an option with Alder Lake?
Windows Central Newsletter
Get the best of Windows Central in in your inbox, every day!
Thank you for signing up to Windows Central. You will receive a verification email shortly.
There was a problem. Please refresh the page and try again.