AMD Ryzen 5000 series processors: Everything you need to know
We've rounded up everything AMD Ryzen 5000 right here, including information about the Ryzen 5000G APUs.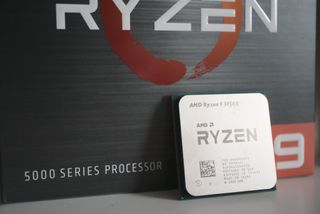 (Image credit: Rich Edmonds / Windows Central)
AMD announced the Ryzen 5000 series of processors based on the Zen 3 architecture in October 2020. This family of desktop-class CPUs is the successor to the previous 3000 series, offering additional performance with a core redesign and yet more efficiencies to really ramp up the pressure on Intel.
These processors are fast. Real fast. They're also incredibly efficient with the leading Ryzen 9 5950X rocking 16 cores and 32 threads only sporting a thermal design power (TDP) rating of just 105W. AMD is also now setting up for a retail launch of a couple of its Ryzen 5000G desktop APUs, with an expected release date of Aug. 5, 2021. Here's everything you need to know about these processors.
Meet the AMD Ryzen 5000 processors
AMD revealed the 5000 series, but which processor is right for you? We've rounded up the SKUs in this handy specifications table. Interestingly, AMD decided not to include coolers with the 105W processors and instead only bundle one with the 65W Ryzen 5 5600X.
Swipe to scroll horizontally
Category
Ryzen 5 5600X
Ryzen 7 5800X
Ryzen 9 5900X
Ryzen 9 5950X
Architecture
Zen 3
Zen 3
Zen 3
Zen 3
Socket
AM4
AM4
AM4
AM4
Cores
6
8
12
16
Threads
12
16
24
32
TDP
65W
105W
105W
105W
Base Speed
3.7GHz
3.8GHz
3.7GHz
3.4GHz
Boost Speed
4.6GHz
4.7GHz
4.8GHz
4.9GHz
Cache
32MB
32MB
32MB
32MB
Cooler
Wraith
Stealth
-
-
-
Price
$299
$449
$549
$799
The Ryzen 5000 series starts from just $299 for a six-core processor with 12 threads. It's clocked at 3.7GHz but can boost up to 4.6GHz, and 32MB of cache ensures you'll find it difficult to find issues with this budget-friendly CPU. There was a time when six-core processors were the best of the bunch and now it's an affordable entry for AMD Ryzen 5000.
Leading the pack is the behemoth Ryzen 9 5950X, which is in a class of its own. Threadrippers used to be where you needed to go for enthusiast performance, but now AMD offers similar levels of computing without requiring specific coolers and motherboard chipsets and sockets. This CPU houses 16 cores and 32 threads with a TDP of just 105W. Yes, it's as insane as it sounds. Our Ryzen 9 5950X review has all the details.
Be sure to have a look at our AMD Ryzen 7 5800X review as well for more information.
Meet the AMD Ryzen 5000G APUs
AMD followed up its standard Ryzen 5000-series desktop CPUs with the launch of its 5000 G-series APUs in April 2021. These chips come complete with integrated graphics baked right in, allowing you to get the full PC experience without a discrete graphics card. They're built using the same 7nm process and Zen 3 architecture, with AMD's Radeon graphics. They're a successor to the previous 4000G chips.
While the 4000G CPUs didn't actually see a retail release — meaning they were available only in OEM systems — the 5000G CPUs launched for everyone on Aug. 5 2020 after enjoying a short run exclusively in OEM systems. While there were six 5000G CPUs initially launched, only two made the move to a retail release: the Ryzen 5 5600G and Ryzen 7 5700G.
Swipe to scroll horizontally
| Category | Ryzen 5 5600G | Ryzen 7 5700G |
| --- | --- | --- |
| Architecture | Zen 3 | Zen 3 |
| Socket | AM4 | AM4 |
| Cores | 6 | 8 |
| Threads | 12 | 16 |
| Graphics | Radeon Vega 7 | Radeon Vega 8 |
| TDP | 65W | 65W |
| Base clock | 3.9GHz | 3.8GHz |
| Boost clock | 4.4GHz | 4.6GHz |
| GPU clock | 1.9GHz | 2.0GHz |
| Cooler | Wraith Stealth | Wraith Stealth |
| Price | $259 | $359 |
The main differences between the 5000 and 5000G CPUs, aside from the integrated graphics, involve PCIe support and frequencies. The 5000G chips are capped at PCIe 3.0, whereas the standard 5000 CPUs offer PCIe 4.0 support. There's also a matter of the boost clocks being a bit lower in the 5000G chips.
While the Ryzen 5 5600G and Ryzen 5 5600X have the same 65W TDP, the Ryzen 7 5600G has a lower 65W TDP compared to the 105W TDP in the Ryzen 7 5800X. In any case, you're getting the same amount of cores and threads across CPUs.
If you're looking for AMD's laptop CPUs, have a look at our guide on how to pick the right AMD Ryzen 5000 Mobile processor.
Which motherboards work with AMD Ryzen 5000 processors?
X570 and B550 motherboards work fine with the 5000 series Ryzen processors, so if you have either board from a vendor you'll be ready for this generation of CPUs. All that's required in some cases is a BIOS update, which should be applied before installing the new processor.
Many older 400-series motherboards have also received support for the newer CPUs in the form of a BIOS update. Still, the best bet is to upgrade to a 500-series motherboard, allowing you full access to PCIe 4.0 and other notable improvements the latest chipsets offer. Have a look at our collection of the best motherboards for more details, and be sure to take a look at our guide on how to check if you have the latest motherboard BIOS for AMD Ryzen 5000 CPUs.
(opens in new tab)
This processor has six cores, 12 threads, and hits a clock speed of 3.7GHz that boosts up to 4.6GHz.
(opens in new tab)
With a jump up to eight cores and 16 threads, this CPU offers even better performance. It hits clock speeds of 3.8GHz and can boost up to 4.7GHz.
(opens in new tab)
The 12 cores and 24 threads in this CPU deliver incredible power. This processor has a base clock speed of 3.7GHz and goes up to a boost speed of 4.8GHz.
Windows Central Newsletter
Get the best of Windows Central in in your inbox, every day!
Rich Edmonds was formerly a Senior Editor of PC hardware at Windows Central, covering everything related to PC components and NAS. He's been involved in technology for more than a decade and knows a thing or two about the magic inside a PC chassis. You can follow him on Twitter at @RichEdmonds.
It's a shame they raised the prices so much. One of the great things about Ryzen was the lower prices for competitive performance.

It is a business and things change. Intel will have to lower prices until they catch back up with performance.

Certainly a bit of boost in price from the previous generation. But, so worth it. I don't see why they would want or need to drastically undercut the competitor when they lead the pack in processing, tech and efficiency. I think it'll be the 5900X for me, replacing a 3900X.

5950X is $799/£620 but yet the lowest UK price is around £750 ($970)

I've been loving my upgrade from the 2700X to the 5950X.

They Ryzen 9 5900X and 5950X both have 64MB Cache and not 32MB as listed above. Just saying...

I recently upgraded from a 2600x to the 5600x and ran the auto tune on ryzen master. My rx5700 gpu is now pegged at 100% when gaming while the cpu calmly strolls along at 20%. I don't see any reason why I'd need anything more expensive than the 5600x at this point, maybe for video rendering but I only do that for my fpv flight footage. Hopefully this year I can upgrade to 6000 series Radeon and give it a run for its money since the prices are coming back down.
Windows Central Newsletter
Thank you for signing up to Windows Central. You will receive a verification email shortly.
There was a problem. Please refresh the page and try again.