Cortana for Android beta can now read your incoming texts aloud
By Dan Thorp-Lancaster published
Now Cortana will read messages to you if you're occupied with something else.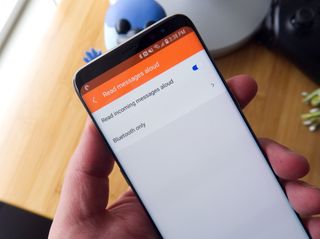 Microsoft's last big update to Cortana for Android brought the ability to send texts with your voice, and now the company is filling in the other side of that equation with its latest beta update. Rolling out to beta testers now is the option to have Cortana read your messages aloud.
The feature isn't documented in the app's release notes, but Microsoft detailed it in the private Google Plus community for beta users (via Thurrott).
Testers will now find a toggle in the settings menu labeled "Read incoming messages aloud." By default, Cortana will only read messages aloud when connected to a Bluetooth device when toggled on. However, there are also options to have the assistant always read messages out loud, or only when connected to a wired headset.
It's an interesting feature that, when combined with the option to compose texts with your voice, could make for a solid hands-free experience. That could come in handy when you're driving a car or otherwise in a spot where you can't be bothered to pick your phone up.
If you're a Cortana beta tester on Android, you can check out the feature now with the app's latest update. Otherwise, you can sign up to become a tester (opens in new tab) or just wait for the feature to eventually make its way to the release version of the app.
See at Google Play (opens in new tab)
Dan Thorp-Lancaster is the Editor in Chief for Windows Central. He began working with Windows Central as a news writer in 2014 and is obsessed with tech of all sorts. You can follow Dan on Twitter @DthorpL and Instagram @heyitsdtl. Got a hot tip? Send it to daniel.thorp-lancaster@futurenet.com.
Don't feel like watching the video. How do I actually find the setting? I'm a beta tester

Seems like a lot of trouble.

What video? I see no video and I now have the beta installed but the setting is not there. Can someone please explain to me what I need to do that I have not already done to enable it? I am also signed up as a tester.

I feel you, this is yet another instance of people making a video to post information that can be expressed in a few lines of text at most.

This will be the best thing since sliced bread. All of the text reading apps on Android suck. Windows phone did this very well. I hope this lives up to that standard.

Thing is Google assistant can already do it, and will probably do a better job due to it's deeper system integration.

Unless you don't use Google assistant

True. Like how peeling a banana is easier with your hands than your feet... But what if you'd rather not use your hands?

What if it's easier to peel a banana with my feet than my hands?

Then you should see a doctor. Or join a circus...

So, Google Assistant just breaks right in, just like Cortana on Windows Mobile, says I received a text and would I like to read it or ignore it? Without Android Auto?

Not that I'm aware of... as far as I know you have to ask it to read your text. I'd actually find it incredibly annoying if it just blurted it out whenever I got a message... And to be clear, I've no idea how Cortana worked on Windows mobile, because I never owned one. I'm comparing the Android Cortana app.

The windows mobile one knew when you were driving (paired to a specific Bluetooth device) and would offer you options. Nothing come close, thus far. Unfortunately the driving app on Android is virtually identical to the one in Windows Phone 8. :/ iOS doesn't appear to be much better.

The way Cortana on WP handled text was the best. Maybe you can YouTube some old videos. You will be impressed. Hopefully, it will ultimately work the same.

No, it is not, you cannot use Google Assistant on your cars Bluetooth audio to read texts automatically, breaking into what ever you where listening too.

Interesting I use Google auto in the car as it is the only option to read my messages but I don't like the music side as it is limited to play list I did try automate but did find it alittle more clunky but with this on cortana I may give it a try again. Also this could be Microsoft on the way to letting us say Hay cortana and it works fingers crossed.

Are you talking about a function that only works with Android Auto? Something I don't have?

Google Assistant cannot use the Bluetooth Call Stream so it is useless when listening to the radio in your vehicle. Windows Mobile with Cortana would use the Call Stream so no matter what media source you were listening to it would interrupt and work. Cortana was SO much better than Siri or Google on Windows Mobile. I tried this beta version on my LG V20 and it didn't read anything. I use Enhanced SMS & ID and it works great. Uses the call stream which is a MINIMUM requirement in a vehicle.

Be nice if it could actually set a timer.

Yes let me second that. It would be nice if Cortana could set a timer instead of pulling up videos of setting a timer. Well at least they added the ability to set an alarm, so there is hope.

??? Mine sets a timer. But I am on a Windows 10 Phone. Are you saying Cortana on Android won't?

I'm glad they are making progress towards the same capability Windows Phone had years ago. This does NOT get there. Thus far, and it's only a beta, this only reads your texts. It does not ask you if you want it to read your texts, nor does it ask you if you want to respond to the text or call the person back. If only MS had more than one programmer who could make that bit of magic happen again. Baby steps, I suppose. And no, you can't set a timer.

Well it's more than just programming, it's also that some things need deeper integration with the OS that might not be possible

You might want to look into an app called 'Drivemode'. It's the closest I have come to the Lumia experience in the car. Somehow, a much smaller company was able to do this already.

Exactly what I was going to say.

A feature I've been enjoying on my Lumia phones for years.

And I keep enjoying in mine. No use in this, not if you come from WP

Just seems like a pointless feature now tbh. Most people rely on instant messaging apps but SMS a lot less. If Cortana only reads SMS aloud then that's only a tiny piece of the jigsaw for most. I don't see how this could ever replace Android Auto which will read everything out loud and let you reply by voice too

There you go with this "most people" crap again. Where do you get your numbers from? I would love to see stats from the phone companies on their monthly SMS totals. I would bet some serious money that you are wrong.

He is right though. ;) Most people only receive SMS because it is the cheapest way for mass marketing communication and has less chances of blocking than a messenger text. Another reason people may receive SMS is customer support/service. i.e. a verification code, or a delivery notification. Texting is mostly a business or official business thing. And while 18.7 billion texts (many of which are SMS) are sent on a daily basis, more than triple, that is more than 60billion are the messages sent via WhatsApp and FB Messenger alone. (And there's Viber, Line and so many others for which we do not have much data). So you would lose the bet. I suggest you tone down your fanboi attitude.

The only people I know that use messaging apps the way you describe, are those that constantly lose cellular signal and rely more on WiFi, or simply can't keep their service on constantly... Or, you're a teen. I don't know too many adults that use messaging apps, unless the are on FB a lot.

Obviously it varies from person to person and friend group to friend group, but personally and anecdotally I'm 34 and the vast majority of people I know use messaging apps rather than SMS. Also, I happen to know my mum uses Facebook messenger almost exclusively to message her friends, and she's in her 50s. Pretty far removed from being a teen.

Nope I'm not a teen. I'll be 40 in a few days actually. Like someone else mentioned sms is used mostly by companies to verify apps etc. Plus it's still limited by the amount of characters you use. Even my 68 yr old mum has switched to WhatsApp 99% of the time because it gives her free calls too. It's 2018 and people like to send each other photos of their kids etc and that cost's a hell of a lot by MMS. 40p each here in UK (55 cents US) as they're not included in call plans so that's not a viable option. Instant Messaging covers everything - messages, calls, video chat, picture messages. Sms is outdated and offers very little use and features

Interesting how plans work from country to country. Here in the US most plans (that I'm aware of) come with unlimited SMS and MMS, but limited data. Hence it makes a convenient messenger platform. While the limited data is starting to get fixed, texting is still quite convenient for the most part.

We have unlimited text in Australia too, but very few people use it. Even with data caps, because IM data transfer is so negligible, people use it instead.

No, he is not right, facebook messenger is not read over a bluetooth system in the car, get real. I suggest you tone down you Google cheer leading instead. No, he is not right.

Whether you like it or not, Android Auto definitely can read Facebook messages. They even specifically state it in their app description https://www.windowscentral.com/e?link=https2F2F... Hopefully you're not one of those people to whom facts don't matter when you're weaving a narrative.

And I would want to replace my cars Uconnect system with another Android auto head unit why? No thanks, I prefer built in for my car.

You can use Android Auto without a head unit from the device only... But that's irrelevant, because just because you don't want to use something does not mean it doesn't exist.

So you don't need a compatible Android Auto head unit to use Android Auto? ** edit ** ahh, answered below. I'll give it a try.

can you tell me where is this feature, i excited Cortana will have it on Android but had no idea Android already have this feature. please tell me where it is

i just looked into the Android Auto and apparently i need a compatible car also to which i do not, unless there is another why i definitely see the benefit with Cortana since it doesn't required a compatible vehicle.

I use Android Auto just on my phone. There are some features that aren't available (like Waze support), but otherwise it works without a car unit.

There's 2 ways to use Android Auto. It can be used on a compatible car stereo OR you can just use the Android Auto app on your phone which many of us do and pair via Bluetooth to your car

they cool but still i would have to download the app and open it and have it running? why can google simply integrate it like WM, inst it their own app anyway. their getting like Apple, they have an app for that..lol in the settings you simply set it if you want text message read aloud and how, every message, headphone, Bluetooth or headphones & Bluetooth, standard feature not another app. i can probably give it a shot if someone can tell me its worth it but if i cant respond then definitely not worth

Maybe, most people you know.

Unfortunately, I doubt most messaging apps adhere to the same standards as SMS.

Just came to realize again how terrible that android style settings UI looks...

Does it ask if you want it read? That is actually the most useful feature of the WP version. I don't want texts with web links read or package tracking info.

I do not use Cortana on Android anymore. They have made it nearly impossible it was bogging my device. Digital assistants have proven WAY overrated. They are just glorified voice command tools with a few extra useless responses to make them feel "alive". On PC it is a different story, but still not as useful as advertised. Belfiore the git performed his miracle once more.

This was a function of early Cortana on Windows phone. They eventually took it away for whatever reason the decided on. I guess better to be on something rather than nothing

Actually, it stayed on W10M. I used it with my Lumia 920 and 950XL.

Yeah, I was using this on my Lumia 950xl, wherever I was on hands free, not sure what you mean by it being removed.

I still get my messages read aloud by my lumia when I'm driving

Works perfectly on my 950XL. I was shocked this was not a built in feature of Android. But then again I knew this was going to be a step down.

Still sounds like a robot

So? I need it to read a text to me over my cars bluetooth audio, not speak sweet nothings in my ear.

No signal for support other languages. Google Assist over pass Cortana supported languages

It's one of my favorite feachers on Windows mobile, use it alot hands free while driving. Still works great on my 950XL and 640. One of many reasons I still use windows mobile and will continue till Andromeda arrives. :-)

This is definitely a feature I miss from my WP days so it's great to see it coming to Android, although it was the only part of Cortana that worked well for me so I don't know if I could switch to it SOLELY for one feature.

Where is the feature, I do not even see it to enable it. I did sign up for the beta, the beta version almost immediately downloaded and yet the feature is not there. Has anyone else found it?

I'm on beta as well, and still do not see this option.

Still not as good as having a Windows phone AND still not available for my region. So, no way Jose.

Hey Dan Thorp, why tell us about this if you will not even tell us how to get it?

Run the update, ensure you are on beta, go to settings and it is the second option under general settings. Hit the top left hamburger menu to find settings.

Thanks. For some reason it is not there and when I installed the beta, Cortana would no longer make calls, LOL! :D Oh well, I removed it, removed myself from the beta, reinstalled the public version and everything is working again. Thank you for the information though, I appreciate it.

Interesting. Was using Cortana in my car just today (and everyday) on my L950. #KeepCalmAndSwitch #BurnedByWindowsPhone

I thought Cortana was supposed to be dead? lol

Got a question: Who really cares what Cortana can or cannot do?
Microsoft assistant doesn't have a proper integration with any device as Amazon, Google and even Apple do, making it kind of useless.
Hence eventually Microsoft will cancel poor Cortana explaining why others do better and that they cannot compete - as they usually do.
Rings a bell - sorry: rings many bells?
Once more, who really cares about Cortana anymore?

Presumably everyone who took the time to open and participate in this thread cares.

I recall there being a feature in testing where fourth Cortana on the desktop would show SMS messages from Android devices. I believe it was here that I read about it being a beta feature, what happened with that?

Is there anything like driving mode on android?

When will Cortana on Android work with Microsoft Band 2 ? :P
I explain myself : since I switched from my Lumia 950 to the Galaxy S8 recently (thanks for the Lumia to not accept anymore any SIM card without shutting down a couple of times every day), I can't start Cortana anymore in my Band. Everything works fine but not the voice assistant...

WOW! Another Windows Phone 8.1 feature added finally to Cortana, so that those few, who have Cortana available can now do the same that the whole world could have done with a Microsoft Phone 8.1 years ago!

If MS perfects this on Android it makes one less obstacle for me to switch from my X3 to Android. Cortana handling my texts over Bluetooth is light years ahead of Android Auto. I cringe every time my wife gets a text in her car using Android Auto. The process is robotic and slow, and while it will eventually read the text, it only lets her reply with a handful of canned messages of which she needs to select from and while doing so, take her eyes off the road. Cortana is so much better at this task. My only gripe with Cortana handling texts is that if the person or persons texting me do so with multiple texts quicker than I can get Cortana to reply, then Cortana misses some texts.

Huh? Android Auto you just use your voice to reply to any message with whatever you like. Why would you use a canned response?

That's the options she is given. Can't find a way to just respond with a voice message.

Are you aware that not many people have android auto and that people use Bluetooth devices outside of driving?

Nope. Android Auto does not automatically allows you to respond. You have to first realize a text came in, then you have to select it, ask to read it, and the reply. Cortana in WM interrupts the music on your car system, then tells you have a text from someone and asks if you want to read it or ignore it. AA does not do that. I also loved the "Hey Cortana, text my wife, blah, blah..." No need to say a name or mobile, work, etc...

Do we know if it will play texts over a bluetooth headphone set ? I car supports bluetooth for the phone but, not texts but, I need an app that will play and respond over bluetooth, so I can do wireless texting while driving (I will NOT look at my phone and my wife gets upset because i didnt respond)

Downloaded & installed latest version, and on beta programme but nothing under settings. Is this region specific? (i.e. US only, as is seemingly so typical with a lot of Cortana's functionality)

I'm from Romania and I can't install on my new Samsung Galaxy S9+ neither Cortana, nor Edge. They are not available in my country. I really don't understand the reason of this limitation. Especially for Edge browser. Why I wouldn't be able to use it in my country?

For Cortana it had been said that it is due to the limited quality of Bing work engine in selected countries.

Beta tester in US. Option is not in the settings...

I am in Beta in the US too... Nowhere to be found in settings. This is #FAKENEWS

I am also in the Beta and while according to Google Play its supposed to be there, the option to read texts is not on my Samsung Galaxy S9 Plus

The app has had several updates since these news and still no option to read texts. Is this for real?

I signed up to Beta test but cannot find the setting to turn this on AND I see no video here. How do you get this to work?

Crazy. Had a friend at work sign up for the beta and he got the read text menu option in 2 minutes on his Samsung 8. I still don't see it. I have an Essential PH-1. I've tried uninstalling and installing Cortana even and nothing.

Hmm. I signed up for the beta - not there on my Samsung Note8. In the US.

Which version did he get?

Did this ever get implemented? I just moved over to Android and really miss this feature (as well as many others).

I have the newest Cortana on android 8.0 and it does NOT read texts on my blue tooth car radio when I get them. THis used to work on my windows phone but not android. What is the article talking about?
Windows Central Newsletter
Get the best of Windows Central in in your inbox, every day!
Thank you for signing up to Windows Central. You will receive a verification email shortly.
There was a problem. Please refresh the page and try again.