Cortana is annoying some users with endless weather alerts, here's how to disable them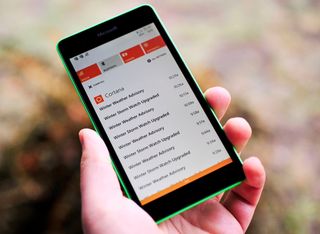 Microsoft's Cortana is certainly one of the most exciting consumer stories for the company in 2014. Building on the legacy of the Halo franchise, Cortana is rapidly becoming a well-known piece of tech for those who follow mobile. However, Cortana still has a few bugs and quirks, including one that is rearing its head for users in New England today.
If you use Cortana and you have weather alerts set up, you probably have witnessed the flood of…well, flood alerts that arrive on your phone. Although one or two warnings are okay during a six-hour period, when you bump it to more than five (and upwards of twenty) it is downright annoying. Even more so if you use the Microsoft Band.
This morning, many of us in New England (Massachusetts, Connecticut, New Hampshire, Maine, Rhode Island) are experiencing the usual bad winter New England weather: cold, rain, snow, sleet, local flooding, etc. Unfortunately, the avalanche of alerts coming in, as evidenced by the above photo, is causing some of us here (and on Reddit) to rage.
Clearly, Microsoft needs to set some type of limiter on weather alerts, which are dependent on the National Weather Service. In fairness to Microsoft, the NWS is just updating things very often, and Cortana merely pulls in that information. Not all of our phones are experiencing the deluge, although we figured it was an appropriate time to tell you to how to disable those alerts, in case you are suffering from the issue.
Enable/Disable Weather Alerts in Cortana
Launch Cortana
Tap the hamburger button (upper right corner)
Interests
Weather > Weather near me
Enable/Disable 'Notify me when there are weather incidents'
Save (floppy disk near the bottom)
The downside to this trick is you will, of course, lose all weather alerts until you re-enable it. Assuming the bad weather passes, you could ironically set a reminder using Cortana to tell you to re-enable them.
The long-term goal for Microsoft is to fix this through Cortana, but for now, if you are one of the unlucky bunch suffering from this annoyance, you now know how to get rid of it.
Daniel Rubino is the Editor-in-chief of Windows Central, head reviewer, podcast co-host, and analyst. He has been here covering Microsoft since 2007 when this site was called WMExperts (and later Windows Phone Central). His interests include Windows, Microsoft Surface, laptops, next-gen computing, and for some reason, watches. Before all this tech stuff, he worked on a Ph.D. in linguistics and ran the projectors at movie theaters, which has done absolutely nothing for his career.
Ah let's not rain on Cortana's notification parade.

But, She's been a bad...bad...girl....

Was she careless with a delicate man?

Stay Calm and Visit: http://www.navsingh.org.uk/

She must warn us of the FLOOD!

Apparently the Flood are coming in a Flash to CA.

Get these in the UK, but all relevant and not too often. They are descriptive and detailed when clicked on. So all good here, yeh.

You obviously don't have a weather service that has a need to update the status even when nothing has changed. The US national weather service is the culprit. There should be 2 alert, one when the incident happens and one when it ends, with maybe a few extra reminders for dangerous weather like hurricanes and tornados.

It was merely a sarcastic pun.

For me nothing it alerts am in India.using UK cortana. Posted via the Windows Central App

You do realise that Cortana is natively available in India?

Cortana IS in India in alpha version,just the language is to be set to UK.

Can you please tell me how to get cortana in India. What exactly I need to change in the settings?

Go to speech then speech language and set speech language to "English UK" Cortana will activate in alpha mode.

Mine doesn't warn me often enough.

I don't even have an option for weather alerts in Canada :(

Or calendar, or well anything else.

Actually only Daniel is facing the issue. Not the others. Isn't it Daniel?

Let's see, since I link to a Reddit thread where others are complaining about it (and there is another there too), and Paul Thurrott, Lance McCarthy and myself are all discussing the same thing on Twitter, I'm going to go with a NO to your question.

this counts? http://i.imgur.com/rREmFSv.jpg

Not really. That is the app's fault, I'm assuming. Cortana merely reflects app alerts, but it does not create them. However, without seeing the code or knowing that is actually occurring (are those different alerts?), it is hard to say definitively.

With the same snapdeal app it has happened earlier as well. i mentioned this on snapdeal twitter but no response from yesterday.

Combined with the blue skies app I must've had nearly 100 weather notifications today lol. Didn't bother me much except for the handful that started coming in at 3 in the morning. But I was to tired to try disabling the notifications until morning.

I live in Boston and last night starting around 4:00PM until 11:30PM every 10 mins i'd get a wind alert, flash flood and marine alerts. It was interesting because obviously there's an app or system out there that's tracking this information based on parameters meet. Meaning if wind reaches a certain high it will alert. However it feels like it doesn't have a disclaimer that if the wind dies down within 10 mins and goes up again, to ignore the new wind alert. It's just sending the alert when that parameter is meet. To make the function more reliable and less repetitive I think that an hour to two hour buffer should be taken into consideration for Cortana to analyze between alert types before repeating herself. It didn't bother me, since I've set a very short, basic sound for Cortana alerts, but I can see why someone might get annoyed since at some point I had the microsoft band and my phone both trying to get my attention. :)

Seems to me everyone in NE is always up in arms about something...lol, jk ;p
Honestly though, a constant stream of notifications is just par for the course in our connected age. "Better to be bothered alive than dead and clueless." ~ Sergeant Delta, UNSC =[

No.. Quite a few users posted complaints yesterday and if the issue wasn't addresses it would only get worse. At least now we have sth to direct them too

Good to know that it isn't just a bug on my phone and that its actually a thing. Fortunately, I appreciate the alerts and will just deal until there's a middle ground.

Yup, had like 100 wind advisory notifications last night...

I don't need to know it is windy 20 times a day..Definitely needs a limit function

its windy here in LA and i keep getting alerted every hour. i also get brush fires alert.

I keep them on just in case things get serious... http://imgur.com/mESdmVM

The last time Cortana warned of flood, things didn't turn out to good. I'd watch out.

I wish, but hope against it escalated to a Gravemind warning, lol =P

Oh my goodness yes. This was awful yesterday. Kept getting a high wind advisory every two minutes. Had to shut it off on my phone and my sisters because she couldn't take it either. Having the band made it infinitely worse.

Constant vibration on my band as well. I think my wrist can still feel vibration even if i take my band off for charging.

You might wanna lower the vibe setting... O_o

Yeah, but IE on WP definitely has some kind of bugs, it just auto closes when I am surfing....

Thank goodness! I was going crazy already. Thank you, Daniel

I'm in Massachusetts and this was definitely annoying yesterday, but luckily appears to have calmed down now

Wish I even had the option to enable this in Canada. :|

This is US only thing, right? Because we're getting some nice 80mph gusty wings in here in Scotland and no alerts whatsoever, even if the weather apps go ballistic about it.

Since our alerts come from the NWS, this would be correct. It appears to be something related to NWS Cortana that is causing the problem, not Cortana itself.

Female name+female voice= herself
Gender neutral technical name+gender neutral robotic voice =itself

I don't need to worry bout that. Microsoft never releases any updates for users in India. So I don't get anything.

Omg!!!! Been annoying getting a ton of wind alerts in California!!! Got so mad that I turned off Cortana altogether... I guess I can turn Cortana back on...

Not as bad as my phone throwing duplicate AMBER alerts when I drop off my cell network and come back, which happens alot if you're in a classroom inside a school. iPhones are exempt from this description, since they seem to use horrific black magic and can always get reception where my 521 can't.

I've gotten seemly random alerts. When I open MSN weather there are no alerts/advisories. Nor is there anything when I go to Weather Underground. The other thing that bugs me is when I tap on an alert it doesn't give me any detail, it just shows the current weather. Sometimes it does nothing at all and just launches Cortana.

THANK YOU DANIEL! Good to see our tax dollars at work over at NWS.

I only had 2 wind advisory alerts. Nothing crazy.

what they can do is aggregate alerts if there are many but that might result in a delay. my take: I'd rather have it alert me a lot than completely miss everything

In UK right now and she only warns me if something actually happening. No spam

How to enable cortana in India?

Change your region and language to USA then you will get the American version if Cortana on your phone, I have done the same on my lumia 1320 and it works fine

Cortana is available natively in India too (provided you have GDR1).

Its better to use the us version, since you get the best features of Cortana..and to add to that she is perfectly capable of understanding my indian accent!

I'm guessing this is a US only thing, cuz I don't see that option in Canadian Cortana

I imagine heading your comment in Canadian English...lol =P

Cortana's updates don't bother me. I especially love the traffic update she gives me right when I get off work.

I find Siri better than Cortana in some respects, for eg if I say good evening at night 2am to Cortana she says good evening, if I say good night or morning or merry Christmas anytime of the year she reply's back in return, whereas if you say goodnight or good evening or morning to Siri she replies back in a more smarter way by keeping track of the time of the day, same with merry Christmas, if I say it one any other day except 25th Dec she would reply 'oops it isn't Christmas yet'..these are some reasons I like Siri..

I can't get Cortona to alert me to anything.

Cortana has been alerting all last night and this morning about the incoming snowstorm. It isn't annoying, though. It just shows that she cares.

One of the more exciting consumer stories? Uh, no...! MS would like to think so, but since they've only provided the service to a fraction of their user base and needlessly tied other major functions to Cortana, further alienating their non-English speaking customers, it's a safe bet that "frustrating" or "infuriating" are much more relevant adjectives than "exciting"!!! :-/

I must have had at least 8 notifications of bad weather overnight last night.

Cortana is driving me nutz with the alerts!

Completely unrelated, really, but isn't it awesome that the universal symbol for "Save" is still the floppy, something that most people haven't even seen in the last decade? :)

How can I turn off commute alerts? It is always buzzing me when I'm well on my way. I don't know how it figured out my daily commute but I got it very wrong.

I don't have music searches in my interest list.... I'm on developer's preview... :(

The bug seems to be based on locality. I travel for work and, as an example, whenever I pass through a certain section on the NC/SC border I get a flood alert... even though there's no rain in the forecast. This week in Pismo Beach, CA I've been "flooded" with 'high surf alerts'. However, I don't get these kind of alerts everywhere. When I'm at home, the are accurate and timely.

I did exactly this last night after being peppered with two different types of wind advisories every 15 minutes in the Boston area. After an online search I found one person who works with Cortana claim switching alerts off then on would do the trick. Nope. They were never this bad. Is the weather service to blame?

It's raining alerts up in here! Yeah, they probably just don't have a restriction on the amount of alerts to show from their background task. :/ In Ambient Weather, I only allow 1 every 4 hours b/c it get REALLY annoying. haha

What I don't like is when i click on these notification expecting it to take me to more information, It just opens the Cortana app. And I'm left digging around trying to find out more info. "Warning! possible death imminent!" Cortana. "What!? Where? How? When?" Me. "Getting things ready..." Cortana.

I don't like that either. She should at least open a weather app or website.

Just wanted to know how to get Cortana alerts in action centre

See my comment below, it applies... ;)

She keeps warning me about Yellow Snow. Pmsl

Cortana was giving me weather alerts during my quiet hours.... Disabled now thanks to this post. UK.

I got a ton of alerts yesterday, I disabled Cortana completely.

You could also just alter the notifications (banner, sound and vibration) in the regular settings > notifications and actions > (O)
IF you still want to get them at least... =P

I hardly ever use Cortana. Location services kill my battery.

Anyone under 30 even know what a floppy disk really looks like? Lol!

For the uninformed... http://www.bing.com/images/search?q=floppy+disk&FORM=HDRSC2 Yea you could put a few million of those on a $10 USB drive these days....

Haha yeah I got those. A single swipe made them go away tho so I'm not too worried.

I got lots of these and I figured out how to disable them already. Lots of "high wind alerts" for some reason.

In each and every demo of Cortana there is a music logo along with the 3 bars. But in my phone there is only 3bars no music logo. Can anybody know how to bring that logo ??? Help me....

Save (floppy disk near the bottom) Whats a floppy disk?!

Yea, I'm in East Prov, RI.....I must of had 80 today from cortana, no meetings or phone calls got distracted so I am good over all, It seemed to slow down a little, if it keeps bothing me, I will disable it.. High Window watch upgraded..again and again...

Yeah, I live on LI, NY and received tons of these alerts starting yesterday and through today. Daniel, your recommendation is an excellent idea and I hope it's implemented soon!

This has been a problem since day one with Cortana. NWS or not, the fault lies with Microsoft here for not having their software prevent this silliness. But it pretty much works, so it's "good enough," like everything else with Windows Phone...

Click three lines in right corner
Click interest
Dis select or select the box your choice and click save
Windows Central Newsletter
Thank you for signing up to Windows Central. You will receive a verification email shortly.
There was a problem. Please refresh the page and try again.