Cortana now uses your name in Windows 10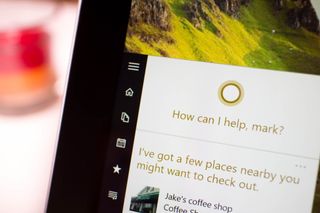 Windows 10 and Cortana have recently had some updates on the backend. In fact, heading into the Insider Hub the top message is about how Cortana can now answer some common questions.
Another small but neat addition is Cortana can now respond to some questions using your name. For instance, asking Cortana if you will need an umbrella today the personal assistant will answer but interject your name. This response is in contrast to Windows Phone where the current response is a bit more robotic.
Although a small change, it is certainly a welcomed one. Cortana needs to go beyond just returning information and instead become more human like. With the Cortana service using your name, it certainly feels a little be more natural.
No word on when this feature will roll for current Cortana users on Windows Phone 8.1 or if they will have to wait until Windows 10 Mobile. The latest version of Windows 10 Mobile preview does not yet support this feature either, at least according to our tests.
Thanks, thaman04, for the tip!
Windows Central Newsletter
Get the best of Windows Central in your inbox, every day!
Daniel Rubino is the Editor-in-chief of Windows Central, head reviewer, podcast co-host, and analyst. He has been covering Microsoft since 2007 when this site was called WMExperts (and later Windows Phone Central). His interests include Windows, laptops, next-gen computing, and for some reason, watches. Before all this tech stuff, he worked on a Ph.D. in linguistics, watched people sleep (for medical purposes!), and ran the projectors at movie theaters because it was fun.
"More Personal Computing" -Satya Nadella... or whoever

More personal competing is all well and good but how does one restrict this service, or straight up turn it off?

I'd also like to know if it's possible to turn off OneDrive in Windows 10, or remove it via the "Add/Remove Windows Features" panel (if still exists).

Nope. But why would you want to anyway?

It is possible to turn off OneDrive you will have to use Group Policy Editor. http://www.avoiderrors.net/disable-onedrive-integration-windows-8-1-windows-10/

Now she will cal me Master muhahaha

i want cortana like " her movie " but it is getting so awesome

The movie "Her" was very awesome!

I loved Her. That'll definitely be awesome and its slowly progressing towards that. Posted via the Windows Central App for iOS on my Lumia 940

Wow and to think that 5 years ago there were not so many people thinking how a digital personal assistant could help us... :)

Many still do... Posted via the Windows Central App for Android

Hope she would be released to all English users on windows 10 rather than the current state where you have to ne in certain regions to have her, and before she is released to other OSs

did you know that microsfoft had another digital assistance named tell me

And another called 'clippy' ;)

"Clippy" was 20 years ago... Including 20 years ago hardware!

Wasn't TellMe the name of the voice recognition when you hold 'Windows button' to send text with voice/ect. on Windows Phone 7?

Yes, it wasn't an assistant -- just voice recognition. Also I think they've re-used the name for their type-for-suggestions feature in Office 2016.

Cortana often addresses my daughter by her name when she asked a question on her 521. I have a 1520 and she has yet to call me by name. What gives?

Cortana doesn't give me news on live tiles anymore, is it erratic or something?

I am kind of happy it doesn't give me news on the tile anymore. Every time I looked at my start screen I got bummed out by tragedy.

Same here, I've disabled most news live tiles, seems journalists only delight in negative news these days, can't remember when last the news has actually been 'good'. At least they should try to balance it, there's still some good in the world right, right?? :-(

She never calls me by my name either. Idk what's up with that

same here! Seems strange as you can set up how your name is pronounced...

I have a little bit of everything added to Cortana's interests. News, weather, sports scores, stocks, traffic and WP news. I've noticed lately the tile only likes to show one thing. I wish she would just keep cycling through EVERYTHING on her tile...

I suggest they get Cortana to greet anyone called Mark by occasionally saying "O hai Mark"

It would be nice if Cortana would remember my name. Every install she asks for it even though it's the same Microsoft account and she then knows my Interests after typing it...

Yeah, I find that strange too... or least prompt us if that name is correct. I get they probably do it to show that your data is local and only your interests are synced, but I think a name is generic enough to not be a privacy issue.

But many times she answers me by my name only. In settings you can that we can allow Cortana to call us by our name. Windows phone 8.1 user here..

Yeah, but she never said your name in general responses. Now she does :)

He meant "calling" not typing back. ala Siri.

if microsoft buy here maps integrate with Cortana they can win ppl from google. The reason of not buying here maps maybe bcoz it may not be profitable as even g maps aren't profitable to google.

HERE is already making money and owns the future of automotive. Then again in Nandela's hands who knows what would happen.

I really really really, would like for cortana to correct grammar and tense when sending a message. ex: "cortana send a message to bob telling him i'd like to meet on Friday ---> I'd like to meet you on Friday" or "cortana tell my wife she should expect me around 3---> You shuld expect me around 3".... etc

One of the things that many of us requested when asked several months back. Nice to see it coming along...

This is so cool. It'd be cool if they made her say "Hey <name>, how can I help you?" when we say "Hey Cortana".

It uses your name ? Wow! What a great step forward in the PC history....... LOL

It can't even pronounce my name correctly :)

You can't even do that. :)

You can't do that SIR hahahaha

When she asks you your name she tells you how she'll pronounce it. If it's wrong you can enter your name phonetically to get her to say it right. This phonetic version will be used for speech only; your proper name will be used for display in text.

Just tested on latest fast ring Windows 10 Mobile build and it says my name for the weather "will I need a jacket tomorrow?"

Lucky. A bug stopping me from downloading voice packages means that I can't get Cortana at all on W10M.

Please let her call my name anytime I ask her something that would be really nice

It would be nice if she used my name anywhere, but despite entering it Cortana still isn't calling me by name in my Windows phone. Anyone else still getting snubbed?

Cortana has never used or spoke my name since day one of WP 8.1.

If one day Cortana will chimes your name out of the blue and asks.. "Shall We Play A Game?" like WOPR from the movie War Games, always say Tick Tac Toe. lol.

I can't even get Cortana to work on my machine, says not support in my region (Denver Colorado)

I would love to have cortana as 3D model! Or hologrm with hololens... Or maybe thats just too awkward!? :D

Lol I'm sure you're not alone.

Never mind my name... If she'd actually respond with something else than "Sorry, I'm not available in your region" I'd be thrilled!

But she will: "Sorry Manus, I'm not available in.."

All I can say is she's already way ahead of Siri.

See AllAboutWindowsPhone comparison test.. in many areas not so. Posted via the Windows Central App for Android

At least Cortana is better than ok google and bb assist

I hope there is option to turn this off.

Why wouldn't you want her to call you by your name?

All I get in build 10122 is 'Hello <username>'. I entered my name when Cortana first started but I just get the placeholder text.

Can it now turn off the only alarm that is on within asking which one? Posted via the Windows Central App for Android

Nope, not American, apparently Cortana doesn't exist unless I want Colour spelt incorrectly and imperial units.

what would be more welcome to many of us is if Cortana wasn't pretty much USA ONLY

If Cortana is all backend as they say when why wouldn't these changes come to Wp8.1?

it sound good, but there is a creepiness to functions like this. I don't know about any else, but I find it weird when computer or automated services say my name. On my Nokia I used a nickname be use of how my name was said. But maybe it is that fear that we are getting closer to HAL (just kidding).